Silver Nanowire Networks: Mechano-Electric Properties and Applications
1
Department of Chemical Engineering, Kwangwoon University, Seoul 01897, Korea
2
Department of Electronic Material Engineering, Kwangwoon University, Seoul 01897, Korea
3
Department of Chemistry and Energy Engineering, Sangmyung University, Seoul 03016, Korea
4
Material Research Center, Samsung Advanced Institute of Technology (SAIT), Samsung Electronics, Suwon 16678, Korea
*
Authors to whom correspondence should be addressed.
Received: 15 June 2019 / Revised: 30 July 2019 / Accepted: 5 August 2019 / Published: 8 August 2019
Abstract
With increasing technological demand for portable electronic and photovoltaic devices, it has become critical to ensure the electrical and mechano-electric reliability of electrodes in such devices. However, the limited flexibility and high processing costs of traditional electrodes based on indium tin oxide undermine their application in flexible devices. Among various alternative materials for flexible electrodes, such as metallic/carbon nanowires or meshes, silver nanowire (Ag NW) networks are regarded as promising candidates owing to their excellent electrical, optical, and mechano-electric properties. In this context, there have been tremendous studies on the physico-chemical and mechano-electric properties of Ag NW networks. At the same time, it has been a crucial job to maximize the device performance (or their mechano-electric performance) by reconciliation of various properties. This review discusses the properties and device applications of Ag NW networks under dynamic motion by focusing on notable findings and cases in the recent literature. Initially, we introduce the fabrication (deposition process) of Ag NW network-based electrodes from solution-based coating processes (drop casting, spray coating, spin coating, etc.) to commercial processes (slot-die and roll-to-roll coating). We also discuss the electrical/optical properties of Ag NW networks, which are governed by percolation, and their electrical contacts. Second, the mechano-electric properties of Ag NW networks are reviewed by describing individual and combined properties of NW networks with dynamic motion under cyclic loading. The improved mechano-electric properties of Ag NW network-based flexible electrodes are also discussed by presenting various approaches, including post-treatment and hybridization. Third, various Ag NW-based flexible devices (electronic and optoelectronic devices) are introduced by discussing their operation principles, performance, and challenges. Finally, we offer remarks on the challenges facing the current studies and discuss the direction of research in this field, as well as forthcoming issues to be overcome to achieve integration into commercial devices.
View Full-Text
►

▼

Figures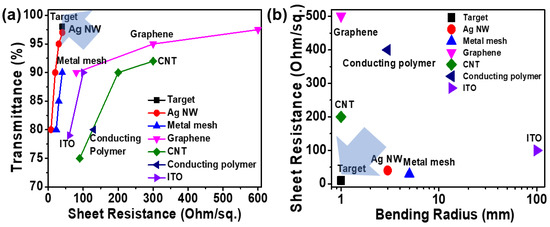 Figure 1
This is an open access article distributed under the
Creative Commons Attribution License
which permits unrestricted use, distribution, and reproduction in any medium, provided the original work is properly cited (CC BY 4.0).

Share & Cite This Article
MDPI and ACS Style
Sohn, H.; Park, C.; Oh, J.-M.; Kang, S.W.; Kim, M.-J. Silver Nanowire Networks: Mechano-Electric Properties and Applications. Materials 2019, 12, 2526.
Note that from the first issue of 2016, MDPI journals use article numbers instead of page numbers. See further details here.
Related Articles
Comments
[Return to top]