α-Fe2O3 Nanoparticles/Vermiculite Clay Material: Structural, Optical and Photocatalytic Properties
1
Institute of Environmental Technology, VŠB-Technical University of Ostrava, 17. listopadu 2172/15, 708 00 Ostrava—Poruba, Czech Republic
2
Nanotechnology Centre, VŠB-Technical University of Ostrava, 17. listopadu 2172/15, 708 00 Ostrava—Poruba, Czech Republic
3
Department of Chemistry, Faculty of Materials Science and Technology, VŠB-Technical University of Ostrava, 17. listopadu 2172/15, 708 00 Ostrava—Poruba, Czech Republic
*
Author to whom correspondence should be addressed.
Received: 16 May 2019 / Revised: 29 May 2019 / Accepted: 5 June 2019 / Published: 11 June 2019
Abstract
Photocatalysis is increasingly becoming a center of interest due to its wide use in environmental remediation. Hematite (α-Fe
2
O
3
) is one promising candidate for photocatalytic applications. Clay materials as vermiculite (Ver) can be used as a carrier to accommodate and stabilize photocatalysts. Two different temperatures (500 °C and 700 °C) were used for preparation of α-Fe
2
O
3
nanoparticles/vermiculite clay materials. The experimental methods used for determination of structural, optical and photocatalytic properties were X-ray fluorescence (ED-XRF), X-ray diffraction (XRD), scanning electron microscopy (SEM) with energy dispersive X-ray spectrometry (EDS), N
2
adsorption method (BET), diffuse reflectance UV-Vis spectroscopy (DRS), photoluminescence spectroscopy (PL) and photocatalytic reduction of CO
2
, respectively. The data from XRD were confronted with molecular modeling of the material arrangement in the interlayer space of vermiculite structure and the possibility of anchoring the α-Fe
2
O
3
nanoparticles to the surface and edge of vermiculite. Correlations between structural, textural, optical and electrical properties and photocatalytic activity have been studied in detail. The α-Fe
2
O
3
and α-Fe
2
O
3
/Ver materials with higher specific surface areas, a smaller crystallite size and structural defects (oxygen vacancies) that a play crucial role in photocatalytic activity, were prepared at a lower calcination temperature of 500 °C.
View Full-Text
►

▼

Figures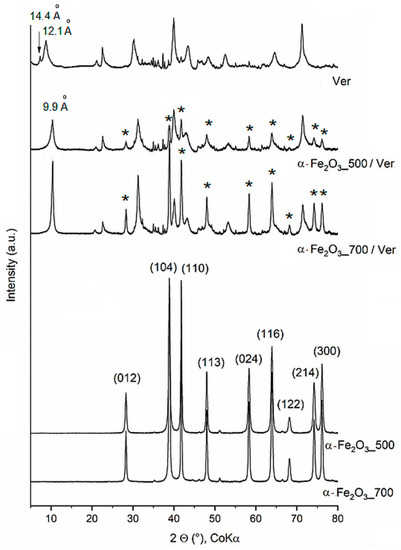 Figure 1
This is an open access article distributed under the
Creative Commons Attribution License
which permits unrestricted use, distribution, and reproduction in any medium, provided the original work is properly cited (CC BY 4.0).

Share & Cite This Article
MDPI and ACS Style
Valášková, M.; Tokarský, J.; Pavlovský, J.; Prostějovský, T.; Kočí, K. α-Fe2O3 Nanoparticles/Vermiculite Clay Material: Structural, Optical and Photocatalytic Properties. Materials 2019, 12, 1880.
Note that from the first issue of 2016, MDPI journals use article numbers instead of page numbers. See further details here.
Related Articles
Comments
[Return to top]