Enhancement in Curie Temperature of Yttrium Iron Garnet by Doping with Neodymium
1
Área Académica de Ciencias de la Tierra y Materiales, Universidad Autónoma del Estado de Hidalgo, Mineral de la Reforma, Hidalgo 42184, Mexico
2
Centro de Investigación e Innovación Tecnológica, Instituto Politécnico Nacional, Azcapotzalco, Ciudad de México 02250, Mexico
3
Centro de Ingeniería de Superficies y Acabados (CENISA), Facultad de Ingeniería, UNAM, Circuito Exterior, Ciudad Universitaria, Ciudad de México 04510, Mexico
*
Author to whom correspondence should be addressed.
Received: 15 June 2018 / Revised: 5 September 2018 / Accepted: 5 September 2018 / Published: 7 September 2018
Abstract
The effect of the substitution of Y
3+
by Nd
3+
on the structural and magnetic properties of neodymium-doped yttrium iron garnet, Nd
x
Y
3−

x
Fe
5
O
12
with
x
in the range of 0–2.5, is presented. Oxide powders of Fe
2
O
3
, Nd
2
O
3
, and Y
2
O
3
were mixed in a stoichiometric ratio and milled for 5 h using high-energy ball milling, before being uniaxially pressed at 900 MPa and annealed at 1373 K for 2 h to obtain Nd
x
Y
3−

x
Fe
5
O
12
(0 ≤
x
≤ 2.5). It was found that the mechanical milling of oxides followed by annealing promotes the complete structural formation of the garnet structure. Additionally, the X-ray diffraction patterns confirm the complete introduction of Nd
3+
into the garnet structure with a neodymium doping concentration (
x
) of 0–2.0, which causes a consistent increment in the lattice parameters with the Nd
3+
content. When
x
is higher than 2.0, the yttrium orthoferrite is the predominant phase. Besides, the magnetic results reveal an increase in the Curie temperature (583 K) as the amount of Nd
3+
increases, while there was enhanced saturation magnetization as well as modified remanence and coercivity with respect to non-doped YIG.
View Full-Text
►

▼

Figures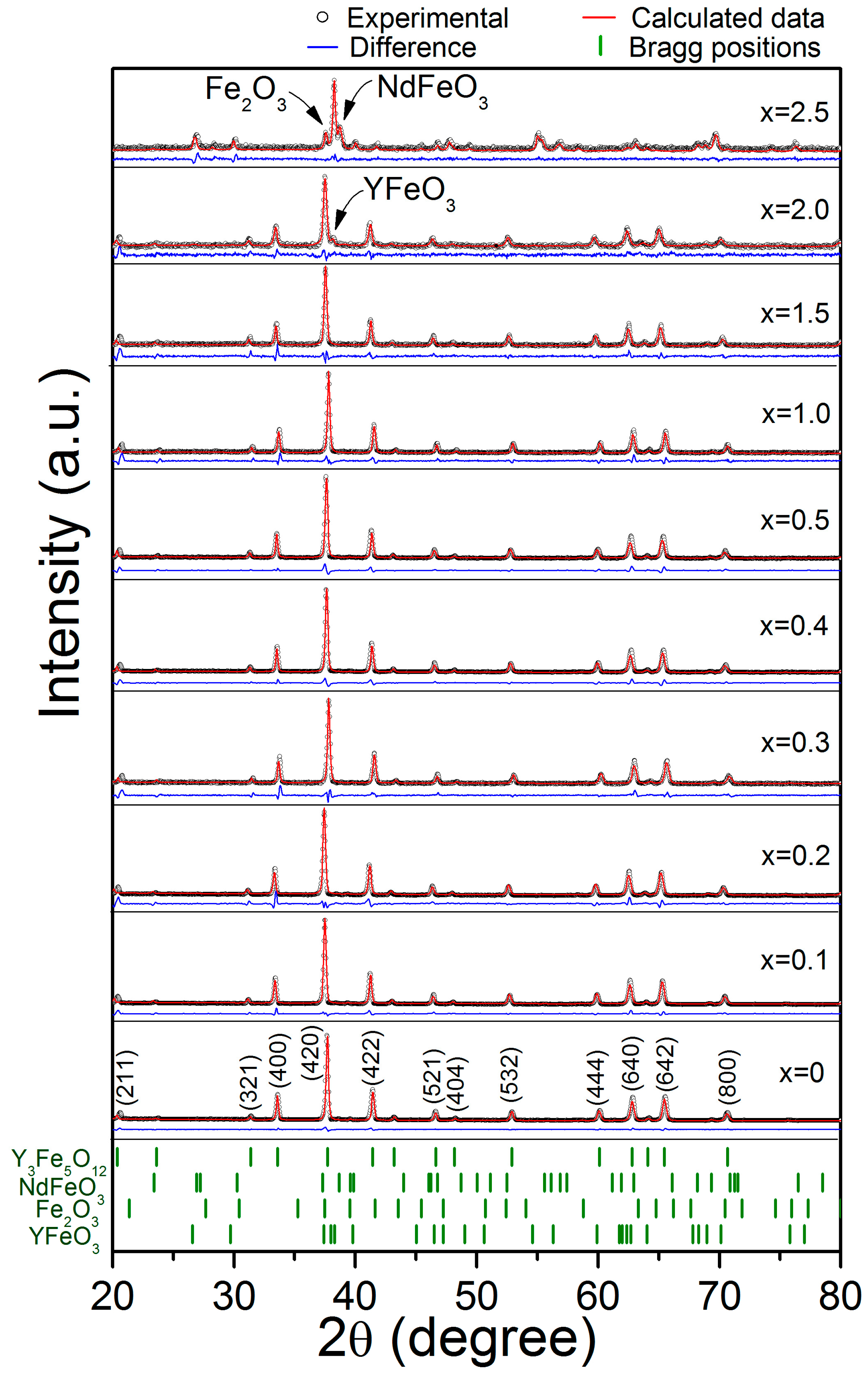 Figure 1
This is an open access article distributed under the
Creative Commons Attribution License
which permits unrestricted use, distribution, and reproduction in any medium, provided the original work is properly cited (CC BY 4.0).

Share & Cite This Article
MDPI and ACS Style
Baños-López, E.; Sánchez-De Jesús, F.; Cortés-Escobedo, C.A.; Barba-Pingarrón, A.; Bolarín-Miró, A.M. Enhancement in Curie Temperature of Yttrium Iron Garnet by Doping with Neodymium. Materials 2018, 11, 1652.
Note that from the first issue of 2016, MDPI journals use article numbers instead of page numbers. See further details here.
Related Articles
Comments
[Return to top]