Replicability of Ultrasonic Molding for Processing Thin-Wall Polystyrene Plates with a Microchannel
1
Department of Mechanical Engineering & Industrial Construction, University of Girona, 17004 Girona, Spain
2
Department of Computer Science, Applied Mathematics & Statistics, University of Girona, 17004 Girona, Spain
*
Author to whom correspondence should be addressed.
Received: 6 July 2018 / Revised: 25 July 2018 / Accepted: 26 July 2018 / Published: 30 July 2018
Ultrasonic molding is a new technology for processing small and micro polymeric components with reasonable cost and energy savings when small and medium batch sizes are required. However, when microcomponents are manufactured, the replicability of different micro features has to be guaranteed. The aim is to investigate the capability of ultrasonic molding technology for processing thin-wall plates of polystyrene with a microchannel, analyzing the filling behavior, the optical transparency, and the dimensional accuracy of the thin plate. The replicability of the manufactured microchannel is studied according to dimension and shape. The results reveal that plunger velocity influences transparency and filling cavity, whereas the vibration amplitude has less effect in both cases. The thickness deviation achieved on the final part is below 7% and the replication of the microchannel is better in depth than width, obtaining an average deviation of 4% and 11%, respectively. This replication also depends on the orientation of the microchannels and the distance from the injection gate. The replicability and repeatability for processing thin-wall plates with microchannel in polystyrene polymer are proved in this paper.
1. Introduction
The ultrasonic vibration is applied by means of the acoustic unit, which is composed of the generator, the transducer, the booster, and the sonotrode. The transducer converts the electrical energy from the generator into vibrations, which can be amplified or reduced by the booster, and the sonotrode is the final element that transmits the vibrational amplitude to the material. The sonotrode is a mechanical element that has to be designed to vibrate in a longitudinal mode at the operating frequency of the acoustic unit, and with the required tolerances to fulfill the clearance requirements with the plasticization chamber dimensions.
Actually, the literature reveals that there is strong interest in studying the influence of processing conditions on several precision molding processes of microfeature replicability in recent years. However, so far, there are only a few studies about the manufacturability of microfeatures using ultrasonic molding technology. Consequently, the aim in this research is to investigate the process capability of ultrasonic molding for processing thin-plate components with a microchannel of high aspect ratio using PS polymer. Specimens were manufactured under different conditions of vibration amplitudes and injection velocities to evaluate the filling behavior, the optical transparency, and the dimensional accuracy in the plate and the microchannel. The replicability of the manufactured microchannel was studied from the point of view of dimension and shape. The material was used for its good replicability and optical properties, which are required features when manufacturing microfluidic components.
2. Materials and Methods
2.1. Part Geometry, Materials, and Mold
The test geometry used in this experiment was a thin-walled rectangular specimen of 15 mm × 8 mm × 0.55 mm with a direct fan gate (
Figure 2
a). The plate contained a microchannel of 150 µm depth and 80 µm width and had both parallel and perpendicular zones to flow direction at different distances from the material entry.
Transparent STYRON™ 678E PS resin was used for the experiment. This material is characterized by its optical clarity, transparency, biocompatibility, low water absorption, high flow ability, and high impact strength compared to other polymers such as silicon or glass.
An experimental mold of steel with the cavity on the lower half was used to replicate the geometry and obtain the final product. It included an ejector to facilitate the expulsion of the part, making a circular mark in final part (
Figure 2
c). It was manufactured using a Deckel-Maho 64 V Linear and the plasticization chamber was allocated at the mold upper half by a cavity of Ø 8.2 mm. The mold was characterized after being manufactured to guarantee repeatable measurements of the microchannels (
Figure 2
b). A silicon pattern was created to measure it. The thickness was measured in each corner of the specimen (T
1
Mold, T
2
Mold, T
3
Mold, and T
4
Mold) by a digital micrometer (Micromar 40 EWV). The microchannel dimensions were measured in 5 sections (
Figure 2
c), 3 in the inflow direction (H
1
Mold, H
2
Mold, and H
3
Mold) and 2 in the cross-flow direction (V
1
Mold and V
2
Mold) by a Leica DMR-XA optical microscope (Meyer Instruments Inc., Houston, TX, USA). Three measurements were taken of each section and thickness (see mean results in
Table 1
). The results reveal that the thickness of the manufactured mold was 14.3% bigger than the theoretical one, whereas the microchannel dimensions were 6.6% smaller in depth and 10% in width.
According to the mold dimensions and considering the extra amount of material in the plasticizer chamber, around 300 mg of material was provided in each experiment.
2.2. Part Analysis
The specimens were manufactured using a Sonorus 1G Ultrasound Micro Molding Machine. The responses analyzed were part filling, transparency, thickness, and microchannel formation in 5 sections of the microchannel path (
Figure 2
c).
Part filling was assessed by a ratio that compares the obtained part length with the expected theoretical length. Despite only complete parts being valid, corresponding to 100% filling, the influence of the processing parameters on the percentage of filling was also evaluated.

Part transparency was evaluated visually and categorized in a qualitative scale divided into 7 levels and transmittance values (

Table 2

). Levels 1–4 represent blurred parts classified according to the percentage of cloudy zones, and levels 5–7 are transparent parts ordered regarding the presence of defects. Blurred parts could be caused by the presence of nonmelted material, weld lines, or polymer degradation, whereas defects include bubbles, sink marks, or burrs. Moreover, transmittance values according to this qualitative scale were measured by a UV-2401PC Shimadzu spectrometer using wavelengths between 400 and 600 nm. Six specimens were taken to measure each category and the mean was calculated.

Part thickness was measured in the same corners as mold thickness (

Figure 2

c), although in this case the variables are referred to as T

1

Part, T

2

Part, T

3

Part, and T

4

Part. A Micromar 40 EWV digital micrometer was used to measure them.

Microchannel formation was assessed by dimensions (width and depth) and shape. Five sections of the microchannel path were analyzed in each specimen and 3 specimens were selected for each combination of process parameter, on the condition of complete parts. The selected specimens were cut in each section (in-flow and cross-flow direction), embedded into 40 mm of Axson RSF816 epoxy resin, prepolished by Struers Knuth Rotor-3 equipment and finished by a Buehler Ecomet sander polishing with alumina powder of 1, 3, and 9.5 microns. The observation of the microchannel was done using a Leica DMR-XA optical microscope with 5×, 10×, and 20× Plan-Apochromat lenses. The microchannel dimensions were measured by Fiji software and 3 measures of depth and width were taken for each specimen.
2.3. Experimental Design and Procedure
In this research, a sequential design of experiments was performed. That is, start with simple designs and few experiments (Phase 1), analyze them, and, if necessary, proceed with further experiments to conclude with the relationship between the process parameters and the part responses (Phase 2). This methodology is known as response surface analysis [
22
] and it allows selection of the best manufacturing conditions to achieve the part requirements [
23
]. In this research, two process parameters were varied: plunger velocity (V) and amplitude (A) (also referred as factors of interest).
However, before starting the sequential design of experiments, a preliminary screening was carried out to limit the parameter values to guarantee a filling cavity and a level of transparency acceptable to the polymer application. Velocity was varied from 1 to 6 mm/s and amplitude from 10 to 90 µm. The results revealed that the filling cavity improved when velocity decreased, whereas amplitude did not have much effect. Otherwise, visual transparency improved when velocity increased and when low amplitudes were used. Consequently, the process parameters in the design of experiments (DOE) were limited to amplitude range 14.06–70.31 µm and velocity 1–4 m/s.
Phase 1 started deploying a two-level factorial design (2
k
, where k = 2) with a central point (2
k
+ CP).
Figure 3
shows the 5 experimental runs represented by ◯. For each combination of process parameters 13 parts were manufactured; the first 3 were discarded to stabilize the process and the other 10 were analyzed. Each experimental run was replicated 3 times in completely randomized order. The central point runs allow for checking the trend in the middle point of the process parameters values. When this trend is a curve, more experiments should be done to estimate the quadratic effect, which was done in Phase 2. Phase 2 went on with a 3-level factorial design (3
k
), which was an extension of the previous design (2
k
+ CP). Here, 4 new runs were performed (◆ in
Figure 3
) following the same pattern of 10 replicates and 3 repeats.
A set of process parameters was kept constant during both experimental phases. Mold temperature was set according to a raw material datasheet for injection molding applications (50 °C), cooling time was 10 s, with a packing force of 5000 N. Material dosage was approximately 0.3 g and vibration frequency was 30,000 Hz. Regarding the injection strategy selected, the plunger pushes the materials against the sonotrode, which is fixed in a position close to the mold cavity beginning. Its vibration melts the material and the plunger force pushes the melting material into the mold cavity.
The full model was estimated in each phase and for each response, including first-order and interactions in both phases and the quadratic terms in Phase 2. Then, the nonsignificant terms (one at each step) were sequentially removed based on the tests of individual regression coefficients. Each model was analyzed in terms of the fit statistics: R
2
-adjusted and root mean square error (RMSE). The model shows a good fit if the R
2
statistic is high and RMSE is low. For each model, the test for significance of regression (
p
-value associated with the model in an analysis of variance, ANOVA) was observed. Analyzing the
p
-value resulting from ANOVA,
p
-value < α (α is the significance level) indicates that the regression is significant. The last step before validating the model is to check adequacy. It allows examination of whether the fitted model offers an adequate approximation to the real system and corroboration that the least squares regression assumptions are met, that is, that residuals are normal independent and identically distributed N (0, σ2). The first is checked by plotting observed values on the model response surface and the second by looking at different model diagnostic graphs. In the present paper, the residual vs. predicted values graph was used to check for independency and homoscedasticity and the normal probability plot was used to check normality. Conclusions on graphical analysis can be confirmed with tests such as the Shapiro–Wilk normality test or the test on correlation coefficient.
Finally, the retained model is plotted by a response surface to enhance interpretability and identify the process conditions where the responses become optimal. R software [
24
] was used to carry out the statistical analysis, and the significance level in all cases is α = 0.1.
3. Results and Discussion
Table 3
presents the average results for the percentage of completed specimens, the transparency achieved, and the average thickness for each combination of processing parameters. There is no thickness dimension when any completed part was achieved.
4. Conclusions
In this research, thin-wall plates with polystyrene microchannels were successfully manufactured by ultrasonic molding technology. A rigorous statistical procedure was followed using a large set of experimental data that were analyzed to demonstrate the repeatability and replicability of this technology.
The results reveal that plunger velocity affects both transparency and filling cavity. Higher velocity improves transparency but decreases cavity filling, so intermediate values are required to guarantee both requirements. Overlapping the corresponding response surfaces, the optimal values can be selected. The vibration amplitude has slightly less influence in both cases. Degradation symptoms appear when the material receives too much ultrasonic energy, coming from high levels of amplitude and low plunger velocity.
The average deviation of part thickness is less than 7%, but the research shows that cooling time becomes a relevant factor to assure this property. The principal component analysis (PCA) method becomes very useful to evaluate the thickness data and analyze them regarding the mold dimensions.
Replication accuracy of the microchannel is better in depth than in width, obtaining an average deviation of 4% and 11%, respectively. This replication also depends on the orientation of the microchannels, so that the results of cross-flow sections are little more dispersed than in-flow ones. The distance from the injection entrance also has an influence on these results.
In further research, a more complex microchannel geometry should be tested to guarantee the feasibility of this technology for processing microfluidic devices. In that sense, other polymers should be studied, like cyclic olefin copolymer (COC) and polymethyl methacrylate (PMMA). Regarding the process parameters, the influence of cooling time and compaction force should be studied. S
Author Contributions
F.I. and M.A. conceived and designed the experiments. M.A. performed the USM experiments and measurements. F.I. and G.-R.M. analyzed the data and directed the research. V.-M.M. carried out the statistical analysis. F.I. and V.-M.M. wrote the manuscript. The manuscript was finalized with contributions from all authors, and all authors approve the final manuscript.
Funding
This research received funding from the University of Girona (MPCUdG2016/036), the Spanish Ministry of Education (DPI2016-77156-R), and the Catalan Agency for Management of University and Research Grants (2017-SGR-0385).
Conflicts of Interest
The authors declare no conflict of interest.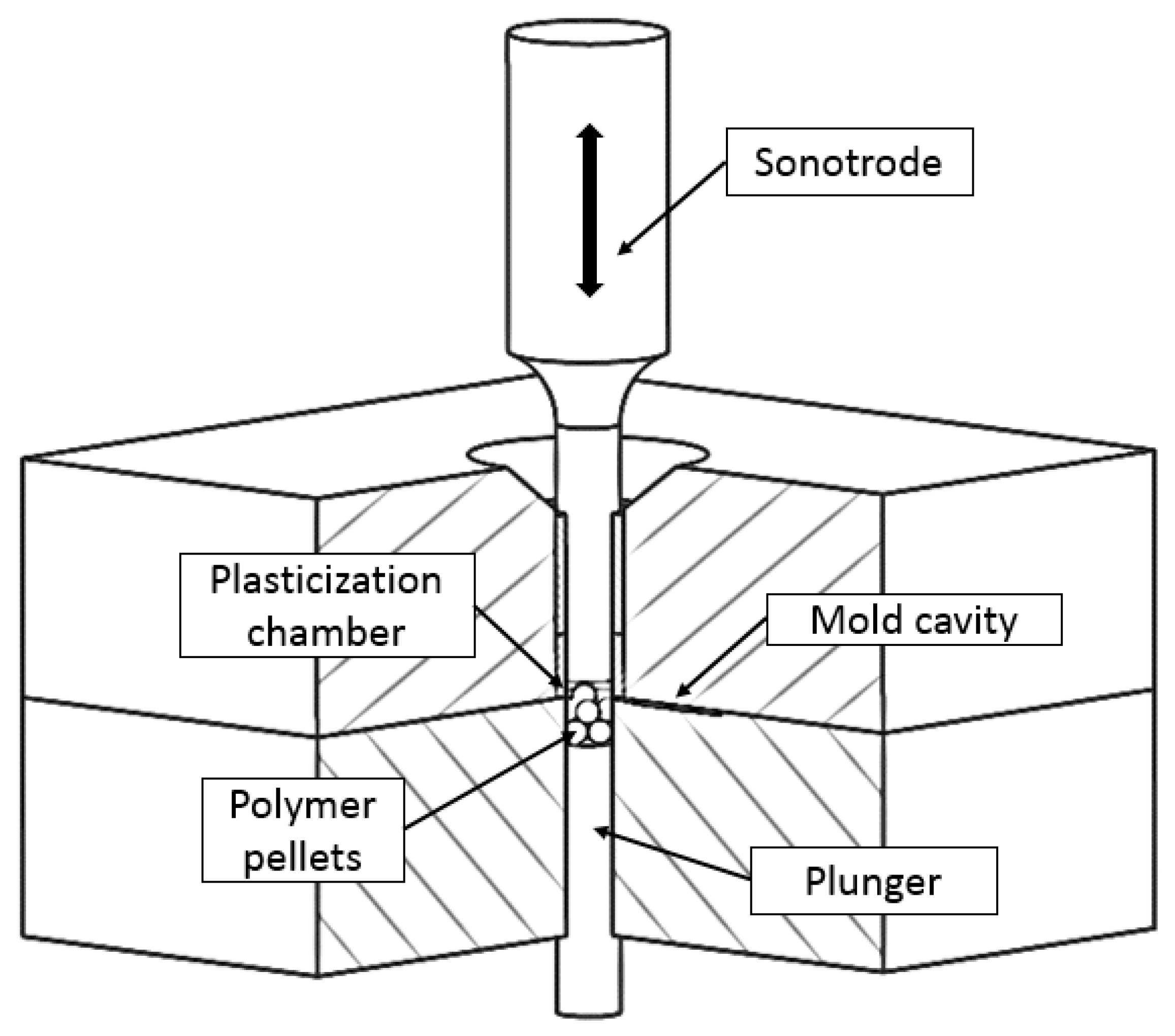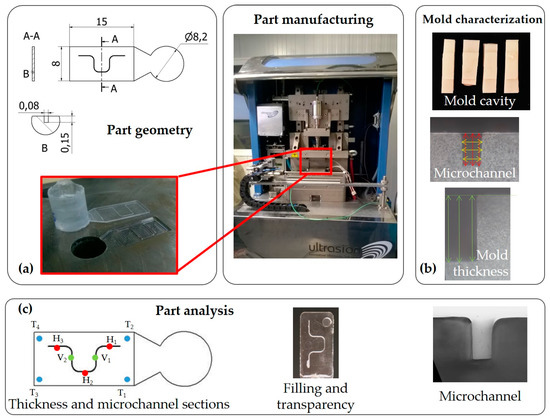 Figure 2. Method and experimental setup: (a) part geometry; (b) mold characterization; and (c) part analysis.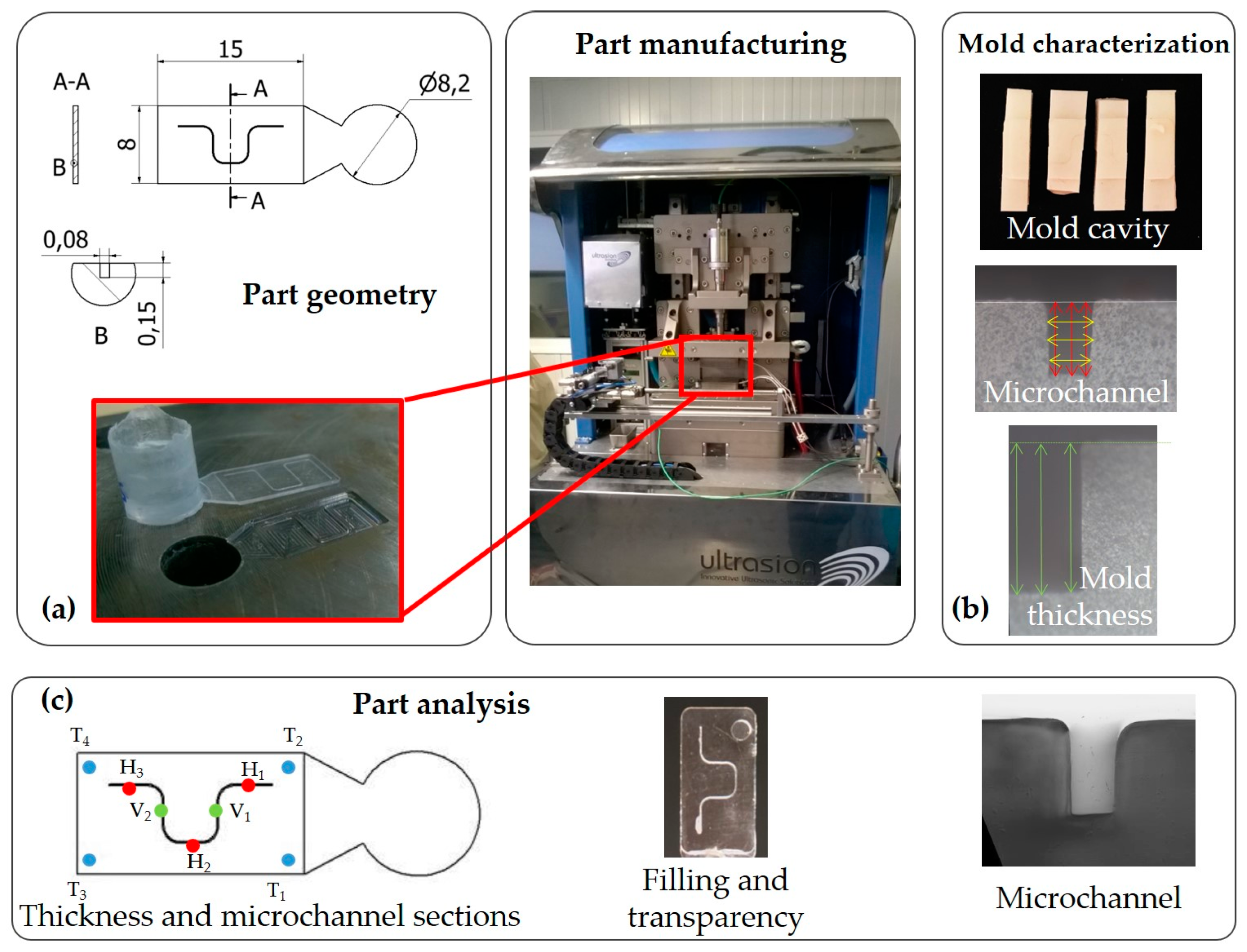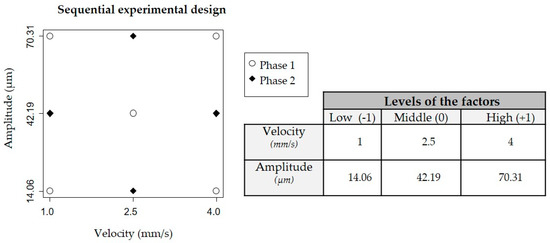 Figure 3. Sequential experimental design: Phase 1 (2k with a central point) and Phase 2 (3k); k = 2.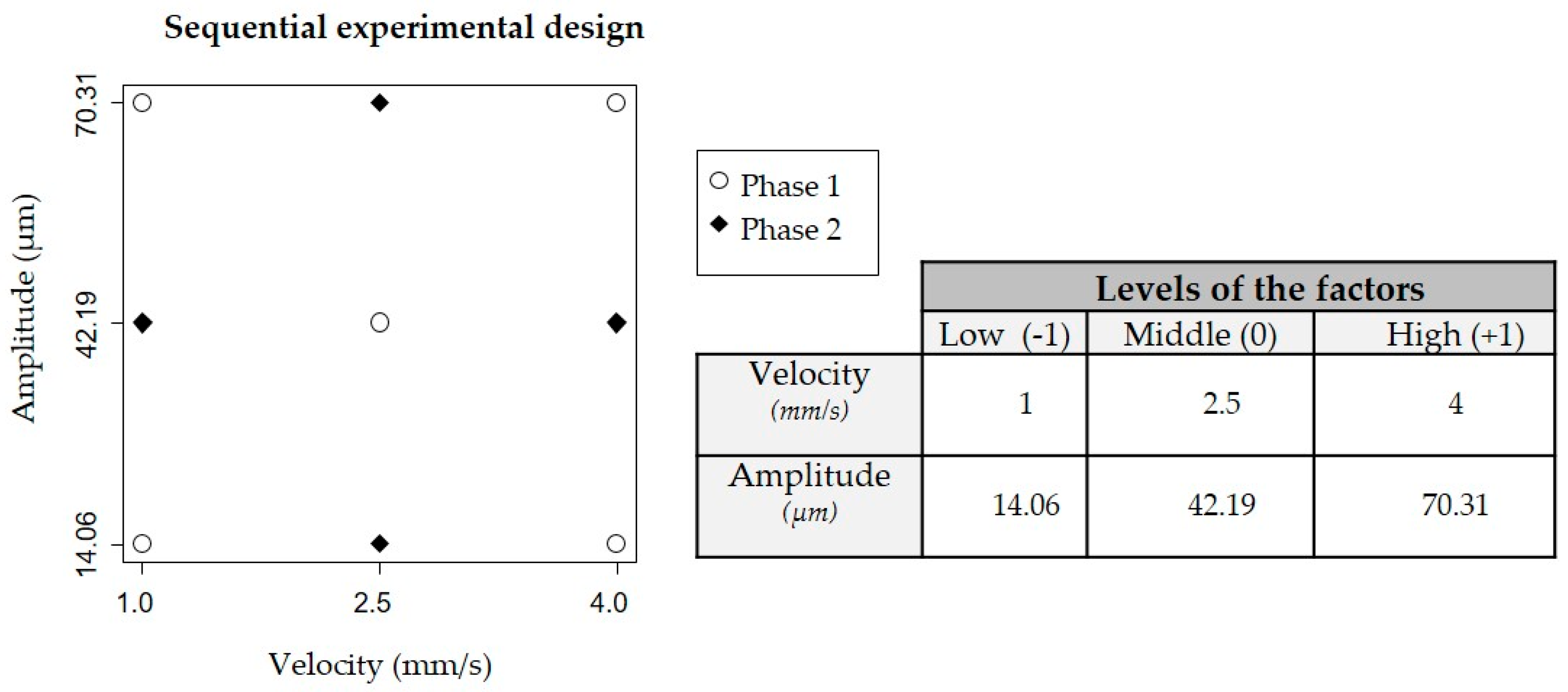 Figure 4. Analysis of transparency results: (a) main effects plot 2k; (b) Pareto chart of effects 2k; (c) response surface 2k + CP; (d) response surface 3k; (e) Pareto chart of standardized effects 3k; and (f) contour plot of final 3k model; k = 2.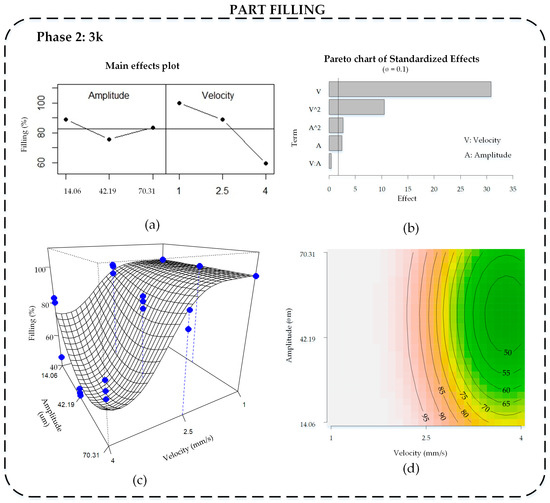 Figure 6. Analysis of cavity filling results: (a) main effects plot, 3k; (b) Pareto chart of standardized effects, 3k; (c) response surface, 3k; and (d) contour plot of final 3k model, k = 2.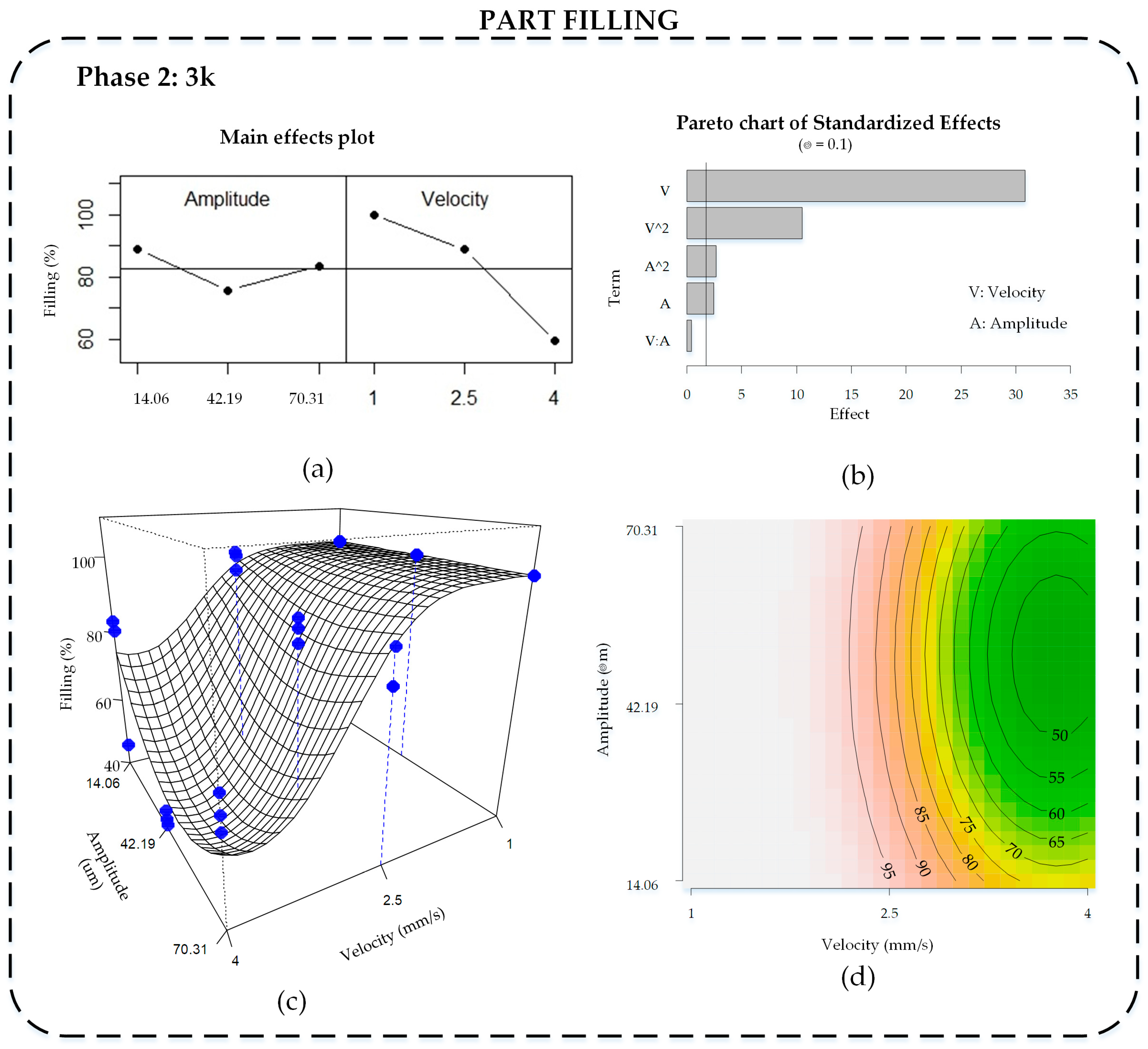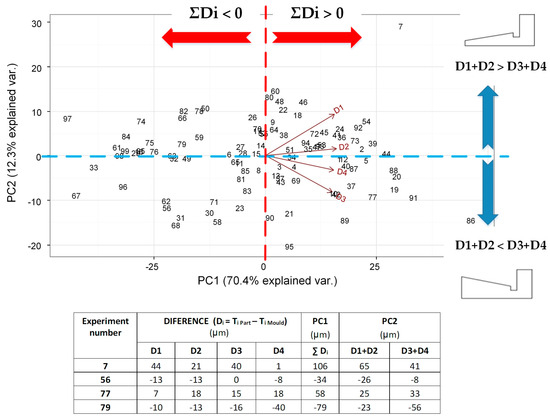 Figure 7. Biplot resulting from principal component analysis of Di, where Di = Ti Part—Ti Mold, i = 1…4 measured at four different part points.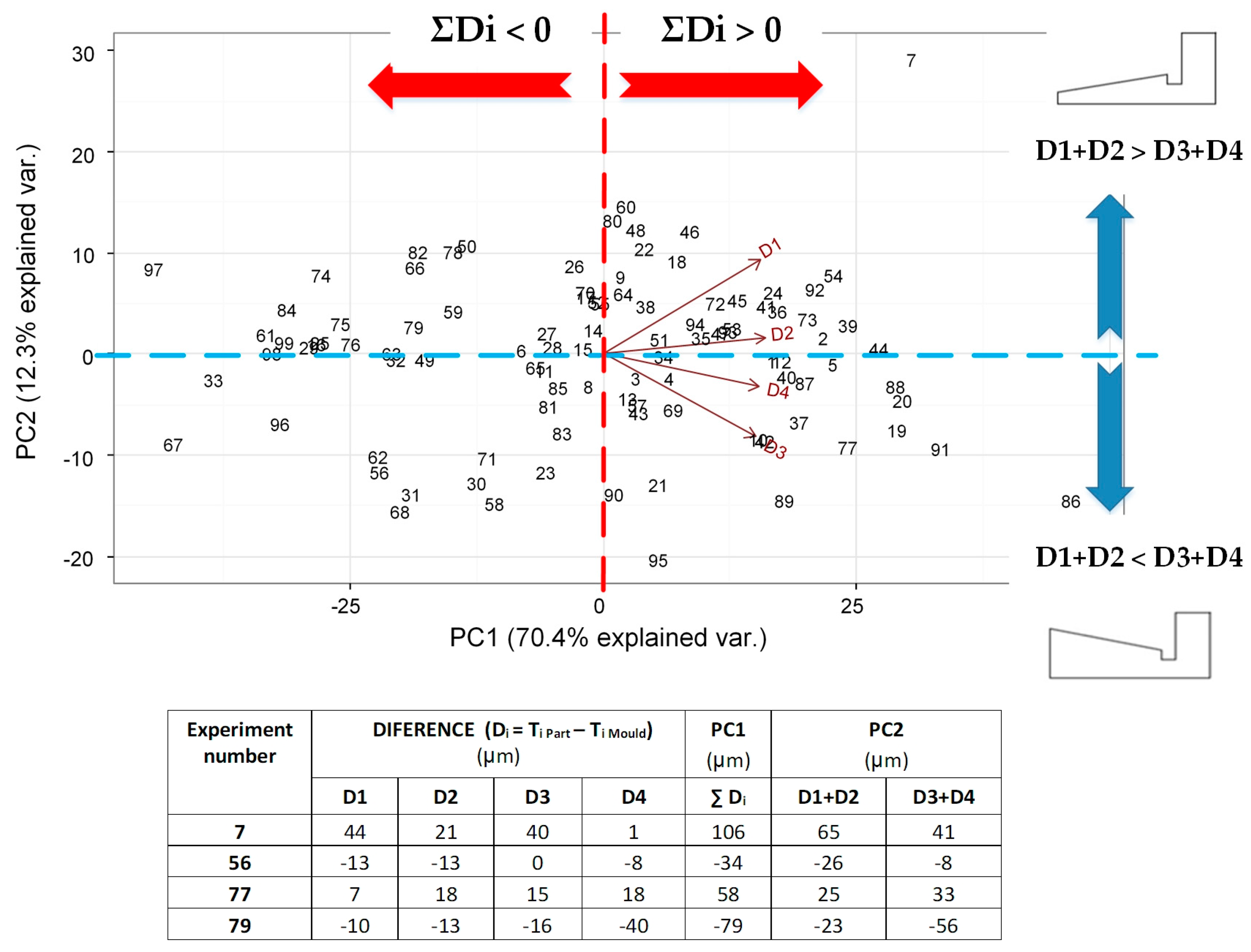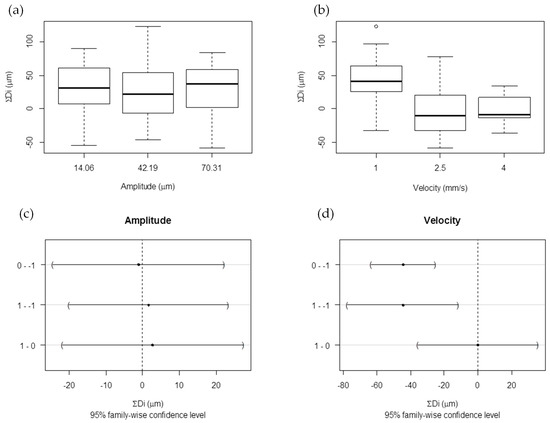 Figure 8. Multiple box plots: (a) amplitude and (b) velocity and, ANOVA analysis: (c) amplitude and (d) velocity for first principal component (PC1 = ΣDi).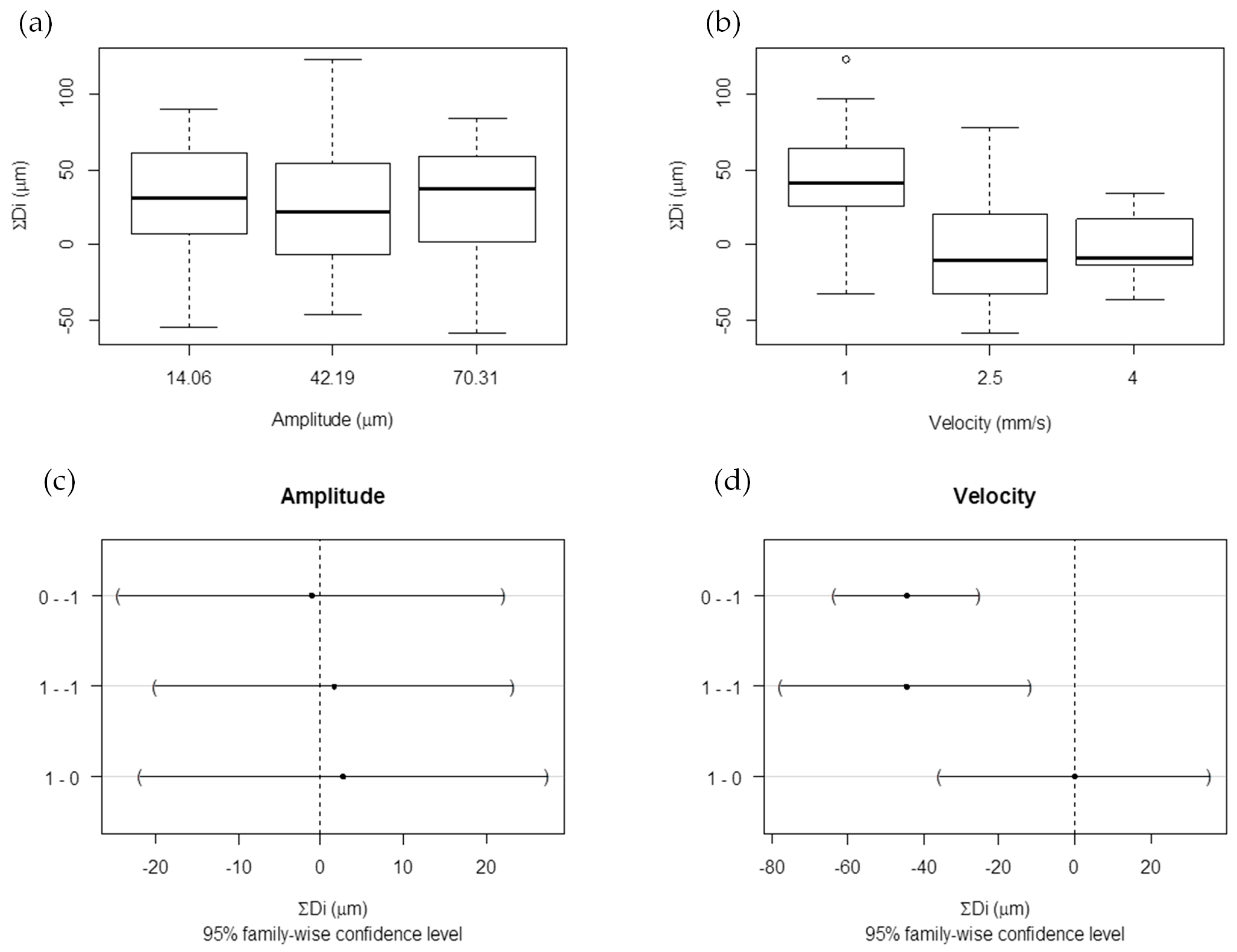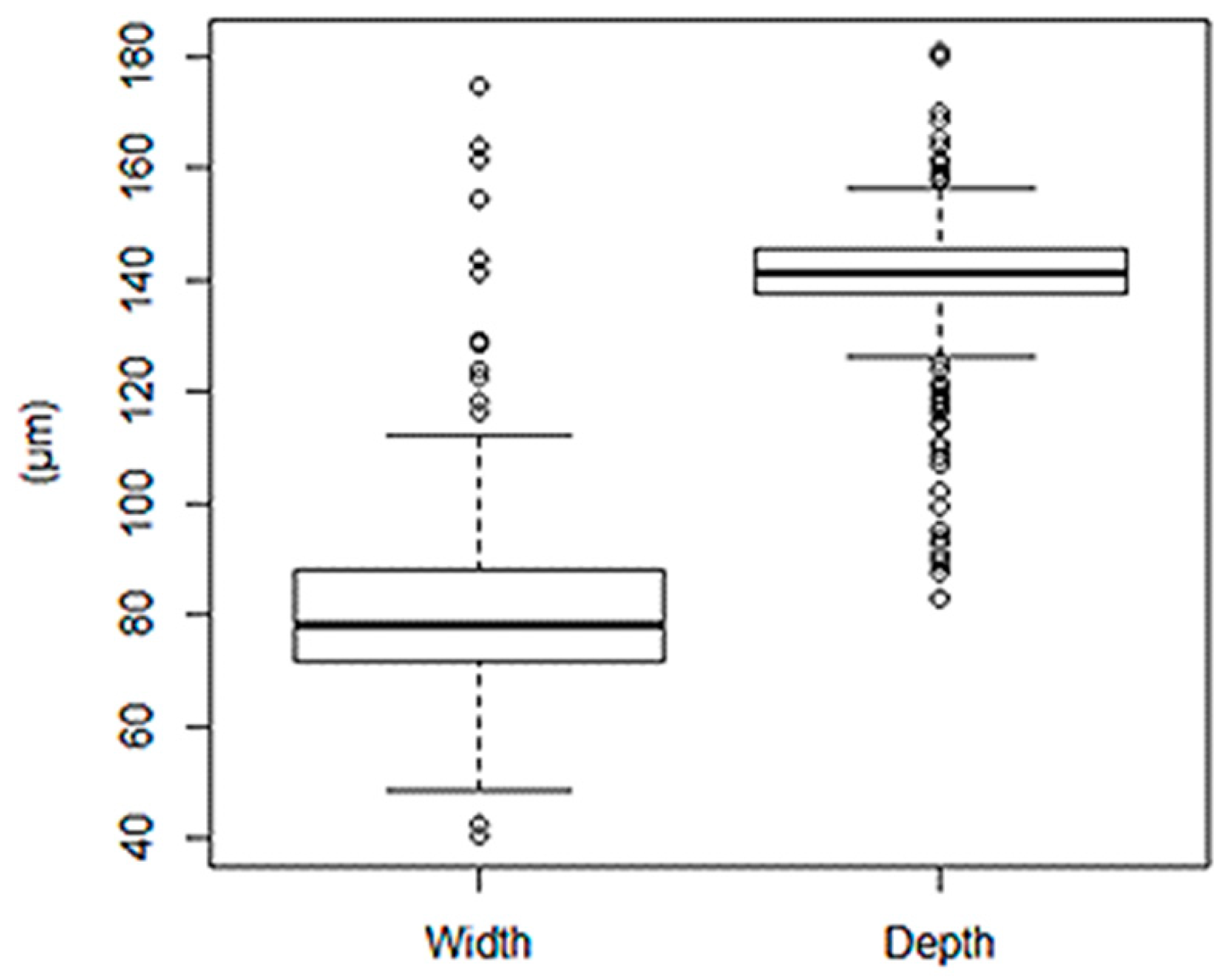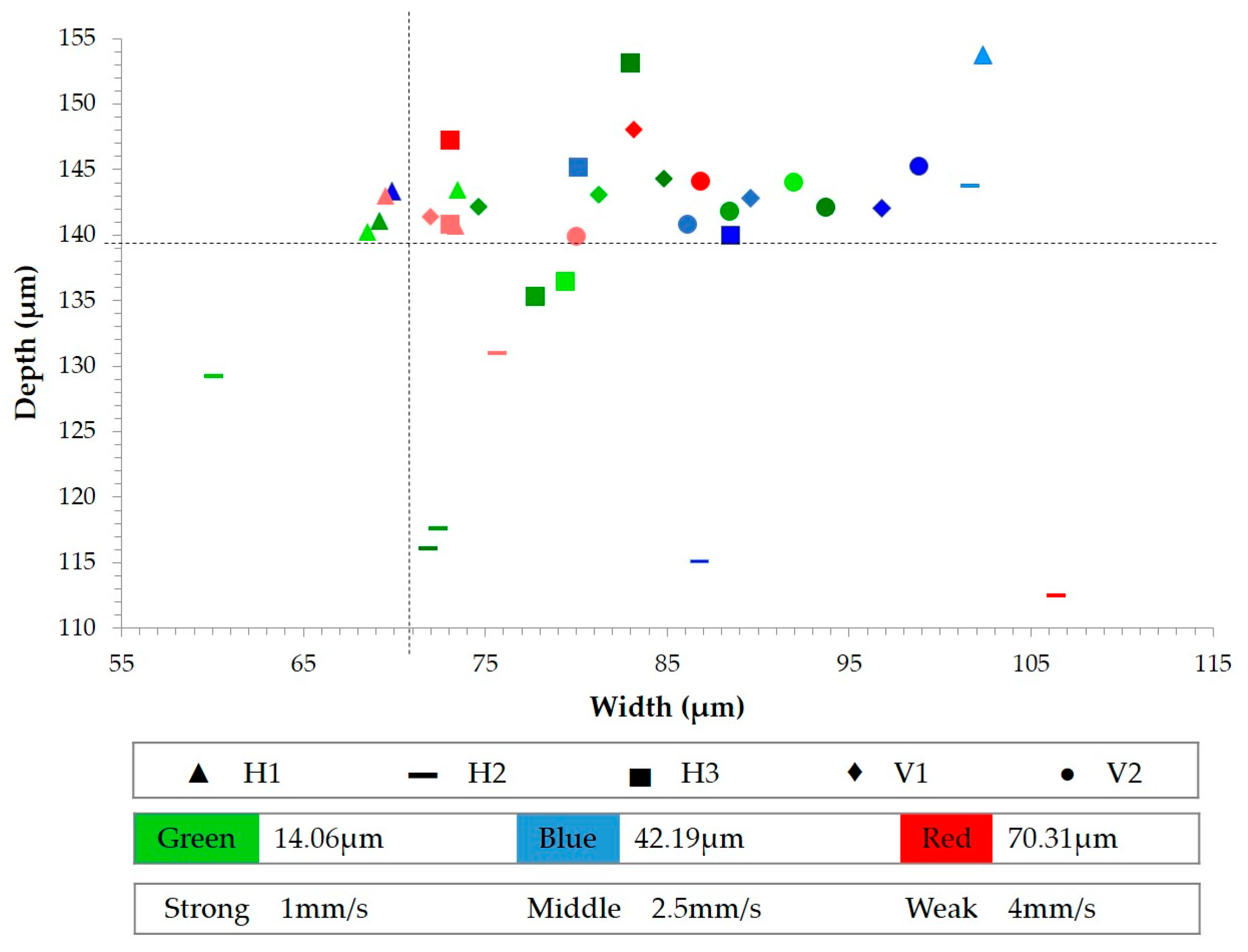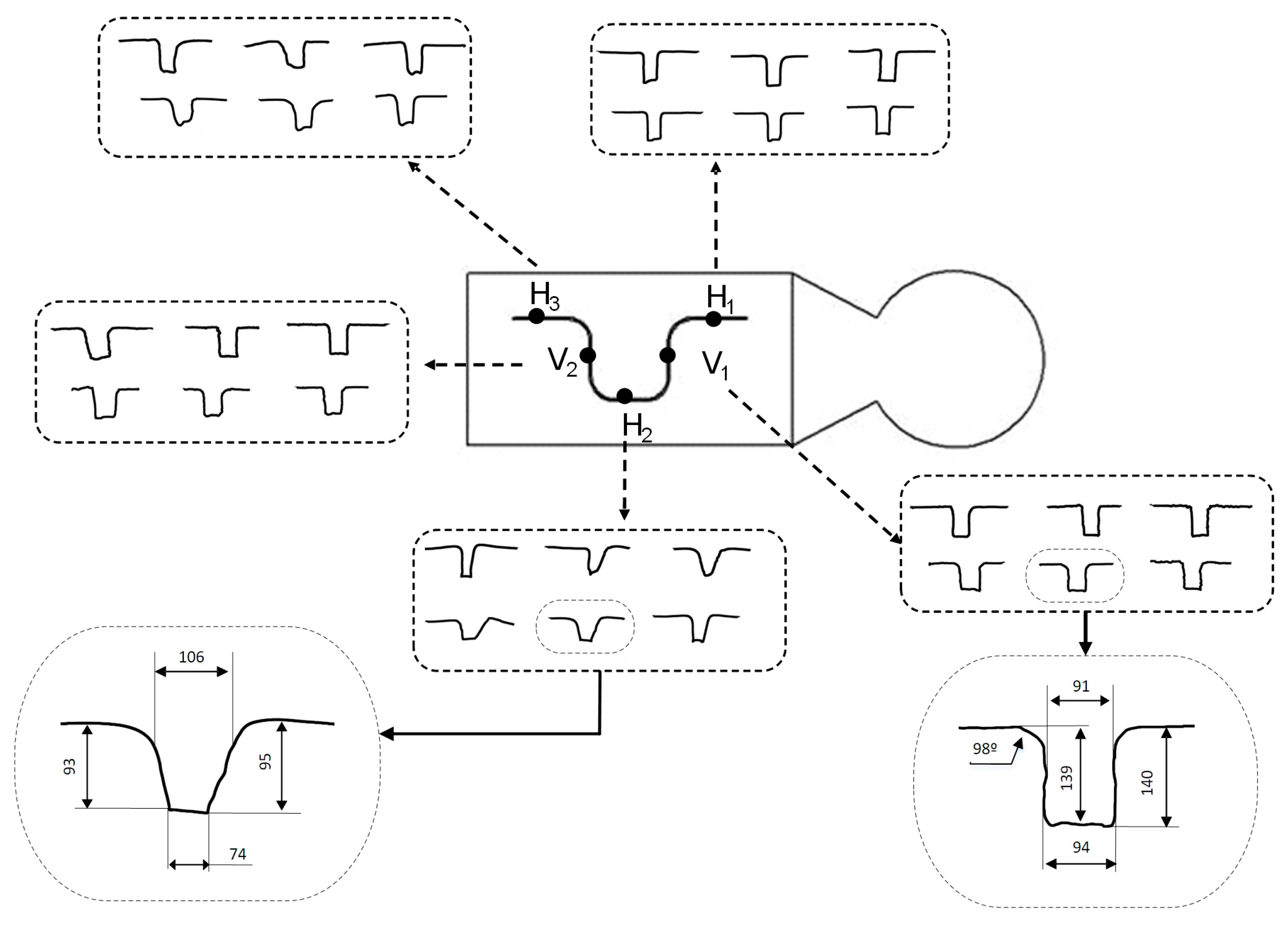 Cavity Thickness
Microchannel
Mean (µm)
Error (%)
Depth
Width
Mean (µm)
Error (%)
Mean (µm)
Error (%)
Corner
T1 Mold
566
13
Microchannel
Section
H1 Mold
137
8.7
73
7
T2 Mold
576
15.2
V1 Mold
151
0.7
71
9
T3 Mold
580
16
H2 Mold
139
7.3
70
10
T4 Mold
565
13
V2 Mold
136
9.3
70
10
H3 Mold
139
7.3
76
4
Avg.
14.35
Avg.
6.67
8
Level
Qualitative Description
Transmittance Value (%)
Transparency Level (Examples)
Blurred
1
76–100% of cloudy zones
<85
Level 1

2
51–75% of cloudy zones
3
26–50% of cloudy zones
87.366
Level 3

4
1–25% of cloudy zones
Transparent
5
Transparent with some defects
93.436
Level 6

6
Transparent with isolated defects
94.043
7
Transparent without defects
98.647
Velocity (mm/s)
Amplitude (μm)
Filling (%)
Transparency (Qualitative Scale)
Thickness Dimensions (Standard Deviation) (μm)
T1Part
T2Part
T3Part
T4Part
Phase 1: 2K experiment + central point
1
14.06
100
5.3
590 (±13)
583 (±9)
582 (±4)
586 (±7)
100
5.4
583 (±8)
582 (±6)
579 (±10)
575 (±6)
100
5.7
585 (±11)
578 (±12)
581 (±10)
586 (±13)
70.31
100
6
590 (±5)
586 (±4)
585 (±7)
586 (±5)
100
5.9
587 (±6)
583 (±12)
578 (±7)
579 (±10)
100
5.8
582 (±12)
578 (±10)
577 (±6)
579 (±9)
4
14.06
46
7
–
–
–
–
80.50
5.50
566 (±3)
565 (±7)
571 (±12)
561 (±8)
83.33
5.67
582 (±10)
569 (±1)
576 (±6)
574 (±12)
70.31
62
7
–
–
–
–
65.50
6.4
–
–
–
–
70
6.2
585 (±2)
562 (±3)
571 (±5)
563 (±8)
2.5
42.19
87.50
6.6
582 (±3)
573 (±1)
576 (±4)
577 (±6)
85
6.7
569 (±7)
561 (±9)
577 (±9)
571 (±8)
81
6.7
567 (±8)
562 (±11)
565 (±11)
566 (±4)
Phase 2: 3K experiment
1
42.19
100
6
576 (±7)
577 (±6)
570 (±9)
571 (±9)
100
5.7
592 (±9)
594 (±4)
603 (±9)
586 (±8)
100
6
583 (±12)
592 (±7)
590 (±13)
581 (±8)
4
42.19
45
7
–
–
–
–
42.50
7
–
–
–
–
41
6.7
–
–
–
–
2.5
70.31
82
6.6
565 (±5)
565 (±3)
564 (±4)
555 (±13)
90
5.78
–
–
–
–
82
6.75
–
–
–
–
14.06
98
6
572 (±17)
577 (±9)
575 (±10)
575 (±7)
94
6
–
–
–
–
99
5
578 (±9)
577 (±16)
572 (±14)
576 (±16)

© 2018 by the authors. Licensee MDPI, Basel, Switzerland. This article is an open access article distributed under the terms and conditions of the Creative Commons Attribution (CC BY) license (http://creativecommons.org/licenses/by/4.0/).