Open Access This article is
freely available
re-usable
Article
Fully Ab-Initio Determination of the Thermoelectric Properties of Half-Heusler NiTiSn: Crucial Role of Interstitial Ni Defects
Institut Charles Gerhardt Montpellier (ICGM), Centre National de la Recherche Scientifique (CNRS), Université de Montpellier, Ecole Nationale Supérieure de Chimie de Montpellier, UMR 5253, Montpellier, France
*
Author to whom correspondence should be addressed.
Received: 25 April 2018 / Accepted: 18 May 2018 / Published: 23 May 2018
Abstract
:
For thermoelectric applications,
ab initio
methods generally fail to predict the transport properties of the materials because of their inability to predict properly the carrier concentrations that control the electronic properties. In this work, a methodology to fill in this gap is applied on the NiTiSn half Heusler phase. For that, we show that the main defects act as donor of electrons and are responsible of the electronic properties of the material. Indeed, the presence of Ni
i
interstitial defects explains the experimental valence band spectrum and its associated band gap reported in the literature. Moreover, combining the DOS of the solid solutions with the determination of the energy of formation of charged defects, we show that Ni
i
defects are also responsible of the measured carrier concentration in experimentally supposed "pure" NiTiSn compounds. Subsequently the thermoelectric properties of NiTiSn can be calculated using a fully
ab initio
description and an overall correct agreement with experiments is obtained. This methodology can be extended to predict the result of extrinsic doping and thus to select the most efficient dopant for specific thermoelectric applications.
Keywords:
thermoelectric materials; half-Heusler phase; point defects
Author Contributions
Conceptualization, A.B. and P.J.; Methodology, A.B. and P.J.; Software, (VASP) P.J.; Validation, P.J.; Formal Analysis, A.B.; Investigation, A.B.; Resources, P.J.; Data Curation, P.J.; Writing-Original Draft Preparation, A.B.; Writing-Review and Editing, P.J.; Visualization, A.B.; Supervision, P.J.; Project Administration, P.J.; Funding Acquisition, P.J
Acknowledgments
We would like to thank Michel Freiss (CEA, DEN/DEC, Center of Cadarache, France) for interesting discussions on the calculation of the energy of formation of charged defects.
Conflicts of Interest
The authors declare no conflict of interest.
Figure 1. DOS of NiTiSn calculated in GGA for the pure compound and for the compound containing 1% of interstitial nickel atoms (Nii).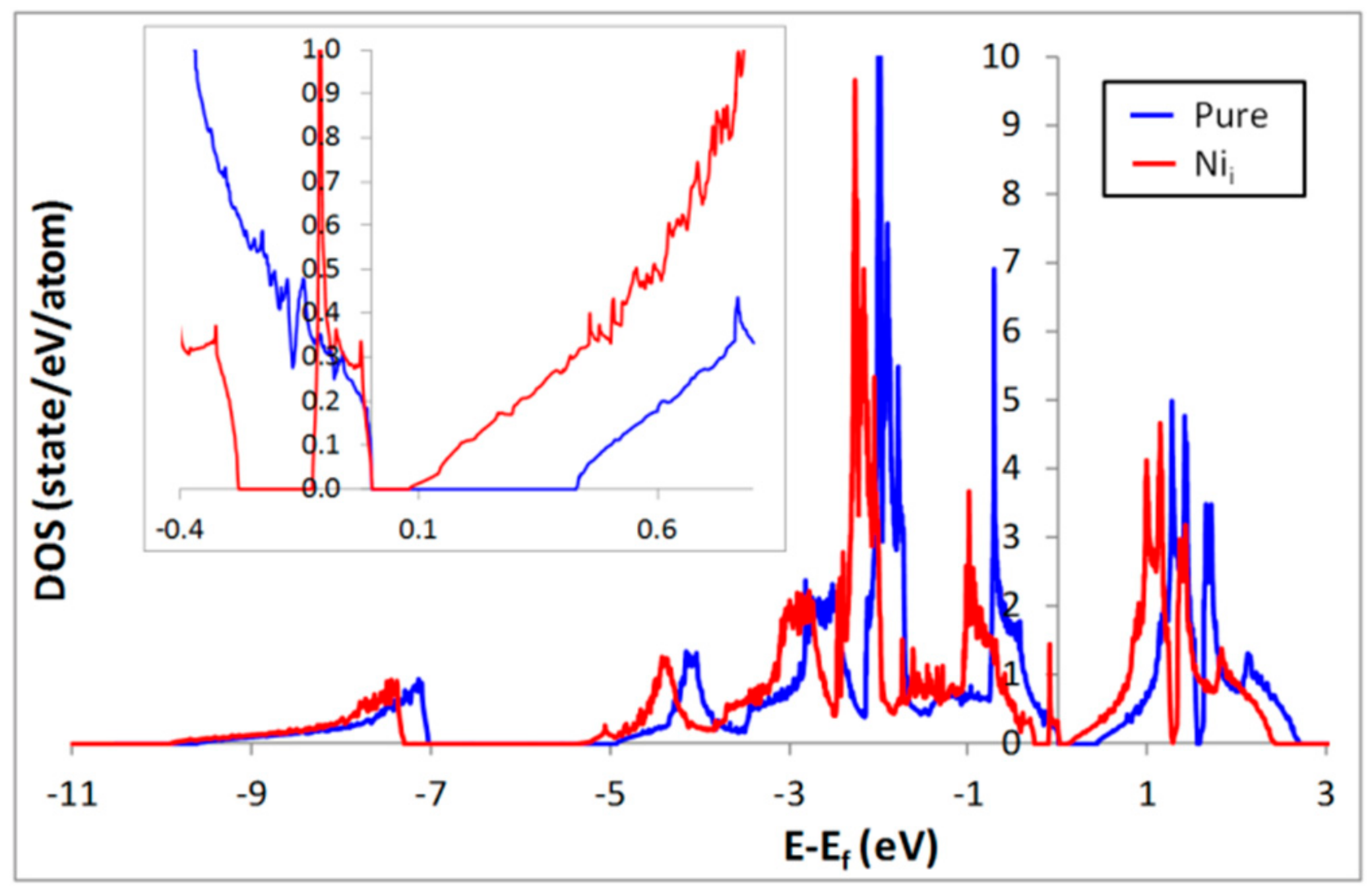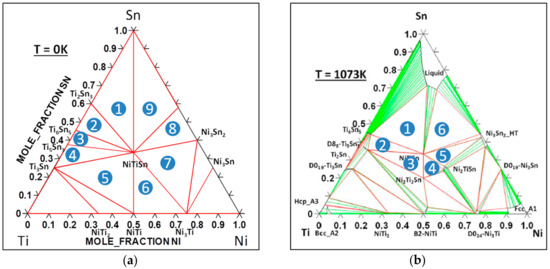 Figure 2.
Isothermal phase diagram of the Ni-Sn-Ti system: (
a
) At 0 K, calculated in GGA; (
b
) at 1073 K plotted using the Calphad method [
30
].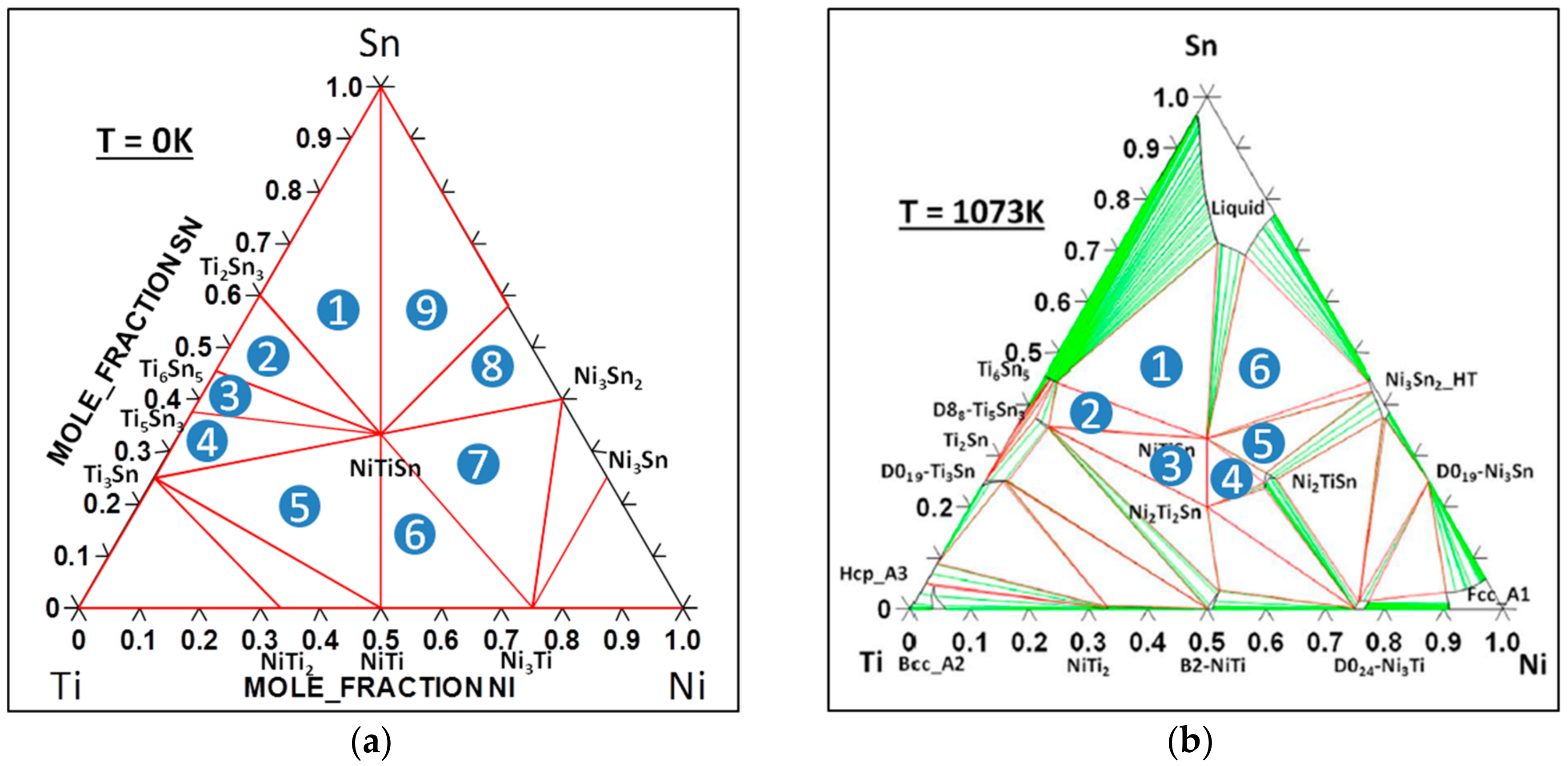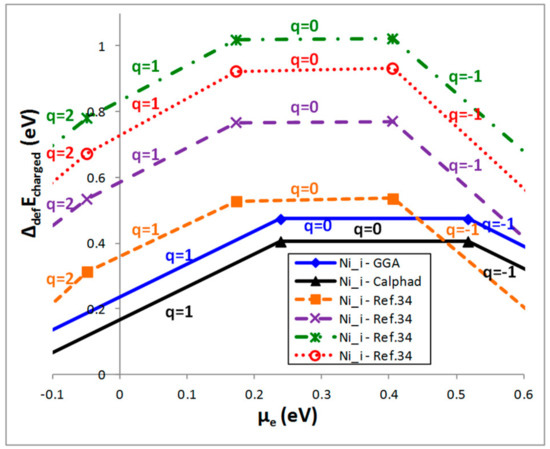 Figure 3. Evolution of ΔdefEcharged for Nii defects with the chemical potential of the electrons for different values of the charge q calculated for one defect in a 2 × 2 × 2 supercell taking into consideration the phase diagram calculated in GGA or assessed with the Calphad method.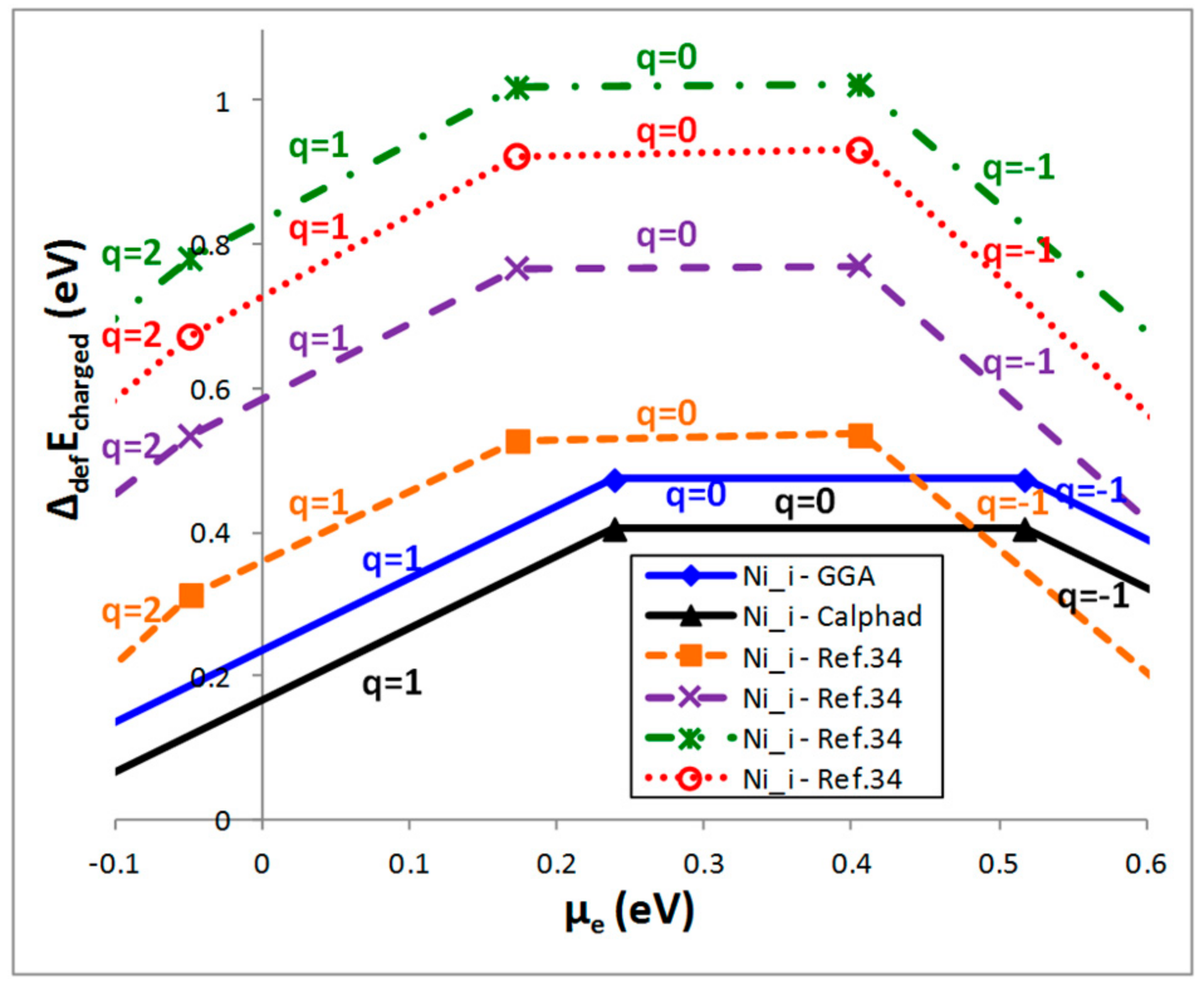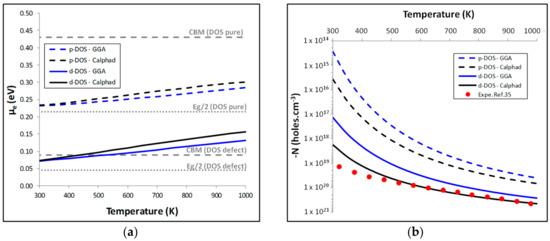 Figure 4.
Evolution with temperature of the calculated: (
a
)
μe
; (
b
)
N
induced in NiTiSn by Ni
i
defects.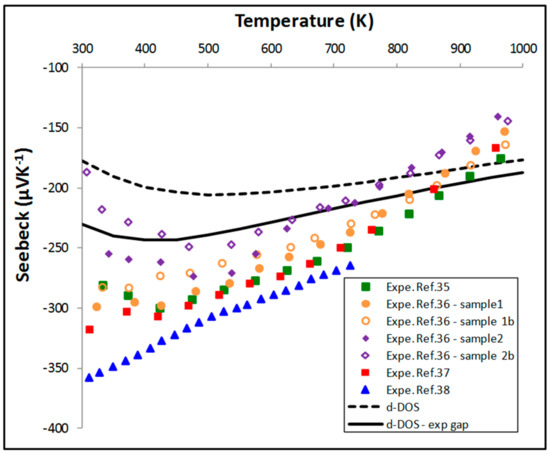 Figure 5. Evolution of the Seebeck coefficient calculated using BoltzTraP compared to a selection of experimental data.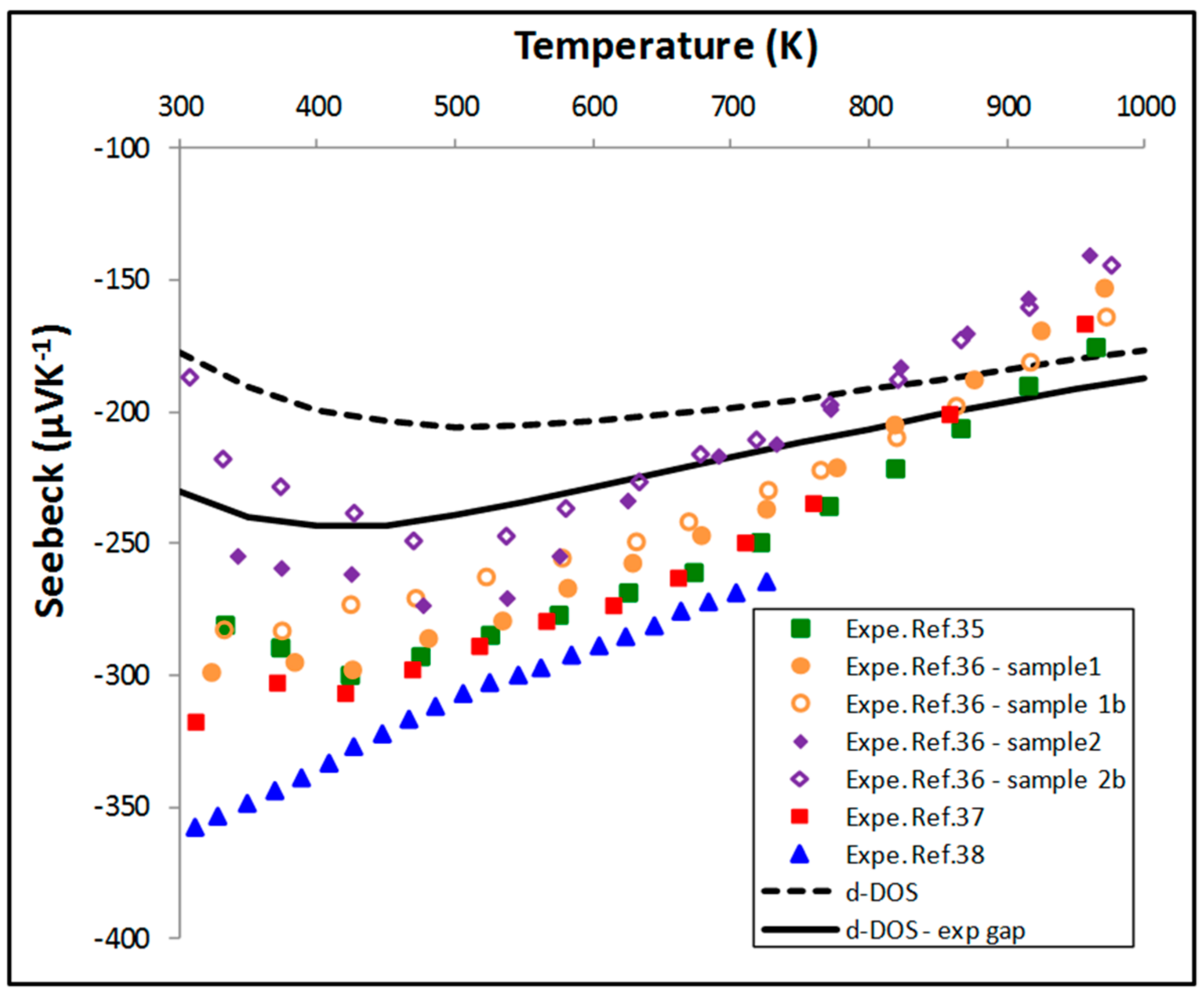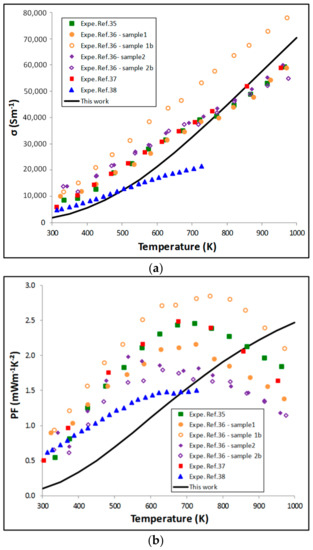 Figure 6.
Effect of temperature on: (
a
) Electrical conductivity; (
b
) power factor (
PF
) calculated using BoltzTraP compared to a selection of experimental data.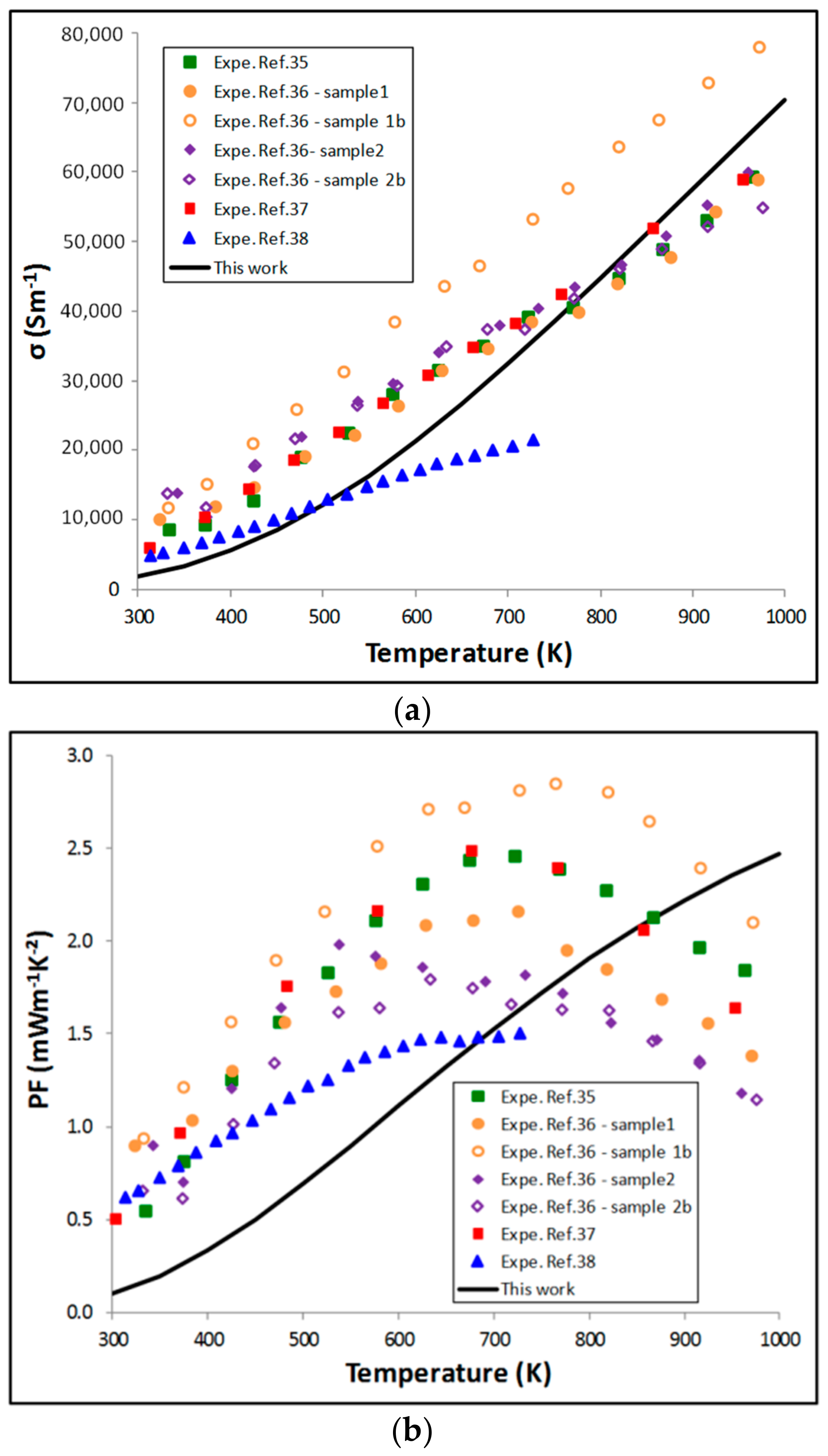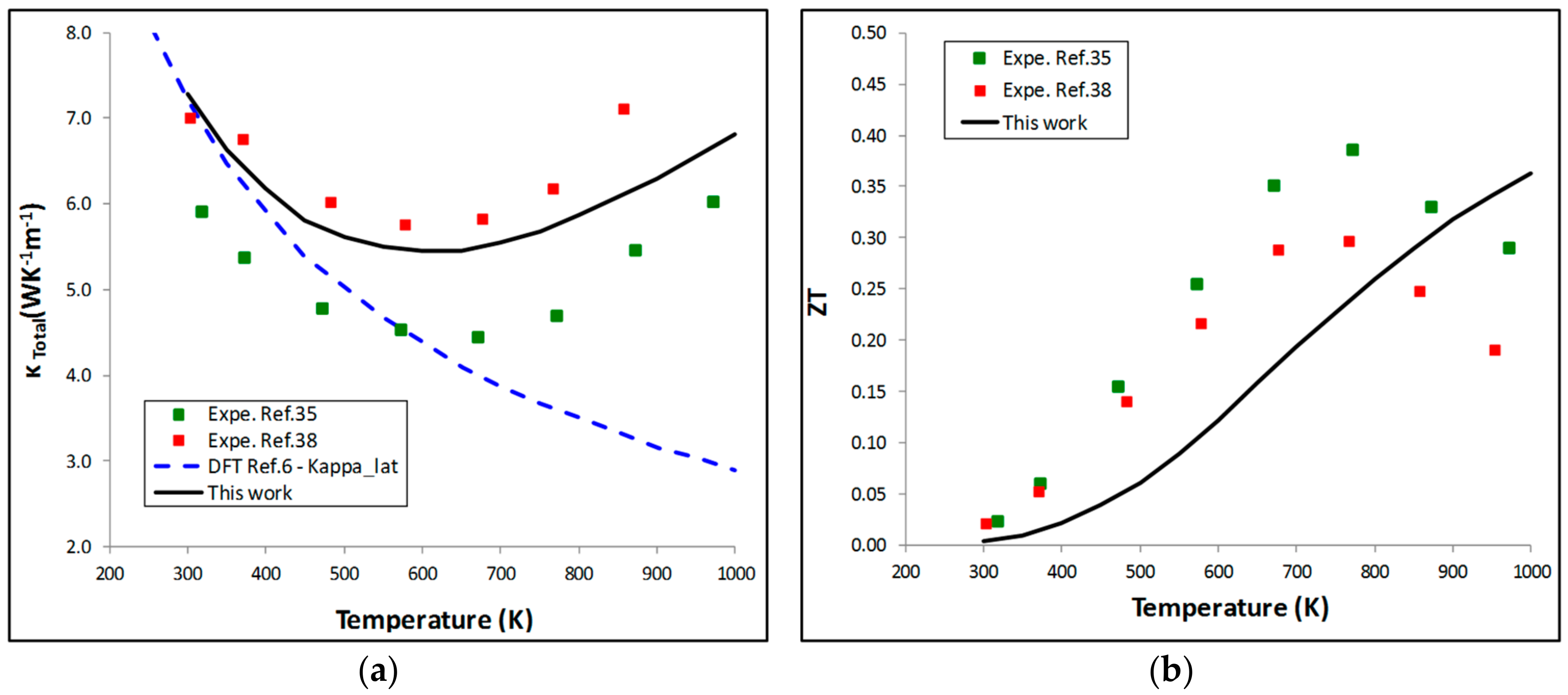 Table 1. Calculated energy of formation of non-charged Nii defects in NiTiSn calculated within the GGA.
Phase Diagram
ΔdefEs (eV)
ΔdefEμ (eV) Calculated for Each 3-Phase Region (See Figure 2)
ΔdefEmulti (eV)
1
2
3
4
5
6
7
8
9
GGA
0.802
1.053
1.142
1.079
1.037
0.860
0.729
0.473
0.659
0.847
0.473
Calphad
1.172
1.036
0.984
0.405
0.405
0.753
-
-
-
0.405

© 2018 by the authors. Licensee MDPI, Basel, Switzerland. This article is an open access article distributed under the terms and conditions of the Creative Commons Attribution (CC BY) license (http://creativecommons.org/licenses/by/4.0/).