Highly Sensitive and Selective Potassium Ion Detection Based on Graphene Hall Effect Biosensors
1
Faculty of Materials Science and Engineering, Kunming University of Science and Technology, Kunming 650093, China
2
Key Laboratory of Marine Materials and Related Technologies, Zhejiang Key Laboratory of Marine Materials and Protective Technologies, Ningbo Institute of Materials Technology and Engineering (NIMTE), Chinese Academy of Sciences, Ningbo 315201, China
3
College of Material Science and Optoelectronic Technology, University of Chinese Academy of Sciences, 19 A Yuquan Rd., Shijingshan District, Beijing 100049, China
4
MOE Key Laboratory for Non-Equilibrium Synthesis and Modulation of Condensed Matter, Xi'an Jiaotong University, Xi'an 710049, China
5
Shenzhen Institutes of Advanced Technology, Chinece Acedemy of Science, Shenzhen 518055, China
6
Ningbo Institute of Materials Technology and Engineering, Chinese Academy of Sciences, Ningbo 315201, China
7
School of Materials Science and Engineering, Central South University, Changsha 410083, China
8
College of Materials and Environmental Engineering, Hangzhou Dianzi University, Hangzhou 310018, China
*
Authors to whom correspondence should be addressed.
†
These authors contributed equally to this work.
Received: 2 February 2018 / Revised: 27 February 2018 / Accepted: 2 March 2018 / Published: 7 March 2018
Potassium (K+) ion is an important biological substance in the human body and plays a critical role in the maintenance of transmembrane potential and hormone secretion. Several detection techniques, including fluorescent, electrochemical, and electrical methods, have been extensively investigated to selectively recognize K+ ions. In this work, a highly sensitive and selective biosensor based on single-layer graphene has been developed for K+ ion detection under Van der Pauw measurement configuration. With pre-immobilization of guanine-rich DNA on the graphene surface, the graphene devices exhibit a very low limit of detection (≈1 nM) with a dynamic range of 1 nM–10 μM and excellent K+ ion specificity against other alkali cations, such as Na+ ions. The origin of K+ ion selectivity can be attributed to the fact that the formation of guanine-quadruplexes from guanine-rich DNA has a strong affinity for capturing K+ ions. The graphene-based biosensors with improved sensing performance for K+ ion recognition can be applied to health monitoring and early disease diagnosis.
1. Introduction
Potassium (K
+
) ion is predominantly an intracellular cation in biological systems [
1
,
2
], and is involved in various physiological and pathological events, including enzyme activation, nervous transmission, blood pressure/pH regulation, membrane potential modulation in living cells, etc. [
3
,
4
]. Many diseases, including alcoholism, anorexia, bulimia, diabetes, and heart disease, have been demonstrated to be significantly related to the imbalance of potassium ion concentration [
5
]. Moreover, due to the fact that the concentration of K
+
ions (≈150 mM) inside the cells of the human body is over 30 times higher than that in the extracellular fluid [
6
], the abnormal K
+
ion concentrations in the extracellular matrix of tumors would lead to the suppression of immune responses [
7
]. In order to identify K
+
ions, different approaches such as fluorescent [
8
,
9
], colorimetric [
10
,
11
], electrochemical [
12
], and electrical detection methods [
13
] using a variety of nanomaterials have been widely investigated. Zeng et al. fabricated an electrochemical transducer based on hydrothermal synthesized MoS
2
nanoflowers that had a detection limit of ≈3.2 μM for determining K
+
ions [
14
]. Lu et al. synthesized Fe
3
O
4
/C core-shell nanoparticles grafted with guanine-rich oligonucleotides as a fluorescent sensing platform, which exhibited high sensitivity as low as 1.3 μM for K
+
ion analysis [
15
]. However, in previous reports, the limited selectivity against sodium ions and the low detection sensitivity (commonly ≈μM) may restrict their clinical applications. Therefore, it is of great importance and is a significant challenge to develop a nanobiosensor for highly sensitive and selective detection of K
+
ions in aqueous environments. Graphene-based biosensors have attracted much research interest recently.
Due to its atomically thin nature, good biomolecular compatibility, and exceptional electrical properties [
16
,
17
,
18
], graphene has been extensively studied as a promising nanomaterial for biosensing applications [
19
]. Nowadays, a variety of nanobiosensors constructed with graphene have been implemented for the recognition of biomolecules with high sensitivity and specificity, such as ions [
20
], glucose [
21
], dopamine [
22
], deoxyribonucleic acid (DNA) [
23
], etc. Electrolyte-gated field-effect transistors (FETs) fabricated with mechanically exfoliated graphene have been demonstrated to achieve an ultralow detection limit of 10 nM for sensing K
+
ions [
24
]. However, using mechanical exfoliation, the lateral size of the samples is usually in micrometer scale and their thickness is randomly distributed, thus limiting the practical applications. In contrast, high-quality single-layer graphene films can be prepared over wafer-scale areas by a catalytic growth technique of chemical vapor deposition (CVD) [
25
,
26
]. Compared to its derivatives (e.g., graphene oxide and mechanically exfoliated graphene), the graphene grown by CVD has inherent advantages for the fabrication of biosensing devices, because the layer number can be easily controlled and the electrical properties are more uniform over a large area [
27
]. Moreover, label-free electrical detection based on graphene has attracted significant academic attention in recent years due to the low cost-in-use, process simplicity, and non use of fluorescent labels [
28
]. Li et al. reported that the K
+
ion-sensitive FETs based on CVD-grown graphene exhibited good performance with a detection limit of 1 μM, which is comparable to commercial silicon sensors [
13
]. As a result, there is high demand for the exploration of the potential of CVD graphene biosensors for label-free recognition of K
+
ions with ultralow detection limit, as well as high selectivity against sodium.
In this contribution, we fabricated the Hall effect biosensors made of CVD-grown single-layer graphene for detecting K
+
ion. Distinct from the two-terminal resistor and FET methods, the sensor measurements based on the Van der Pauw technique are able to monitor the multiple electrical properties of graphene films during the detection. The Van der Pauw method is usually employed to determine the sheet resistance and the Hall coefficients (carrier concentration/mobility) of a thin semiconductor, by placing it in a magnetic field with a four-point electrode configuration [
23
]. The carrier concentration is defined as the number of charge carriers in a given area, and the mobility characterizes how fast the carriers can migrate through a material. Our K
+
ion biosensors exhibit a high sensitivity as low as 1 nM (10
−9
M) and an excellent selectivity (≈4 times) for effectively distinguishing between potassium and sodium ions. The results presented here provide helpful guidance for the design of high-performance ion-selective biosensors for use in healthcare and medical monitoring applications.
2. Materials and Methods
The graphene films were grown using a thermal CVD with the employment of a 25 µm-thick copper foil as the catalyst (Alfa Aesar, Haverhill, MA, USA, No. 13382, purity: 99.8%) with 25 µm in thickness. The pristine copper foil was cleaned in acetone by ultrasonication for 10 min to remove surface-adsorbed organic impurities. In order to grow graphene, copper foil was set in a tube furnace system, which was heated from room temperature to 1050 °C at a heating rate of 17.5 °C/min with 40 sccm hydrogen flow. When the furnace temperature reached 1050 °C, the copper foil was annealed for an additional 40 min for full reduction of native surface oxide layer. A gas mixture of CH4 and H2 (15:15 sccm) was then flowed into the system to form graphene layers on the copper surface at 1050 °C for reaction of 20 min, followed by cooling the furnace down naturally to room temperature.
In order to fabricate the biosensor, the as-prepared graphene films need to be detached from copper foil and then placed on the silicon substrate coated with a 300 nm insulating SiO2 layer. The copper foil with graphene layers on the surface was first cut into a sheet with a size of 8 mm × 8 mm, and then a ≈200 nm-thick PMMA layer was deposited on the graphene surface by spin-coating at a spin speed of 500 rpm (10 s) and 4000 rpm (1 min), respectively. The copper foil was then etched away by immersing the sample in 0.1 M ammonium persulfate ((NH4)2S2O8) aqueous solution at 60 °C for 5 h. After complete removal of copper, the PMMA/graphene layer was cleaned with deionized water 3 times and fished onto the SiO2/Si substrate. The sample was dried at 60 °C for 30 min on the hot plate, followed by immersing in acetone at 60 °C for 6 min to dissolve the PMMA. Finally, a post-annealing treatment was performed at 450 °C to improve the interface between graphene and the substrate, as well as guarantee the surface cleanness by decomposition of PMMA micro-residues.
The morphology, quality, and surface chemical compositions of graphene films were identified using optical microscope (OM, LSM700, Zeiss, Oberkochen, Germany), atomic force microscopy (AFM, Dimension 3100, Veeco, Plainview, NY, USA), Raman spectrometer with 532 nm excitation wavelength of He–Ne laser (Renishaw plc, Wotton-under-Edge, UK), and X-ray photoelectron spectroscopy (XPS, AXIS ULTR DLD, Kratos Analytical, Kyoto, Japan), respectively. The transmittance of the sample in the visible light region was determined by UV-Vis spectroscopy (Lambda 950, Perkin-Elmer, Waltham, MA, USA). The electrical signals of graphene biosensors for the detection of alkali ions were recorded by Hall effect measurement system (Hall 8800, Swin, Taiwan).
3. Results and Discussion
4. Conclusions
In summary, the Hall effect biosensor fabricated with single-layer CVD graphene shows great sensitivity for highly selective detection of K+ ions. We demonstrated that among the electrical properties determined from Van der Pauw measurements, the change of carrier concentration of the device is extraordinarily sensitive to the added K+ ion concentration, and less dependent on that of Na+ ions. The K+ ion specificity is attributed to the spatial matching between K+ ions and guanine-quadruplexes, which is a tetraplex structure folded from guanine-rich DNA strands immobilized on the graphene surface. As a result, our devices exhibit a low detection limit (≈1 nM), wide dynamic range (1 nM–10 μM), and remarkable K+ ion selectivity against Na+ and other cations. The proposed sensing platform is feasible and effective in monitoring potassium ions in chemical and biological environments.
Acknowledgments
The authors are grateful for the financial support by the National Natural Science Foundation of China (51573201, 51501209 and 201675165), Program for International S&T Cooperation Projects of the Ministry of Science and Technology of China (2015DFA50760), Public Welfare Project of Zhejiang Province (2016C31026), Science and Technology Major Project of Ningbo (2014S10001, 2016B10038, and 2016S1002), and International S&T Cooperation Program of Ningbo (2015D10003 and 2017D10016) for financial support. We also thank the Chinese Academy of Science for Hundred Talents Program, Chinese Central Government for Thousand Young Talents Program, 3315 Program of Ningbo, and The Key Technology of Nuclear Energy (CAS Interdisciplinary Innovation Team, 2014).
Author Contributions
X.L. and C.Y. conceived and designed the experiments; X.L., X.L. and N.C. performed the experiments; L.F. analyzed the data; S.D. and Q.W. helped with the mechanism explanation; C.Y. wrote the manuscript draft; T.W. and J.Y. reviewed the draft, and made comments; C.-T.L. gave the idea and contributed all of the chemical reagents, materials and analysis tools in this work.
Conflicts of Interest
The authors declare no conflict of interest.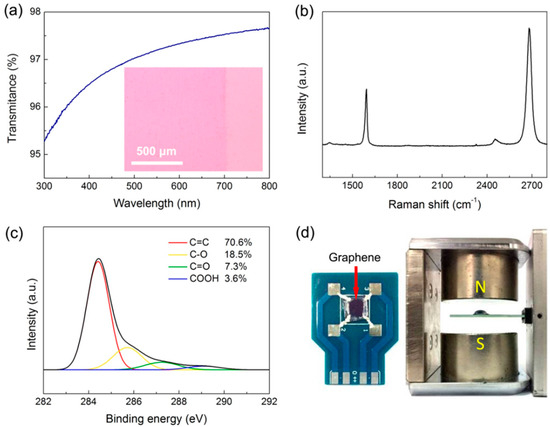 Figure 1. (a) The visible light transmittance of CVD graphene films. Inset: OM image; The corresponding (b) Raman and (c) high-resolution XPS C1s spectra; (d) Photograph of the graphene device measured based on the Van der Paul configuration.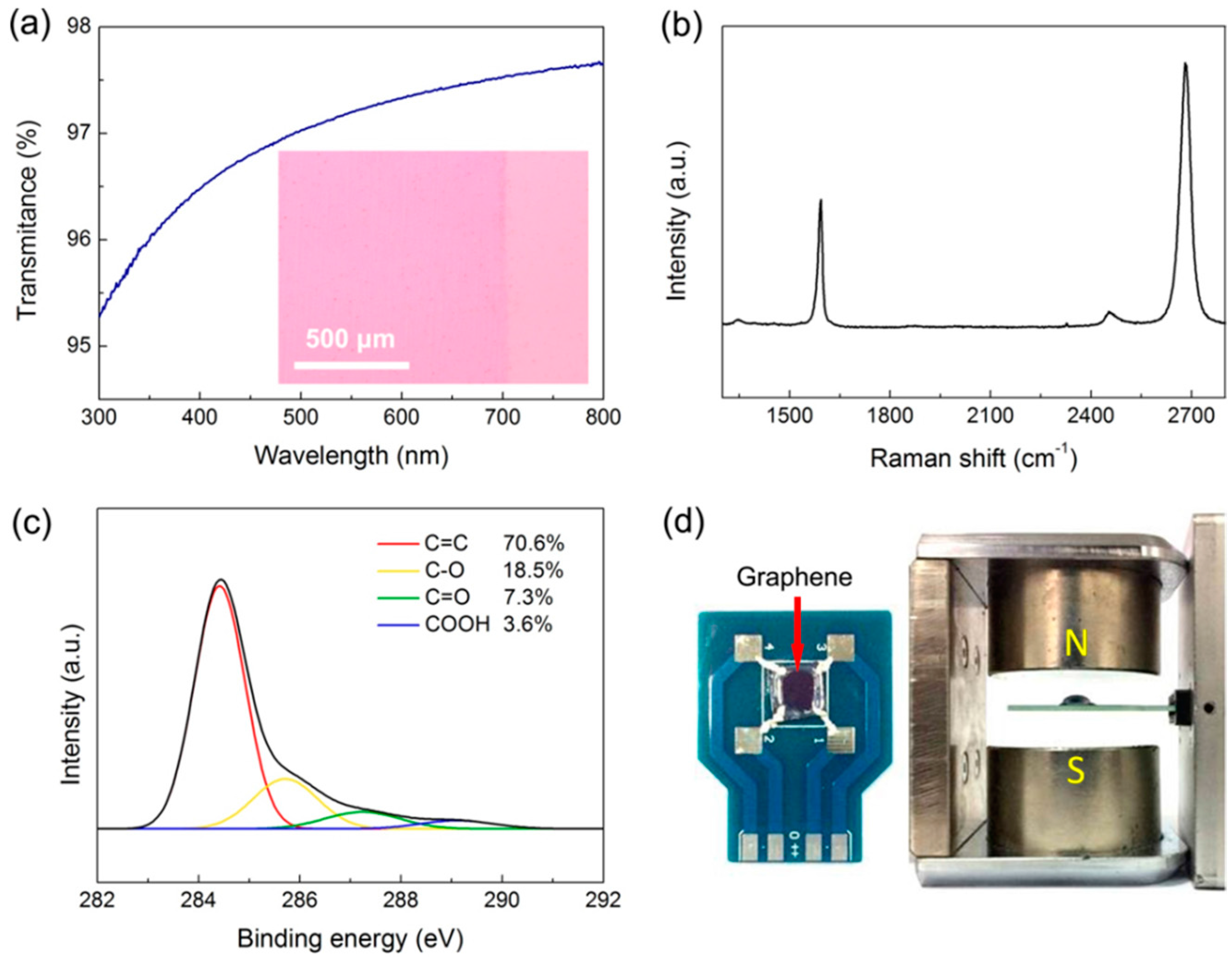 Figure 2. The changes of (a) carrier concentration; (b) mobility and (c) sheet resistance of graphene films as a function of the incubation time in DNA probe/1× TE buffer.


Figure 3. The variations of (a) sheet resistance; (b) mobility; and (c) carrier concentration of the graphene devices with and without DNA modification for distinguishing between K+ and Na+ ions.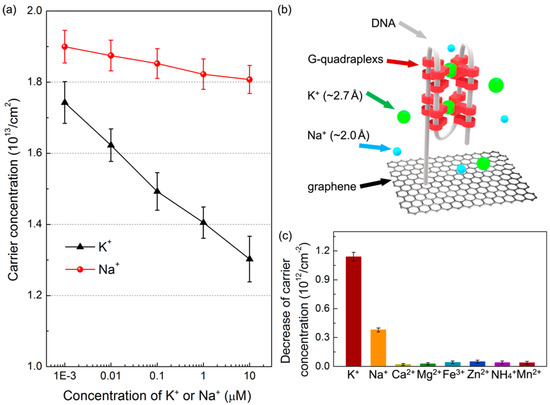 Figure 4. (a) Sensitivity and specificity comparison between K+ and Na+ ions; (b) Schematic illustration of the interaction between K+ ions and guanine-quadruplexes; (c) High selectivity for K+ ion detection over other interfering cations (added concentrations: K+ 1 nM; Others 10 nM).

© 2018 by the authors. Licensee MDPI, Basel, Switzerland. This article is an open access article distributed under the terms and conditions of the Creative Commons Attribution (CC BY) license (http://creativecommons.org/licenses/by/4.0/).