Protein-Based Nanoparticle Preparation via Nanoprecipitation Method
1
Univ Lyon, Université Claude Bernard Lyon-1, CNRS, LAGEP UMR 5007, 43 boulevard du 11 Novembre 1918, F-69100 Villeurbanne, France
2
Faculty of Sciences, Lebanese University, B.P. 90656 Jdaidet El-Matn, Lebanon
3
Inflammation and Immunity of the Respiratory Epithelium-EA 7426, Faculté de Médecine Lyon Sud, 69495 Pierre Benite, France
*
Author to whom correspondence should be addressed.
Received: 31 January 2018 / Revised: 1 March 2018 / Accepted: 4 March 2018 / Published: 7 March 2018
Abstract
Nanoparticles are nowadays largely investigated in the field of drug delivery. Among nanoparticles, protein-based particles are of paramount importance since they are natural, biodegradable, biocompatible, and nontoxic. There are several methods to prepare proteins containing nanoparticles, but only a few studies have been dedicated to the preparation of protein- based nanoparticles. Then, the aim of this work was to report on the preparation of bovine serum albumin (BSA)-based nanoparticles using a well-defined nanoprecipitation process. Special attention has been dedicated to a systematic study in order to understand separately the effect of each operating parameter of the method (such as protein concentration, solvent/non-solvent volume ratio, non-solvent injection rate, ionic strength of the buffer solution, pH, and cross-linking) on the colloidal properties of the obtained nanoparticles. In addition, the mixing processes (batch or drop-wise) were also investigated. Using a well-defined formulation, submicron protein-based nanoparticles have been obtained. All prepared particles have been characterized in terms of size, size distribution, morphology, and electrokinetic properties. In addition, the stability of nanoparticles was investigated using Ultraviolet (UV) scan and electrophoresis, and the optimal conditions for preparing BSA nanoparticles by the nanoprecipitation method were concluded.
View Full-Text
►

▼

Figures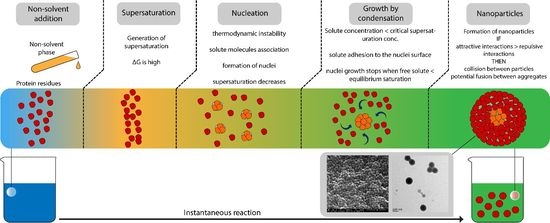 Graphical abstract
This is an open access article distributed under the
Creative Commons Attribution License
which permits unrestricted use, distribution, and reproduction in any medium, provided the original work is properly cited (CC BY 4.0).

Share & Cite This Article
MDPI and ACS Style
Tarhini, M.; Benlyamani, I.; Hamdani, S.; Agusti, G.; Fessi, H.; Greige-Gerges, H.; Bentaher, A.; Elaissari, A. Protein-Based Nanoparticle Preparation via Nanoprecipitation Method. Materials 2018, 11, 394.
Note that from the first issue of 2016, MDPI journals use article numbers instead of page numbers. See further details here.
Related Articles
Comments
[Return to top]