Open Access This article is
freely available
re-usable
Article
Green Synthesis of Boron Carbonitride with High Capacitance
College of Materials Science and Engineering, Huaqiao University, Xiamen 361021, China
*
Author to whom correspondence should be addressed.
Received: 11 February 2018 / Accepted: 2 March 2018 / Published: 6 March 2018
Abstract
:
Boron carbonitrides (BCN) have attracted great interest in superhard or energy storage materials. In this work, thin BCN sheets were synthesized at 250 °C by a facile and green solvothermal method. The structure and morphology were characterized by X-ray diffraction (XRD), Raman spectroscopy, X-ray photoelectron spectroscopy (XPS), scanning electron microscopy (SEM), and transmission electron microscopy (TEM). Based on the results of electrochemical experiments, the thin BCN sheet exhibited excellent capacitance performance (343.1 F/g at a current density of 0.5 A/g) and cycling stability (90%), which showed high potential applications in supercapacitors.
Keywords:
solvothermal; boron carbonitride; supercapacitors; Microstructure
1. Introduction
Capacitance (C) and Boron Nitride (BN) have similar atomic structures and physical properties but different thermal stability and electrical conductivity [
1
,
2
]. Ternary boron carbonitrides (BCN) compounds were produced using C and BN, which exhibit favorable properties particularly excellent force, heat, electricity and light [
3
,
4
,
5
]. These materials are considered as products of the substitution of some carbon atoms in the graphite network with boron (B) or Nitrogen (N) atoms [
6
]. Ternary BCN nanotubes possess outstanding mechanical and electrical properties as compared with carbon nanotubes, good thermal and chemical stability, even under extreme conditions, such as high temperature and high pressure, although their morphologies are similar [
7
,
8
]. Furthermore, the diameter of a ternary BCN compound has minimal effect on its mechanical and electrical properties. Therefore, BCN materials in composite, magnetic, luminescent, and electronic materials have a wide range of applications [
9
,
10
].
Although BCN compounds have many excellent properties, it is difficult to synthesize and synthesis yields is low. At present, BCN materials were prepared by the arc discharge, ion beam sputtering, chemical vapor deposition, and high temperature and high pressure (HTHP) methods [
11
,
12
]. Zeng et al. [
13
] prepared boron carbonitride microspheres by an organic precursor pyrolysis approach. Qin et al. [
14
] reported an approach to synthesize few atomic layered BCN sheets by CVD method. Among them, HTHP method is the most widely used one to synthesize metastable BCN. Therefore, it is necessary to find a simple and low-cost process for the development of BCN materials with excellent physical and chemical properties through mild reaction conditions.
In this study, thin BCN sheets (1–50 μm) were synthesized through the solvothermal method. The results of electrochemical experiments showed that the synthesized BCN materials exhibit ultrahigh specific capacitance and good cycle stability, which are valuable in terms of supercapacitor applications.
2. Materials and Methods
2.1. Synthesis of Thin BCN Sheets
Boric acid (1.76 g) and 2,4,6-Tri(2-pyridyl)-1,3,5-triazine (0.5 g) was dissolved in ethylene glycol and ultrasonic treatment for 10 min. The yellow solution that was obtained was transferred to a hydrothermal reactor. The reactor was transferred to a stove and heated up to 250 °C for 24 h. After cooling, the black and viscous liquid was collected and placed in a corundum boat, which was then placed in tube furnace and heated at a rate of 10 °C/min to 400 °C for 2 h under N2 atmosphere for removing the organic solvent. The boat was then allowed to cool at room temperature. The products were collected and washed with hydrochloric acid (5%) and distilled water to remove the boron salt and other impurities. Then, the final product was dried in a vacuum at 80 °C for 8 h.
2.2. Characterization
X-ray powder diffraction (XRD) patterns were collected on a Rigaku MiniFlex 600 with Cu-Kα radiation. Raman spectra were collected on a RENISHAW inVia (Freeboard International Co., Ltd., Hong Kong, China) at 532 nm wavelength. Scanning electron microscopy (SEM) images were collected through a Hitachi field-emission scanning electron microscope. The transmission electron microscopy (TEM) images were collected through JEM-2100 (Ruisheng Technology Co., Ltd., Shenzhen, China). at an acceleration voltage of 200 KV. The X-ray photoelectron spectroscopy (XPS) was collected on a Thermo ESCALAB 250 (Thermo Fisher Scientific, Shanghai, China), with an X-ray Al Kα source. After correction, the binding energy of the main peak C 1s in the sample was found to be certain at 284.8 eV.
3. Results and Discussion
4. Conclusions
In summary, thin BCN sheets (1–50 µm) were synthesized via a green and facile solvothermal method. Typical peaks of the graphite-like structure of BCN were observed at 26° and 43°. B-C, B-N, C-C and C-N bonds were characterized by XPS spectra, indicating real ternary BCN compounds. Here, heteroatom (B and N) influenced the electronic properties of carbon materials, which increased the wettability of electrode, thereby increasing the specific capacitance of the material. The results of the electrochemical tests showed that the synthesized thin BCN sheets demonstrate extremely high specific capacitance (343.1 F/g when the current density was 0.5 A/g) and good cycle stability (retaining about 90% of the efficiency after 3000 cycles). Thus, thin BCN sheets have high potential applications for supercapacitor.
Supplementary Materials
The following are available online at
https://www.mdpi.com/1996-1944/11/3/387/s1
, Figure S1: FTIR of BCN sheets; Figure S2: EDS and Elemental Mapping of BCN sheets; Figure S3: Adsorption and desorption curve of BCN sheets; Figure S4: Nyquist plots of BCN sheets.
Acknowledgments
This work was supported by National Natural Science Foundation of China (No. 51502098), and Promotion Program for Young and Middle-aged Teacher in Science and Technology Research of Huaqiao University (ZQN-PY305). The authors also appreciate help and advice from Jingcao Dai and Genggeng Luo.
Author Contributions
D.C. and D.L. conceived and designed the experiments; D.C., Y.H., X.H., R.L. and Y.Q. performed the experiments; D.C., Y.H., and D.L. analyzed the data; D.X. Li contributed reagents/materials/analysis tools; D.C., Y.H. and D.L. wrote the paper.
Conflicts of Interest
The authors declare no conflict of interest.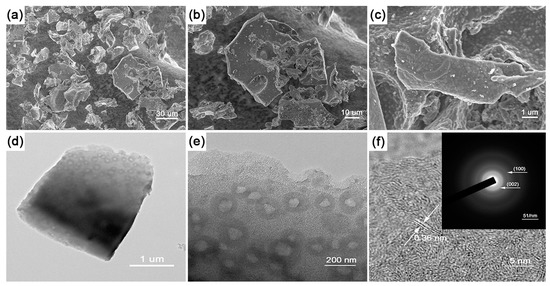 Figure 1. Scanning electron microscopy (SEM) images of thin boron carbonitrides (BCN) sheets (a–c); transmission electron microscopy (TEM) image (d–e); and, high-resolution transmission electron microscopy (HRTEM) (f) image with selected area electron diffraction (SEAD) pattern (inset) of thin BCN sheets.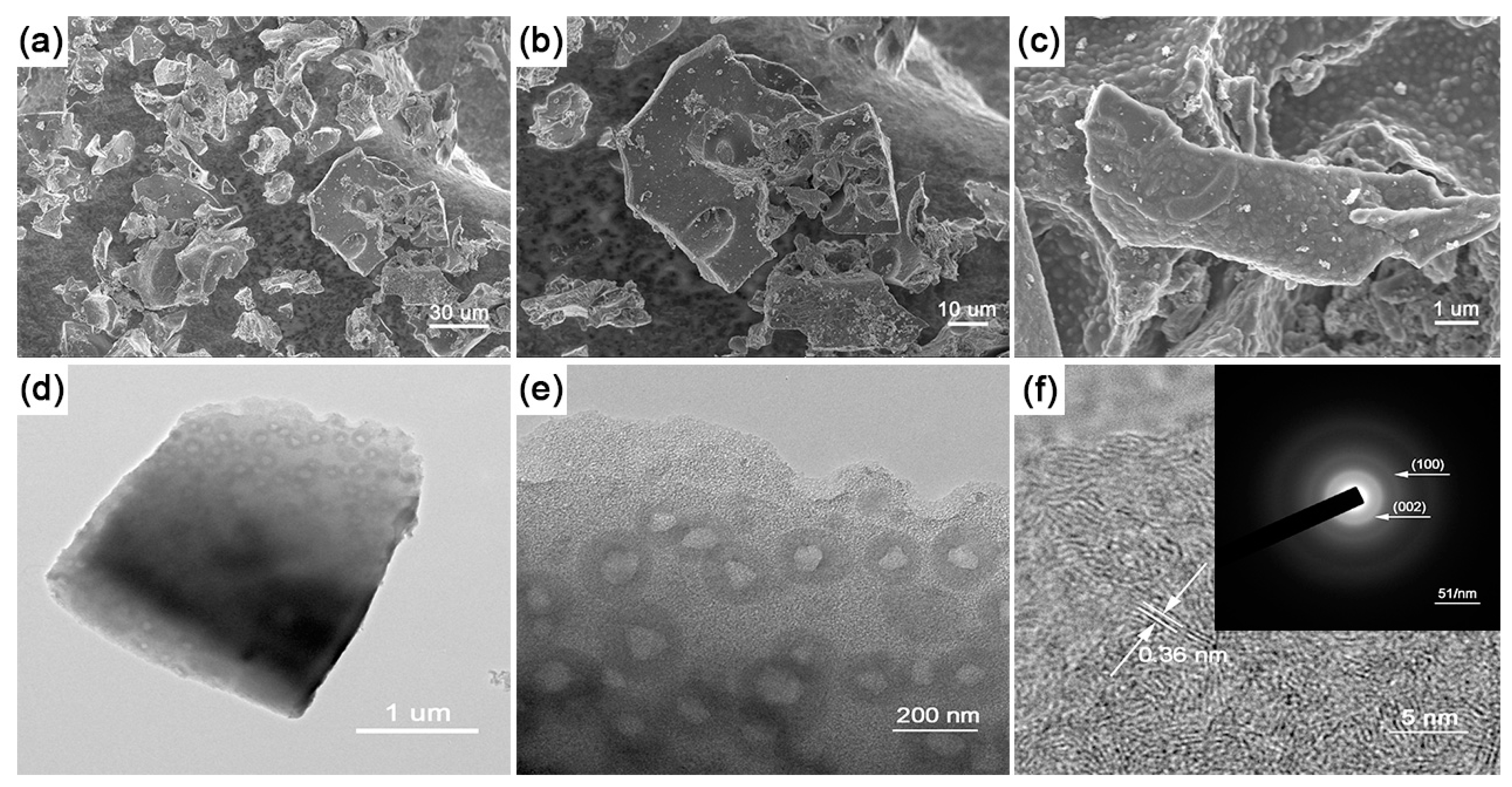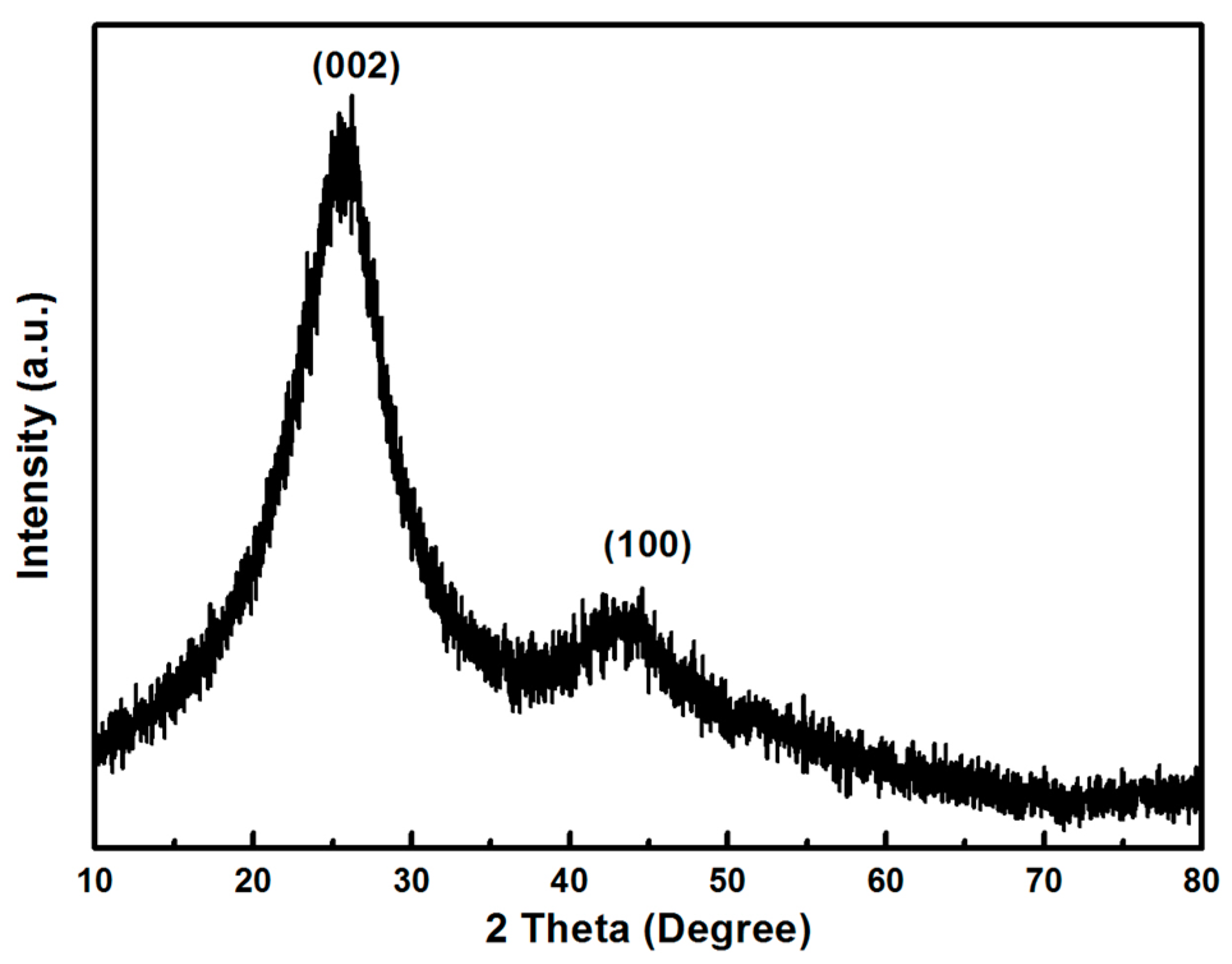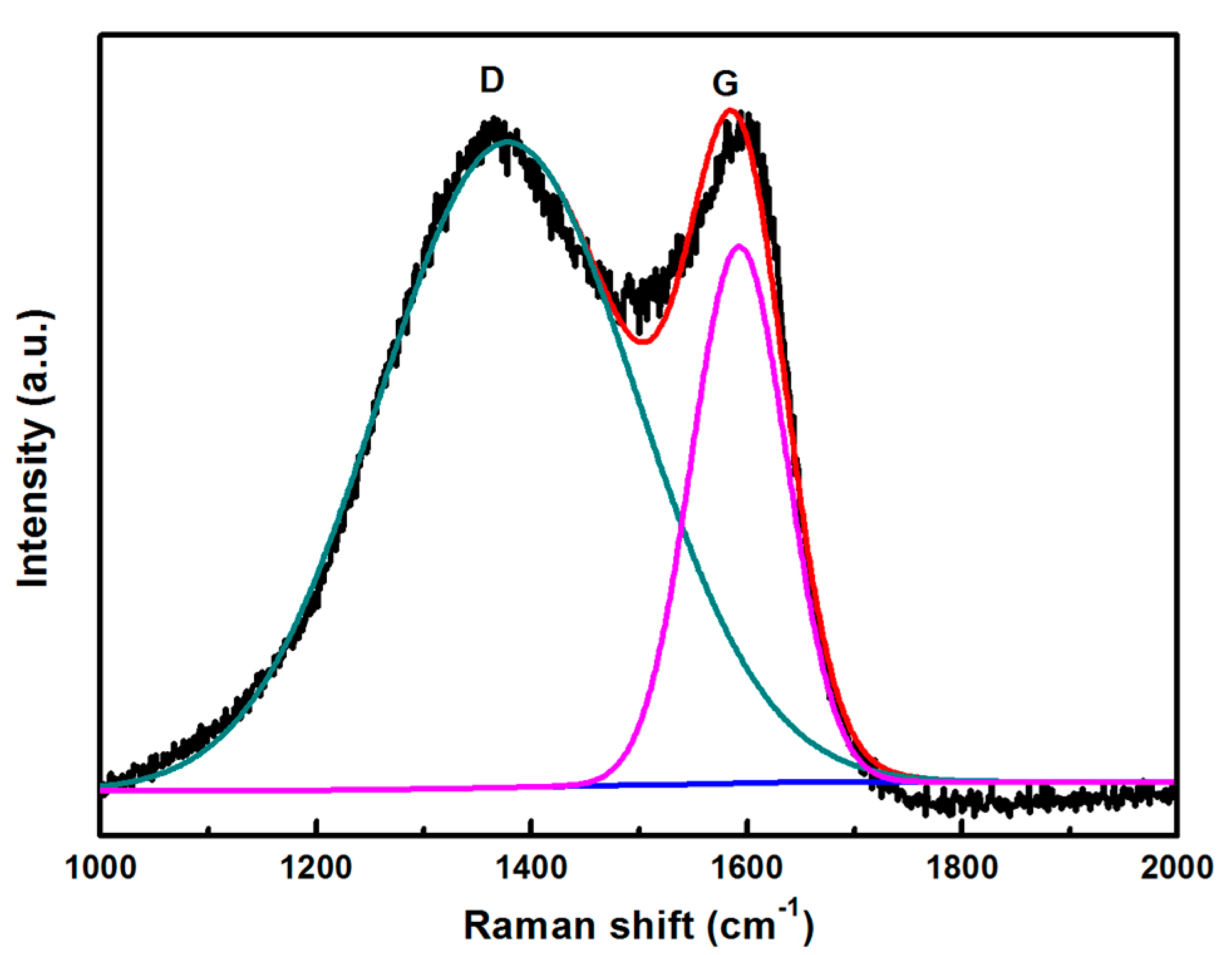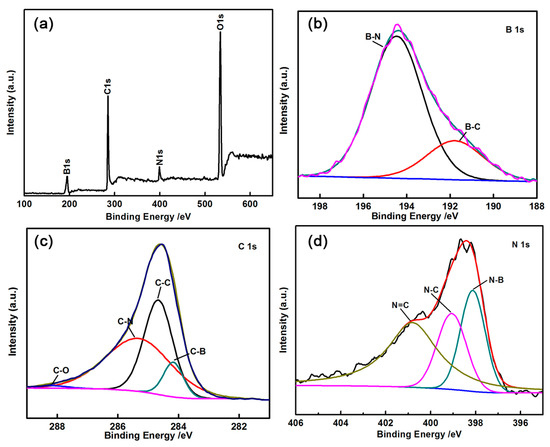 Figure 4. X-ray photoelectron spectroscopy (XPS) scan survey spectra of thin BCN sheets (a); B 1s (b); C 1s (c) and N 1s (d).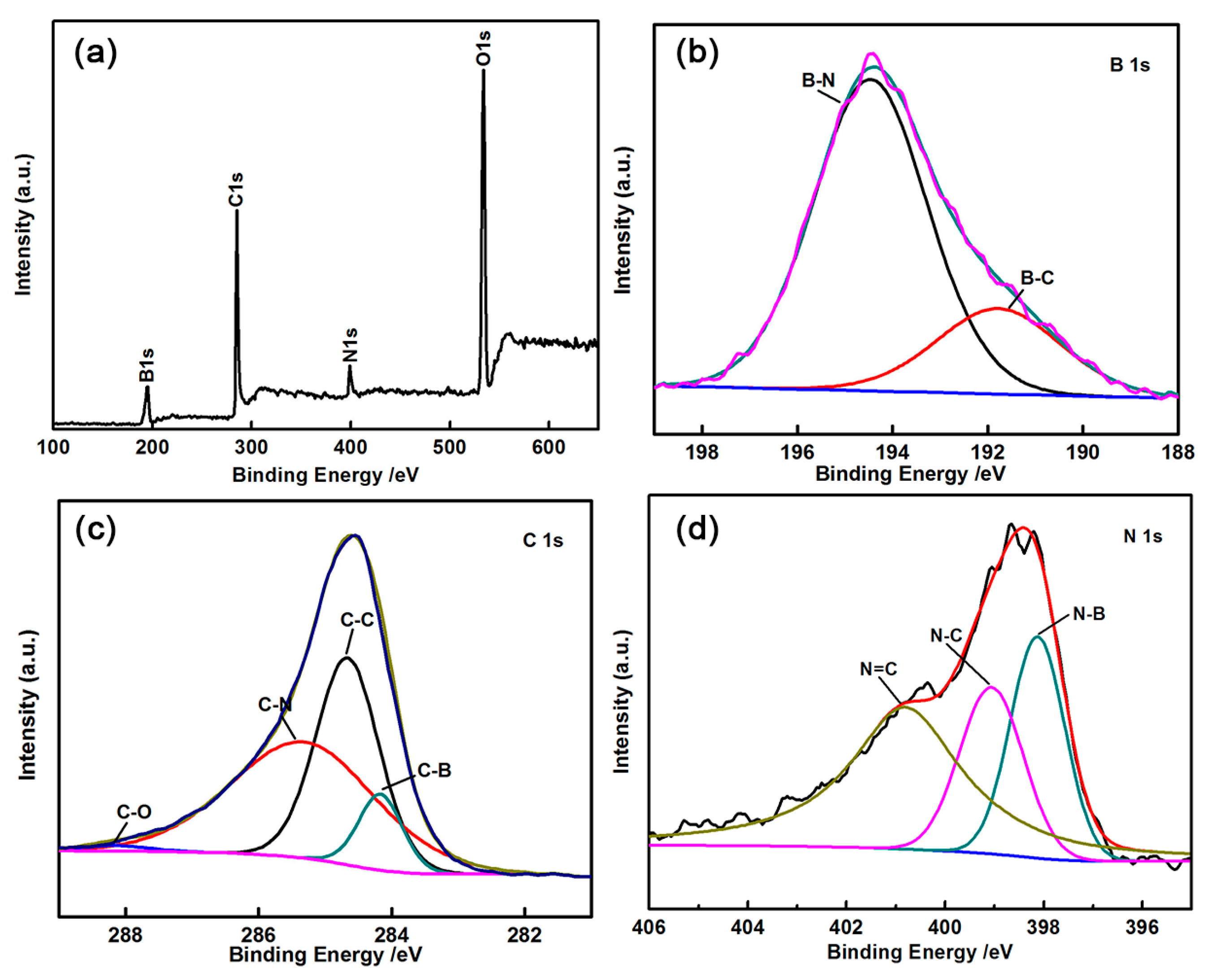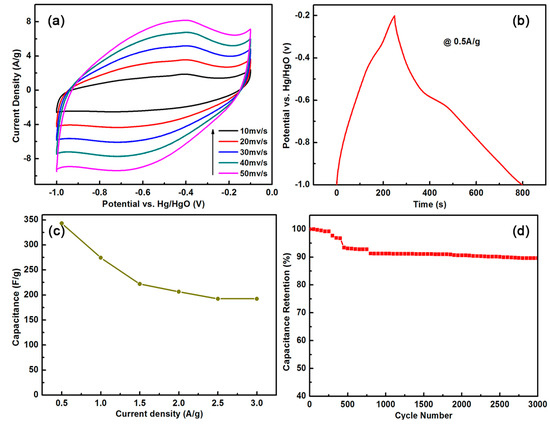 Figure 5. Cyclic voltammetry (CV) curves of thin BCN sheets in 6 M KOH solution at scan rates of 10, 20, 30, 40, and 50 mV/s (a); Galvanostatic charge/discharge curves at a current density of 0.5 A/g (b); corresponding capacity retention at the current density from 0.5 to 3 A/g (c); and, Stability evolution of BCN samples at a current density of 8 A/g in 6 M KOH solution (d).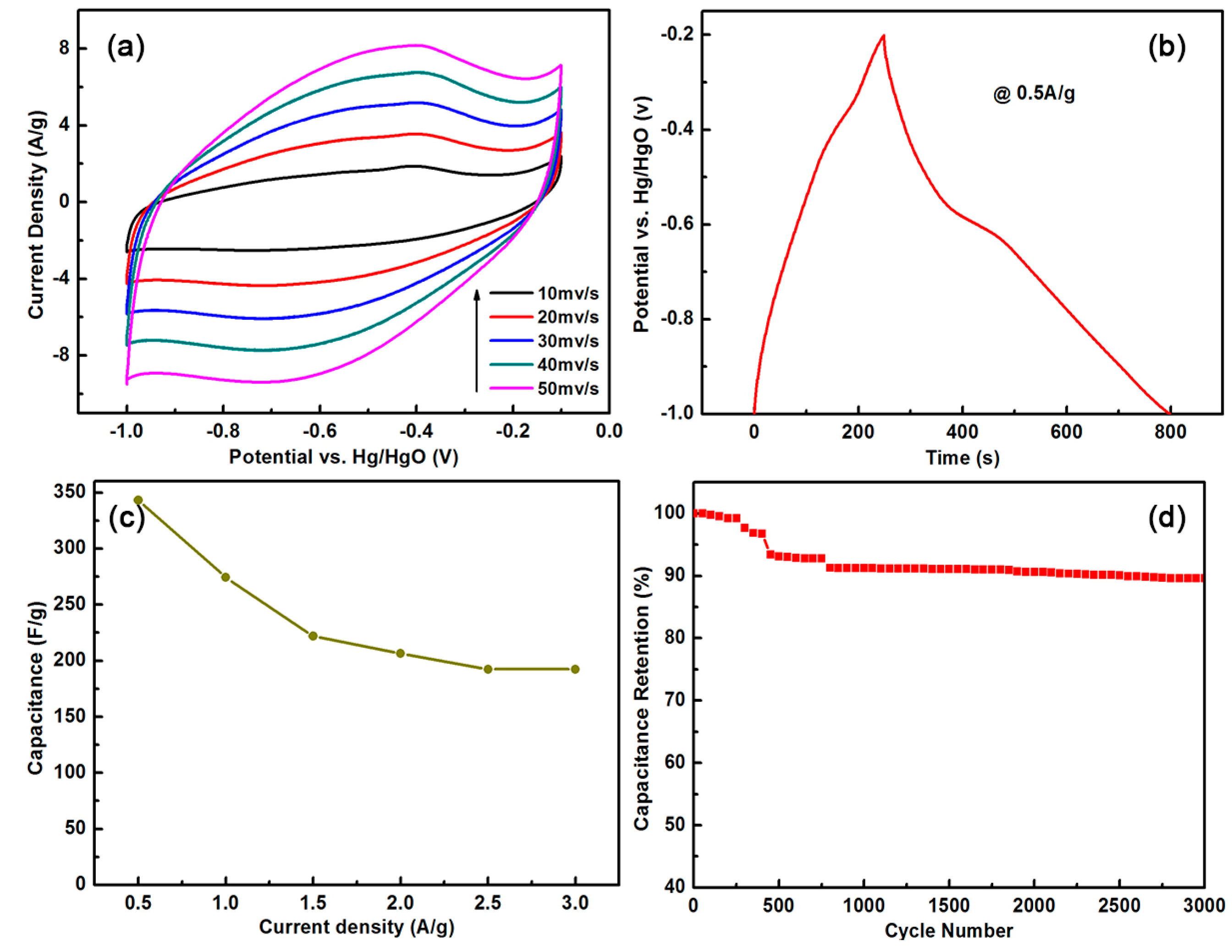 © 2018 by the authors. Licensee MDPI, Basel, Switzerland. This article is an open access article distributed under the terms and conditions of the Creative Commons Attribution (CC BY) license (http://creativecommons.org/licenses/by/4.0/).