Carboxylic Terminated Thermo-Responsive Copolymer Hydrogel and Improvement in Peptide Release Profile
School of Microelectronics and Solid-State Electronics, University of Electronic Science and Technology of China, No.4, Section 2, North Jian'she Road, Chengdu 610054, China
*
Author to whom correspondence should be addressed.
Received: 27 December 2017 / Revised: 22 February 2018 / Accepted: 22 February 2018 / Published: 26 February 2018
Abstract
To improve the release profile of peptide drugs, thermos-responsive triblock copolymer poly (ε-caprolactone-co-p-dioxanone)-b-poly (ethylene glycol)-b-poly (ε-caprolactone-co-p-dioxanone) (PECP) was prepared and end capped by succinic anhydride to give its carboxylic terminated derivative. Both PCEP block copolymer and its end group modified derivative showed temperature-dependent reversible sol-gel transition in water. The carboxylic end group could significantly decrease the sol-gel transition temperature by nearly 10 °C and strengthen the gel due to enhanced intermolecular force among triblock copolymer chains. Furthermore, compared with the original PECP triblock copolymer, HOOC–PECP–COOH copolymer displayed a retarded and sustained release profile for leuprorelin acetate over one month while effectively avoiding the initial burst. The controlled release was believed to be related to the formation of conjugated copolymer-peptide pair by ionic interaction and enhanced solubility of drug molecules into the hydrophobic domains of the hydrogel. Therefore, carboxyl terminated HOOC–PECP–COOH hydrogel was a promising and well-exhibited sustained release carrier for peptide drugs with the advantage of being able to develop injectable formulation by simple mixing.
View Full-Text
►

▼

Figures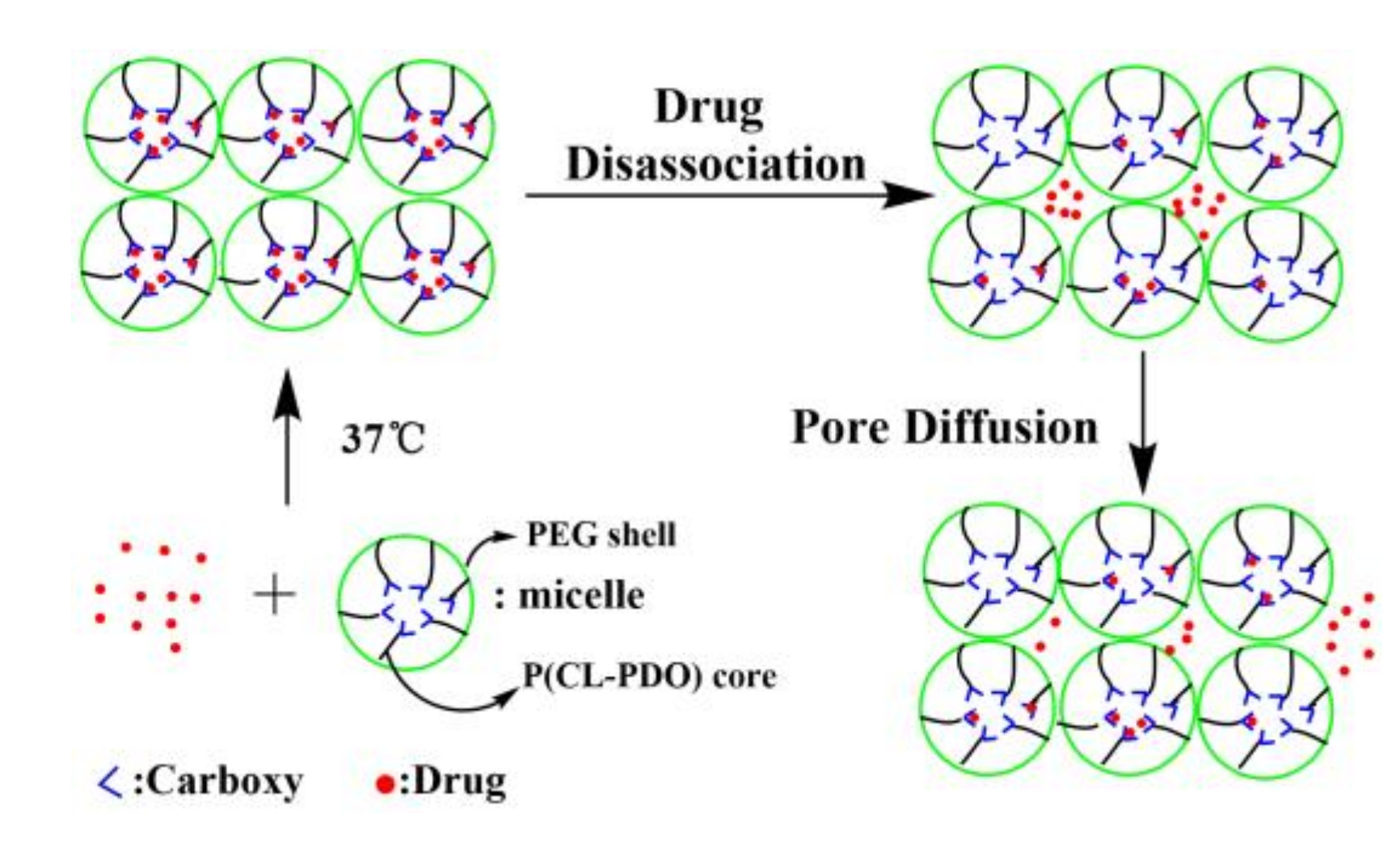 Graphical abstract
This is an open access article distributed under the
Creative Commons Attribution License
which permits unrestricted use, distribution, and reproduction in any medium, provided the original work is properly cited (CC BY 4.0).

Share & Cite This Article
MDPI and ACS Style
Rao, Z.-K.; Chen, R.; Zhu, H.-Y.; Li, Y.; Liu, Y.; Hao, J.-Y. Carboxylic Terminated Thermo-Responsive Copolymer Hydrogel and Improvement in Peptide Release Profile. Materials 2018, 11, 338.
Note that from the first issue of 2016, MDPI journals use article numbers instead of page numbers. See further details here.
Related Articles
Comments
[Return to top]