Combining the Photocatalysis and Absorption Properties of Core-Shell [email protected]2 Microspheres: Highly Efficient Desulfurization of Thiophenic Compounds from Fuel
1
Beijing Key Laboratory of Lignocellulosic Chemistry, College of Materials Science and Technology, Beijing Forestry University, Beijing 100083, China
2
MOE Key Laboratory of Wooden Material Science and Application, Beijing Forestry University, Beijing 100083, China
*
Author to whom correspondence should be addressed.
†
These authors contributed equally to this work.
Received: 12 September 2018 / Revised: 16 October 2018 / Accepted: 18 October 2018 / Published: 7 November 2018
Abstract
A core-shell Cu-benzene-1,3,5-tricarboxylic acid (Cu-BTC)@TiO
2
was successfully synthesized for photocatalysis-assisted adsorptive desulfurization to improve adsorptive desulfurization (ADS) performance. Under ultraviolet (UV) light irradiation, the TiO
2
shell on the surface of Cu-BTC achieved photocatalytic oxidation of thiophenic S-compounds, and the Cu-BTC core adsorbed the oxidation products (sulfoxides and sulfones). The photocatalyst and adsorbent were combined using a distinct core-shell structure. The morphology and structure of the fabricated
[email protected]
2
microspheres were verified by scanning electron microscopy, high-resolution transmission electron microscopy, energy-dispersive x-ray spectroscopy, X-ray powder diffraction, nitrogen adsorption-desorption and X-ray photoelectron spectroscopy analyses. A potential formation mechanism of
[email protected]
2
is proposed based on complementary experiments. The sulfur removal efficiency of the microspheres was evaluated by selective adsorption of benzothiophene (BT) and dibenzothiophene (DBT) from a model fuel with a sulfur concentration of 1000 ppmw. Within a reaction time of 20 min, the BT and DBT conversion reached 86% and 95%, respectively, and achieved ADS capacities of 63.76 and 59.39 mg/g, respectively. The BT conversion and DBT conversion obtained using
[email protected]
2
was 6.5 and 4.6 times higher, respectively, than that obtained using Cu-BTC. A desulfurization mechanism was proposed, the interaction between thiophenic sulfur compounds and
[email protected]
2
microspheres was discussed, and the kinetic behavior was analyzed.
View Full-Text
►

▼

Figures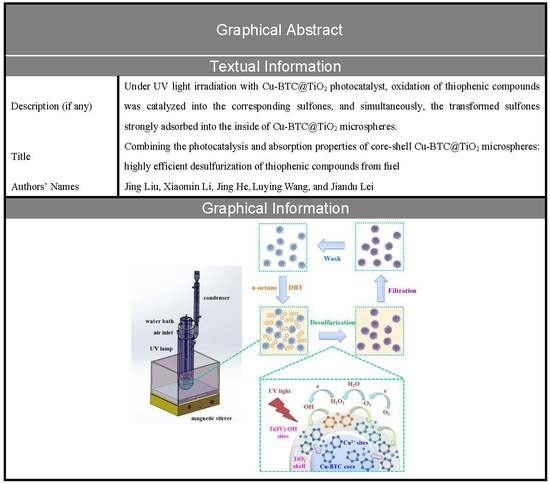 Graphical abstract
This is an open access article distributed under the
Creative Commons Attribution License
which permits unrestricted use, distribution, and reproduction in any medium, provided the original work is properly cited (CC BY 4.0).

Share & Cite This Article
MDPI and ACS Style
Liu, J.; Li, X.-M.; He, J.; Wang, L.-Y.; Lei, J.-D. Combining the Photocatalysis and Absorption Properties of Core-Shell [email protected]2 Microspheres: Highly Efficient Desulfurization of Thiophenic Compounds from Fuel. Materials 2018, 11, 2209.
Note that from the first issue of 2016, MDPI journals use article numbers instead of page numbers. See further details here.
Related Articles
Comments
[Return to top]