Open Access This article is
freely available
re-usable
Concept Paper
Photocatalytic Activity: Experimental Features to Report in Heterogeneous Photocatalysis
1
Department of Chemistry, University of Kentucky, Lexington, KY 40506, USA
2
Center for Applied Energy Research, University of Kentucky, Lexington, KY 40511, USA
*
Author to whom correspondence should be addressed.
Received: 14 September 2018 / Accepted: 10 October 2018 / Published: 15 October 2018
Abstract
:
Heterogeneous photocatalysis is a prominent area of research with major applications in solar energy conversion, air pollution mitigation, and removal of contaminants from water. A large number of scientific papers related to the photocatalysis field and its environmental applications are published in different journals specializing in materials and nanomaterials. However, many problems exist in the conception of papers by authors unfamiliar with standard characterization methods of photocatalysts as well as with the procedures needed to determine photocatalytic activities based on the determination of "apparent quantum efficiencies" within a wavelength interval or "apparent quantum yields" in the case of using monochromatic light. In this regard, an astonishing number of recent research articles include claims of highly efficient (photo)catalysts or similar terms about materials with superior or enhanced efficiency for a given reaction without proper experimental support. Consequently, the comparison of the efficiencies of photocatalysts may result as being meaningless, especially when reports are only based on expressions determining (1) a reaction rate per weight of catalyst or its surface area, (2) quantum efficiencies or quantum yields, and (3) turnover frequencies or turnover numbers. Herein, we summarize the standards needed for reporting valuable data in photocatalysis and highlight some common discrepancies found in the literature. This work should inform researchers interested in reporting photocatalysis projects about the correct procedures for collecting experimental data and properly characterizing the materials by providing examples and key supporting literature.
Keywords:
heterogeneous photocatalysis; photocatalytic activity; photocatalytic efficiency; rate per weight; apparent quantum efficiency
Author Contributions
All authors conceived and wrote the paper.
Funding
Financial support was provided by the National Science Foundation (CHE-1255290). The APC was funded by MDPI Materials.
Acknowledgments
M.I.G. gives thanks to the National Science Foundation for a CAREER award.
Conflicts of Interest
The authors declare no conflict of interest.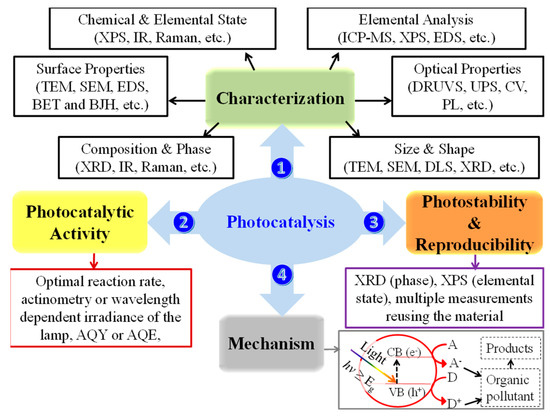 Figure 1.
Representation of the four features to report in heterogeneous photocatalysis: (1) material characterization, (2) evaluation of photocatalytic activity, (3) determination of the photocatalyst stability and data reproducibility, and (4) proposal of a mechanism. Key for abbreviations: A, electron acceptor; AQE, apparent quantum efficiency; AQY, apparent quantum yield; BET, Brunauer−Emmett−Teller; BJH, Barrett-Joyner-Halend; CB, conduction band; CV, cyclic voltammetry; D, electron donor; DLS, dynamic light scattering; DRUVS, diffuse reflectance UV-visible spectroscopy; EDS, energy dispersive X-ray spectroscopy;
E
g
, bandgap energy;
e
−
, electron;
h
+
, hole;
h
ν
, photon energy; ICP-MS, inductively coupled plasma mass spectrometry; IR, infrared spectroscopy; PL, photoluminescence spectroscopy; SEM, scanning electron microscopy; TEM, transmission electron microscopy; UPS, ultraviolet photoelectron spectroscopy; VB, valence band; XPS, X-ray photoelectron spectroscopy; and XRD, X-ray diffraction.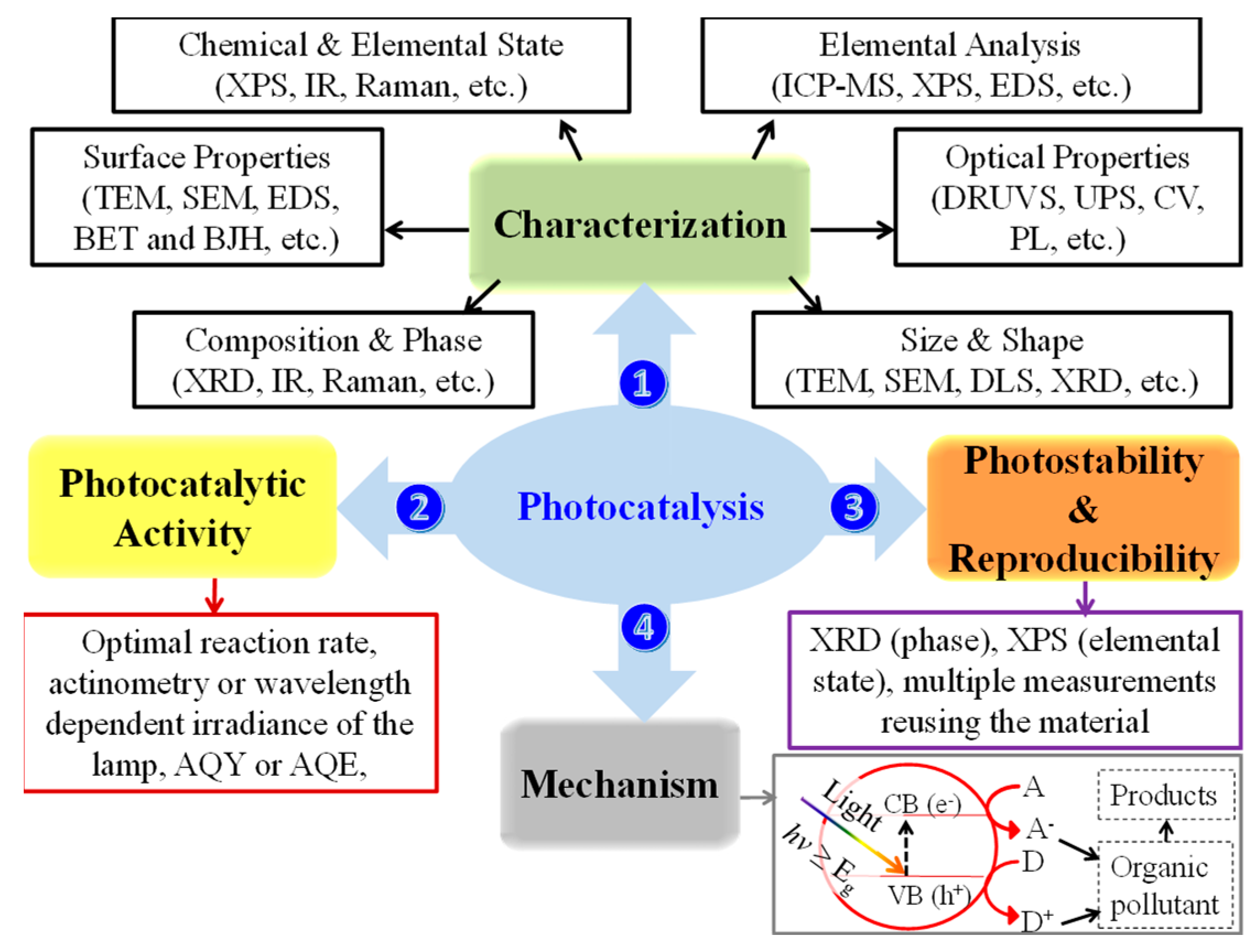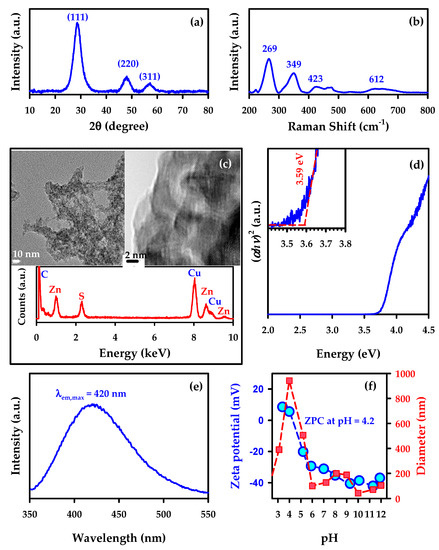 Figure 2.
Example for the characterization of a ZnS model semiconductor. Further experimental details about the synthesis of ZnS, data collection, and interpretation can be found in references [
2
,
9
]. (
a
) Powder X-ray diffractogram (XRD) for cubic ZnS. (
b
) Raman spectrum for cubic ZnS. (
c
) Transmission electron microscopy (TEM) of ZnS with energy-dispersive X-ray spectroscopy (EDS), showing that the 1:1 stoichiometric ratio of Zn:S is maintained on the surface. (
d
) Tauc plot obtained by plotting the square of the product of the absorption coefficient (proportional to the Kubelka–Munk function recorded by DRUVS) and energy in eV vs energy. A linear extrapolation provides the bandgap of 3.59 eV (or
λ
= 345 nm) for colloidal ZnS suspended in water. (
e
) Photoluminescence spectrum of colloidal ZnS suspended in water and excited at
λ
= 300 nm with an emission maximum at
λ
em,max
= 420 nm. (
f
) Dynamic light scattering (DLS) analysis of colloidal ZnS suspended in water showing the (blue circle) zeta-potential and (red square) particle size (diameter from the unimodal distribution) at variable pH with a zero point of charge (ZPC) at pH = 4.2.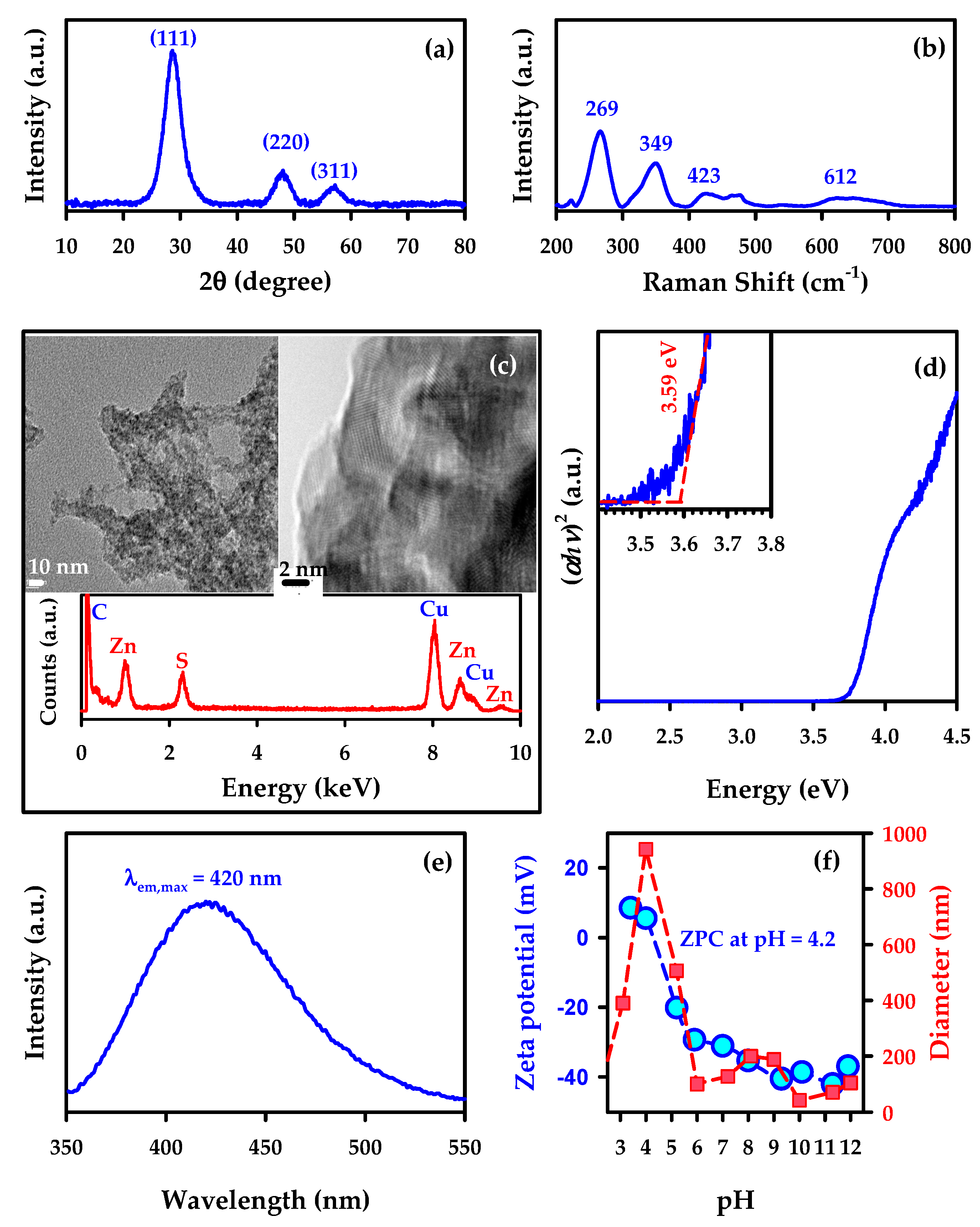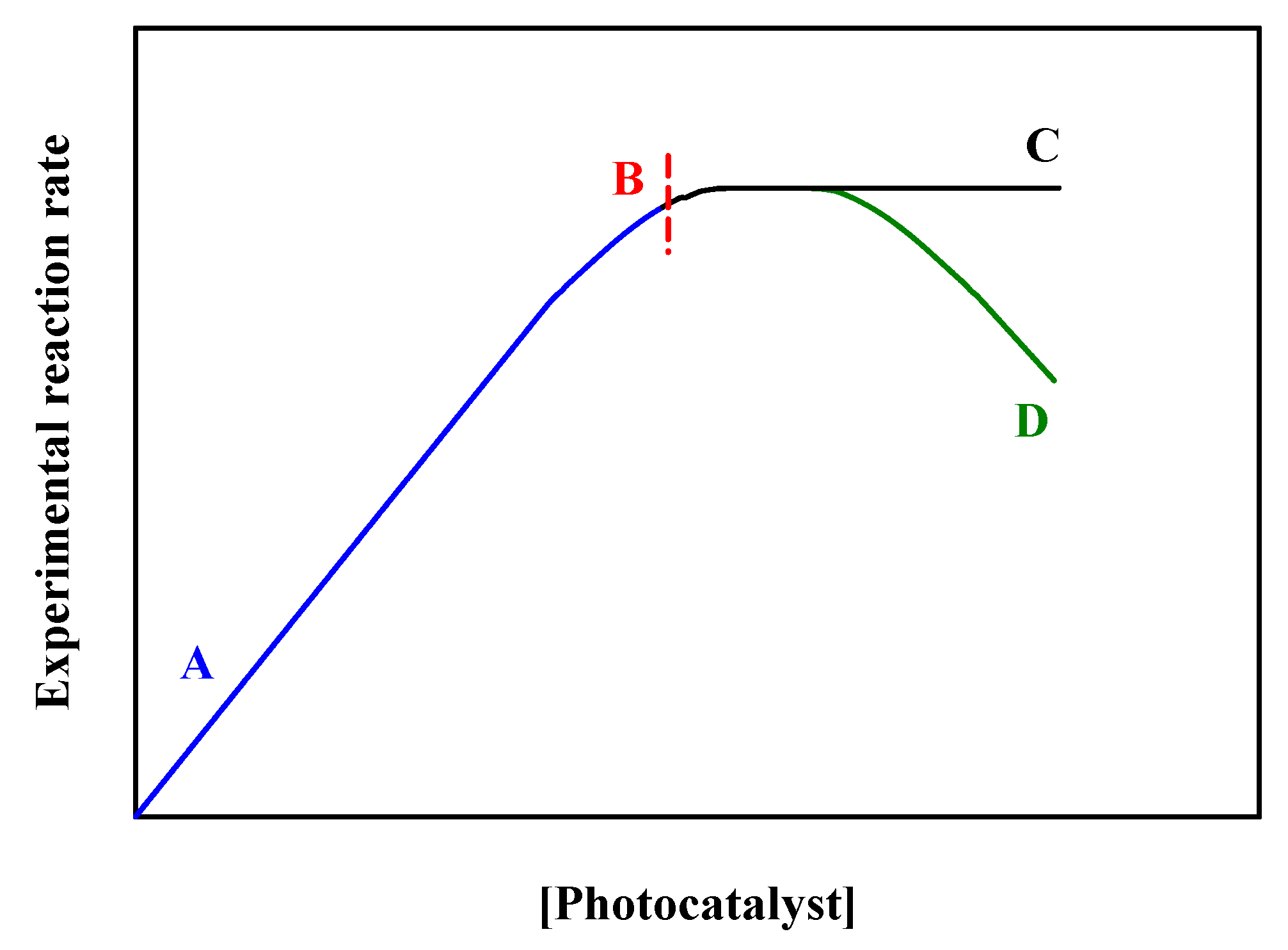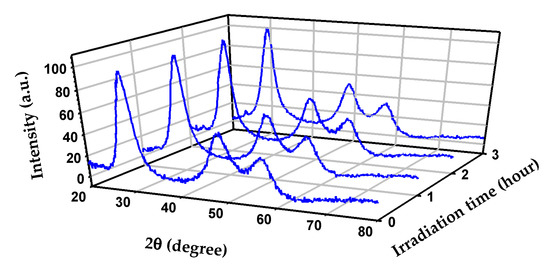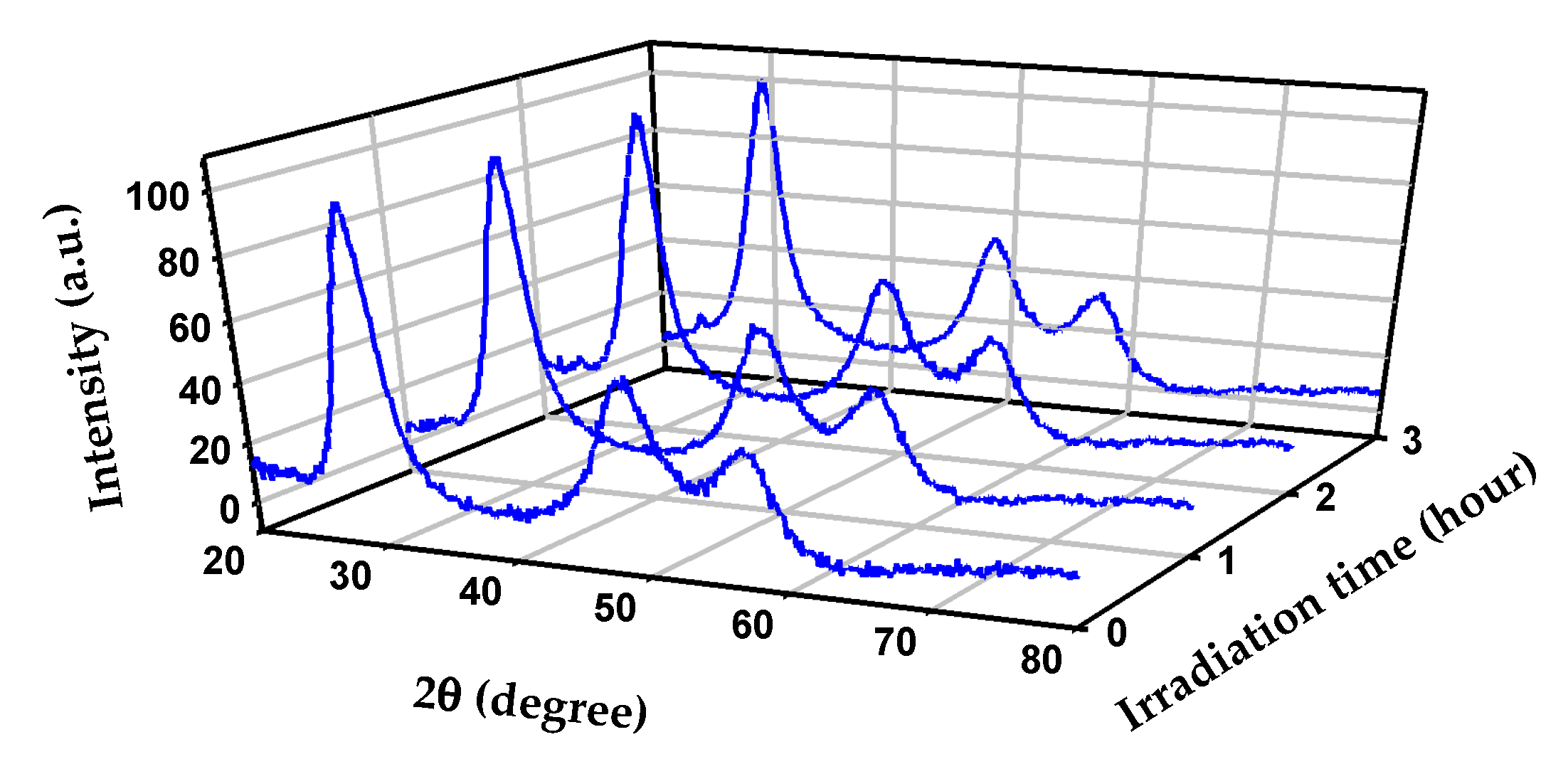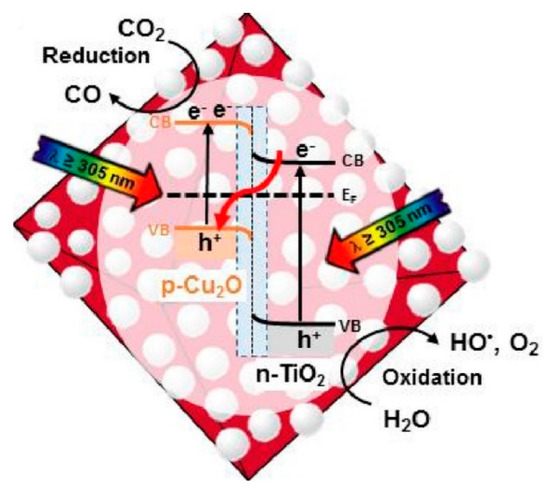 Figure 5.
Proposed operative mechanism for the reduction of CO
2
(
g
) into CO(
g
) during UV–visible irradiation at
λ
≥ 305 nm of an octahedral Cu
2
O/TiO
2
nanocomposite in the presence of H
2
O(
g
). Adapted with permission from reference [
21
].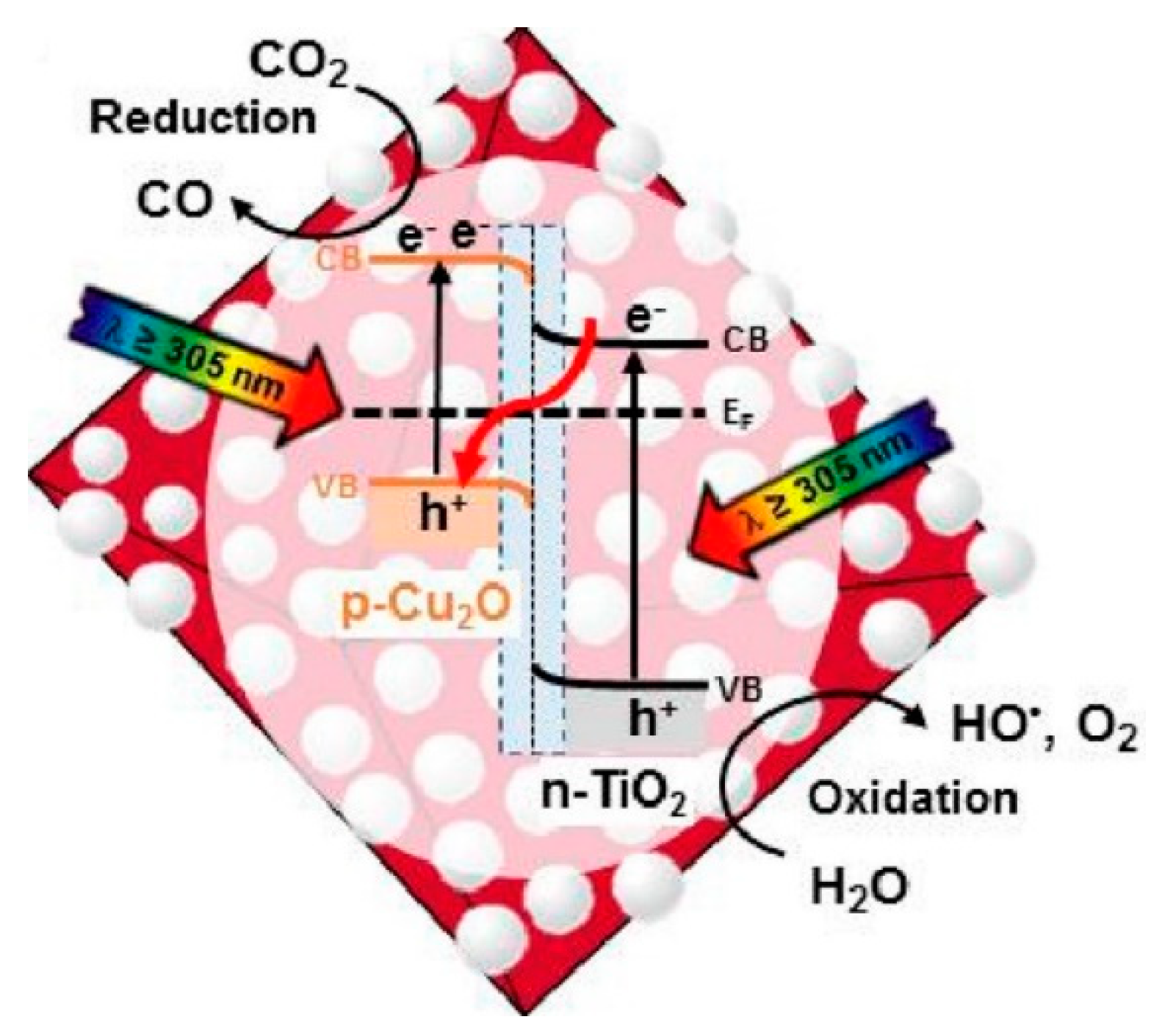 © 2018 by the authors. Licensee MDPI, Basel, Switzerland. This article is an open access article distributed under the terms and conditions of the Creative Commons Attribution (CC BY) license (http://creativecommons.org/licenses/by/4.0/).