Open Access This article is
freely available
re-usable
Article
Enhancing of Osseointegration with Propolis-Loaded TiO2 Nanotubes in Rat Mandible for Dental Implants
1
Department of Dental Biomaterials, Institute of Biodegradable Materials, BK21 plus Program, School of Dentistry, Chonbuk National University, JeonJu 54896, Korea
2
Department of Prosthodontics, University of Health Sciences, Vientiane 7444, Laos
3
Department of Molecular Biology and the Institute for Molecular biology and Gemetics, Chonbuk National University, JeonJu 54896, Korea
4
Department of Oral Biochemistry, Institute of Oral Bioscience, BK21 plus Program, School of Dentistry, Chonbuk National University, JeonJu 54896, Korea
5
Department of Dental Hygiene, Hanseo University, Seosan 31962, Korea
6
Department of Oral and Maxillofacial Radiology, School of Dentistry and Institute of Oral Bio Science, Chonbuk National University, JeonJu 54896, Korea
†
This author contributed equally to this study and should be considered co-first authors.

Received: 29 November 2017 / Accepted: 30 December 2017 / Published: 1 January 2018
Abstract
:
TiO2 nanotubes (TNT) formation is beneficial for improving bone cell–material interaction and drug delivery for Ti dental implants. Among the natural drugs to be installed in TNT, selected propolis has antibacterial and anti-inflammatory properties. It is a resinous natural product which is collected by the honeybees from the various types of plants with their salivary enzymes. This study concludes that TNT loaded with a propolis (PL-TNT-Ti) dental implant has the ability to improve osseointegration. The propolis particles were embedded within the TNT or adhered to the top. In a cytotoxicity test using osteoblast, PL-TNT-Ti group exhibited an increased cell proliferation and differentiation. A Sprague Dawley rat mandibular model was used to evaluate the osseointegration and bone bonding of TNT or PL-TNT-Ti. From the µ-CT and hematoxylin and eosin (HE) histological results after implantation at 1 and 4 weeks to rat mandibular, an increase in the extent of new bone formation and mineral density around the PL-TNT-Ti implant was confirmed. The Masson's trichrome staining showed the expression of well-formed collagenous for bone formation on the PL-TNT-Ti. Immunohistochemistry staining indicate that bone morphogenetic proteins (BMP-2 and BMP-7) around the PL-TNT-Ti increased the expression of collagen fibers and of osteogenic differentiation whereas the expression of inflammatory cytokine such as interleukin-1 beta (IL-1ß) and tumor necrosis factor-alpha (TNF-α) is decreased.
Keywords:
dental implant; nanotubes; propolis; mandibular injuries; osseointegration
1. Introduction
A successful dental implant treatment requires stability of the implant fixture with the living bone, which could be achieved through the process of osseointegration [
1
]. Osseointegration is defined as the direct adherence of the bone to the implant surface without any intervening connective tissue [
2
]. To ensure a direct bone-to-implant contact, it is necessary to shorten the healing time after implantation. Titanium (Ti) is widely used as dental implant materials owing to its low density, good biocompatibility, high corrosion resistance and appropriate mechanical properties [
3
]. Nevertheless, its bioinert nature warrants more time to achieve complete osseointegration [
4
]. To overcome this limitation, various physical, chemical, and biochemical treatments are explored to modify the surface of the Ti implant [
5
,
6
,
7
,
8
].
Anodic oxidation, commonly referred as anodizing, is a simple, versatile and cost-effective surface treatment process to generate nanostructures on Ti and its alloys [
9
]. It involves electrochemically induced dissolution of titanium along with the formation of oxides of titanium. Depending on the type of electrolytes and treatment conditions, the resultant oxide could be a compact layer or porous layer or in the form of nanotubes [
10
,
11
]. Recent studies on the interaction between bone cells and TiO
2
nanotubes (TNT) have shown that osteoblast adhesion, proliferation and migration are significantly influenced by the nanotube structure [
12
]. The TiO
2
nanotubes generated by anodizing could promote interaction with osteoblasts by enhancing the bone cell–implant contact area [
13
]. Furthermore, the nanotube structure has demonstrated benefits for drug delivery and selective release of biomolecules from the implant surface to the surrounding bone as a means of achieving successful dental implantation [
14
]. One of the major barriers faced after implantation is the possibility of inflammation and its subsequent effects on wound healing and bone bonding. In the expression of macrophages due to external stimuli such as implantation, gram-negative bacteria stimulate the release of lipopolysaccharide (LPS), which is counteracted by the host's immune cells forcing the release of interferon gamma (IFN-γ). In this process, the LPS activates the macrophages resulting in the release of large amounts of reactive oxygen, nitric oxide, and various cytokines [
15
]. Hence, it is imperative to prevent the acute or chronic inflammatory responses after implantation so that a better healing around the implant as well as improved osseointegration could be achieved [
16
].
Propolis is a resinous natural product, which contains a mixture of different plant exudates collected by the honeybees from the buds and leaves of various types of trees and plants and the honeybee's salivary enzymes [
17
]. Its composition is quite complex and the main components of propolis been identified as flavonoids and phenolic esters as caffeic acid phenethyl ester [
18
,
19
]. The biological activity of propolis primarily depends on the compounds from the polyphenolic fractions, particularly the flavonoids, followed by aromatic acids, phenolic acid esters, etc. [
18
]. The flavonoids isolated from propolis exhibit anti-microbial and antiprotozoal [
20
], anti-inflammatory [
21
], and immunomodulatory [
22
] activities. The use of propolis is also explored in dental treatment which includes aphthous ulcers, candidiasis, gingivitis, periodontitis and pulpitis [
23
,
24
]. Earlier studies using animal models have shown a significant reduction of acute and chronic inflammation with Ethanolic Extract of Propolis (EEP) [
25
,
26
,
27
,
28
,
29
]. Hence, it is believed that surface modification of Ti based dental implants with propolis might reduce implant-induced inflammations but also enhance osseointegration. Since the use of TNT formed on dental implants has already been established to display better bone cell–material interactions and drug delivery, the present study aims to load propolis on TNT as a drug-delivery system. For in vitro studies the TNT were prepared on Ti plates whereas for in vivo studies using a rat model, the TNT were prepared on a Ti dental implant. Both were loaded with propolis to study the effect of propolis on osseointegration.
3. Discussion
The reason for the failure of the implant is the fail of inhibit the initial inflammation. Since this study is to observe the effect of the post-implantation on the pathology of the post-implant, the infection of the oral bacteria in the natural state was considered as the same condition as the control. In this study, propolis loading inhibited early inflammation and blocked peri implantitis. In future studies, the mechanism of chemical bonding between propolis and metal should be clarified, and the effect of surface pretreatment of titanium on the attachment of drugs such as propolis should be further investigated.
4. Materials and Methods
4.1. CP-Ti Preparation and Fabrication of TiO2 Nanotubes on CP-Ti Plates
Commercially pure Ti (CP-Ti) plate (99.9% purity, Kobe Steel, Kobe, Japan), cut to a dimension of 10 × 10 × 1 (mm) was used as the substrate material for in vitro studies. They were sequentially polished using a SiC-coated abrasive papers. The mechanically polished CP-Ti samples were pickling in a mixture of 7 wt % HF and 12 wt % HNO3, rinsed thoroughly using deionized water to remove the acidic residues, cleaned using deionized water.
The TiO
2
nanotubes were fabricated by anodization process as described previously [
56
]. A solution mixture containing 1 wt % ammonium fluoride, 20 wt % H
2
O and 79 wt % glycerol were used as the electrolyte solution. The CP-Ti sample was used as the anode while a large Pt sheet served as the cathode. Anodization was performed using a direct current constant power supply (DADP-503D, Daunanotek, Gwangmyeong, Korea) at 20 V for 1 h. After anodizing, the samples were rinsed using deionized water and dried. Field emission scanning electron microscopy (S-4700, Hitachi, Tokyo, Japan) was used to confirm the formation of TNT over the surface of the Ti plate after anodization. The TNT formed on CP-Ti plate was used for the in vitro studies.
4.2. Loading of Propolis on TNT and Mini Implants for In Vivo Studies
For in vivo studies, pure Ti rod (99.9% purity, Kobe Steel, Kobe, Japan) (length: 4.5 mm; diameter: 0.85 mm) were manufactured mini implants by custom made. A rod with a diameter of 0.85 mm was screw-processed at a thread angle of 20 degrees with a pitch of 0.4 mm and a length of 4.5 mm, and the head was made 2 mm length. When forming the nanotube, the head portion was used to hold the implant to immerse in the electrolyte, and then the head portion was cut off after the surface treatment. It was subjected to anodizing to fabricate TNT on Ti surface. Commercially available propolis (an alcohol-free extract of propolis, MegaMax NZ, Auckland, New Zealand), which contains 60% crude propolis, was used on TNT. The TNT on Ti plates and implants were cleaned with distilled water prior to loading the propolis. The cleaned samples were fully immersed in the propolis solution for 24 h at 25 °C and vacuum-dried at 25 °C for 24 h. The propolis loaded TNT on Ti plate and implant were designated as plate and implant types of PL-TNT-Ti, respectively.
4.3. In Vitro Studies
The untreated CP-Ti, TNT and PL-TNT-Ti plates were used for in vitro studies, which include MTT (3-(4,5-dimethylthiazol-2-yl)-2.5-diphenyl tetrazolium bromide) assay to assess cell proliferation, alkaline phosphatase (ALP) assay to assess cell differentiation and, cell morphology using crystal violet staining and fluorescence microscopy images of osteoblast cells.
MC-3T3-E1 osteoblast-like cells (CRL-2593; American Type Collection, Manassas, VA, USA) in α-MEM media (Gibco BRL, Grand Island, NY, USA) supplemented with 10% fetal bovine serum, 2 mM of glutamine, 100 units/mL of penicillin, and 100 µg/mL of streptomycin, maintained at 37 °C in a humidified 5% CO2 atmosphere was used for this study. The MC-3T3-E1 cells were seeded 2 × 105 cells/24 well on CP-Ti, TNT and PL-TNT-Ti plates. The 3-(4,5-dimethylthiazol-2-yl)-2.5-diphenyl tetrazolium bromide (MTT) assay was used to determine the density of cell viability and proliferation after culturing for 1, 5, and 14 days. At the end of the incubation period, the medium of the cultured cells was removed, and the cells were rinsed twice with sterile phosphate buffered saline (PBS). The diluted MTT solution (1000 µg/0.1 mL) was applied to each specimen. After incubating the samples in the MTT solution for 4 h, the solution was removed, and 200 µL of dimethyl sulfoxide (Duksan Pure Chemicals, Ansan, Korea) was applied to each specimen to dissolve the dark-blue crystals of MTT formazan. Optical density (OD) was measured at a wavelength of 540 nm using an ELISA reader (Spectra Max Plus Microplate Reader, Molecular Devices, Sunnyvale, CA, USA).
For crystal violet staining, the cells were then stained with 0.3% crystal violet solution and incubated for 30 min at 25 °C. Cell morphological characteristics were observed using a stereo microscope (SZX7, Olympus, Tokyo, Japan). For measurement of cell adhesion, after 24 h incubation, the osteoblast cells were rinsed with PBS solution, fixed with 4% paraformaldehyde in PBS for 30 min and again washed with PBS. The cells were permeabilized with 0.25% Triton X-100 in PBS (PBST) for 15 min, blocked nonspecific binding with 1% bovine serum albumin in PBST solution for 30 min, stained with Rhodamine-phalloidin for 30 min at 25 °C, washed with PBST. The nuclei of the cells were stained with 0.1 µg·mL−1 4′,6′-diamidino-2-phenylindole (DAPI) in PBST solution for 2 min, and washed with PBST. The cells were visualized using a confocal laser scanning microscopy (LSM700, Carl Zeiss, Munich, Germany).
For Alkaline phosphatase (ALP) assay, 200 µL of lysis buffer solution (10 mM of Tris-HCl, 2 mM magnesium chloride, and 0.1% triton-X-100, pH 7.4) was applied to each well to detect cell lysis after culturing for 1, 5 and 14 days. After performing three freezing thawing cycles (at −80 °C for 2 h followed by treatment at 37 °C for 2 h), 20 µL of the solution was applied to each well of a 96-well microplate, followed by the addition of 100 µl of a 4-nitrophenyl phosphate (pNPP) solution. The microplates were gently shaken and incubated at 37 °C for 30 min. After adding 80 µL of stop buffer (1 M of NaOH), the optical density was measured at a wavelength of 405 nm using an ELISA reader.
4.4. Details of the Type of Animals Used and Surgical Procedures Employed
The TNT and PL-TNT-Ti implants were used for in vivo studies, which include micro-computed tomographic (µ-CT) analysis, histological analysis using Masson's trichrome staining, hematoxylin and eosin (HE), and immunohistochemical (IHC). After TNT and PL-TNT treatment on implants, the surface morphologies were observed with FE-SEM.
The study was conducted in accordance with the Declaration of Helsinki. The ethical clearance of this study was approved by the Institutional Animal Care and Use Committee of the Chonbuk National University Laboratory Animal Center (CBU 2015-0782). A total of 20 male Sprague-Dawley rats were chosen for the study and they were divided into two groups. All samples and tools for animal test were sterilized by ethylene oxide gas treatment. One group of rats (
n
= 10) were chosen for implantation with TNT implant while the other group (
n
= 10) were used for implanting with PL-TNT-Ti implants for 1 and 4 weeks. The rats were allowed to accommodate well with the environmental conditions (temperature: 25 °C; relative humidity: 30% to 50%) for a week. All surgical procedures were performed under conditions of general anesthesia, induced by intramuscular injection with ketamine (Ketamine HCl, 57.68 mg, Yuhan Corporation, Seoul, Korea) and xylazine hydrochloride (Rompun, Bayer Korea, Seoul, Korea). The first molar of the both side mandible was carefully extracted using an elevator to avoid any possible damage of the extraction socket. Subsequently, the alveolar bone at the site of the extraction was allowed to heal for 1 month. The implant was placed at the healed edentulous site in a cavity of 0.8 mm diameter, created using a drill at 900 rpm. The use of profuse irrigation with saline-solution during drilling operation helped to control damage of the bone tissues from the resultant heat. The Ti screws were carefully inserted in the mandibular bone and tightened using a self-tapping process, until the screw thread had completely entered the cortical bone to provide primary stability to the implant. In order to prevent the pre-infection of the implants, antibiotics (the antibiotic Amikacin sulfate, Samu Median, Yesan, Korea) were injected intramuscularly and the infection control was continued by injecting antibiotics continuously for 3 days after the procedure.
The change in bone architecture in peri-implant tissue of implantation for 4 weeks was evaluated by micro-computed tomographic (µ-CT) analysis every week. The mandibular bones were scanned using µ-CT (Skyscan, Model 1076, Kontich, Belgium), which was operated at an anode electrical current of 100 kV and 150 µA, with an integration time of 200 ms. The use of an aluminum filter helped to eliminate the hardening beam at a resolution of 18 µm. The mandibular compartments around implants were considered as the main regions of interest (ROI). The volume of interest consisted of the collective sum of all ROI layers over continuous sets of cross-sectional image slices, which represents regenerated bone only. Further, the new bone volume and bone mineral density around the implant were calculated with the use of phantom and Hounsfield units (HU). A bone and implant threshold value in HU by µ-CT was determined to be between low phantom (0.25 g·cm−3) 1089.7966 HU and high phantom (0.75 g·cm−3) 3241.0643 HU. Since the volume of ROI corresponds to volume of the original bone, the amount of bone present within the ROI is considered to be the newly formed bone. To create 3D images, a binary threshold was selected (gray-scale index: implant area = 160 to 255 µm, new bone area = 100 to 143 µm and total bone area = 70 to 120 µm).
Five rats from each group were sacrificed at one week for immunohistochemical (IHC) staining (tumor necrosis factor-alpha [TNF-α] and interleukin-1 beta [IL-1β]) and 4 weeks for HE, Masson′s stain and IHC staining (BMP-2 and BMP-7) after implantation. The mandibular bones with the implants were isolated and washed with PBS to remove all blood. Bone tissues were fixed in 10% neutral-buffered formalin solution. Decalcification was performed in 15% EDTA and 0.1 M of Tris at pH = 7.0 for 5 weeks to remove the calcified tissues. The flexibility method was used to determine the bone tissues at the endpoint of decalcification. The implants were gently removed, while the mandibular bone tissues were dehydrated in ethanol and cleared in xylene, for embedding in paraffin. The embedded blocks of tissues were cut into 5-µm-thick sections using a manual rotary microtome (Leica RM2235, Leica Biosystems, Germany). Tissue sections were mounted on glass slides and subjected to hematoxylin and eosin (HE) for tissue structure, and the Trichrome (Masson's) Stain Kit (Sigma-Aldrich. St. Louis, MO, USA) was used to detect the expression of collagen. IHC staining, the former was used to evaluate new bone formation around the implant while the latter was used to detect the expression of bone morphogenetic protein BMP-2, and BMP-7, using the immunohistochemistry accessory kit (Bethyl Laboratories, Montgomery, TX, USA). The primary antibodies of BMP-2 (BMP2 P275 pAb, Bioworld Technology, St. Louis Park, MN, USA) and BMP-7 (BMP7 E173 pAb, Bioworld Technology, St. Louis Park, MN, USA), IL-1β (IL-1β 11E5, Santa Cruz Biotechnology, Inc., Dallas, TX, USA), TNF-α (TNFα C-4, Santa Cruz Biotechnology, Inc., Dallas, TX, USA) and collagen were used at a 1:100 dilution in accordance with the protocol for 30 minutes at room temperature. The stained slides were observed using optical microscopy.
4.5. Statistical Analysis
The experimental data of all groups were analyzed independently using one-way analysis of variance (ANOVA) to ascertain the differences in the variables among them. A value of
p
< 0.05 was considered as statistically significant.
5. Conclusions
The effect of the TNT loaded with propolis on the osseointegration of dental implants in the rat mandible is studied. TNT loaded with propolis has increased the osteoblast proliferation and differentiation. New bone formation and bone mineral density were much greater with the propolis-loaded TNT implants when compared to the drug free TNT implants. TNT loaded with propolis decreased the expression of inflammatory cytokines such as IL-1β, and TNF-α, but increased the expression of collagen fibers and osteogenic differentiation proteins, such as BMP-2 and BMP-7. It is important to optimize the surface of dental implants to improve bone formation and osseointegration and TNT loaded with propolis is a viable option to achieve the same.
Acknowledgments
This research was supported by the National Research Foundation of Korea (NRF) grant funded by the Korea government (MSIP) (No. 2014R1A4A1005309).
Author Contributions
Nithideth Somsanith and Young-Hee Lee conceived and designed the animal experiments; Yu-Kyoung Kim and Young-Seok Jang performed the surface analysis; Ho-KeunYi, Jong-Hwa Jang, Tae-Sung Bae analyzed the in vivo data; Kyoung-A Kim performed CT analysis; Nithideth Somsanith, Yu-Kyoung Kim and Min-Ho Lee wrote the article.
Conflicts of Interest
The authors declare no conflicts of interest.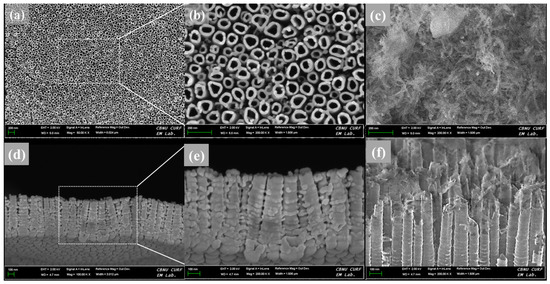 Figure 1. (a,b) surface and (d,e) cross sectional morphologies of the TNT formed on Ti plate, and (c) surface and (f) cross sectional morphologies of the propolis coating on TNT.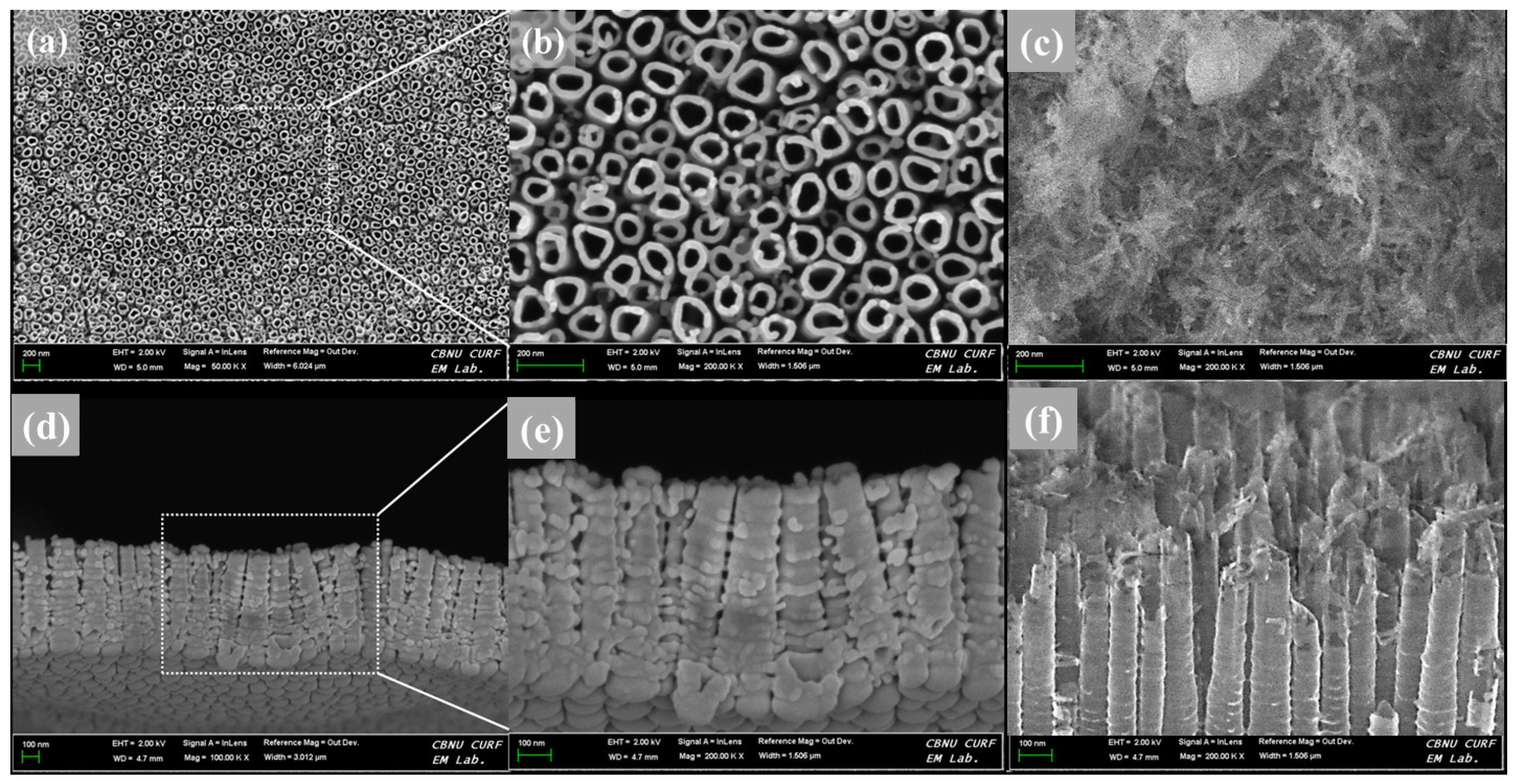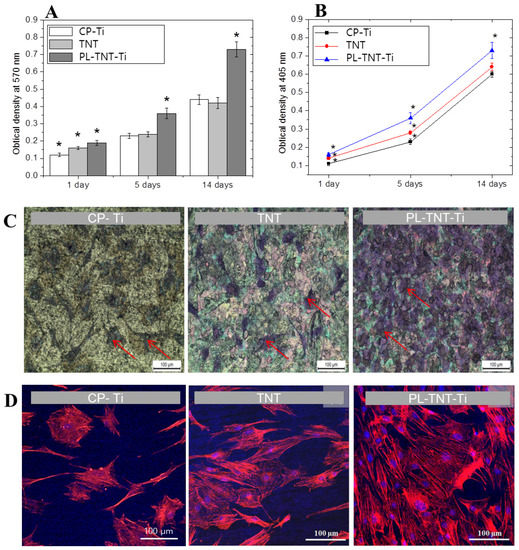 Figure 2.
Cell viability of the MC-3T3-E1 cells seeded on CP-Ti, TNT-Ti and PL-TNT-Ti plate seeded with 2 × 10
5
MC-3T3-E1 cells after 1, 5 and 14 days of cell culture: (
A
) MTT assay; and (
B
) ALP assay (*
p
< 0.05), (
C
) morphology of the cultured cells (red arrow) after 48 h, and (
D
) fluorescence microscopy images of the osteoblast cells after double staining with Rhodmine-phalloidin (red) for actin filaments and 4',6-diamidino-2-phenylindole (DAPI) for nuclei (blue) after incubation for 1 day.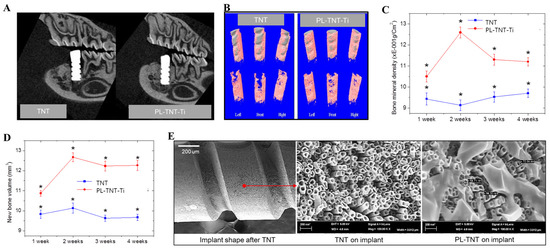 Figure 3.
The microcomputed tomographic (µ-CT) analyses of peri-implant tissue at 1, 2, 3 and 4 weeks after implantation at the healed edentulous mandibular site. (
A
) Two-dimensional µ-CT analysis of peri-implant tissue at 4 weeks after implantation; (
B
) Three-dimensional µ-CT analysis of peri-implant tissue at 4 weeks after implantation (the gray color represents the implant whereas the pink and yellow colors represent the bone tissue); (
C
) Three-dimensional µ-CT analysis of bone mineral density around the implant surface; (
D
) Three-dimensional µ-CT analysis of the volume of the new bone formation around the implant surface (*
p
< 0.05); and (
E
) surface morphologies of implant.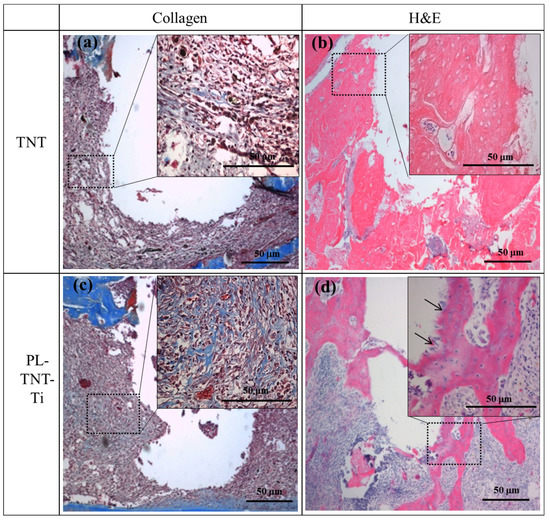 Figure 4. Histological morphologies acquired after Masson's trichrome and hematoxylin and eosin (HE) staining depicting the expression of collagen and the new bone formation, respectively around the (a,b) TNT-Ti and (c,d) PL-TNT-Ti dental implants: (a,c) Expression of collagen (blue areas); and (b,d) new bone formation, at 4 weeks after implantation. The arrow marks indicate the osteoblastic rim.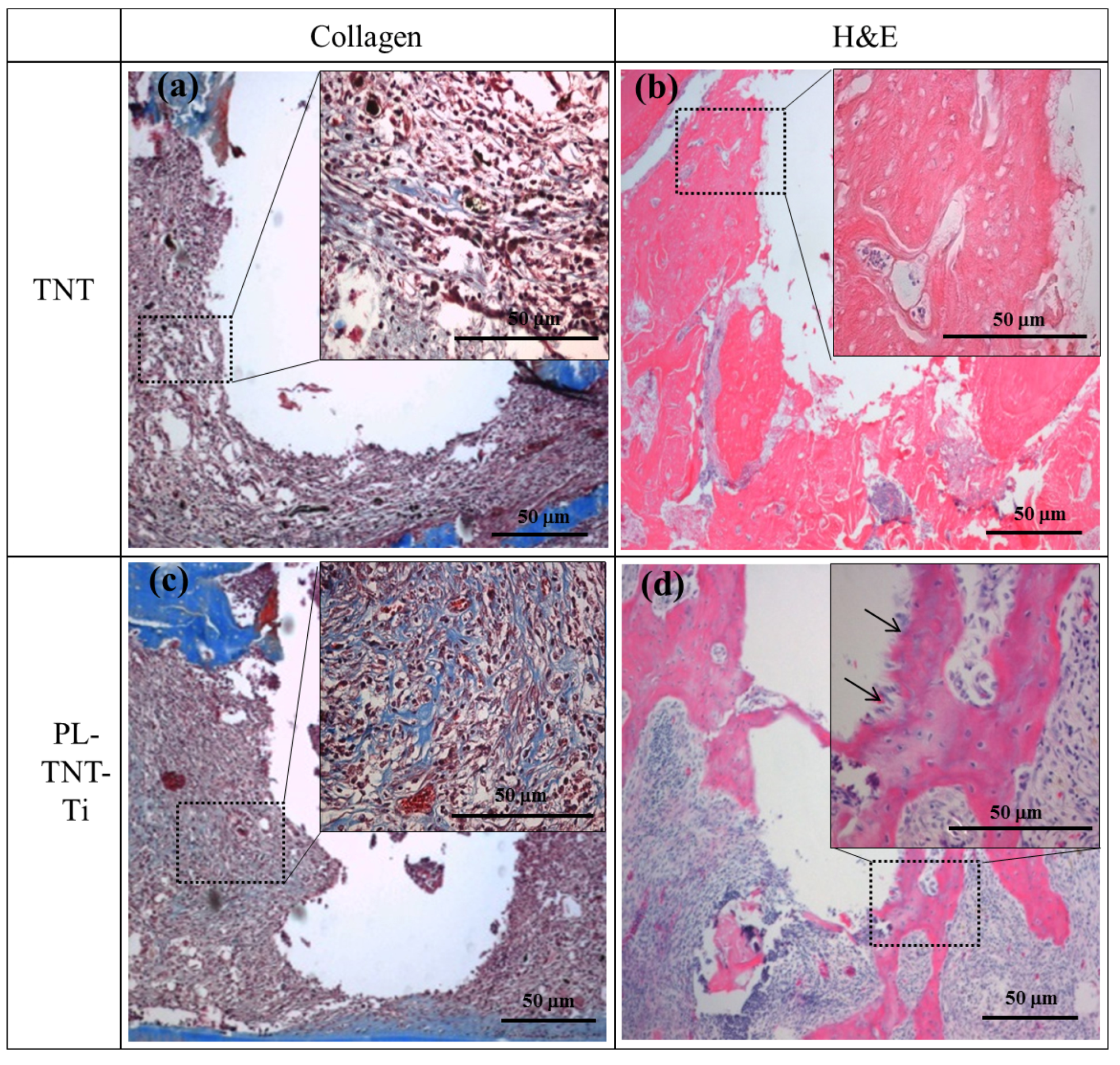 Figure 5. Histological morphologies from IHC staining show the expression of IL-1ß, TNF-α, BMP-2, and BMP-7 around dental implants; the expressions of inflammatory molecules such as IL-1β (a,e), and TNF-α (b,f) at 1 week after implantation, the expressions of BMP-2 (c,g), and BMP-7 (d,h). The brown color indicates positive cells at 4 weeks after implantation.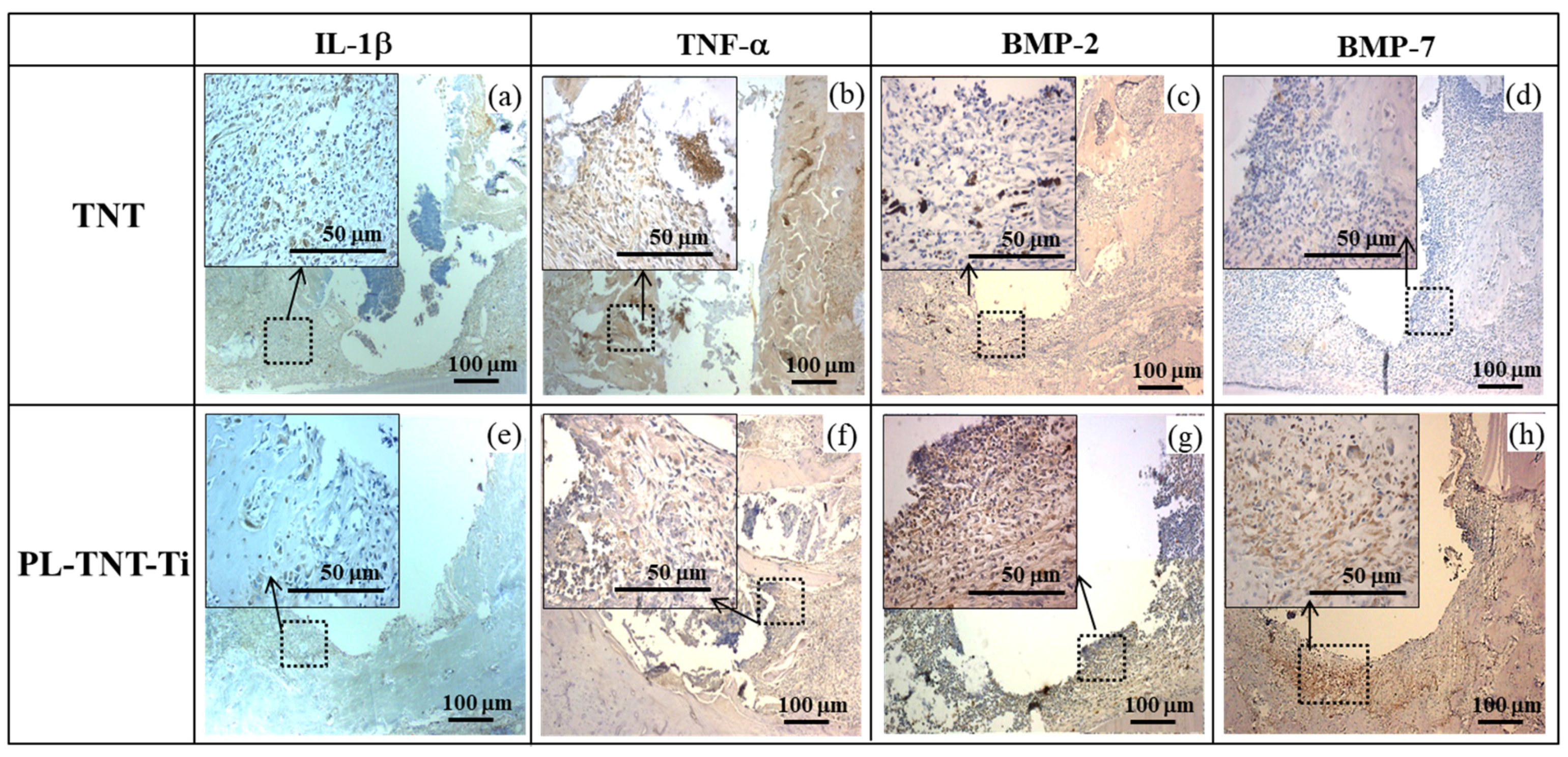 Table 1. The bone mineral density and the volume of the new bone formation around the implant surface from 3D µ-CT analysis.
Period
Bone Mineral Density (xE-001g/cm2)
New Bone Volume (mm3)
TNT
TNT + Propolis
TNT
TNT + Propolis
Mean
SD (±)
Mean
SD (±)
Mean
SD (±)
Mean
SD (±)
1 week
9.43
0.292
10.5
0.263
9.83
0.211
10.87
0.150
2 weeks
9.13
0.254
12.6
0.265
10.13
0.252
12.67
0.231
3 weeks
9.53
0.252
11.3
0.261
9.63
0.152
12.23
0.254
4 weeks
9.7
0.201
11.2
0.219
9.67
0.154
12.26
0.251

© 2018 by the authors. Licensee MDPI, Basel, Switzerland. This article is an open access article distributed under the terms and conditions of the Creative Commons Attribution (CC BY) license (http://creativecommons.org/licenses/by/4.0/).