Open Access This article is
freely available
re-usable
Article
Fe-Doped Sol-Gel Glasses and Glass-Ceramics for Magnetic Hyperthermia
Department of Applied Science and Technology, Politecnico di Torino, Corso Duca degli Abruzzi 24, 10129 Torino, Italy
*
Authors to whom correspondence should be addressed.
Received: 24 December 2017 / Accepted: 19 January 2018 / Published: 22 January 2018
Abstract
:
This work deals with the synthesis and characterization of novel Fe-containing sol-gel materials obtained by modifying the composition of a binary SiO2-CaO parent glass with the addition of Fe2O3. The effect of different processing conditions (calcination in air vs. argon flowing) on the formation of magnetic crystalline phases was investigated. The produced materials were analyzed from thermal (hot-stage microscopy, differential thermal analysis, and differential thermal calorimetry) and microstructural (X-ray diffraction) viewpoints to assess both the behavior upon heating and the development of crystalline phases. N2 adsorption–desorption measurements allowed determining that these materials have high surface area (40–120 m2/g) and mesoporous texture with mesopore size in the range of 18 to 30 nm. It was assessed that the magnetic properties can actually be tailored by controlling the Fe content and the environmental conditions (oxidant vs. inert atmosphere) during calcination. The glasses and glass-ceramics developed in this work show promise for applications in bone tissue healing which require the use of biocompatible magnetic implants able to elicit therapeutic actions, such as hyperthermia for bone cancer treatment.
Keywords:
bioactive glass; sol-gel; thermal properties; magnetic; magnetite; mesoporous; hyperthermia; cancer treatment
1. Introduction
Magnetic materials represent advanced solutions suitable for a wide range of biomedical applications, according to their different magnetic responses to an applied external magnetic field [
1
]. Specific applications of these materials include magnetic resonance imaging (MRI), magnetic stimulation, magnetic cell separation, active targeting for drug delivery applications, protein immobilization and hyperthermia for the treatment of malignant tumors [
2
,
3
,
4
].
The most commonly used magnetic materials in biomedical applications are ferrimagnetic iron oxides (e.g., magnetite, Fe
3
O
4
), although their acute toxicity and their still partially unknown fate in vivo limit their usage as implants in clinical practice [
5
]. These drawbacks can be partially overcome by embedding the magnetic phase within a biocompatible matrix (e.g., glasses or ceramics) [
6
,
7
,
8
,
9
].
Magnetic induction of hyperthermia is based on the use of implanted magnetic materials to generate heat in the site of concern under the application of an external magnetic field [
10
]. In a typical magnetic hyperthermia treatment, heat is generated by applying an alternating magnetic field to the magnetic materials implanted or injected into the tumor site in order to increase and maintain the temperature in the neoplastic tissue around 41–45 °C. Malignant cells are selectively killed while being exposed to such temperatures because heat is slowly dissipated in cancerous tissues due to the lack of a well-organized vascular network; moreover, hyperthermia causes many changes in cells and leads to a loss of cellular homeostasis [
11
].
Biocompatible magnetic glasses have recently attracted the attention of several research groups for possible use in the advanced treatment of bone cancer as a complementary approach to chemotherapy, which is known to carry many side effects to patients. Fe
3
O
4
-containing melt-derived glass-ceramics were extensively investigated in a series of studies by Verné and coworkers and were found highly promising for the treatment of osseous tumors by hyperthermia [
12
,
13
,
14
]. Interestingly, a pro-osteogenic activity was observed in an acrylic-based composite bone cement containing 10% of ferrimagnetic glass-ceramic, with a synergistic effect between bioactivity and cell mineralization [
12
].
Apart from the classical melting-quenching route, sol-gel method has also been applied to produce magnetic glasses. Shankhwar et al. [
15
] synthesized sol-gel 45S5-based bioactive glasses containing iron oxide and reported that a thermal treatment at 850 °C led to the formation of sodium calcium silicate and magnetic phases into the glassy matrix.
Ferreira da Silva et al. [
16
] prepared sol-gel ZnO-Fe
2
O
3
-SiO
2
glasses containing zinc ferrite nanoparticles that, after being treated at 500 °C, exhibited ferro- or ferrimagnetic interactions combined with superparamagnetism with a blocking temperature of −259 °C.
Coroiu et al. [
17
] studied the magnetic and structural behavior of a sol-gel derived ternary composition containing both iron and aluminum. The results indicated a correlation between the heat-treatment temperature and the nucleation of specific crystalline phases, since hematite (α-Fe
2
O
3
) was observed resulting from the complete conversion of goethite (FeO(OH)) by increasing the temperature up to 500 °C. Hypothesis of the modification of the internal network of the samples was supported by infrared spectroscopy (IR) data, as a result of the conversion of Fe
2+
into Fe
3+
ions.
An alternative to the introduction of iron oxides during the sol-gel process was proposed by Baikousi et al. [
18
], who produced CaO-SiO
2
-P
2
O
5
ternary bioactive glasses functionalized with magnetic nanoparticles. Specifically, nanocomposite materials were synthesized with both bioactive and magnetic properties by homogeneously dispersing magnetic nanoparticles in a glassy matrix. The base glass was produced by traditional sol-gel route and then glass powders were dispersed within a methanol solution containing iron nitrate tetra-hydrate; after stirring and removal of the solvent, the obtained solid precipitate was powdered, exposed to vapors of acetic acid and dried. Calcination of the glass was performed at different temperatures under argon flowing atmosphere. Results showed that magnetite phases (magnetite and maghemite) were homogeneously dispersed within the porous structure and the glass matrix had high stability towards crystallization at high temperatures (up to 800 °C), regardless the iron content.
Bioactive glasses are known to be osteoinductive materials as their ionic dissolution products stimulate the cell genes toward a path of regeneration and self-repair [
19
]. Depending on both composition (e.g., types of network-forming oxides and modifiers used) and textural features (i.e., non-porous, macroporous or mesoporous glasses), the glass reactivity can be modulated so that various degradation rates and apatite-forming kinetics can be properly designed [
20
,
21
]. Small amounts of metallic ions, such as B
3+
[
22
], Cu
2+
[
23
], Ag
+
[
24
], Sr
2+
[
25
] and Co
2+
[
26
], have also been used as dopants for bioactive glasses to elicit additional therapeutic functions (e.g., angiogenesis and antiseptic effect). Interestingly, incorporation of Fe within a mesoporous silicate bioactive glass was reported to enhance mitochondrial activity and expression of osteogenesis-related genes (ALP and OCN) in human bone marrow mesenchymal stem cells, thus supporting the hypothesis of the great potential of such materials in clinical applications concerning bone healing (repair of large bone defects caused by malignant bone tumors through a combination of osteo-conductive properties and hyperthermic approach) [
27
]. The fascinating perspective of directing tissue regeneration by magnetic activation was also explored by Russo et al. [
28
], who observed enhanced bone regeneration in vivo (rabbit) when magnetized F
3
O
4
-containing hydroxyapatite/collagen composite scaffolds were used as compared to non-magnetic control.
In the present work, sol-gel glasses and glass-ceramics in the SiO2-CaO-F2O3 system were produced by sol-gel method and the effects of heat-treatment conditions on thermal behavior, crystallization and magnetic properties were investigated.
2. Materials and methods
2.1. Preparation of Materials
Materials were produced by a sol-gel route; the oxide compositions of the three systems are reported in
Table 1
. Two novel Fe-containing ternary glasses, 60S38C2Fe and 60S30C10Fe, were obtained by modifying the 60S40C Fe-free binary composition, which was used as a control system for the analysis of results. Tetraethyl orthosilicate (TEOS), calcium nitrate tetrahydrate (Ca(NO
3
)
2
·4H
2
O (CaNT)) and iron chloride (FeCl
3
) (all purchased from Sigma-Aldrich, St. Louis, MO, USA) were used as SiO
2
, CaO and Fe
2
O
3
sources, respectively. In a typical synthesis, 1.2 mL of 2 N HNO
3
were added to 7.2 mL of distilled water and the solution was mixed in sealed flasks for 5 min; afterwards, TEOS and CaNT were added under continuous magnetic stirring (200 rpm) in 2 h intervals. The molar ratio (H
2
O + HNO
3
) to TEOS was about 8.0 in all the syntheses.
The sol prepared for the synthesis of the control system (60S40C) was ready to undergo gelation; however, an additional step was required for the synthesis of the Fe-containing materials. Specifically, FeCl3 was slowly added to the batch which was stirred for 1 h until complete dissolution of the salt.
Gelation of the sols was carried out at room temperature in sealed flasks for 3 days, followed by ageing at 60 °C for 72 h. Slow solvent evaporation was then allowed by opening the containers and increasing the temperature up to 140 °C for 48 h. At the end of this thermal treatment, the dried gels appeared cracked because of the internal stresses resulting from the drying process. These samples were milled (single-ball zirconia milling machine, Pulverisette 0, Fritsch, Idar-Oberstein, Germany), labelled as "Sample code-140", and stored for subsequent analyses. Dried gels were thermally stabilized (calcined) at 700 °C for 3 h (heating rate 1 °C/min) in air or inert atmosphere (argon (Ar) flow) to allow densification of the matrix, ball-milled and labelled as "Sample code-air" or "Sample code-Ar" depending on the treatment conditions. High-temperature thermal treatment under argon flowing (non-oxidant conditions) was thought as a potential strategy to promote the development of magnetite in the Fe-doped materials. Calcination was performed at 700 °C for all samples as this temperature is enough to induce the nucleation of magnetite [
29
] and a comparison, especially in terms of magnetic properties, with Fe-doped mesoporous glasses produced elsewhere is allowed [
27
].
The workflow reported in
Figure 1
summarizes the main phases of the synthesis process and the materials obtained.
2.2. Characterization
2.2.1. Microstructural Analysis
Powdered materials underwent wide-angle X-ray diffraction (XRD; 2θ within 10–70°) by using a X'Pert Pro PW3040/60 diffractometer (PANalytical, Eindhoven, The Netherlands) operating at 40 kV and 30 mA with Bragg–Brentano camera geometry, Cu Kα incident radiation (wavelength λ = 0.15405 nm), step size Δ(2θ) = 0.02° and fixed counting time of 1 s per step. Identification of crystalline phases was performed by using X'Pert HighScore software (2.2b) equipped with the PCPDFWIN database (
http://pcpdfwin.updatestar.com
).
2.2.2. Thermal Analyses
Thermal analyses were carried out on both calcined and non-calcined materials, i.e., at both Step 8 and Step 7 of the production process, as reported in the workflow of
Figure 1
.
Differential thermal analysis (DTA) was performed on powdered calcined samples (50 mg) by using a DTA 404 PC instrument (Netzsch, Selb, Germany); temperature range was 20–1400 °C with a heating rate of 10 °C/min. The powder was introduced in Al2O3 crucibles provided by the manufacturer; high-purity Al2O3 powder was used as a reference material. Standard calibration procedure and baseline corrections were performed.
Calcined samples also underwent hot-stage microscopy (HSM) by making use of a hot-stage instrument equipped with electrical furnace and image analysis software (Expert System Solution, Modena, Italy). Specimens of pressed powder (diameter ~1 mm, height ~3 mm) were positioned onto a high-purity Al2O3 plate; then, black-and-white images (silhouettes) of the sample profile were taken from 25 to 1450 °C with a heating rate of 10 °C/min. The variation of the sample dimensions upon heating were measured and the shrinkage (%) was quantified, along with the temperature of first shrinkage (TFS) and maximum shrinkage (TMS).
DTA and HSM measurements were carried out in either air (oxidizing atmosphere) or argon flow (inert atmosphere), consistently to the treatment conditions of the samples during calcination.
Non-calcined samples ("Sample code-140" set) were investigated through differential scanning calorimetry (DSC) by using a DSC 404 F3 Pegasus® instrument (Netzsch, Selb, Germany); measurement conditions were analogous to those adopted for DTA on calcined samples.
The characteristic temperatures of the materials, i.e., glass transition temperature (Tg), onset of crystallization (Tx), crystallization temperature (Tc) and melting temperature (Tm), were estimated directly from the DTA or DSC plots.
2.2.3. Morphology, Composition and Porosity
Thermally-stabilized sol-gel materials were investigated by field-emission scanning electron microscopy (FESEM; SupraTM 40, Zeiss, Oberkochen, Germany) to evaluate particle size and shape. The samples were sputter-coated with chromium prior to the analysis and inspected at an accelerating voltage of 15 kV. Compositional investigations were also performed by energy dispersive spectroscopy (EDS), which was included in the FESEM equipment.
Nitrogen (N
2
) adsorption-desorption porosimetry measurements were performed at −196 °C (Quantachrome Autosorb1, Quantachrome, Boynton Beach, FL, USA) on the materials calcined in air and argon. The specific surface area (SSA) was assessed by using the Brunauer-Emmet-Teller (BET) method [
30
], and the pore size distribution (along with the mean pore size) was determined by the non-local density functional (NLDFT) theory approach [
31
].
2.2.4. Magnetic Properties
DC magnetic properties were investigated by means of a DC magnetometer/AC susceptometer (LakeShore 7225) equipped with a Cryogen-Free Magnet system (LakeShore Cryotronics, Westerville, OH, USA) at room temperature in quasi-static condition. In particular, magnetic hysteresis cycle measurements up to 1600 kA/m were performed on the samples calcined at 700 °C in both air and argon to estimate the main magnetic parameters of the materials (i.e., remanent magnetization, coercitive force, saturation magnetization, and magnetic hysteresis loss calculated from the area of hysteresis loop).
3. Results and Discussion
4. Conclusions
Different amounts of Fe2O3 (2 and 10 mol %) were introduced into the composition of a sol-gel silicate glass with the aim of imparting magnetic properties to the materials for possible use in the treatment of malignant bone tumors by hyperthermia. Samples with composition 60S40C and 60S38C2Fe were characterized by an amorphous structure, regardless of the thermal treatment performed (air vs. argon flowing). Low amounts of Fe2O3 within the glass composition did not induce devitrification of the system during calcination at 700 °C. The addition of 10 mol % of Fe2O3 led to the formation of a glass-ceramic material, the crystalline phases of which were highly dependent on the thermal treatment performed: in fact, while the formation of hematite was promoted in oxidant atmosphere (air), the presence of ferrimagnetic phases (maghemite/magnetite) was assessed in the glassy matrix if calcination was performed under argon flowing. All calcined materials exhibited high surface area and mesoporous texture typical of glasses/glass-ceramic produced by sol-gel method. Based on these promising results, further research will focus on the bioactivity of these materials to assess if they are suitable for use as multifunctional implants able to simultaneously promote bone regeneration and elicit a local hyperthermic effect, which are key properties for the successful treatment of bone cancer.
Author Contributions
Francesco Baino and Enrica Verné conceived and designed the experiments; Francesco Baino, Elisa Fiume, Marta Miola, Federica Leone and Roberto Gerbaldo performed the experiments; Francesco Baino, Elisa Fiume, Marta Miola, Federica Leone, Barbara Onida, Francesco Laviano, Roberto Gerbaldo and Enrica Verné contributed to analyze the data and to write the paper.
Conflicts of Interest
The authors declare no conflicts of interest.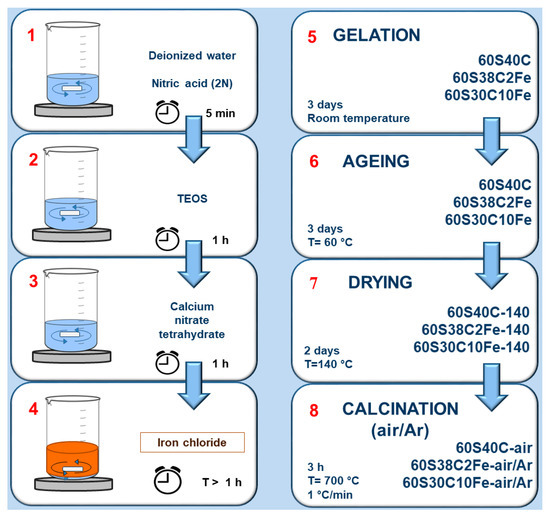 Figure 1. Scheme of the eight-stage synthesis process adopted to produce the materials investigated in this work.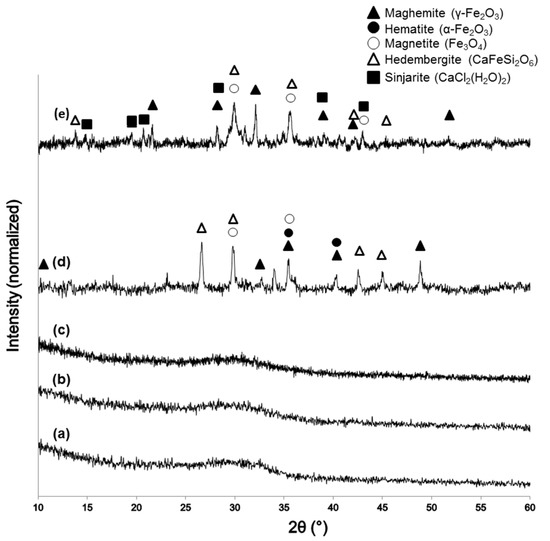 Figure 2. XRD patters of: (a) 60S40C-air; (b) 60S38C2Fe-air; (c) 60S38C2Fe-Ar; (d) 60S30C10Fe-air; and (e) 60S30C10Fe-Ar.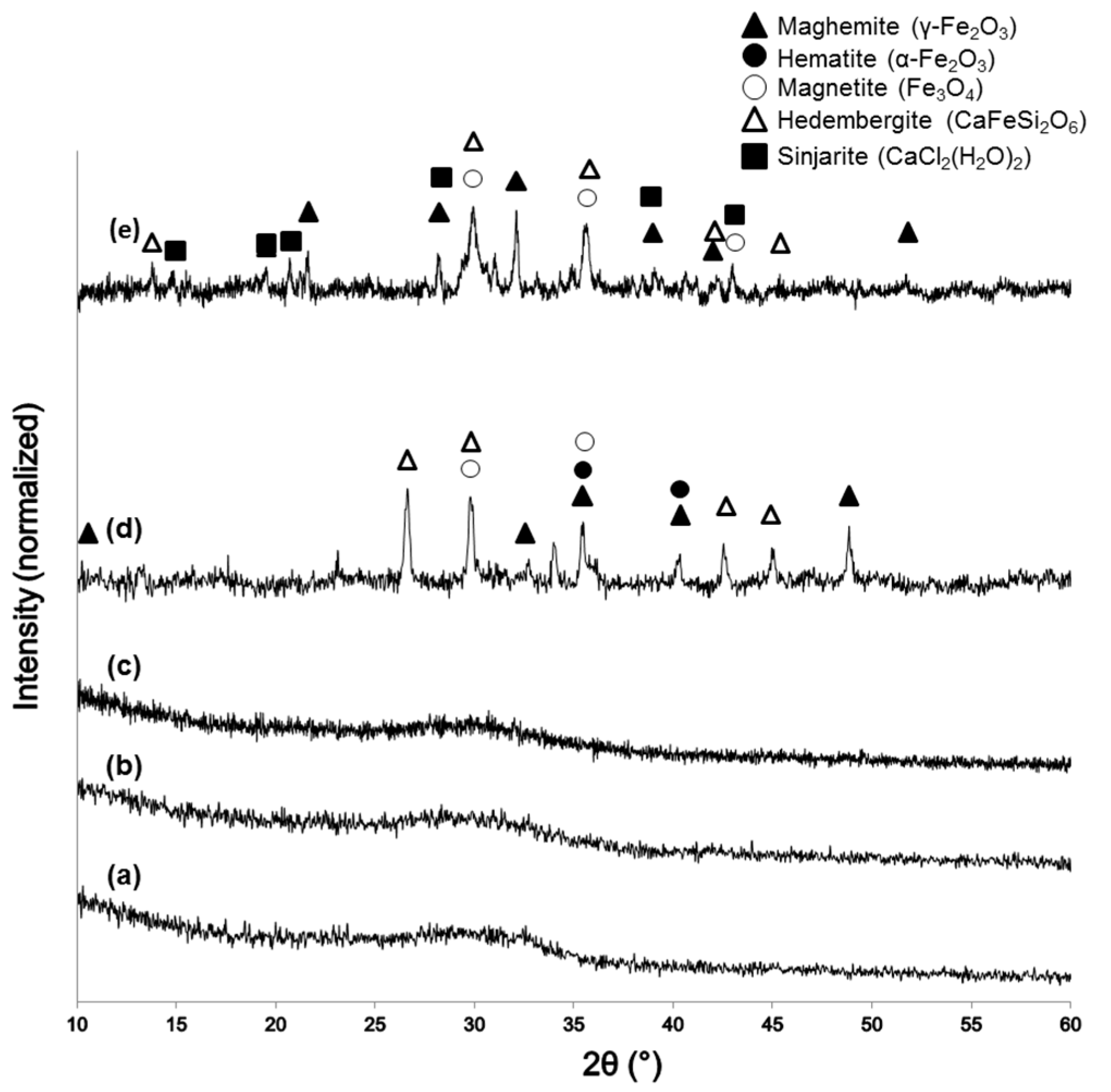 Figure 3. DTA plots of: (a) 60S40C-air (measurement performed in air); (b) 60S38C2Fe-air (measurement performed in air); (c) 60S38C2Fe-Ar (measurement performed in argon); (d) 60S30C10Fe-air (measurement performed in air); and (e) 60S30C10Fe-Ar (measurement performed in argon).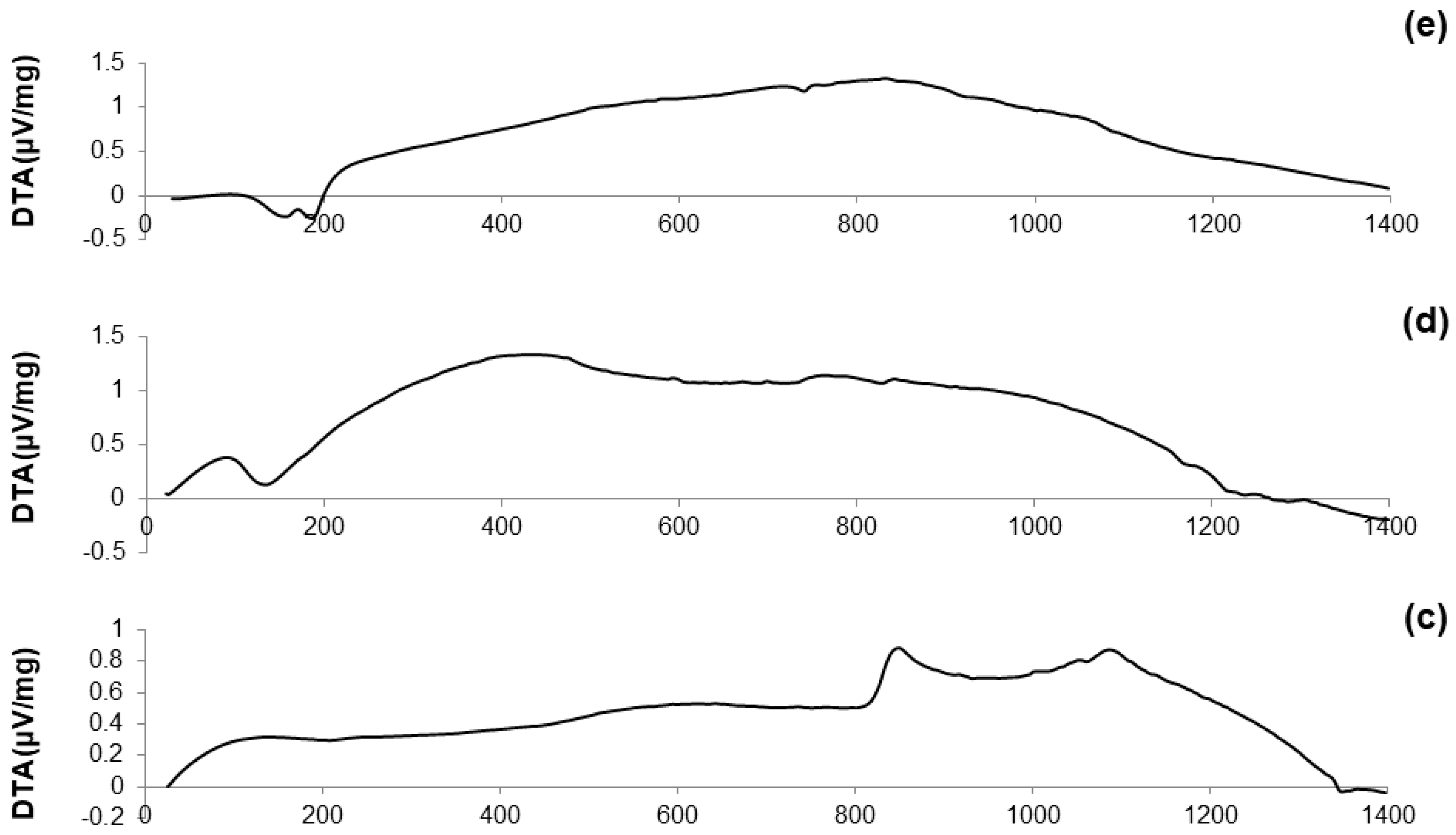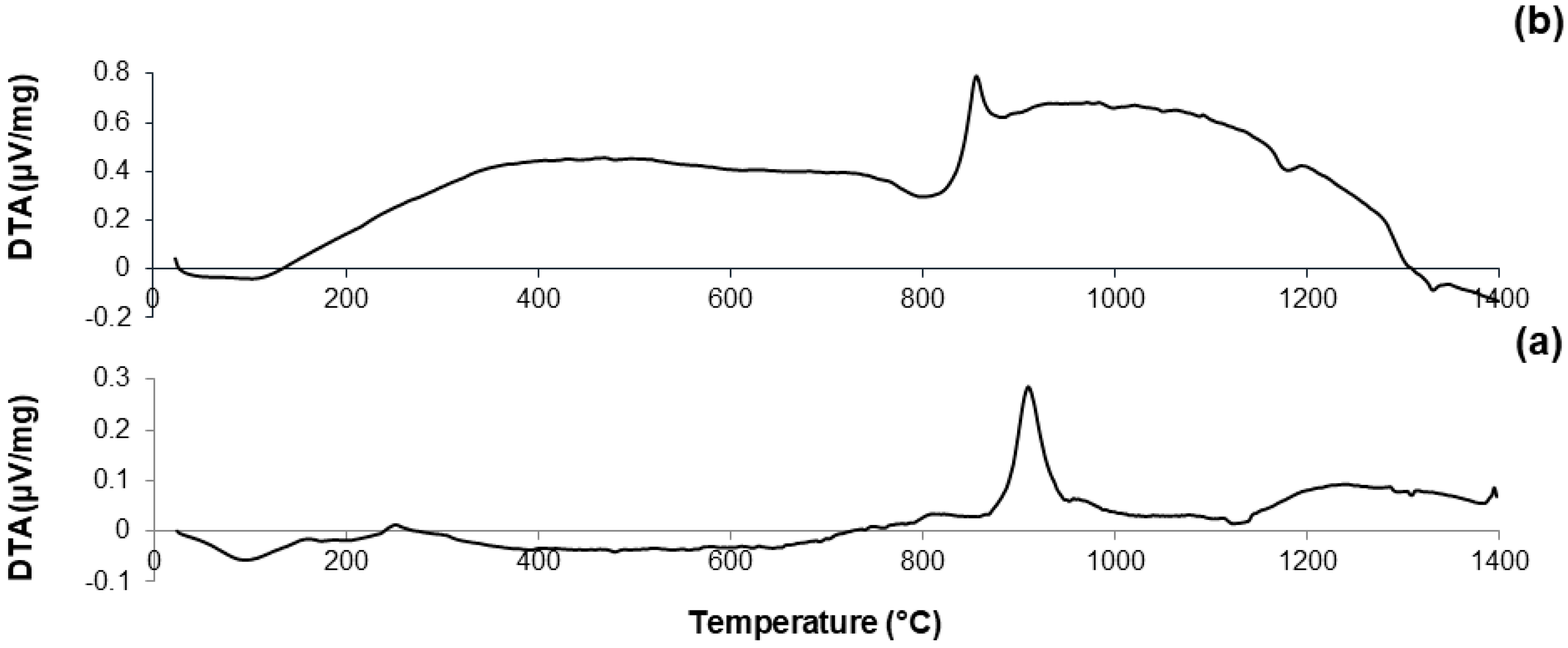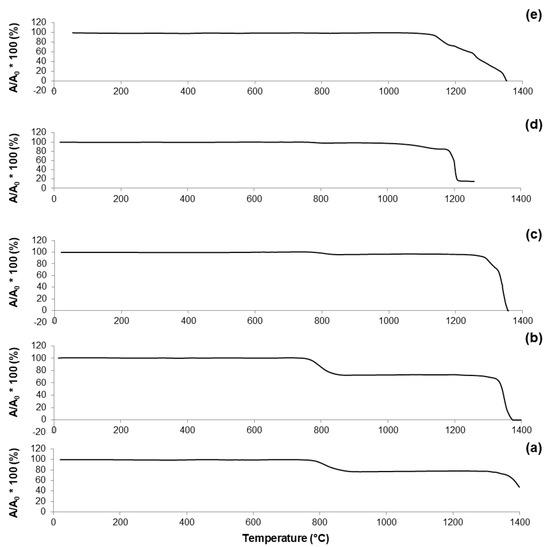 Figure 4. HSM plots (shrinkage variations) of: (a) 60S40C-air (measurement performed in air); (b) 60S38C2Fe-air (measurement performed in air); (c) 60S38C2Fe-Ar (measurement performed in argon); (d) 60S30C10Fe-air (measurement performed in air); and (e) 60S30C10Fe-Ar (measurement performed in argon).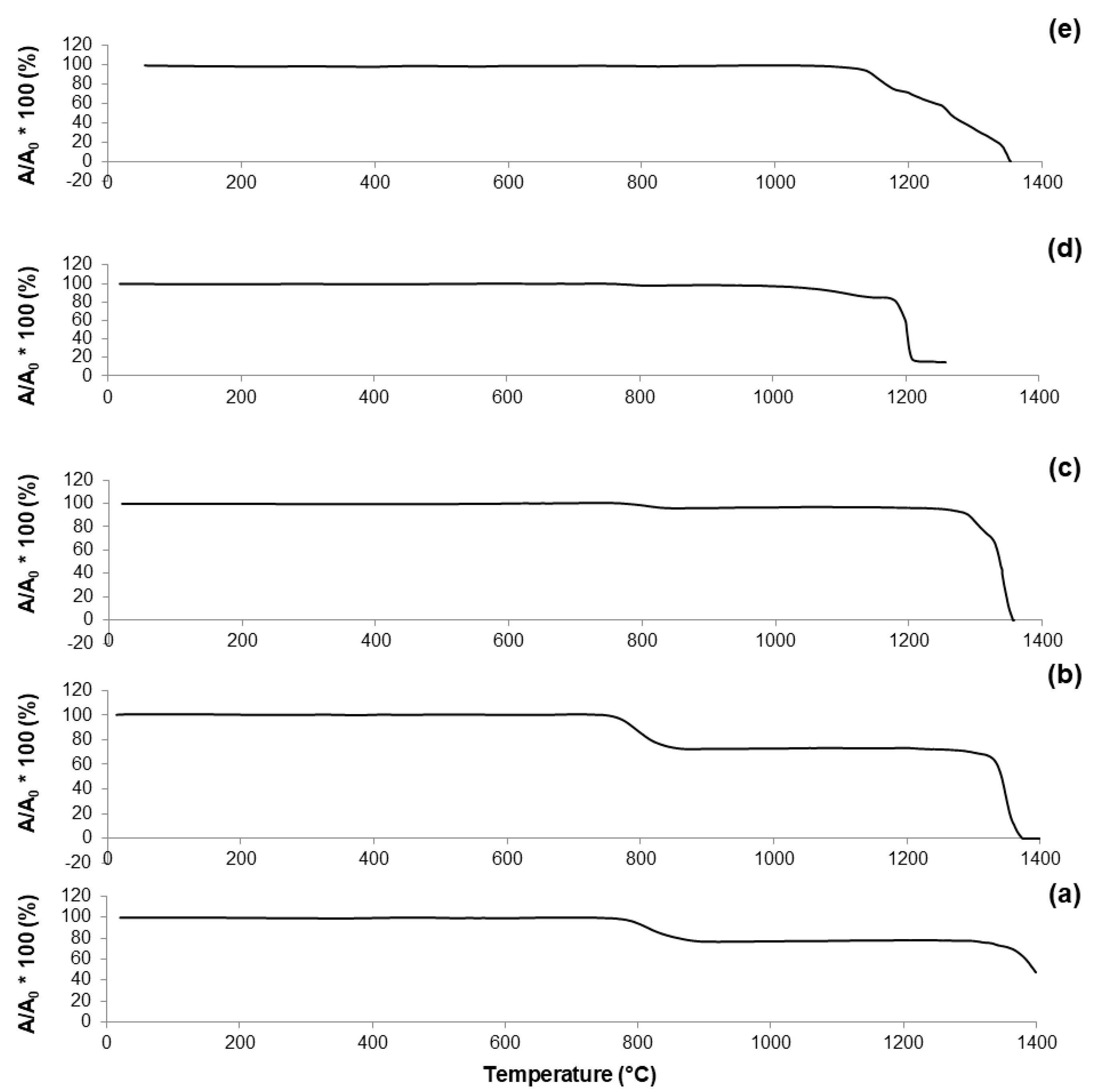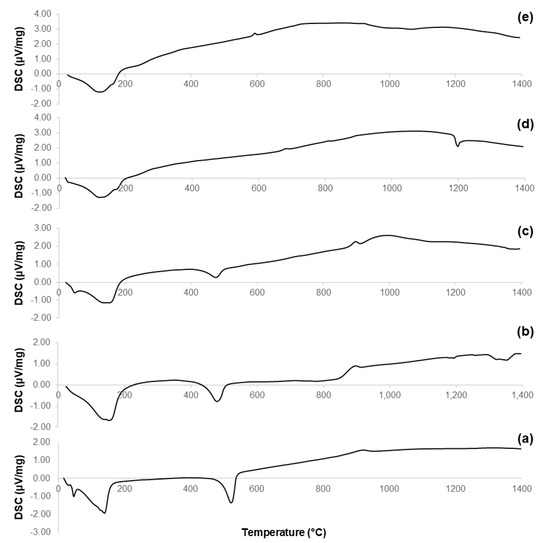 Figure 5. DSC plots of: (a) 60S40C-140 carried out in air; (b) 60S38C2Fe-140 carried out in air; (c) 60S38C2Fe-140 carried out in argon; (d) 60S30C10Fe-140 carried out in air; and (e) 60S30C10Fe-140 carried out in argon.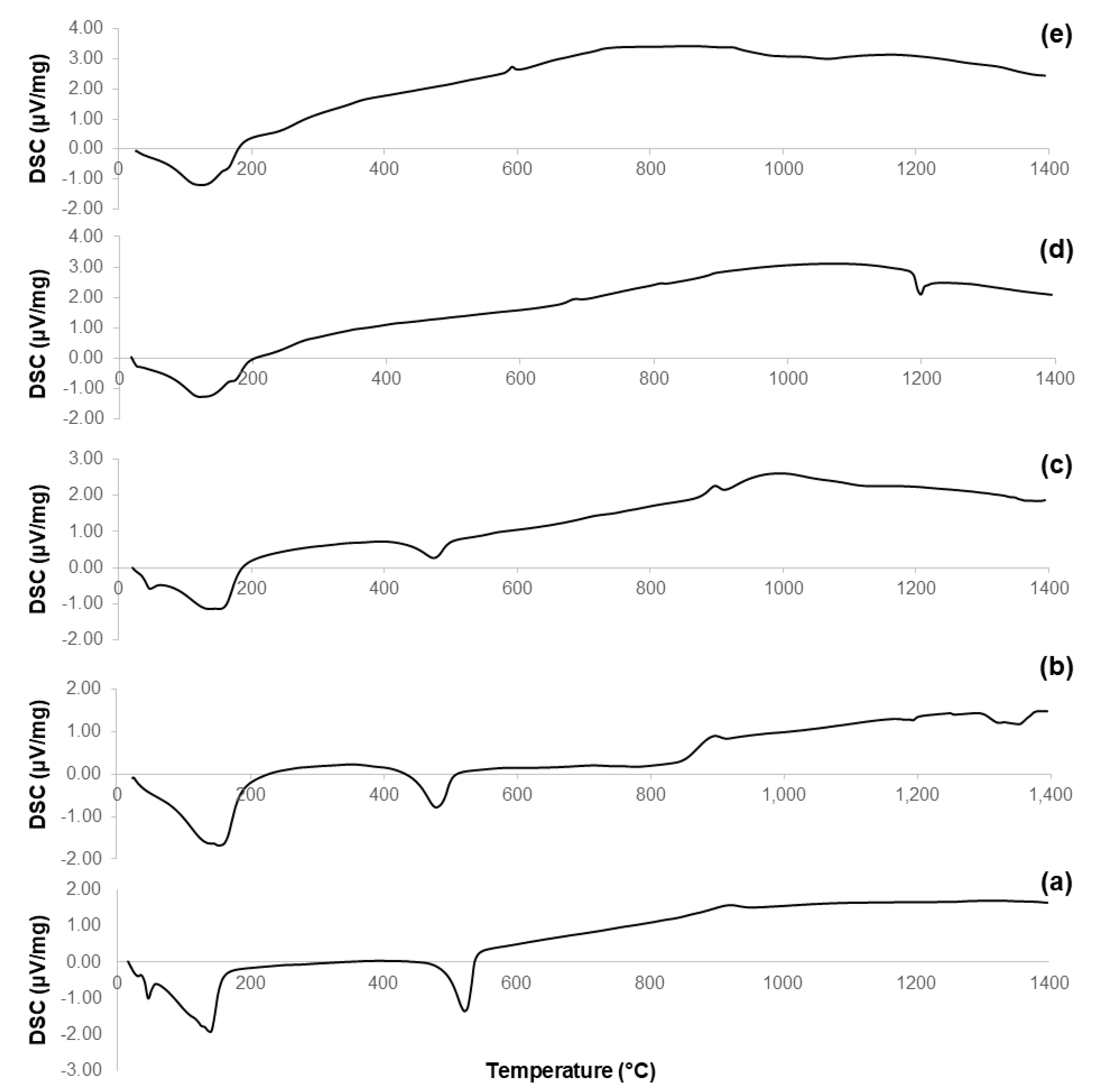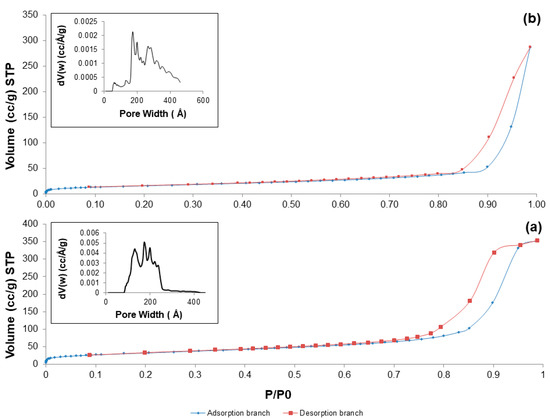 Figure 7. Nitrogen adsorption-esorption isotherms at −196 °C of: (a) 60S40C-air; and (b) 60S38C2Fe-air. Inset in both pictures reports the pore size distribution assessed by NLDFT method.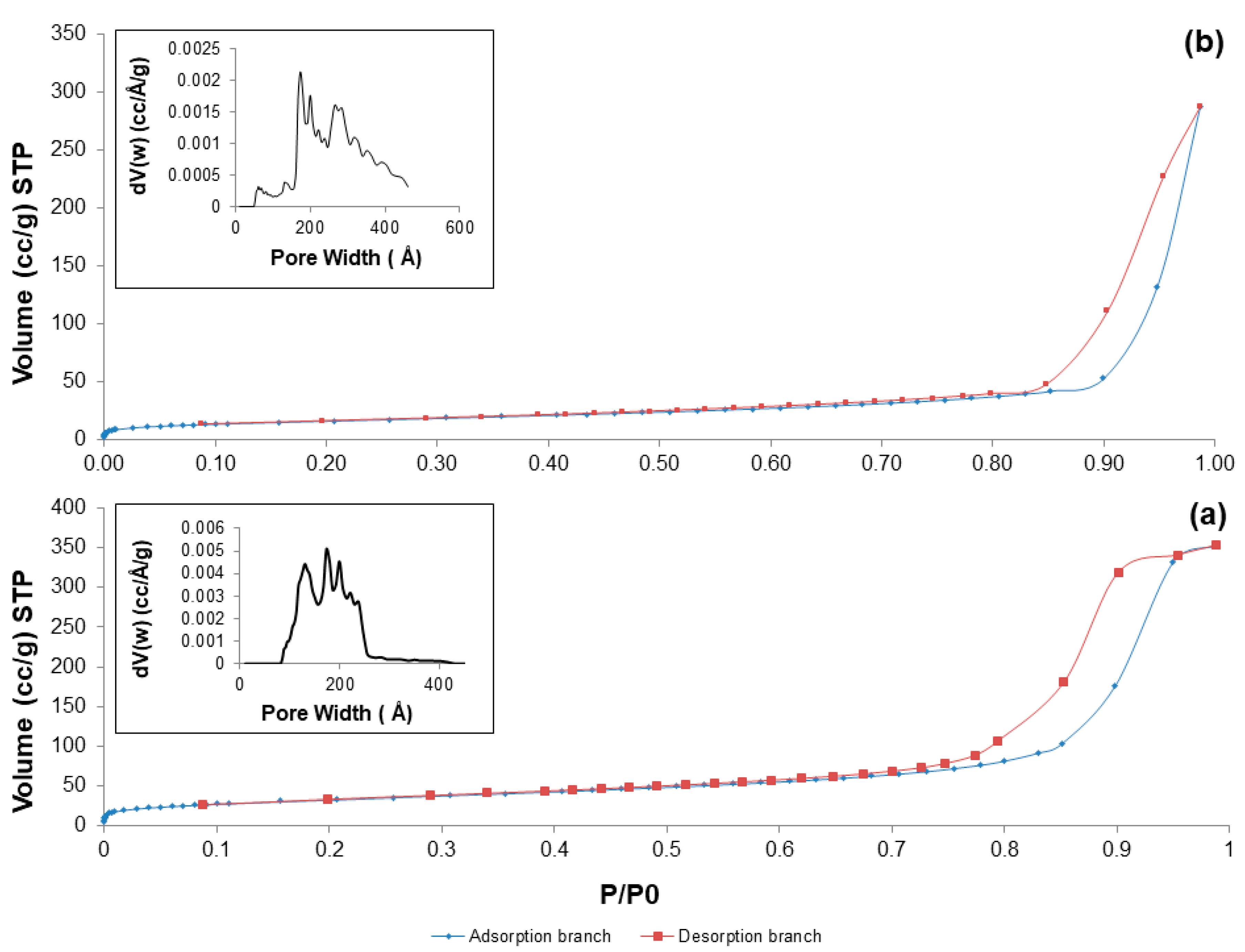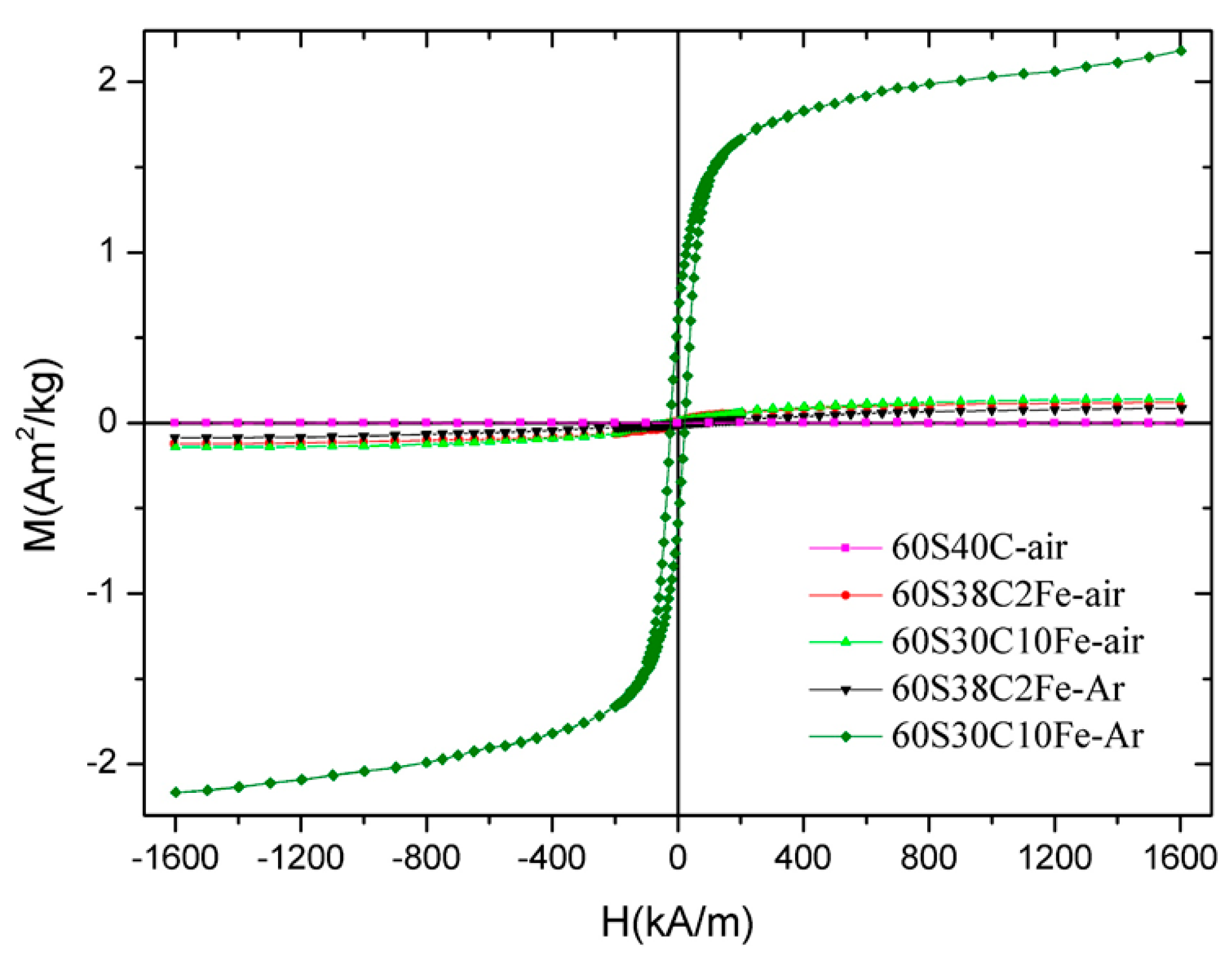 Table 1. Nominal compositions (mol %) and reactants of the sol-gel materials produced in this work a.
| Sample Code | Composition (mol %) | TEOS (mL) | CaNT (g) | FeCl3 (g) |
| --- | --- | --- | --- | --- |
| 60S40C | 60SiO2-40CaO | 11.66 | 8.22 | - |
| 60S38C2Fe | 60SiO2-38CaO-2Fe2O3 | 11.66 | 7.81 | 0.56 |
| 60S30C10Fe | 60SiO2-30CaO-10Fe2O3 | 11.66 | 6.17 | 2.82 |
a All the syntheses were carried out with 7.2 mL of distilled water and 1.2 mL of 2 N HNO3 to obtain 20 mL of sol.

Table 2. Characteristic temperatures of the calcined materials determined (when possible) from DTA (Tg, Tx, Tc and Tm) and HSM plots (TFS and TMS).
| Sample | Tg (°C) | Tx (°C) | Tc (°C) | Tm (°C) | TFS (°C) | TMS (°C) |
| --- | --- | --- | --- | --- | --- | --- |
| 60S40C-air | 700 | 850 | 910 | 1384 | 762 | 879 |
| 60S38C2Fe-air | 735 | 800 | 855 | 1180, 1330 | 747 | 864 |
| 60S38C2Fe-Ar | 680 | 800 | 847, 1087 | 1195, 1349 | 765 | 843 |
| 60S30C10Fe-air | - | - | - | 1180 | 759 | 999 |
| 60S30C10Fe-Ar | - | - | - | - | 1062 | 1158 |

Table 3. Characteristic temperatures of non-calcined materials determined (when possible) from DSC plots.
| Sample | Tg (°C) | Tx (°C) | Tc (°C) |
| --- | --- | --- | --- |
| 60S40C-140 in air | 700 | 840 | 920 |
| 60S38C2Fe-140 in air | 690 | 850 | 900 |
| 60S38C2Fe-140 in argon | 697 | 870 | 900, 990 |
| 60S30C10Fe-140 in air | - | 660 | 680, 807, 900 |
| 60S30C10Fe-140 in argon | - | 570 | 590, 740, 920 |

Table 4. Textural parameters obtained by N2 adsorption–desorption porosimetry for the calcined sol-gel materials.
| Sample | SSA (m2/g) | DNLDFT (nm) |
| --- | --- | --- |
| 60S40C-air | 119.4 | 18.4 |
| 60S38C2Fe-air | 59.7 | 29.8 |
| 60S38C2Fe-Ar | 7.4 | 6.1 |
| 60S30C10Fe-air | 41.5 | 26.4 |
| 60S30C10Fe-Ar | 11.7 | 4.9 |
| Sample | Remanent Magnetization (Am2/kg) | Coercitive Force (kA/m) | Saturation Magnetization (Am2/kg) | Hysteresis Area at ±1600 kA/m (J/kg) |
| --- | --- | --- | --- | --- |
| 60S30C10Fe-Ar | 0.6 | 22 | 2.17 | 0.16 |
| 60S30C10Fe-air | 0.03 | 2.5 | 0.14 | 0.02 |
| 60S38C2Fe-Ar | <0.02 | 2 | 0.09 | <0.01 |
| 60S38C2Fe-air | <0.02 | 2 | 0.11 | <0.01 |

© 2018 by the authors. Licensee MDPI, Basel, Switzerland. This article is an open access article distributed under the terms and conditions of the Creative Commons Attribution (CC BY) license (http://creativecommons.org/licenses/by/4.0/).