Effect of Substitutional Pb Doping on Bipolar and Lattice Thermal Conductivity in p-Type Bi0.48Sb1.52Te3
1
Materials R&D Center, Samsung Advanced Institute of Technology, Samsung Electronics, Suwon 16419, Korea
2
Department of Nano Applied Engineering, Kangwon National University, Chuncheon 24341, Korea
3
Department of Materials Science and Engineering, University of Seoul, Seoul 02504, Korea
4
Department of Energy Science, Sungkunkwan University, Suwon 16419, Korea
*
Authors to whom correspondence should be addressed.
Received: 11 May 2017 / Revised: 29 June 2017 / Accepted: 4 July 2017 / Published: 6 July 2017
Abstract
Cation substitutional doping is an effective approach to modifying the electronic and thermal transports in Bi
2
Te
3
-based thermoelectric alloys. Here we present a comprehensive analysis of the electrical and thermal conductivities of polycrystalline Pb-doped p-type bulk Bi
0.48
Sb
1.52
Te
3
. Pb doping significantly increased the electrical conductivity up to ~2700 S/cm at
x
= 0.02 in Bi
0.48-x
Pb
x
Sb
1.52
Te
3
due to the increase in hole carrier concentration. Even though the total thermal conductivity increased as Pb was added, due to the increased hole carrier concentration, the thermal conductivity was reduced by 14–22% if the contribution of the increased hole carrier concentration was excluded. To further understand the origin of reduction in the thermal conductivity, we first estimated the contribution of bipolar conduction to thermal conductivity from a two-parabolic band model, which is an extension of the single parabolic band model. Thereafter, the contribution of additional point defect scattering caused by Pb substitution (Pb in the cation site) was analyzed using the Debye–Callaway model. We found that Pb doping significantly suppressed both the bipolar thermal conduction and lattice thermal conductivity simultaneously, while the bipolar contribution to the total thermal conductivity reduction increased at high temperatures. At Pb doping of
x
= 0.02, the bipolar thermal conductivity decreased by ~30% from 0.47 W/mK to 0.33 W/mK at 480 K, which accounts for 70% of the total reduction.
View Full-Text
►

▼

Figures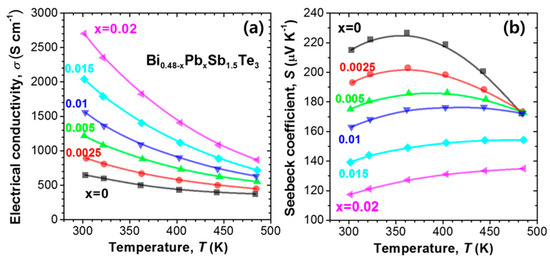 Figure 1
This is an open access article distributed under the
Creative Commons Attribution License
which permits unrestricted use, distribution, and reproduction in any medium, provided the original work is properly cited (CC BY 4.0).

Share & Cite This Article
MDPI and ACS Style
Kim, H.-S.; Lee, K.H.; Yoo, J.; Youn, J.; Roh, J.W.; Kim, S.-I.; Kim, S.W. Effect of Substitutional Pb Doping on Bipolar and Lattice Thermal Conductivity in p-Type Bi0.48Sb1.52Te3. Materials 2017, 10, 763.
Note that from the first issue of 2016, MDPI journals use article numbers instead of page numbers. See further details here.
Related Articles
Comments
[Return to top]