Open Access This article is
freely available
re-usable
Article
Effect of Hydrogen Exposure on Mechanical and Tribological Behavior of CrxN Coatings Deposited at Different Pressures on IN718
1
Chair of Physical Metallurgy and Materials Technology, Brandenburg Technical University, Cottbus 03046, Germany
2
Department of General Physics, National Research Tomsk Polytechnic University, Tomsk 634050, Russia
3
Department of Mechanical Engineering, University of South Florida, Tampa, FL 33620, USA
4
Laboratory of Inorganic Nanomaterials, National University of Science and Technology "MISiS", Moscow 119049, Russia
*
Author to whom correspondence should be addressed.
Academic Editor: Silvia Gross
Received: 28 March 2017 / Accepted: 12 May 2017 / Published: 20 May 2017
Abstract
:
In the current study, the properties of the CrxN coatings deposited on the Inconel 718 superalloy using direct current reactive magnetron sputtering are investigated. The influence of working pressure on the microstructure, mechanical, and tribological properties of the CrxN coatings before and after high-temperature hydrogen exposure is studied. The cross-sectional scanning electron micrographs indicate the columnar structure of the coatings, which changes from dense and compact columns to large columns with increasing working pressure. The Cr/N ratio increases from 1.4 to 1.9 with increasing working pressure from 300 to 900 mPa, respectively. X-ray diffraction analysis reveals a change from mixed hcp-Cr2N and fcc-CrN structure to approximately stoichiometric Cr2N phase. After gas-phase hydrogenation, the coating deposited at 300 mPa exhibits the lowest hydrogen absorption at 600 °C of all investigated coatings. The results indicate that the dense mixed cubic and hexagonal structure is preferential for hydrogen permeation resistance due to the presence of cubic phase with higher packing density in comparison to the hexagonal structure. After hydrogenation, no changes in phase composition were observed; however, a small amount of hydrogen is accumulated in the coatings. An increase of coating hardness and elastic modulus was observed after hydrogen exposure. Tribological tests reveal that hydrogenation leads to a decrease of the friction coefficient up to 20%–30%. The best value of 0.25 was reached for hydrogen exposed CrxN coating deposited at 300 mPa.
Keywords:
Cr
x
N coatings; PVD; hydrogenation; tribology; mechanical properties; GDOES
1. Introduction
Since the commercialization of TiN coatings in 1980s, transition metal nitride hard coatings have been extensively applied in bearings, gears, as well as cutting and forming tools because of their high hardness, good wear, and corrosion resistance [
1
,
2
]. Their capability to extend tool lifetime in abrasive and corrosive environments has been verified [
3
].
Chromium nitride coatings exhibit higher corrosion and oxidation resistance in comparison to other nitride coatings [
4
,
5
]. Moreover, Cr–N coatings have attracted much attention in different applications in terms of their high temperature stability, chemical inertness, high toughness, and a friction coefficient lower than TiN [
6
].
Cr–N coatings can be synthesized by various PVD processes, such as hollow cathode discharge [
7
], pulsed laser deposition [
8
,
9
], ion-beam-assisted deposition [
10
,
11
], arc ion plating [
12
,
13
,
14
], and magnetron sputtering [
15
,
16
,
17
,
18
].
Phase structure, morphology, and mechanical properties of Cr–N coatings deposited using magnetron sputtering strongly depend on the deposition parameters, such as working pressure, bias voltage, substrate temperature, target power, substrate frequency, nitrogen flow rate, etc. [
4
,
18
,
19
,
20
,
21
]. Among them, working pressure is one of the key parameters which controls the deposition process. Gas pressure directly affects phase structure, preferred orientation, chemical composition, and deposition rate of the coatings [
22
,
23
].
Application of Cr–N coatings and Inconel 718 (IN718) superalloy in the hydrogen-contained aggressive environments requires detailed knowledge about changes in physical and mechanical properties of the material during hydrogen interaction at elevated temperatures. According to literature, the presence of δ-phase in IN718 at high hydrogen concentrations dramatically reduces the ductility of the alloy [
24
]. Furthermore, hydrogen embrittlement of IN718 occurs preferably at the grain boundaries even at low hydrogen concentrations. Thus, developing hydrogen-resistant coatings with adequate mechanical and tribological properties on the IN718 alloy is also very important to prevent hydrogenation.
Despite numerous publications about Cr–N films, up to now the effect of hydrogenation on mechanical and tribological properties of Cr–N coatings has not been completely understood. The objective of this paper is to investigate the influence of the pressure on microstructure, mechanical, and tribological properties of CrxN coatings before and after high-temperature hydrogen exposure.
2. Experimental
CrxN coatings were fabricated using DC magnetron sputtering in the CC800/9 industrial coater from CemeCon AG (Würselen, Germany). The coatings were deposited onto IN 718 and (100) silicon wafers. IN 718 substrates were mirror polished, ultrasonically cleaned in acetone and ethanol, and then placed in the chamber at the substrate-to-target distance of 70 mm. For deposition of the coating, with the stationary table, the specimens were placed opposite to the target. A high purity, single Cr target (99.99%) from CemeCon AG (Würselen, Germany) was used. Prior to sputtering, a base pressure of less than 8.0 mPa was achieved in the chamber. Then the substrates were etched with Ar+ plasma at a bias voltage of −650V for 30 min in order to remove surface contaminations and ensure proper adhesion of the deposited films. The coating temperature was kept constant through all experiments at 500 °C. The target power of 2 kW and substrate bias voltage of 90 V were kept constant. N2/Ar ratio for all deposited coatings was 0.23. In this study, the working pressure was changed from 300 to 900 mPa.
The film thickness was measured using the CemeCon AG (Würselen, Germany) calowear test machine. The deposition rate was calculated from the film thickness and the corresponding deposition time. The cross-section images of the CrxN thin films deposited on Si wafers were analyzed by means of scanning electron microscope from Tescan (Brno, Czech Republic). The chemical composition of the CrxN layers was determined by wavelength-dispersive X-ray spectroscopy (WDS).
The hydrogenation was carried out in gas atmosphere using the Gas Reaction Controller (GRC) technique (Pittsburgh, PA, USA). Initially, the sample was placed into the vacuum chamber and evacuated to the base pressure of 10−3 Pa. Then, the sample was heated to 600 °C with a heating rate of 6 °C/min. Finally, the chamber (175 cm3) was filled with hydrogen (99.999% purity) up to 2 atm pressure and kept for two hours. After hydrogenation, hydrogen was pumped out of the chamber during slow cooling. Elemental distribution was analyzed by glow-discharge optical emission spectroscopy (GDOES) using GD Profiler 2 (Horiba, Japan).
Crystallographic phases and XRD patterns of the coatings were identified using the Shimadzu XRD 7000S (Kyoto, Japan) equipped with the OneSight wide-range high-speed detector at 40 kV and 30 mA with Cu
K
α
radiation (λ = 0.15406 nm). Nanohardness of the coatings was measured using the nanohardness tester NHT-S-AX-000Х from CSEM (Neuchatel, Switzerland). This device analyzes changes in load and indenter penetration depth at the loading–unloading cycle using the Oliver and Pharr method [
25
]. The load was adjusted so that the penetration depth did not exceed one-tenth of the coating thickness [
26
]. The average of 20 measurements was calculated. The evolution of the friction coefficients was investigated by the high-temperature tribometer TNT-S-AH0000 from CSEM (Neuchatel, Switzerland) under dry friction conditions with a 5 N vertical load and a linear sliding speed of 2.5 cm/s for 15,000 laps (the total distance is approx. 150 m).
3. Results and Discussion
4. Conclusions
Cr
x
N coatings were deposited on the IN718 substrates at working pressures between 300 and 900 mPa using DC reactive magnetron sputtering. The deposition rate increases with increasing pressure, whereas the Cr/N ratio changes from 1.4 to 1.9. XRD analysis shows the change from mixed hcp-Cr
2
N and fcc-CrN structure to approximately stoichiometric Cr
2
N with increasing working pressure. Hardness and elastic modulus of the as-deposited coatings decrease with increasing pressure. The hydrogen absorption at 600 °C for all the coatings is similar and the lowest hydrogen absorption rate was observed for the Cr
x
N coating deposited at 300 mPa. After hydrogen interaction, the phase composition of the coatings remains stable. It could be concluded that the presence of c-CrN in a mixed structure is preferable for hydrogen permeation resistant coatings, due to the higher packing fraction of cubic structure in comparison to the hexagonal one. After hydrogen exposure, the Cr
x
N films exhibit higher hardness as well as elastic-modulus and reach the highest value of 21 GPa (
H
) and 300 GPa (
E
) for the coating deposited at 300 mPa. After hydrogenation, Cr
x
N coatings show a lower (by 20%–30%) friction coefficient that favorably affects wear resistance. The best value of CoF was 0.25 for hydrogen exposed Cr
x
N coating deposited at 300 mPa.
Acknowledgments
The authors are thankful to Muhammad Naveed for carrying out the deposition process and Sebastian Bolz for performing the WDS measurements. The study was funded by the RFBR under the research project No.16-38-00709. Anton Manakhov also acknowledges the financial support of the Ministry of Education and Science of the Russian Federation in the framework of Increase Competitiveness Program of NUST "MISiS", implemented by a governmental decree dated 16 March 2013, N 211.
Author Contributions
Aleksei Obrosov analyzed the results and prepared the paper with help of Alex A. Volinsky and Anton Manakhov. Alina N. Sutygina and Egor Kashkarov provided hydrogenation, GDOES, and described the results. Sabine Weiß revised the manuscript and directed the work.
Conflicts of Interest
The authors declare no conflict of interest.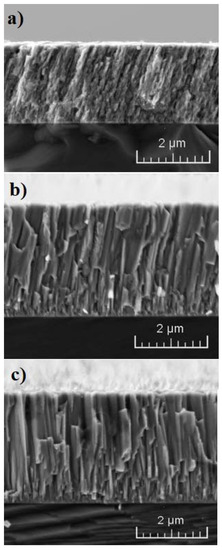 Figure 1. Cross-section SEM images of CrxN deposited at various pressures (a) 300 mPa; (b) 600 mPa; and (c) 900 mPa.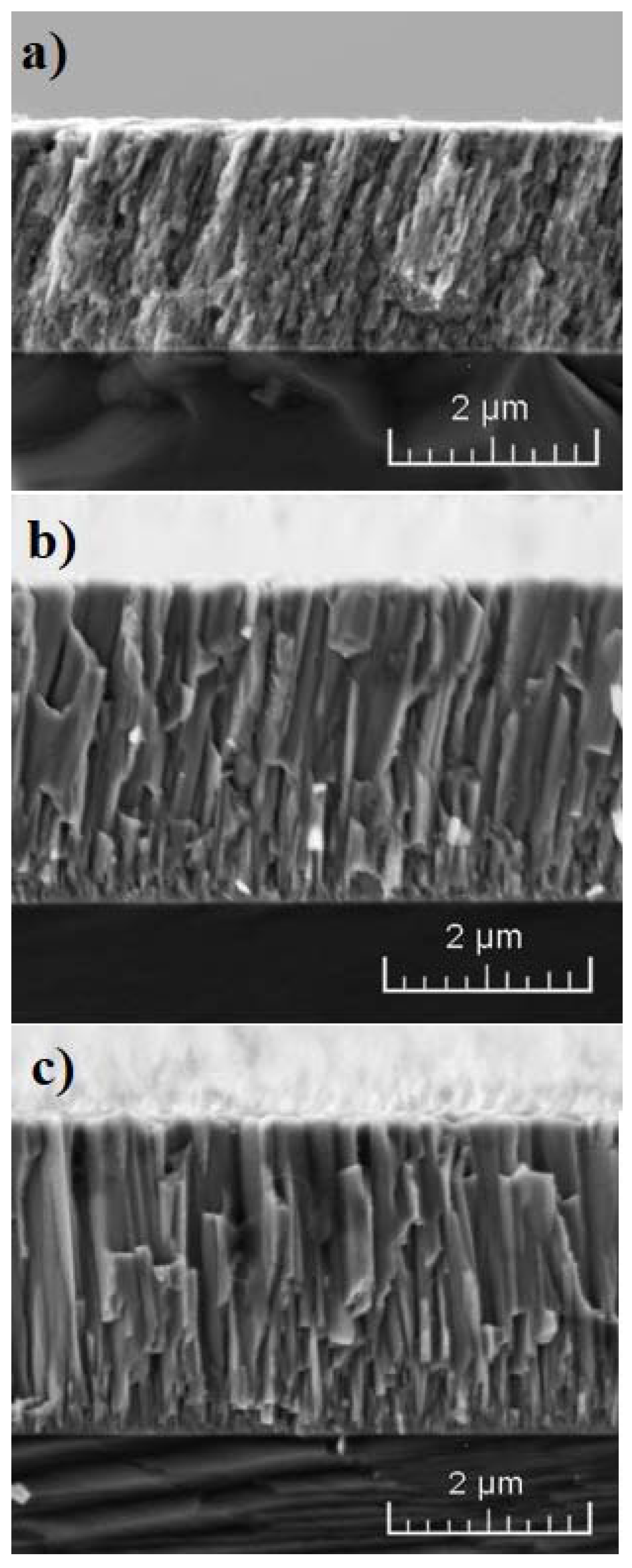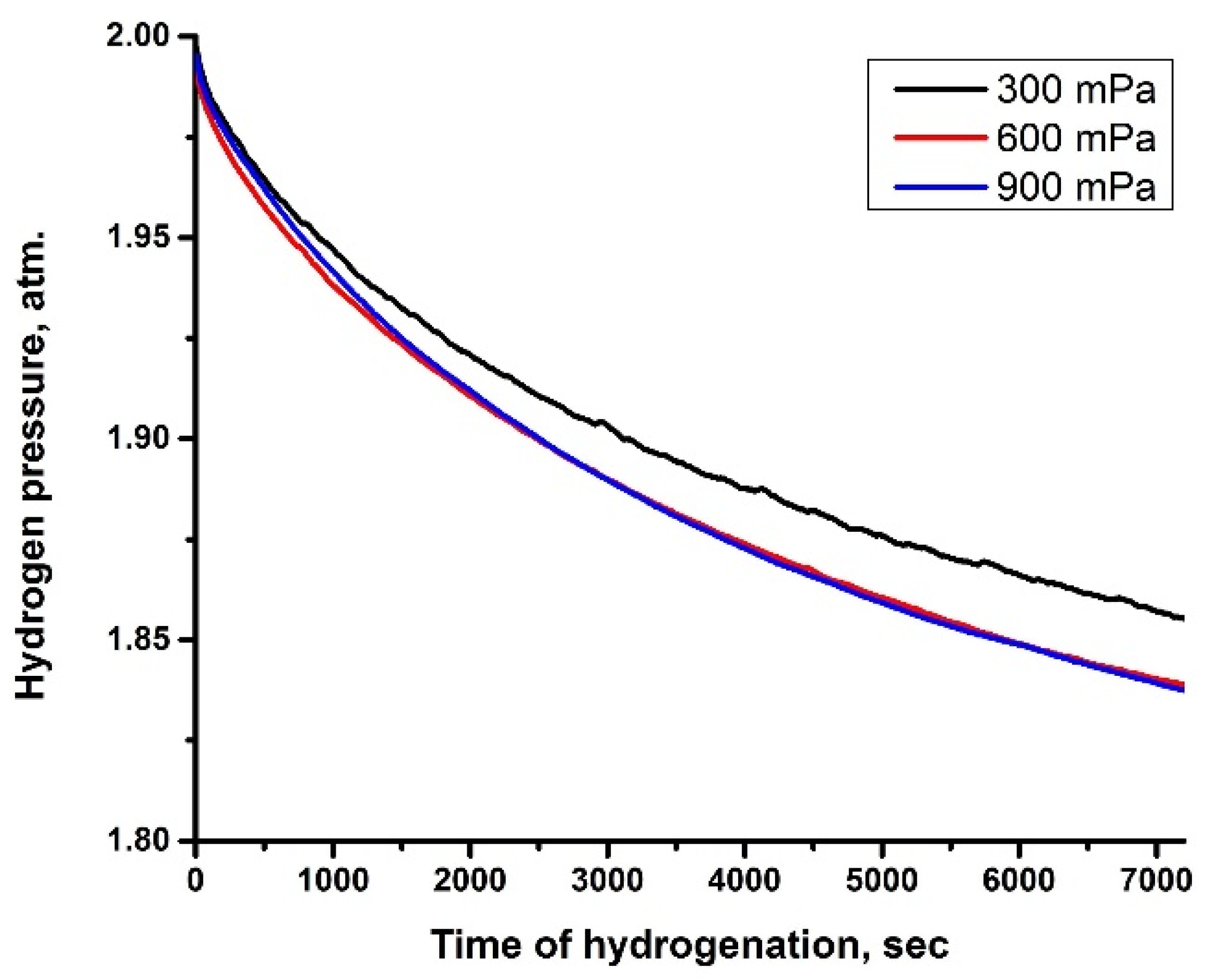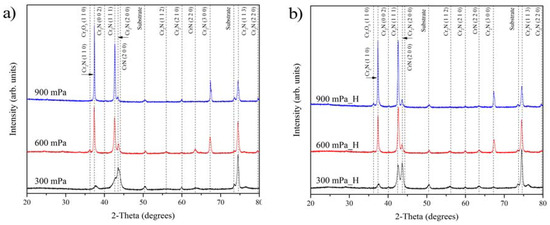 Figure 3. XRD of CrxN coatings deposited at different pressures (a) before; and (b) after hydrogenation.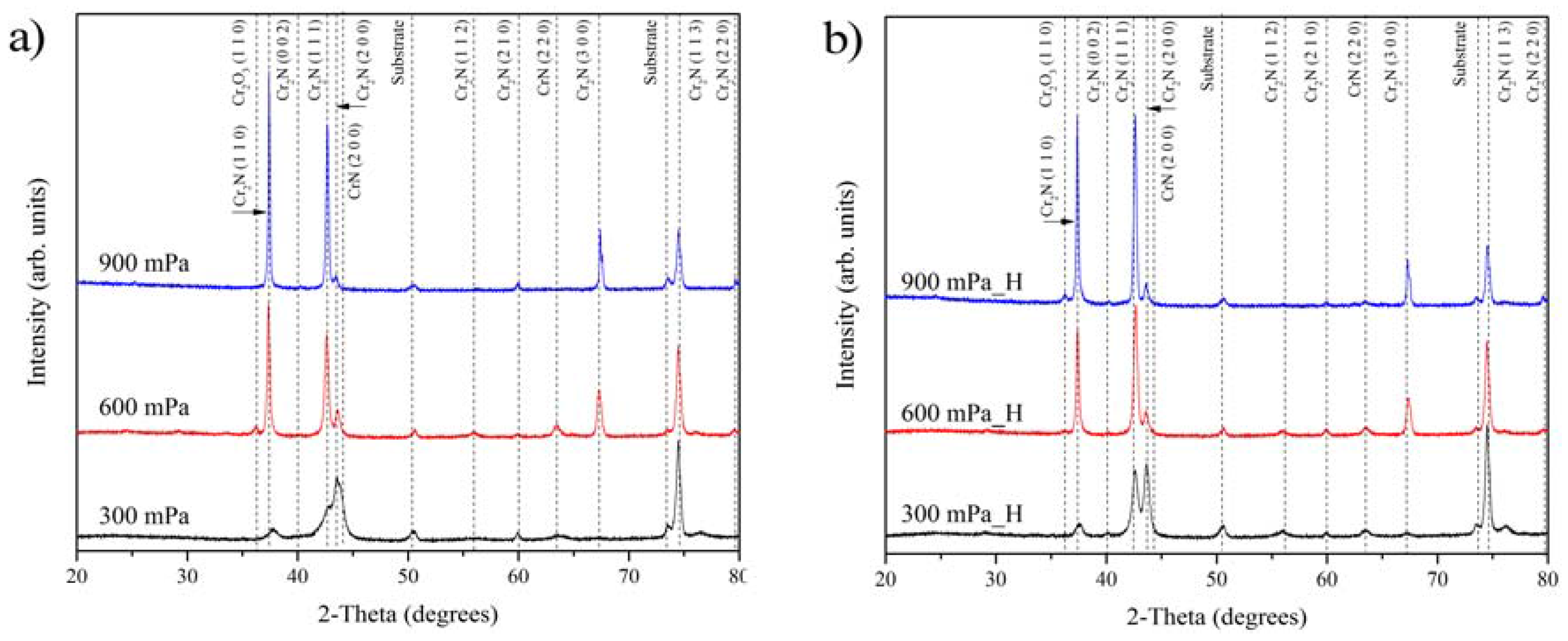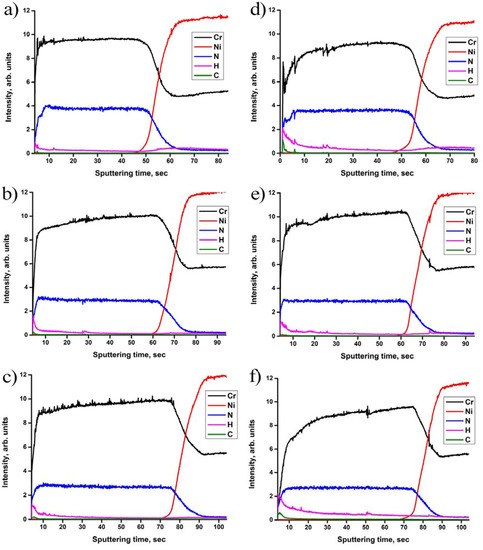 Figure 4. GDOES profiles of elements at (a) 300 mPa; (b) 600 mPa; (c) 900 mPa as-deposited; and (d) 300 mPa; (e) 600 mPa; (f) 900 mPa hydrogen exposed CrxN coatings on the IN718 substrates.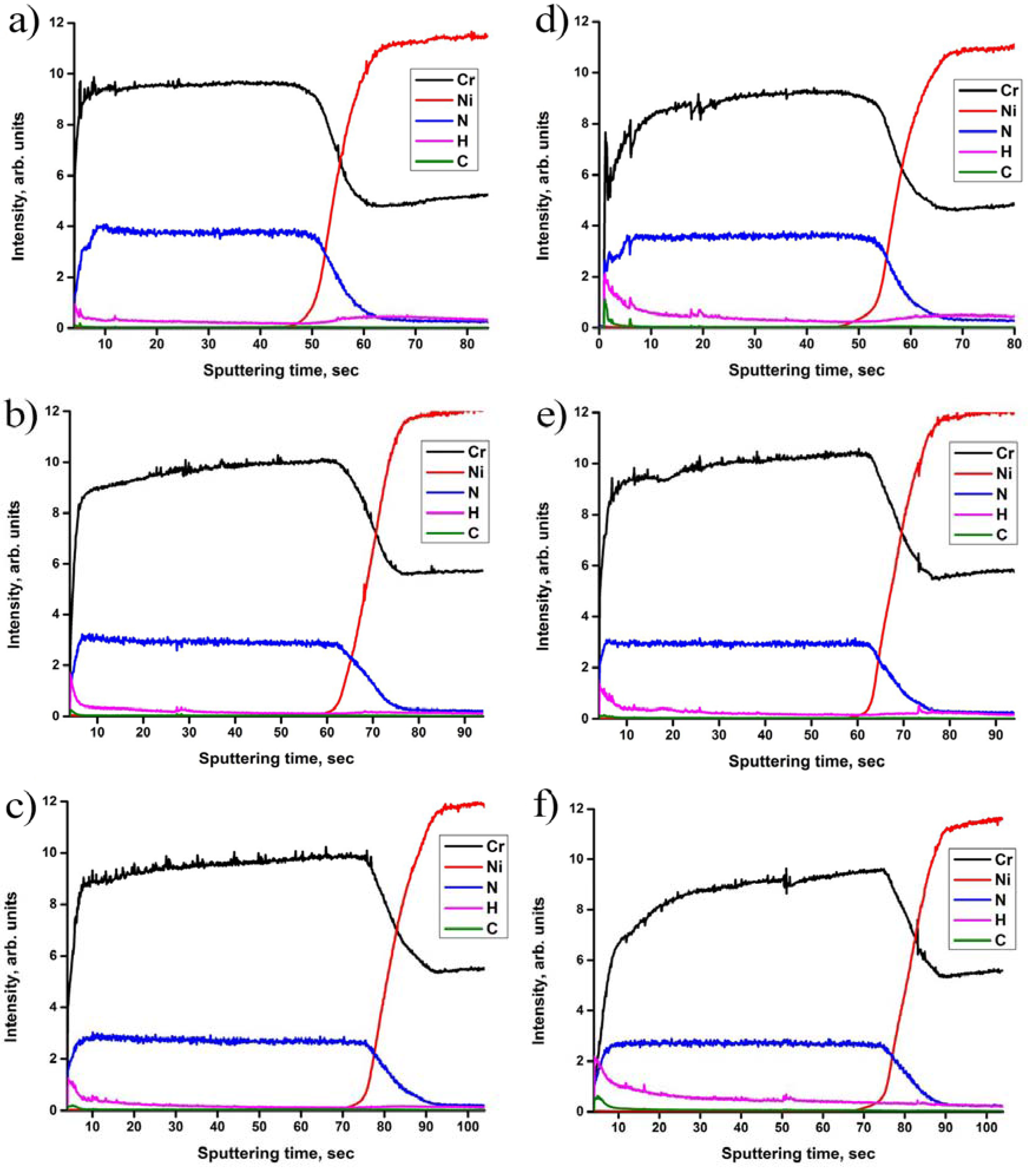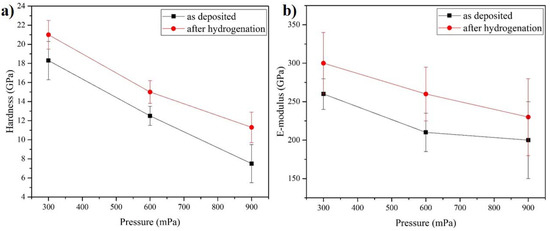 Figure 5. Mechanical properties (a) hardness; and (b) e-modulus of CrxN coatings at various argon pressure as-deposited and after hydrogen exposure.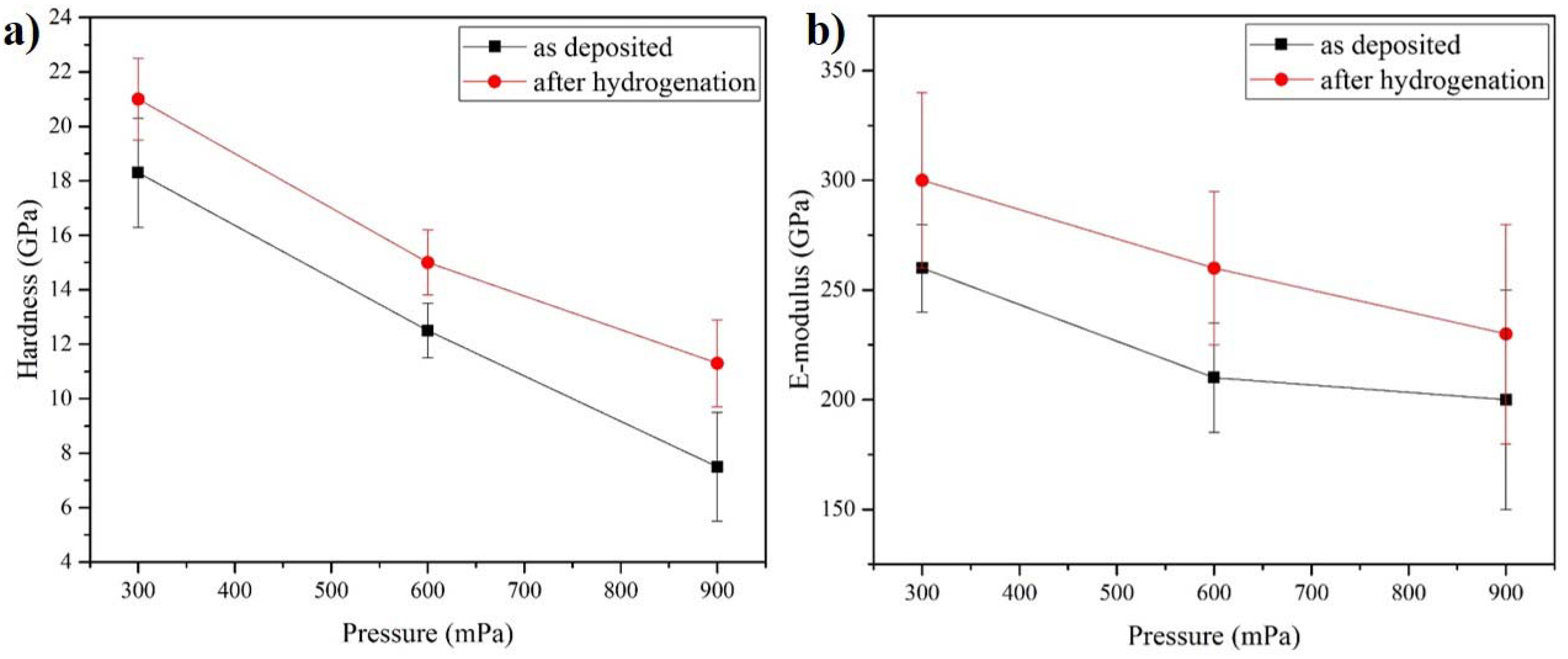 Figure 6. Evolution of friction coefficient for (a) as-deposited and (b) hydrogen exposed CrxN coatings as a function of argon pressure.

Element (at. %)
Pressure, mPa
300
600
900
Cr
59
62
66
N
41
38
34

© 2017 by the authors. Licensee MDPI, Basel, Switzerland. This article is an open access article distributed under the terms and conditions of the Creative Commons Attribution (CC BY) license (http://creativecommons.org/licenses/by/4.0/).