Open Access This article is
freely available
re-usable
Article
An Easy-Made, Economical and Efficient Carbon-Doped Amorphous TiO2 Photocatalyst Obtained by Microwave Assisted Synthesis for the Degradation of Rhodamine B
1
Facultad de Ingeniería Química-BUAP, Avenida San Claudio, Ciudad Universitaria, Puebla 72570, Mexico
2
Centro de Investigación en Dispositivos Semiconductores, Instituto de Ciencias BUAP, 14 sur y Avenida San Claudio, Ciudad Universitaria, A.P. 196, Puebla 72000, Mexico
3
Centro Universitario de Vinculación y Transferencia de Tecnología OTC-BUAP, Prolongación de la 24 Sur y Avenida San Claudio, Ciudad Universitaria, Puebla 72570, Mexico
*
Author to whom correspondence should be addressed.
Received: 12 October 2017 / Accepted: 11 December 2017 / Published: 20 December 2017
Abstract
:
The search for novel materials and the development of improved processes for water purification have attracted the interest of researchers worldwide and the use of titanium dioxide in photocatalytic processes for the degradation of organic pollutants contained in water has been one of the benchmarks. Compared to crystalline titanium dioxide (cTiO2), the amorphous material has the advantages of having a higher adsorption capacity and being easier to dope with metal and non-metal elements. In this work, we take advantage of these two features to improve its photocatalytic properties in the degradation of Rhodamine B. The structural characterization by XRD analysis gives evidence of its amorphous nature and the SEM micrographs portray the disc morphology of 300 nm in diameter with heterogeneous grain boundaries. The degradation of Rhodamine B tests with the amorphous TiO2 using visible light confirm its improved catalytic activity compared to that of a commercial product, Degussa P25, which is a well-known crystalline material.
Keywords:
amorphous titanium oxide; microwave assisted synthesis; Triple-E photocatalyst
1. Introduction
The possibility of putting on the market TiO
2
-based products is a potentially profitable area of nanostructured materials development due to the advantageous properties of the material (low price, chemical inertness, long-term stability, lack of toxicity, etc.) and its different practical uses [
1
]. TiO
2
industrial use can now be seen in various applications that include self-cleaning surfaces, anti-fogging mirrors, antimicrobial coatings, electrochromic devices, rechargeable batteries, and sensors. More practical applications in medical, automotive, and photocatalytic environmental remediation of water and air can also be forecasted for the near future [
2
,
3
,
4
].
For these applications, crystalline TiO
2
(cTiO
2
) in its different phases (anatase, rutile, and brookite) has been extensively studied even with some DFT theoretical calculations [
5
], in particular for its electronic structures and defect levels. On the other hand, the studies on the amorphous TiO
2
(aTiO
2
) are not enough [
6
], even though it is the amorphous state that sometimes plays crucial roles in particular applications.
The choice of crystalline TiO2 in the anatase phase as the most active material is justified only for applications where its activity does not depend on the optical and electronic properties of the TiO2 (self-cleaning and anti-fogging). However, for other uses that include photovoltaic devices and photocatalytic processes the crystalline material has a great disadvantage due to its wide bandgap (3.2 eV), since this makes necessary the use of ultraviolet radiation for its activation, and the sun has only 4–5% of this radiation component. Other drawbacks of cTiO2 are related to the synthetic simplicity and reproducibility to obtain the desired product, and here, the amorphous material can be a good alternative.
Among the well-established traits of aTiO
2
, its facile large-scale production, higher surface area, and its concomitant higher absorptivity [
7
] are worth mentioning. In addition, aTiO
2
can form soft interfaces with substrates with different lattice parameters, and due to its isotropic nature, its optical properties do not depend on its orientation.
Owing to these favorable properties, aTiO
2
has been used to stabilize photoanodes for an efficient water splitting process [
8
] and to improve the performance of Dye Sensitized Solar Cells [
9
]. In addition, other recent reports [
10
] have shown that aTiO
2
may match the photocatalytic activity of cTiO
2
. Finally, some other theoretical (DFT + U) studies [
11
,
12
] suggest that aTiO
2
may be more suited than cTiO
2
for doping or impurification to broaden its absorptivity into the visible range. Several approaches have been developed to accomplish this: coupling of other narrow band gap semiconductors (CdS, CdSe), surface sensitization with dyes and metals (Cr, Fe, Mn, V), and nonmetal doping (N, C, F, B) [
13
].
In this context, carbon doping has aroused some research interest since this element can be incorporated to the lattice in different ways: as an anion (substituting the oxygen atom [
14
]), as a cation occupying interstitial sites, or even substituting titanium atoms [
15
]. It can also be integrated in a composite TiO
2
-based catalyst as a thin layer [
16
,
17
,
18
] or decorating the surface of the oxide material [
19
]. Regarding the synthetic feasibility, carbon doping can be carried out "in situ" in a one-pot reaction without using an external carbon precursor [
20
].
In this report, we aimed to prepare a Triple-E Carbon Doped amorphous titanium dioxide (CD-aTiO2) that is easy-to-make using microwave dielectric heating, economical because it does not require an external carbon precursor, and more efficient than the commercial cTiO2 Degussa P25 for the photocatalytic degradation of Rhodamine B.
The sequence of simple steps for the greener microwave-assisted one-pot synthesis of CD-aTiO2 using commercially available reagents and the fastness of the procedure accounts for the easy-to-make and economical labels. In addition, no external source of carbon was used for the same synthetic procedure. A higher photocatalytic activity for the degradation of Rhodamine B compared to that of commercial Degussa P25 cTiO2 is demonstrated for the carbon doped aTiO2 and this justifies the efficient catalyst label.
2. Results and Discussion
3. Materials and Methods
3.1. Materials and Reagents
All commercially available reagents were used without further purification and their brand names are as follows: 1-decanol (99.8%, EMD Millipore, Burlington, MA, USA), titanium butoxide (97.0%, Aldrich, Saint Louis, MO, USA), acetone (99.5%, J.T. Baker, Phillipsburg, NJ, USA), and methanol (99.8%, J.T. Baker, Phillipsburg, NJ, USA). Deionized water obtained from a Millipore system was used to prepare all the solutions for the photocatalytic experiments.
3.2. Synthesis of Carbon-Doped Amorphous Titanium Dioxide (CD-aTiO2)
The synthesis of CD-aTiO2 was carried out as follows: in a round bottom 100 mL flask 15 mL of 1-decanol were heated using a hotplate with magnetic stirring for 10 min at 80 °C and then 2 mL of titanium butoxide were added under vigorous stirring maintained for other 10 min. Then, 4 mL of deionized water were added, and the mixture was stirred 7 min more. At this stage, microwave heating was provided during 0, 2, 4, 6, and 8 min to yield a series of photocatalysts labelled DTiOB-01, DTiOB-02, DTiOB-03, DTiOB-04, and DTiOB-05, respectively. The greyish-white solid products obtained were rinsed with hot acetone first and then with hot methanol to get rid of any by-products, and then they were dried at 80 °C for 30 min.
3.3. Characterization and Analytical Techniques
XRD analysis was performed using a Bruker X-ray Diffraction D6-Discover equipment (Bruker, Billerica, MA, USA), Diffuse Reflectance Spectroscopy (DRS) using a Varian Cary 400 spectrophotometer (Cary, Addison, IL, USA) with a Harrick RD accessory (Harrick, Ithaca, NY, USA) was used for the optical characterization of the samples. The FT-IR spectra were obtained using a Perkin Elmer Spectrum (Perkin Elmer, Waltham, MA, USA), one spectrophotometer equipped with an Attenuated Total Reflection (ATR) accessory. The SEM micrographs were obtained with a JSM-6610LV JEOL electron microscope (JEOL, Akishima, Japan), and the transmission electron microscopy (TEM) with a Philips Tecnai F20, 200 kV (Philips, Amsterdam, The Netherlands). The nitrogen adsorption analysis was carried out to determine pore size distribution and the isotherm curve using an Autosorb 1C Quantachrome (Quantachrome, Boynton Beach, FL, USA) equipped with a Verlab VE-5600UV photometer (Quantachrome, Boynton Beach, FL, USA) and MetaSpec Pro analysis software (Quantachrome, Boynton Beach, FL, USA).
3.4. Measurements of Photocatalytic Activity
The photocatalytic activity tests were carried out using a previously described system [
36
] that uses a 10 W LED visible light source with a spectral power distribution in the 500–800 nm range (see
Figure S5 of the supplementary information
). For each degradation test, 15 mg of the TiO
2
photocatalyst were dispersed in 60 mL of a Rhodamine B solution prepared at different concentrations (5, 10, and 20 mg/L) for one minute using an ultrasonic bath. The suspension was maintained in the dark under stirring conditions for 20 min to reach the adsorption-desorption equilibrium, and the degradation processes were monitored by UV-vis spectroscopic analysis from samples taken at regular time intervals to complete 100 min.
The influence of the carbon content and crystallinity of the samples on the photocatalytic activity was verified by carrying out additional tests: a) the comparison of the photocatalytic activity of the carbon-doped DTiB-04 catalyst taking as a reference a non-doped material (DTiB-06), and b) the comparison of the photocatalytic performance of the amorphous DTiB-05 material with its crystalline derivative obtained by thermal treatment above 500 °C (DTiB-05TT).
Figures S6 and S7 of the supplementary information
show the results obtained.
4. Conclusions
An improved methodology (easy-to-make and economical) for the synthesis of amorphous carbon-doped TiO2 assisted by microwave heating and without using an external carbon source was developed. The nanodisc amorphous morphology, determined by XRD, SEM, and TEM analysis for all the photocatalysts obtained here, enhances their photocatalytic activity. Compared to that of commercial crystalline TiO2, it is significantly higher (more efficient). This high photocatalytic activity (close to 100%) for all the CD-aTiO2 products was kept even at higher concentrations of Rhodamine B (four times higher) after the 100 min degradation process.
Acknowledgments
We gratefully acknowledge Roberto Portillo-Reyes, whose contribution to this work was important to complete the revision of the paper successfully by carrying out the N2 adsorption–desorption analysis.
Author Contributions
Adan Luna-Flores and José L. Sosa-Sánchez conceived the project, Adan Luna-Flores performed the experiments; Adan Luna-Flores, José L. Sosa-Sánchez, J. A. Luna-López, and Marco Antonio Morales-Sánchez analyzed the data; Ricardo Agustín-Serrano and Marco Antonio Morales-Sánchez contributed analysis tools; Adan Luna-Flores; Marco Antonio Morales-Sánchez and José L. Sosa-Sánchez wrote the paper. All authors reviewed the manuscript.
Conflicts of Interest
The authors declare no conflict of interest.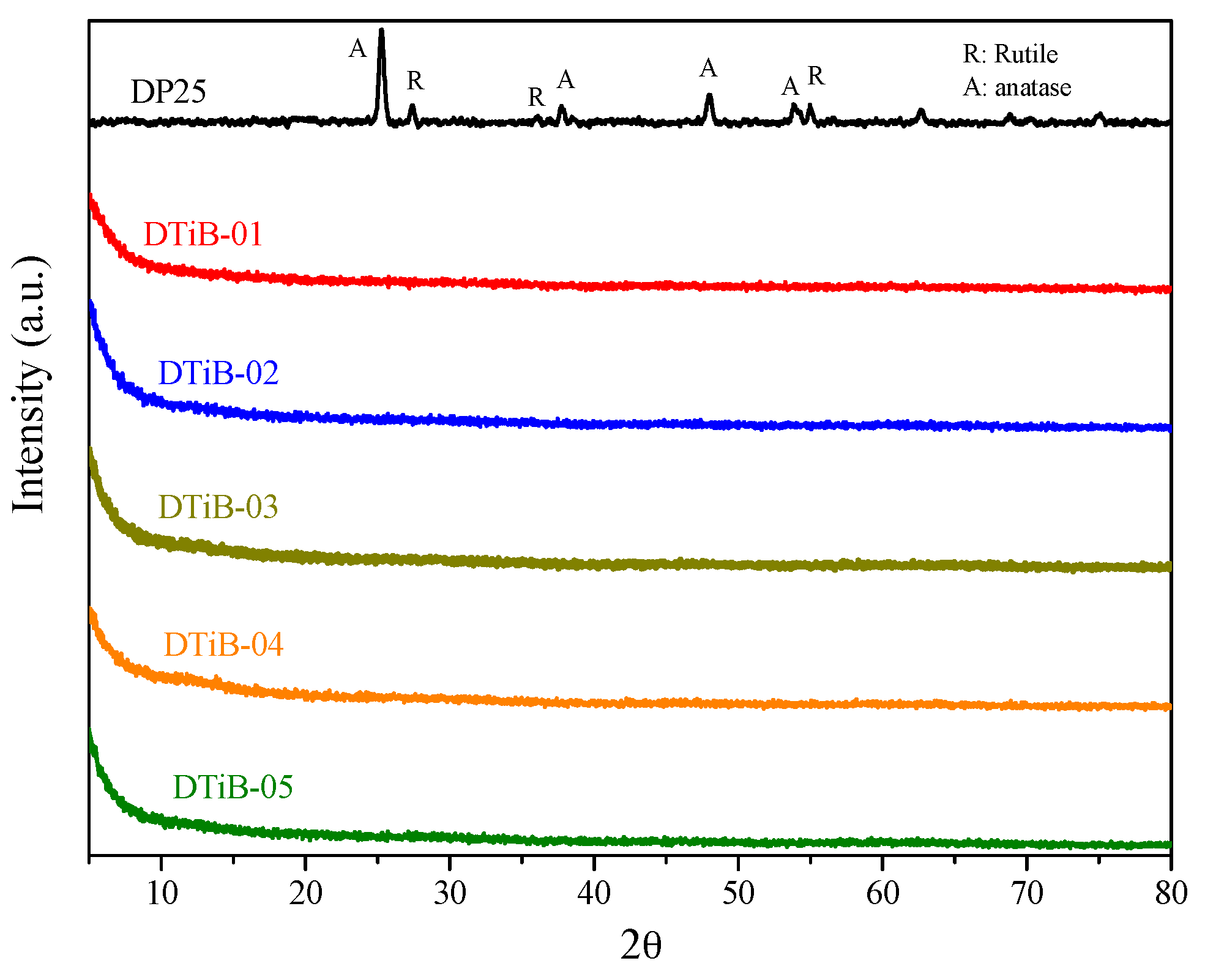 Figure 2. Scanning electron microscope (SEM) micrographs of all the CD-aTiO2 prepared (a) DTIB-01; (b) DTIB-02; (c) DTIB-03; (d) DTIB-04; (e) DTIB-05; (f) the disc morphology with a dimension of ~300 nm in diameter of these products can be observed in the last pictured.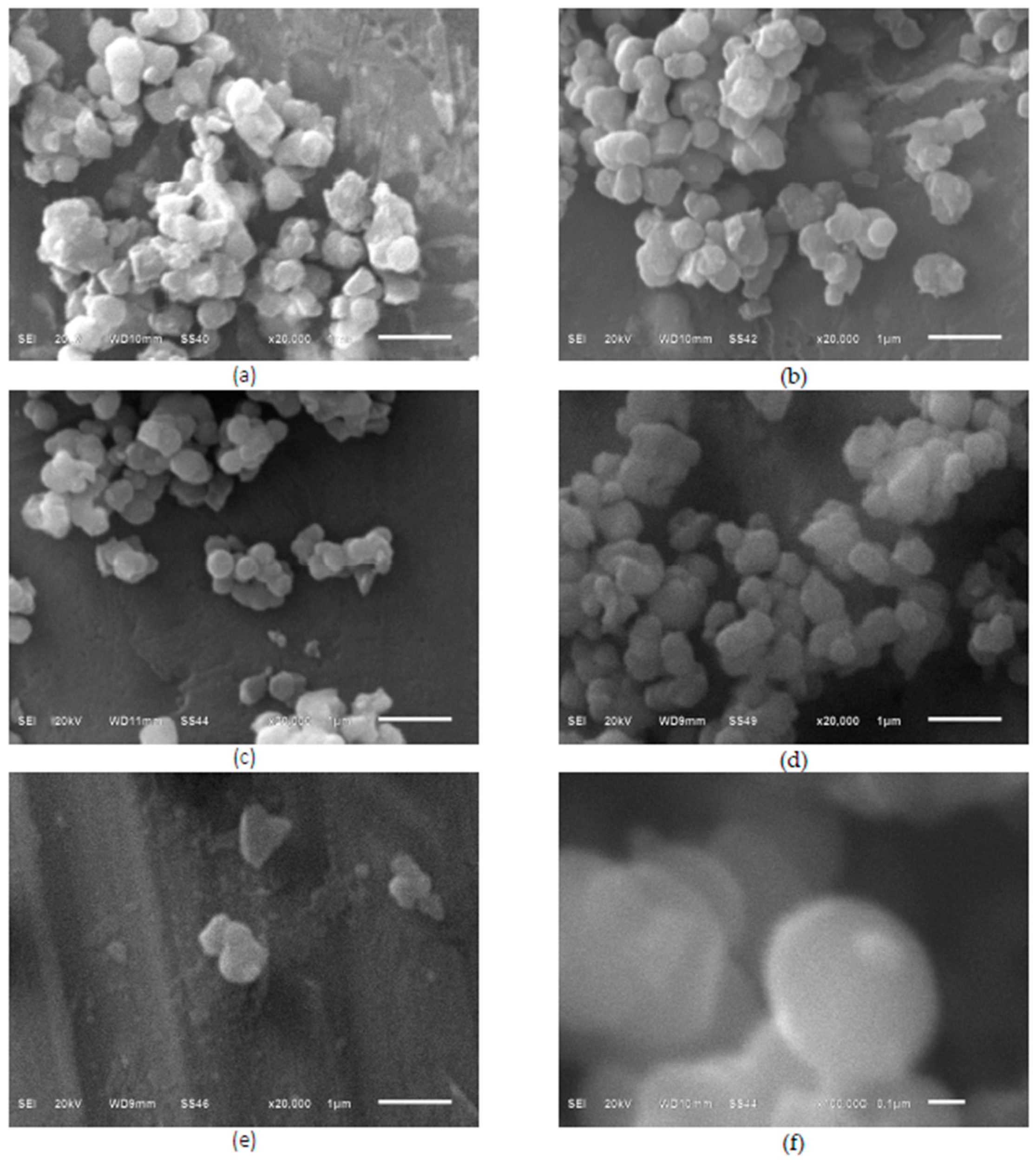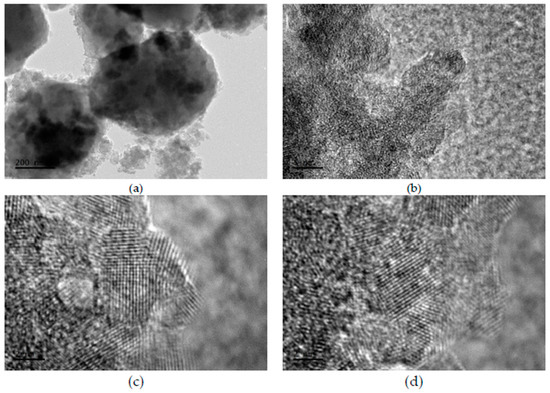 Figure 3.
Transmission electron microscope (TEM) images of carbon-coated CD-aTiO
2
for the DTiB-04 photocatalyst, (
a
) particles conglomerates at 200 nm (see
Figure 1
b), (
b
) zoom of image (
a
) to 5 nm and (
c
,
d
) nanocrystals of image (
b
) to 2 nm.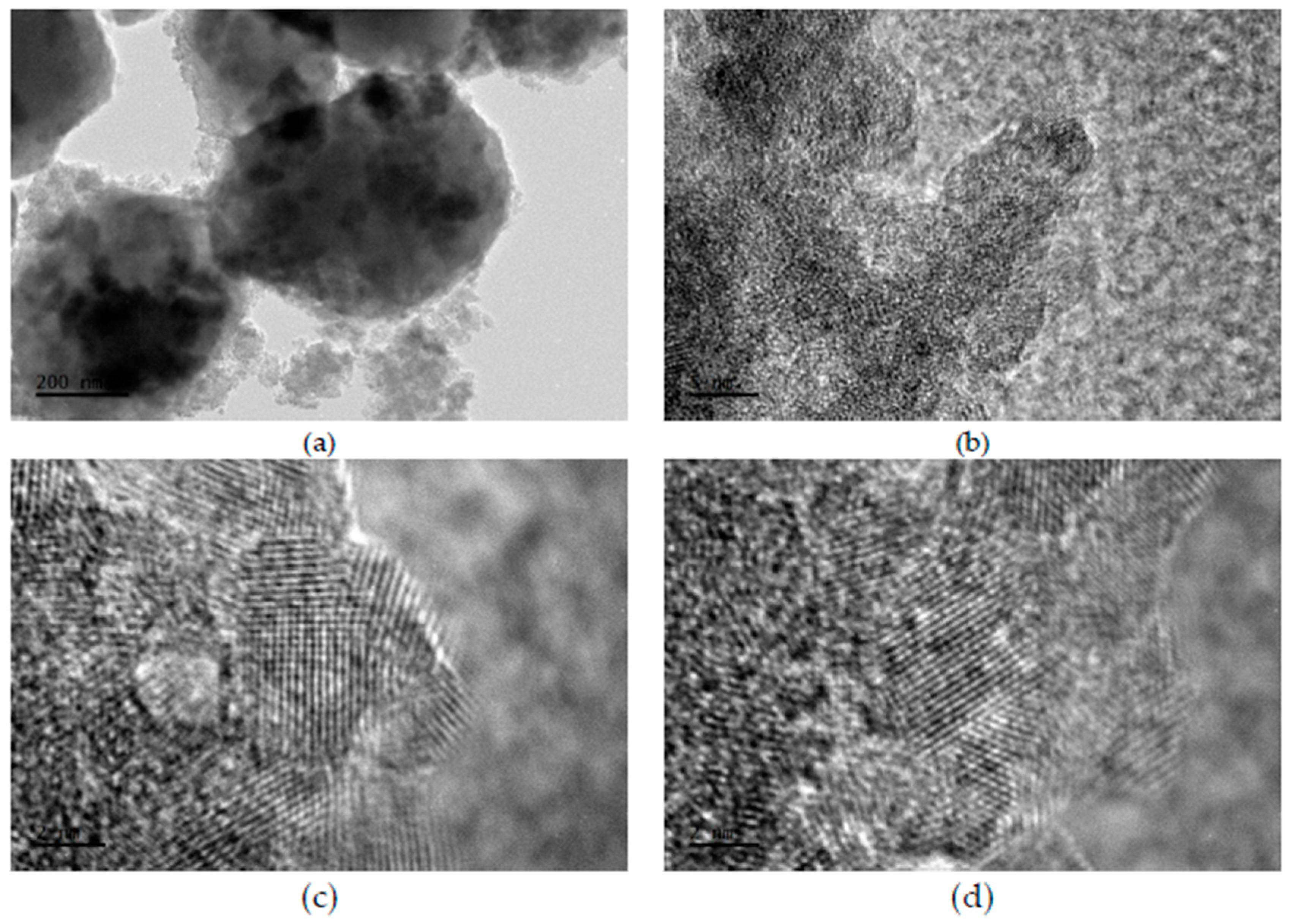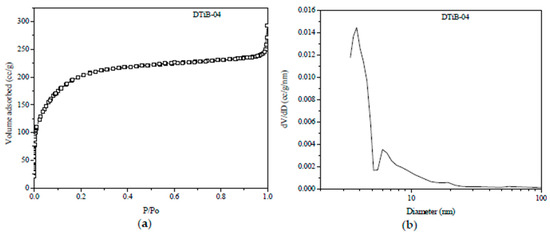 Figure 4. (a) N2 adsorption-desorption plot for the DTiB-04 isotherm; (b) Pore size distribution curve for the same DTiB-04 sample obtained from the desorption isotherm.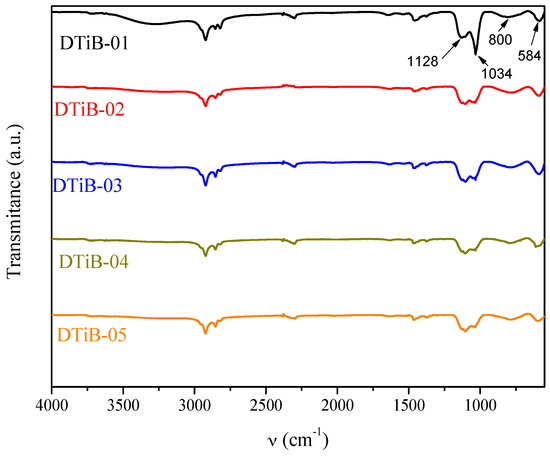 Figure 5. Fourier-transform infrared spectroscopy (FT-IR) spectra for all the CD-aTiO2 synthetized and used in this work.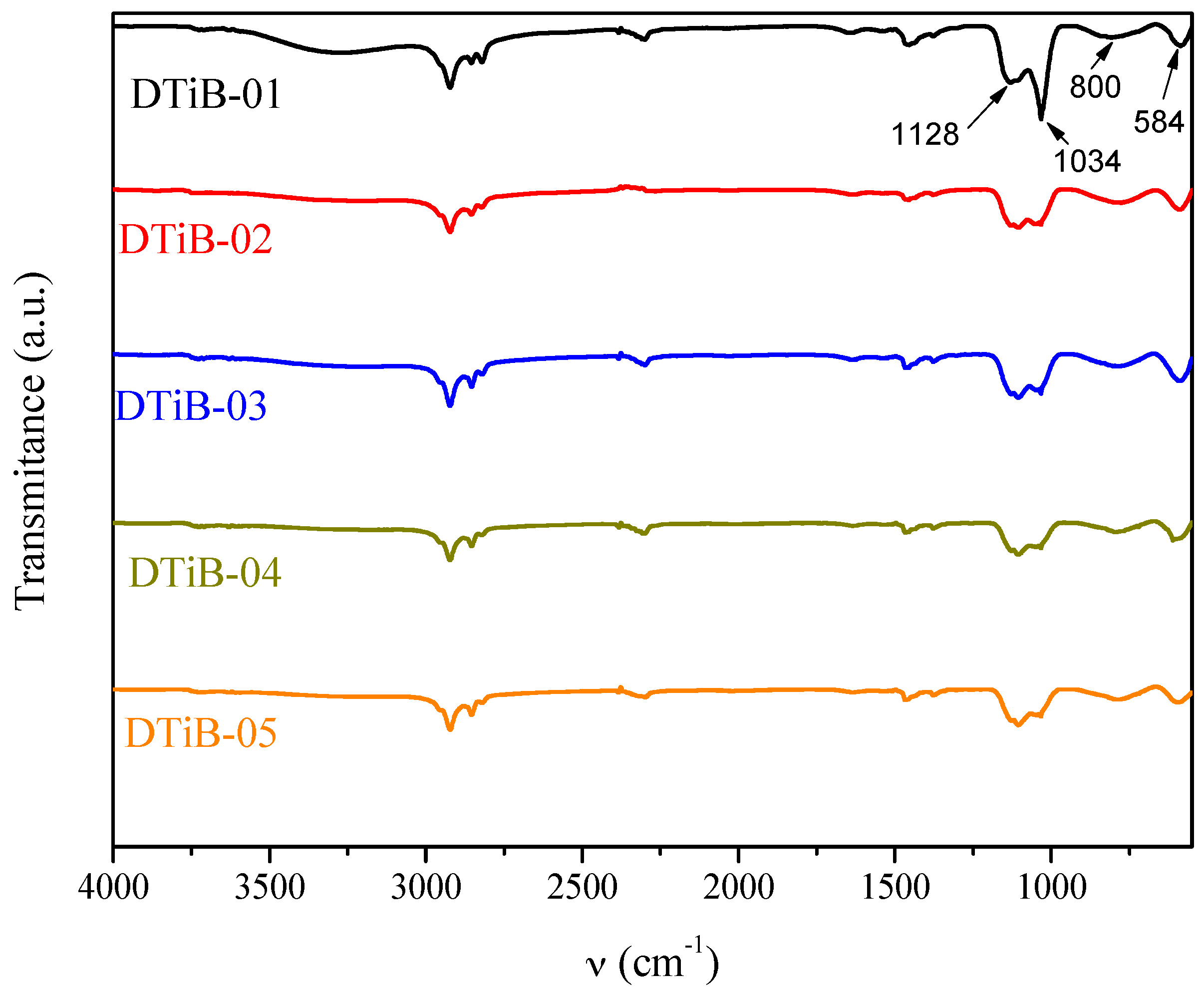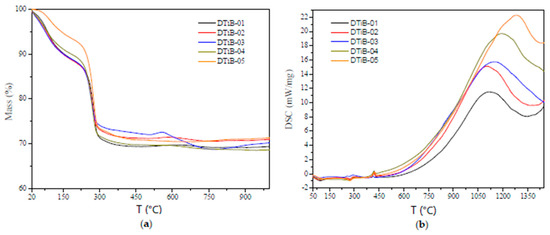 Figure 6. (a) Thermogravimetric (TG) and (b) differential scanning calorimetry (DSC) analysis for all the CD-aTiO2 photocatalysts synthetized and used in this work.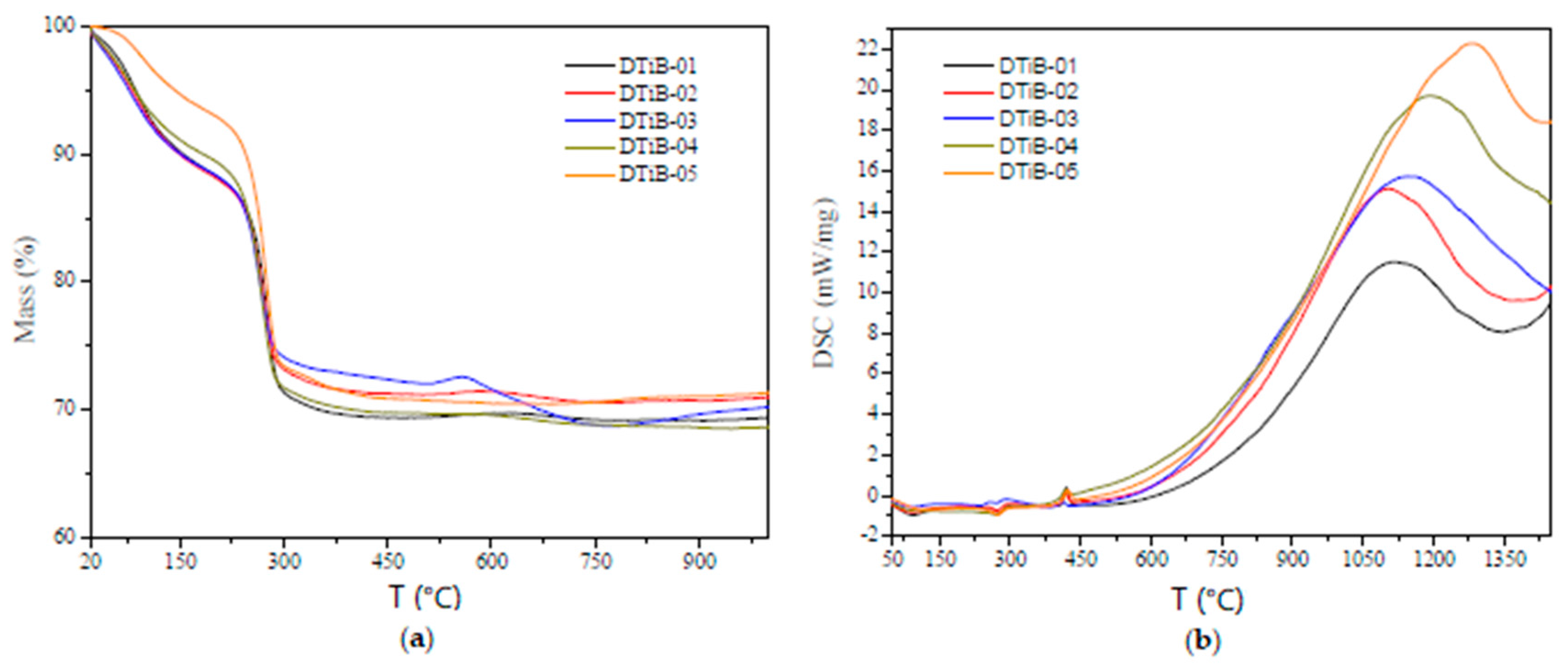 Figure 7. Diffuse reflectance ultraviolet–visible spectroscopy (DRS UV-vis) spectra for all the CD-aTiO2 samples prepared in this work and for the commercial DP25 TiO2.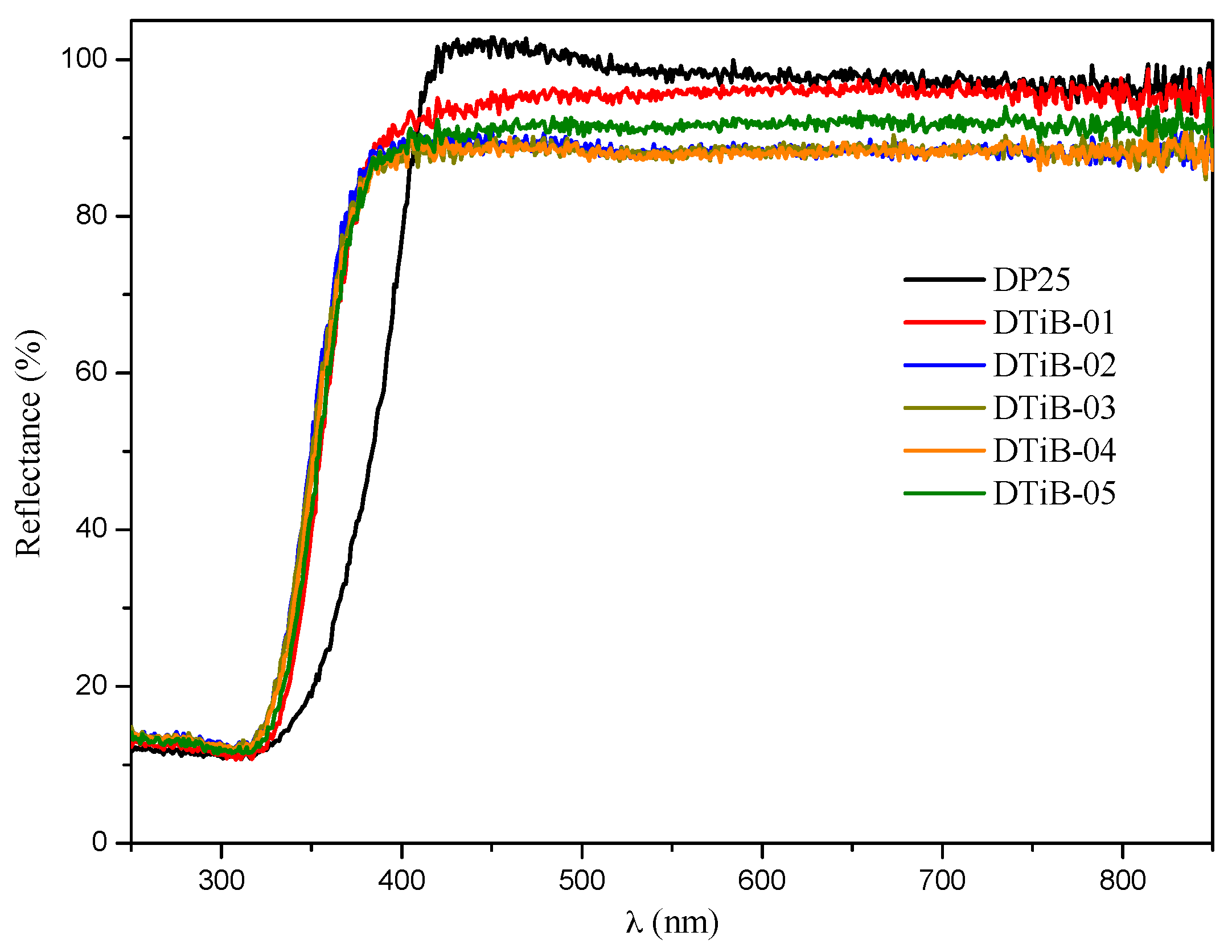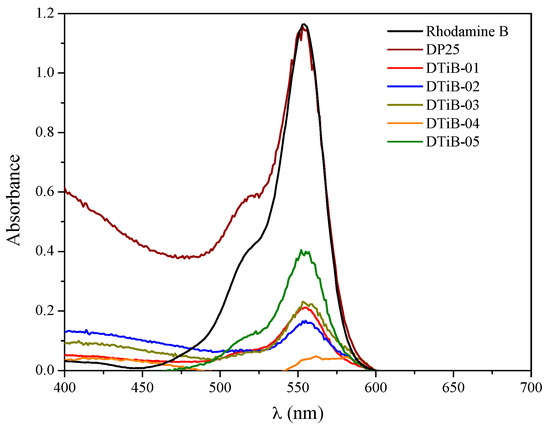 Figure 8. UV-Vis spectra of the final concentration of Rhodamine B after a 20 min adsorption process in the presence of all the photocatalysts.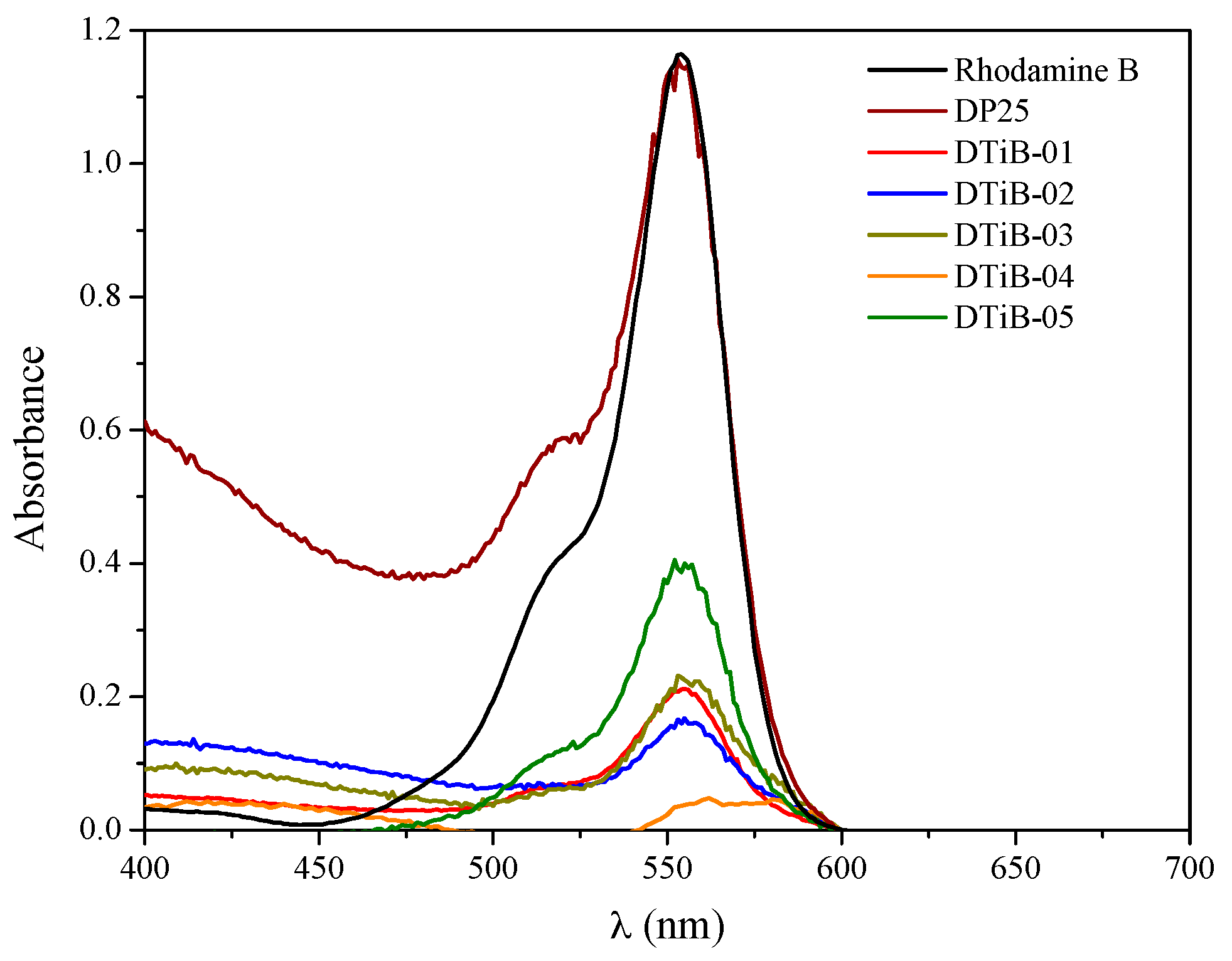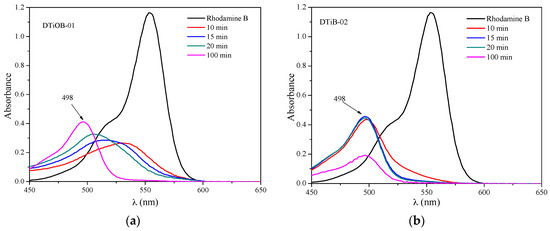 Figure 9. Hypsochromic shift detected during the degradation process of Rhodamine B with (a) DTiB-01 and (b) DTiB-02.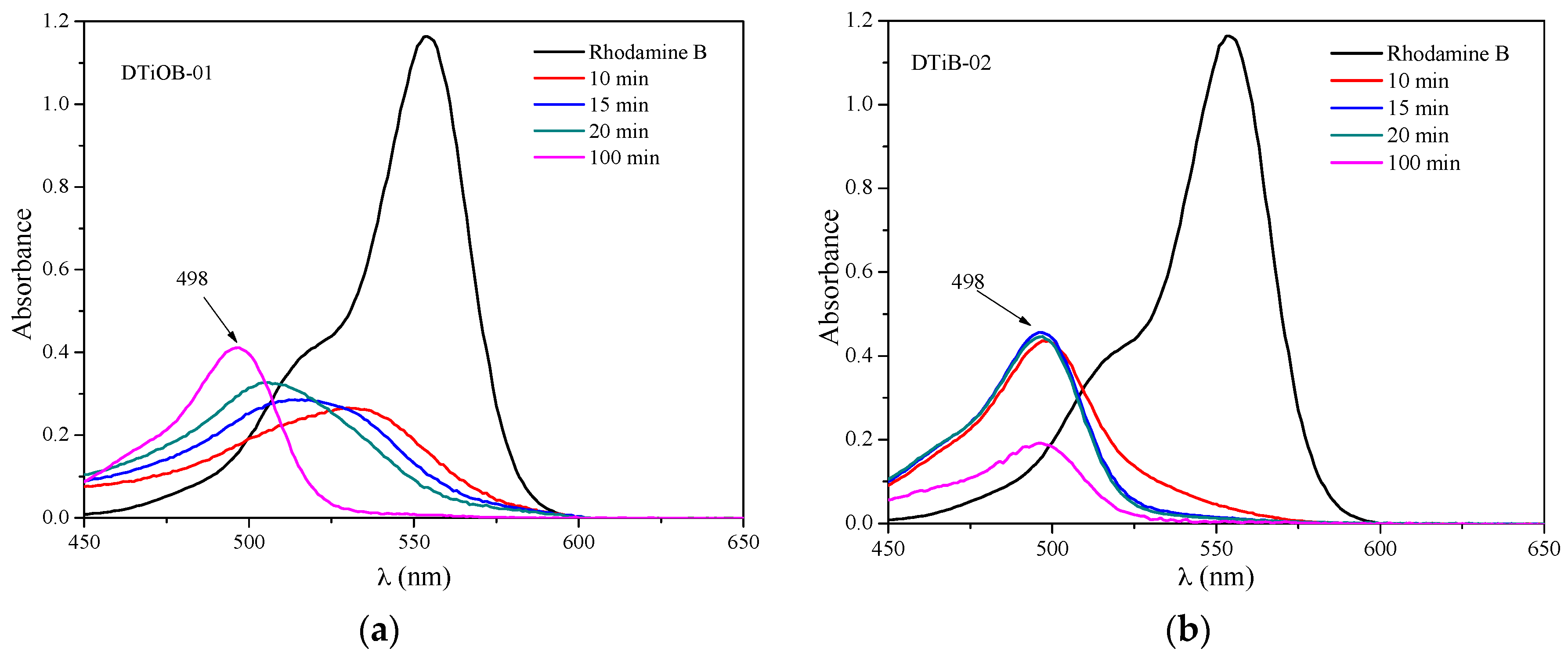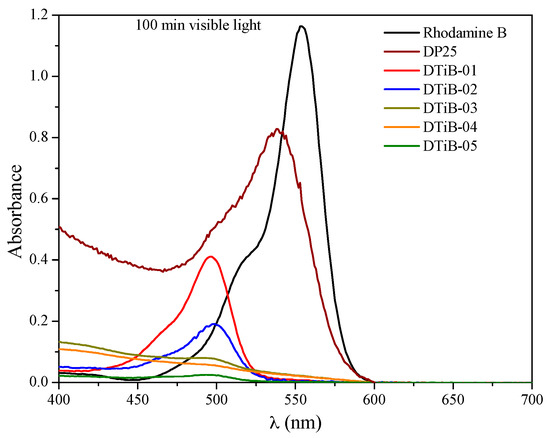 Figure 10. UV-Vis spectra for the remaining Rhodamine B solutions after a 100 min exposure to visible light.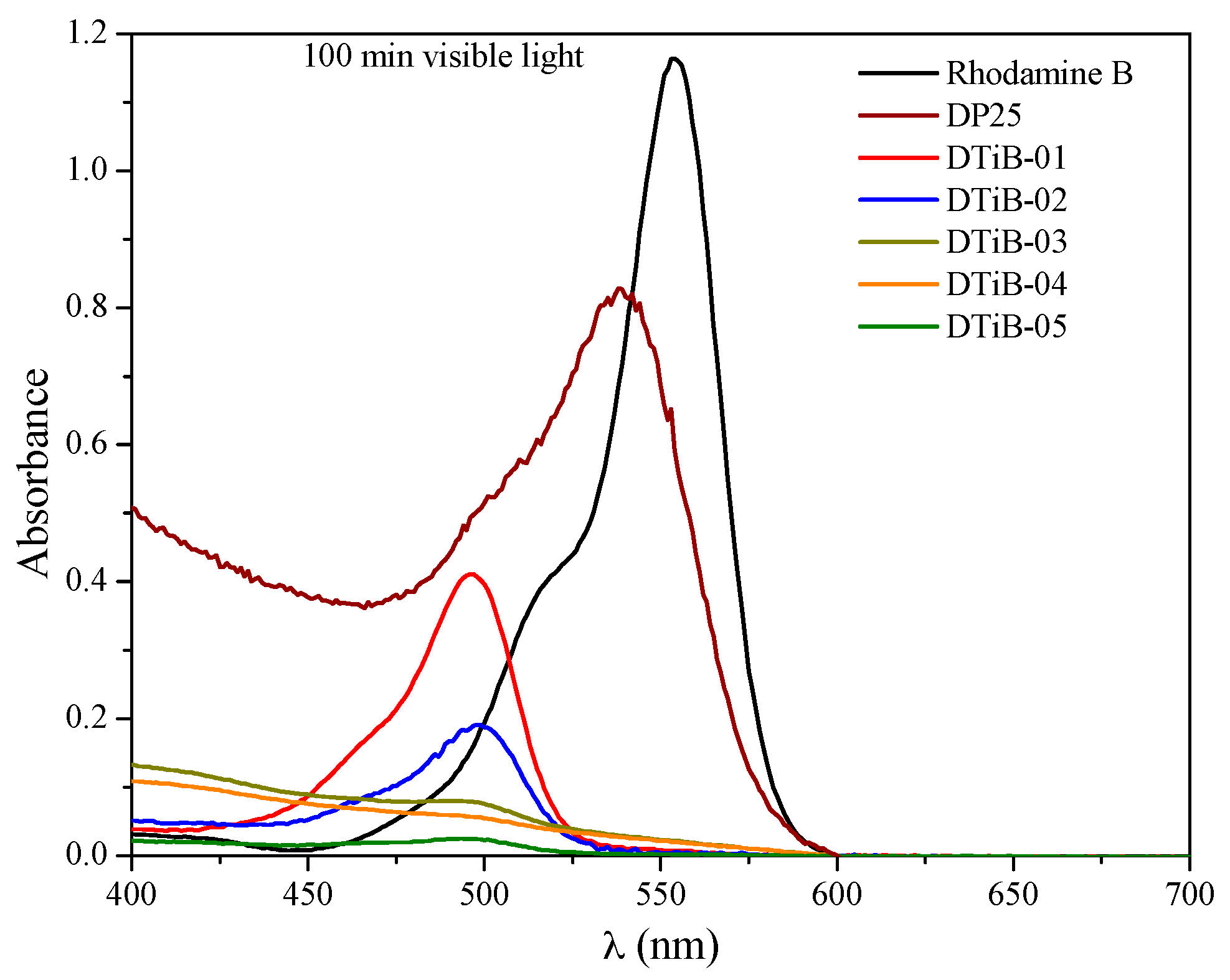 Figure 11. (a) Adsorption (in the dark) and degradation (during exposure to visible light) rates of Rhodamine B for all the obtained photocatalysts; (b) Adsorption and degradation rates for increasing concentrations of Rhodamine B using the same DTiB-04 photocatalyst.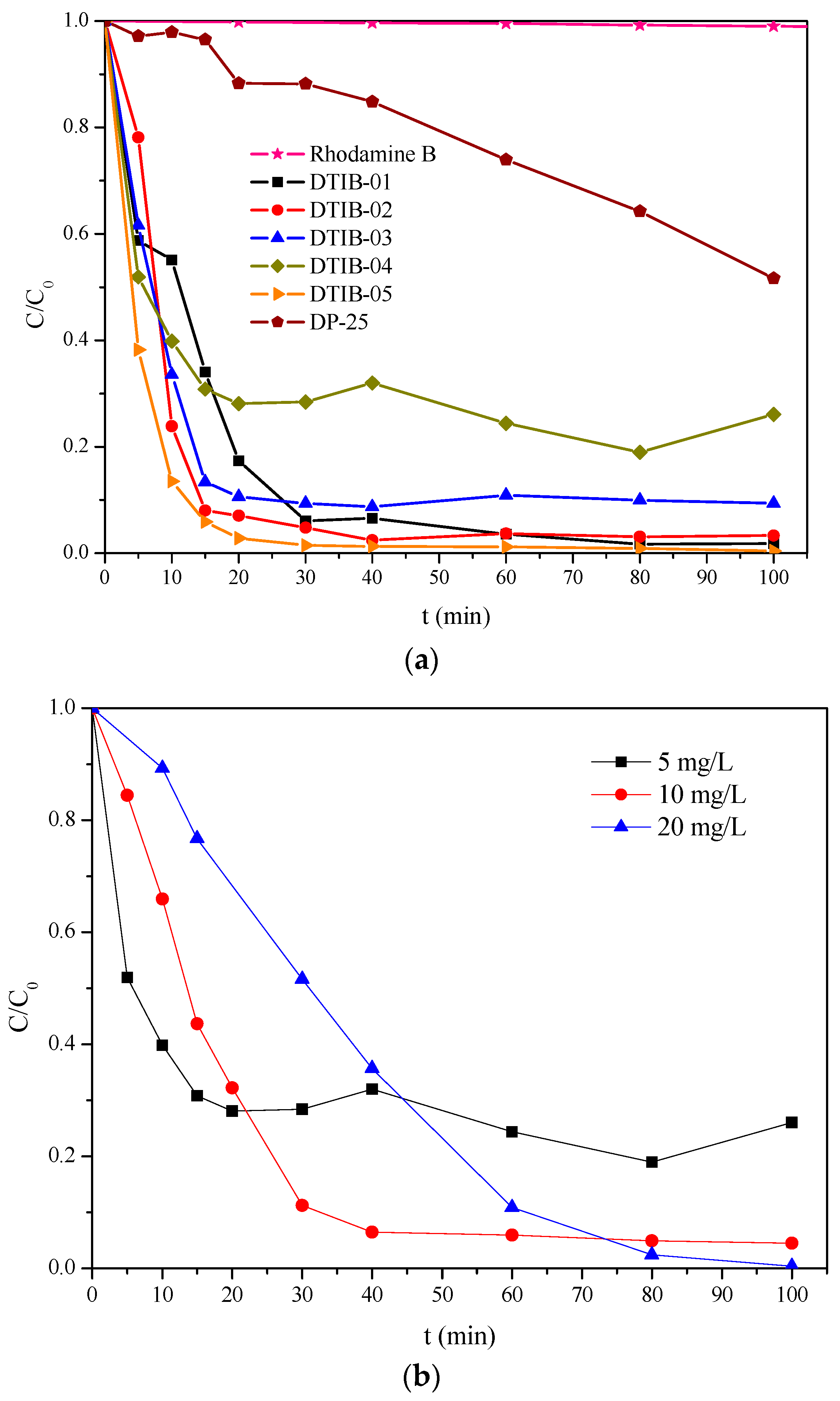 Table 1. Some parameters of the characterization results for all the CD-aTiO2 photocatalysts obtained under different microwave heating conditions.
| TiO2 Photocatalyst | Microwave Heating (t, min) | Eg (eV) | Adsorption (%) | λmax (nm) in the UV-Vis Analysis | C (%w) | O (%w) | Ti (%w) |
| --- | --- | --- | --- | --- | --- | --- | --- |
| DP25 | 0 | 3.10 | 1.3 | 554 | - | - | - |
| DTiB-01 | 0 | 3.37 | 80 | 555 | 21.22 | 38.34 | 40.43 |
| DTiB-02 | 2 | 3.41 | 84 | 555 | 20.75 | 40.04 | 39.21 |
| DTiB-03 | 4 | 3.40 | 78 | 556 | 23.56 | 39.99 | 36.55 |
| DTiB-04 | 6 | 3.39 | 95 | 563 | 24.29 | 40.11 | 35.60 |
| DTiB-05 | 8 | 3.38 | 60 | 554 | 22.04 | 37.10 | 40.87 |

© 2017 by the authors. Licensee MDPI, Basel, Switzerland. This article is an open access article distributed under the terms and conditions of the Creative Commons Attribution (CC BY) license (http://creativecommons.org/licenses/by/4.0/).