Open Access This article is
freely available
re-usable
Article
Visible Light Photoinitiator for 3D-Printing of Tough Methacrylate Resins
1
Institute of Materials Science and Technology, TU Wien, 1060 Wien, Austria
2
Institute of Applied Synthetic Chemistry, TU Wien, 1060 Wien, Austria
*
Author to whom correspondence should be addressed.
Received: 28 November 2017 / Accepted: 18 December 2017 / Published: 19 December 2017
Abstract
:
Lithography-based additive manufacturing was introduced in the 1980s, and is still the method of choice for printing accurate plastic parts with high surface quality. Recent progress in this field has made tough photopolymer resins and cheap LED light engines available. This study presents the influence of photoinitiator selection and post-processing on the thermomechanical properties of various tough photopolymers. The influence of three photoinitiators (Ivocerin, BAPO, and TPO-L) on the double-bond conversion and mechanical properties was investigated by mid infrared spectroscopy, dynamic mechanical analysis and tensile tests. It was found that 1.18 wt % TPO-L would provide the best overall results in terms of double-bond conversion and mechanical properties. A correlation between double-bond conversion, yield strength, and glass transition temperature was found. Elongation at break remained high after post-curing at about 80–100%, and was not influenced by higher photoinitiator concentration. Finally, functional parts with 41 MPa tensile strength, 82% elongation at break, and 112 °C glass transition temperature were printed on a 405 nm DLP (digital light processing) printer.
Keywords:
photopolymer; photoinitiator; additive manufacturing; digital light processing
Acknowledgments
This project has received funding from the European Union's Horizon 2020 research and innovation program under grant agreement No. 633192 (ToMax).
Author Contributions
Bernhard Steyrer and Jürgen Stampfl conceived and designed the experiments; Bernhard Steyrer performed the experiments; Bernhard Steyrer, Robert Liska, and Jürgen Stampfl analyzed the data; Philipp Neubauer designed and built the 3D-printer; Bernhard Steyrer wrote the paper.
Conflicts of Interest
The authors declare no conflict of interest. The founding sponsors had no role in the design of the study; in the collection, analyses, or interpretation of data; in the writing of the manuscript, and in the decision to publish the results.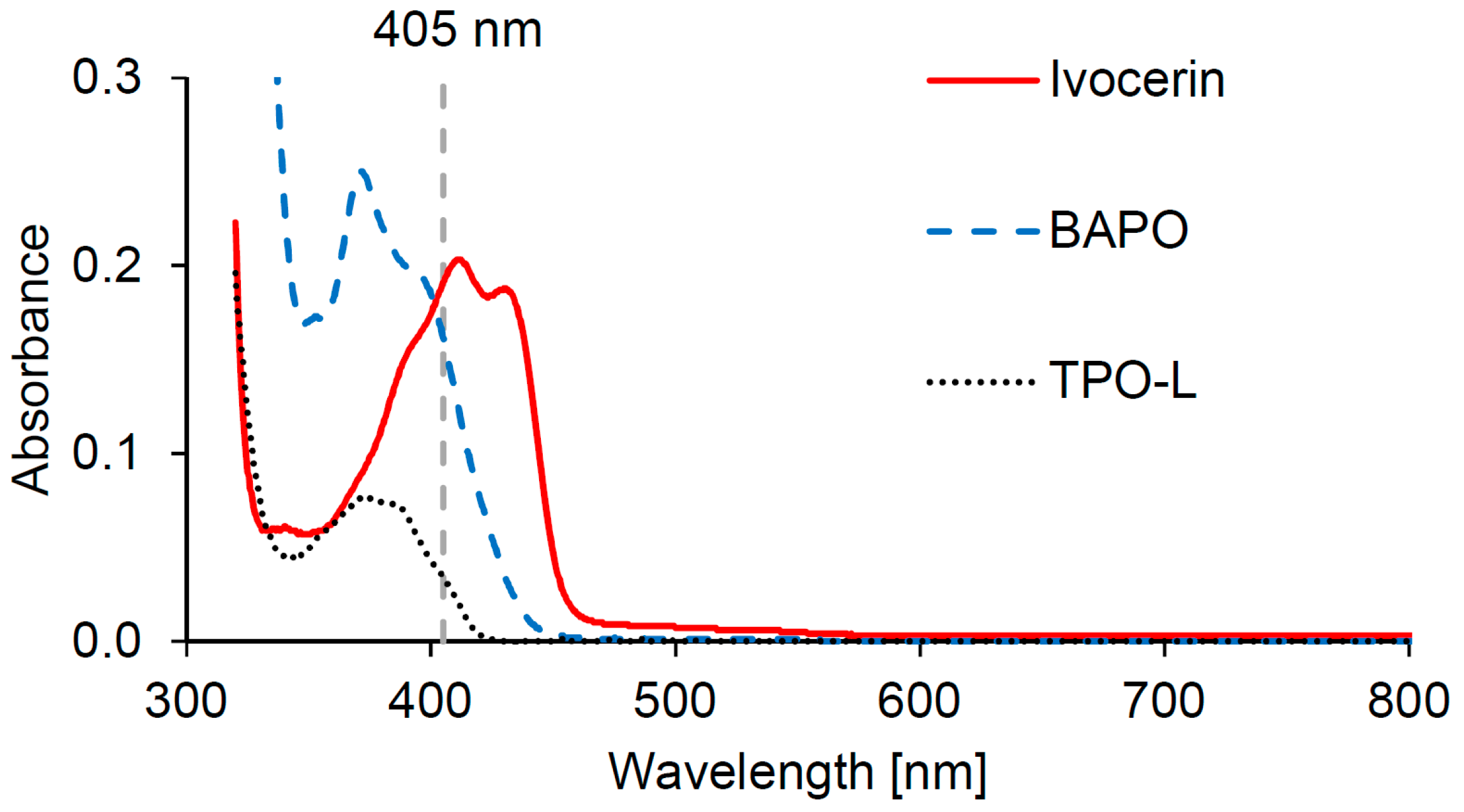 Figure 2.
Double-bond conversion (DBC) of the cured specimens measured by ATR in MIR. Marks (≠) show significant difference (
t
-test, α = 0.05) between green and post-cured values.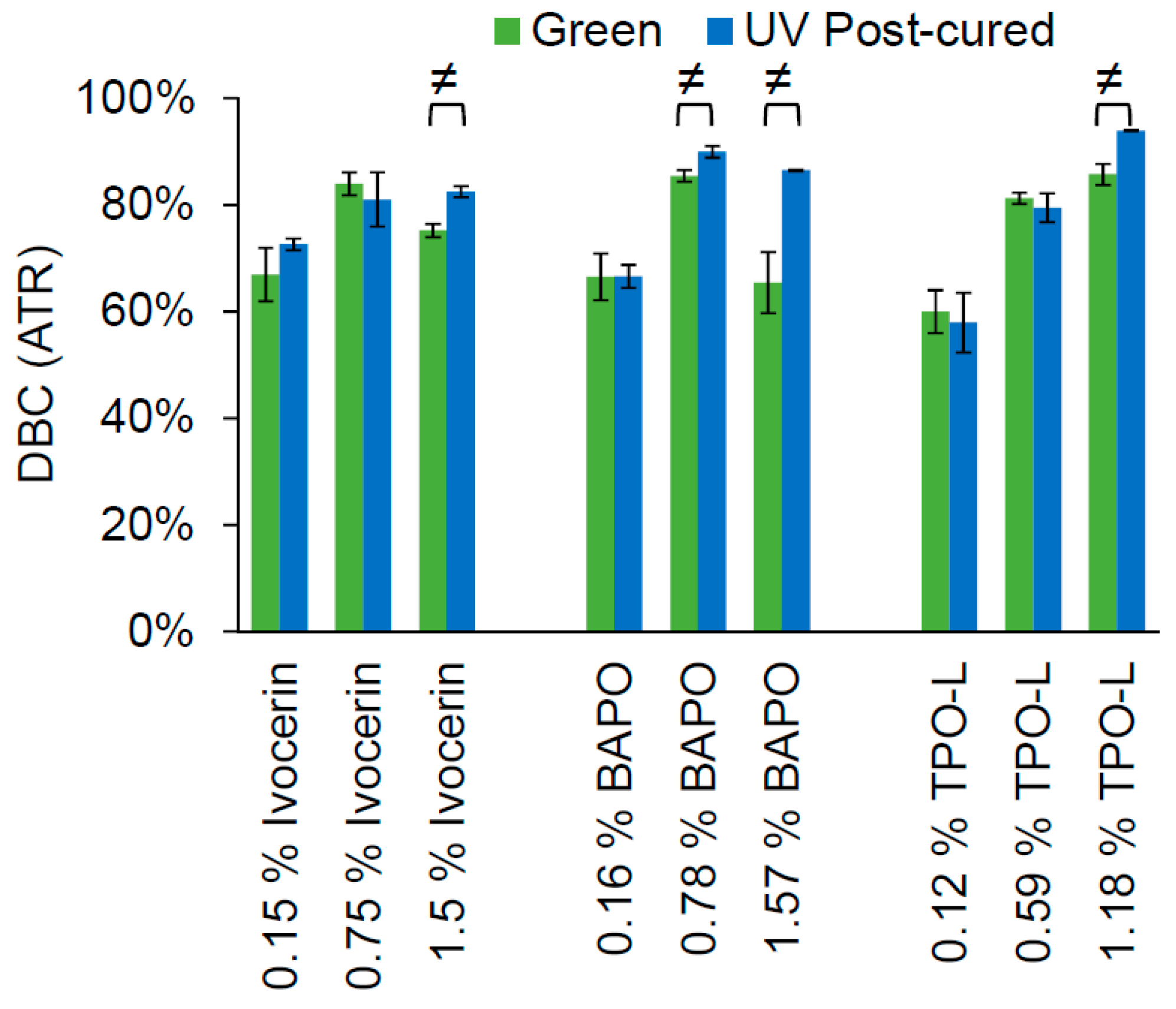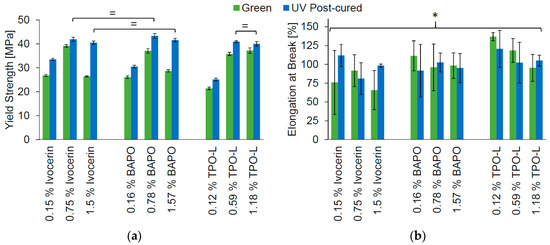 Figure 3.
Influence of photoinitiator and its concentration on yield strength (
a
) and elongation at break (
b
) from tensile tests conducted in accordance with ISO 527-1:2012. Marks (=) show values of no significant difference for post-cured groups; * ANOVA showed no significant difference between all post-cured groups (
p
= 0.09).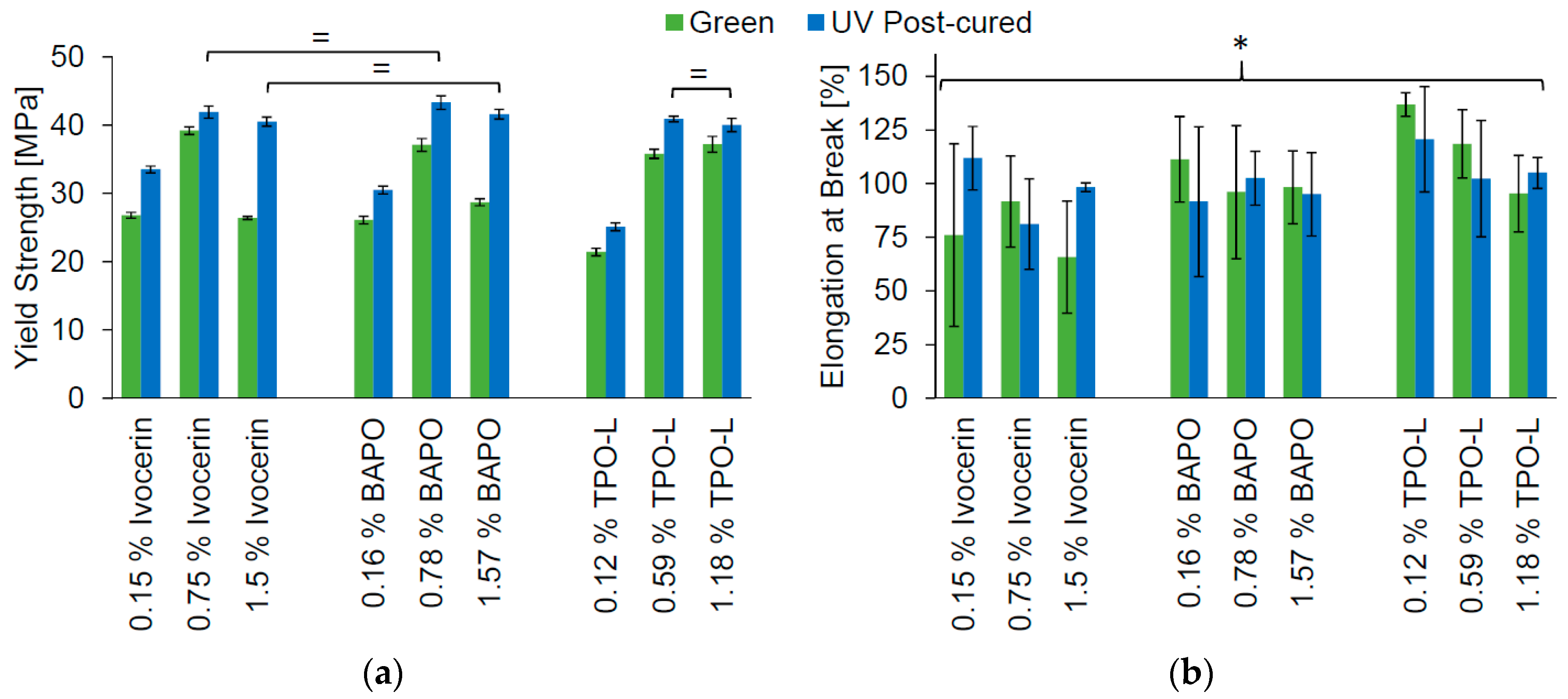 Figure 4. Comparing the measured yield strength to the corresponding double-bond conversion (a); and comparing the elongation at break to the yield strength (b).


Figure 5. Storage modulus measured by DMA (a); and the measured glass transition temperature (tan δ) compared to the yield strength (b).


Figure 6. Comparison of DLP-printed photopolymer samples to cast photopolymer samples (1.18 wt % TPO-L). Each was tested as printed/cast (green) and after UV post-curing.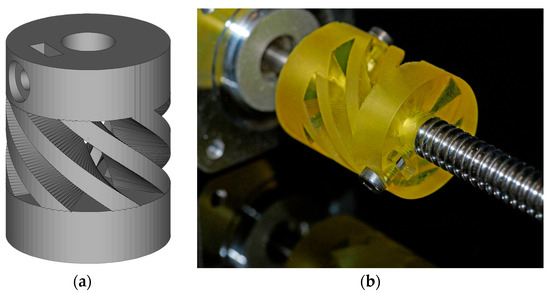 Figure 7. CAD model of a functional shaft coupling (a), and the final assembled 3D-printed part (b). Printed with 1.18 wt % TPO-L.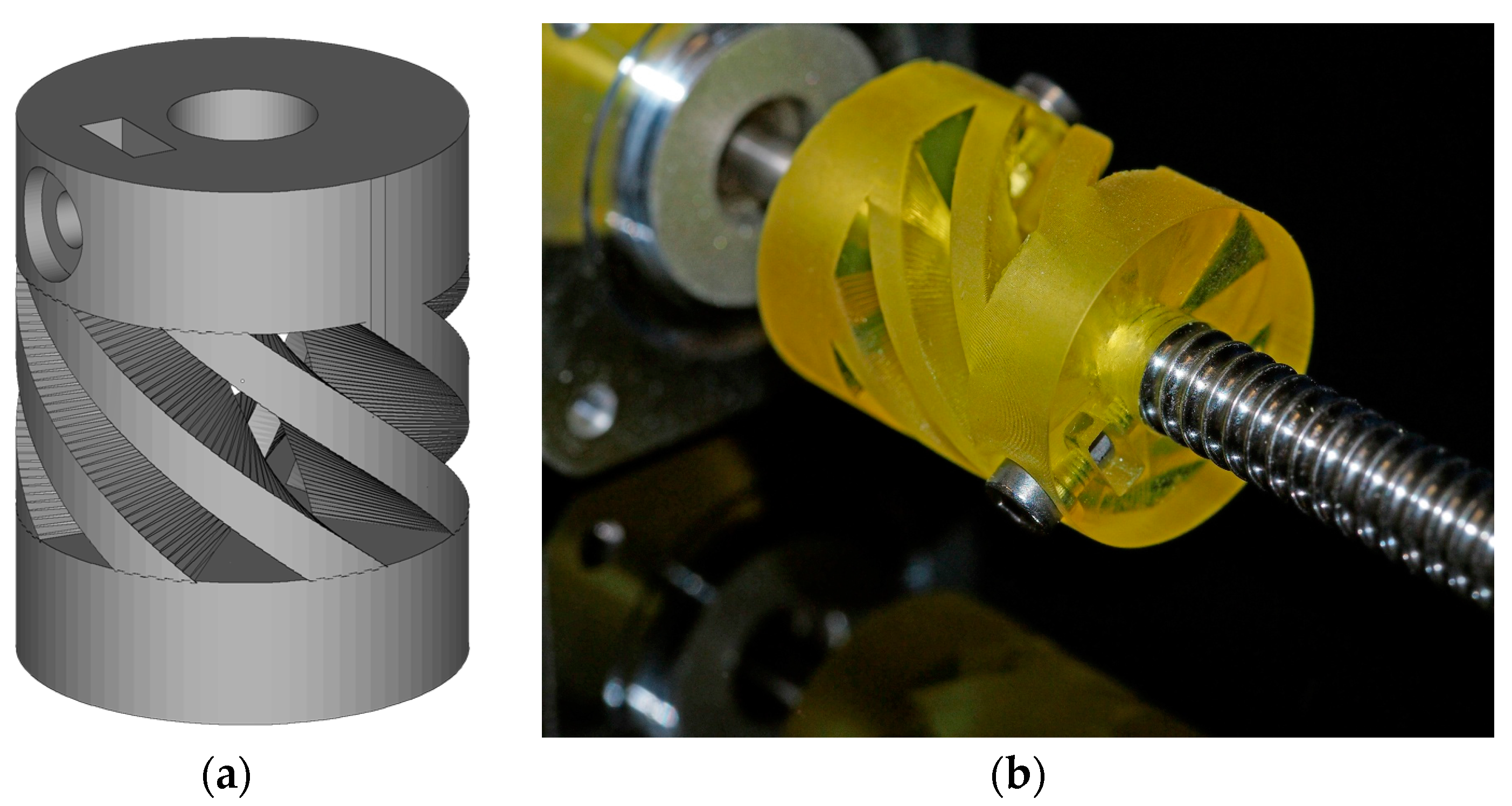 Figure 8. Uncured IBOMA possibly acting as plasticizer in the green part (left), and further curing leading to more covalent-bond IBOMA molecules (right).


Figure 10. Testing of DLP-printed samples (1.18 wt % TPO-L): (a) Storage modulus (solid line) and the tan δ-curve (dashed line) for green and post-cured samples. The peak of the tan δ-curve was analyzed; (b) Stress-strain curves from tensile tests. The samples show a yield point, which was used for the analysis.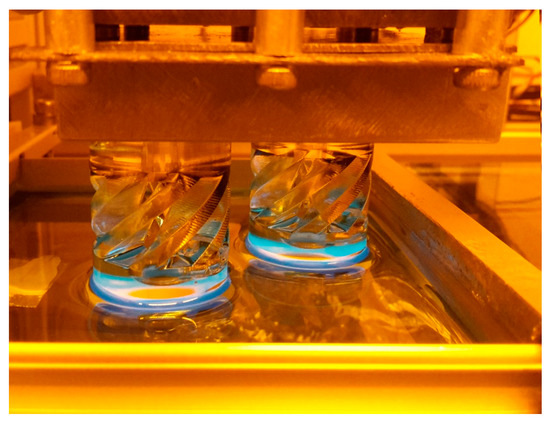 Figure 11. Printing of two shaft couplings with the 405 nm DLP set-up. Moving platform is on top and a transparent vat containing the resin on the bottom.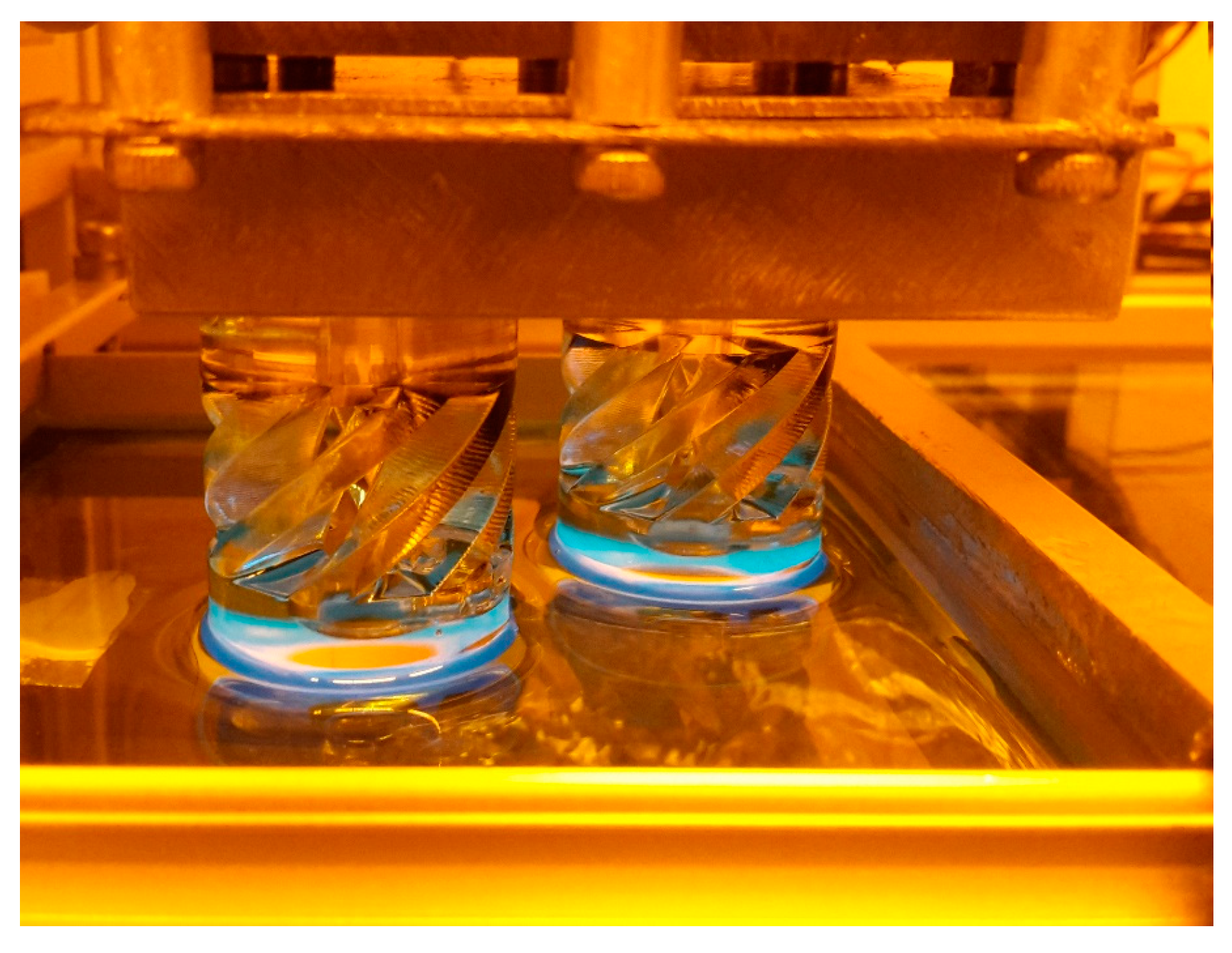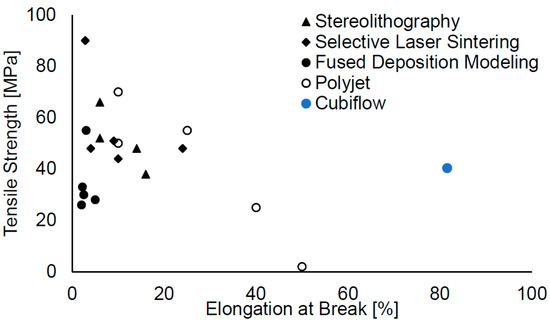 Figure 12.
Comparison of the Cubiflow tensile strength and elongation at break results with values from other additive manufacturing polymer materials [
2
].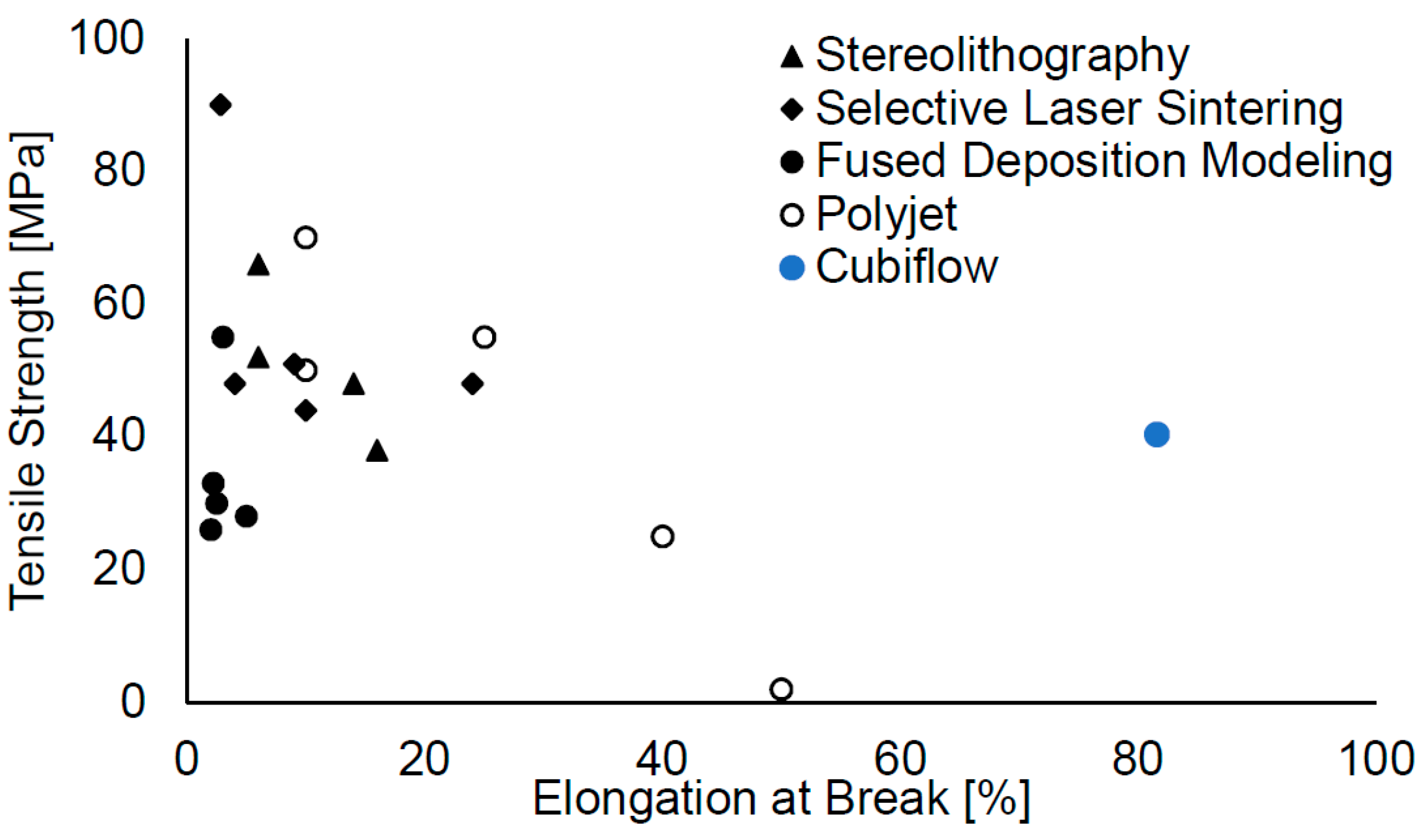 © 2017 by the authors. Licensee MDPI, Basel, Switzerland. This article is an open access article distributed under the terms and conditions of the Creative Commons Attribution (CC BY) license (http://creativecommons.org/licenses/by/4.0/).