Microstructure, Pitting Corrosion Resistance and Impact Toughness of Duplex Stainless Steel Underwater Dry Hyperbaric Flux-Cored Arc Welds
1
School of Mechanical and Automotive Engineering, South China University of Technology, Guangzhou 510640, China
2
Guangdong Provincial Engineering Research Center for Special Welding Technology and Equipment, South China University of Technology, Guangzhou 510640, China
3
Guangxi Key Laboratory of Information Materials, Guilin University of Electronic Technology, Guilin 541004, China
*
Author to whom correspondence should be addressed.
Received: 15 November 2017 / Revised: 11 December 2017 / Accepted: 15 December 2017 / Published: 18 December 2017
Abstract
Duplex stainless steel multi-pass welds were made at 0.15 MPa, 0.45 MPa, and 0.75 MPa pressure, simulating underwater dry hyperbaric welding by the flux-cored arc welding (FCAW) method, with welds of normal pressure as a benchmark. The purpose of this work was to estimate the effect of ambient pressure on the microstructure, pitting corrosion resistance and impact toughness of the weld metal. The microstructure measurement revealed that the ferrite content in the weld metal made at 0.45 MPa is the lowest, followed by that of 0.75 MPa and 0.15 MPa. The analysis of potentiodynamic polarization tests at 30 °C and 50 °C demonstrated that the pitting corrosion resistance depends on the phases of the lower pitting resistance equivalent numbers (PREN), secondary austenite and ferrite. The weld metal made at 0.45 MPa had the best resistance to pitting corrosion at 30 °C and 50 °C with the highest PRENs of secondary austenite and ferrite. The weld metal made at 0.15 MPa displayed the lowest pitting corrosion resistance at 30 °C with the lowest PREN of secondary austenite, while the weld metal made at 0.75 MPa was the most seriously eroded after being tested at 50 °C for the lowest PREN of ferrite, with large cluster pits seen in ferrite at 50 °C. The impact tests displayed a typical ductile-brittle transition because of the body-centered cubic (BCC) structure of the ferrite when the test temperature was lowered. All the weld metals met the required value of 34 J at −40 °C according to the ASTM A923. The highest ferrite content corresponded to the worst impact toughness, but the highest toughness value did not correspond to the greatest austenite content. With the decreasing of the test temperature, the drop value of absorbed energy was correlated to the ferrite content. Additionally, in this work, the weld metal made at 0.45 MPa had the best combined properties of pitting resistance and impact toughness.
View Full-Text
►

▼

Figures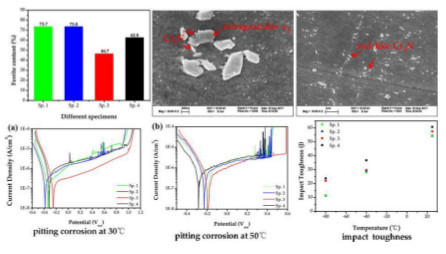 Graphical abstract
This is an open access article distributed under the
Creative Commons Attribution License
which permits unrestricted use, distribution, and reproduction in any medium, provided the original work is properly cited (CC BY 4.0).

Share & Cite This Article
MDPI and ACS Style
Hu, Y.; Shi, Y.-H.; Shen, X.-Q.; Wang, Z.-M. Microstructure, Pitting Corrosion Resistance and Impact Toughness of Duplex Stainless Steel Underwater Dry Hyperbaric Flux-Cored Arc Welds. Materials 2017, 10, 1443.
Note that from the first issue of 2016, MDPI journals use article numbers instead of page numbers. See further details here.
Related Articles
Comments
[Return to top]