Comparison of the Percentage of Voids in the Canal Filling of a Calcium Silicate-Based Sealer and Gutta Percha Cones Using Two Obturation Techniques
1
Department of Conservative Dentistry, Yonsei University College of Dentistry, Gangnam Severance Hospital, 211 Eonjuro, Gangnam-gu, Seoul 135-720, Korea
2
Department of Conservative Dentistry and Oral Science Research Center, Yonsei University College of Dentistry, 50 Yonsei-ro, Shinchon-dong, Seodaemun-gu, Seoul 120-752, Korea
3
Department of Conservative Dentistry and Oral Science Research Center, Yonsei University College of Dentistry, Gangnam Severance Hospital, 211 Eonjuro, Gangnam-gu, Seoul 135-720, Korea
*
Author to whom correspondence should be addressed.
Received: 12 September 2017 / Revised: 30 September 2017 / Accepted: 11 October 2017 / Published: 12 October 2017
Abstract
This study evaluated the root-filling quality of a calcium silicate-based sealer and gutta percha (GP) cones by measuring the percentage of voids. Twenty artificial molar teeth were divided into two groups: one obturated using the single-cone (SC) technique, and the other using the continuous wave (CW) technique. Obturation was performed with GP cones and Endoseal MTA (mineral trioxide aggregate, Maruchi, Wonju, Korea). Obturated teeth were scanned using microcomputed tomography, and the percentage of void volume was calculated in the apical and coronal areas. A linear mixed model was used to determine the differences between the two techniques (p < 0.05). The percentage of voids between the filling materials and root canal walls was not significantly different between the two obturation methods (p > 0.05), except for the CW group, which demonstrated a significantly higher void volume in the coronal area of the distal canal (p < 0.05). The percentage of voids inside the filling material was significantly higher in the CW groups for all of the comparisons (p < 0.05), except in the apical area of the distal canal (p > 0.05). The voids between the filling material and canal wall in the apical area were not significantly different between the two techniques.
View Full-Text
►

▼

Figures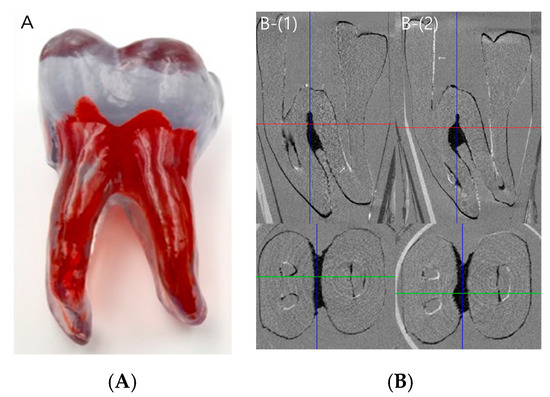 Figure 1
This is an open access article distributed under the
Creative Commons Attribution License
which permits unrestricted use, distribution, and reproduction in any medium, provided the original work is properly cited (CC BY 4.0).

Share & Cite This Article
MDPI and ACS Style
Kim, S.; Kim, S.; Park, J.-W.; Jung, I.-Y.; Shin, S.-J. Comparison of the Percentage of Voids in the Canal Filling of a Calcium Silicate-Based Sealer and Gutta Percha Cones Using Two Obturation Techniques. Materials 2017, 10, 1170.
Note that from the first issue of 2016, MDPI journals use article numbers instead of page numbers. See further details here.
Related Articles
Comments
[Return to top]