Cost Engineering Techniques and Their Applicability for Cost Estimation of Organic Rankine Cycle Systems
Department Engineering Management, University of Antwerp, Prinsstraat 13, 2000 Antwerp, Belgium
Academic Editor: Sylvain Quoilin
Received: 31 January 2016 / Revised: 2 April 2016 / Accepted: 15 June 2016 / Published: 23 June 2016
Abstract
The potential of organic Rankine cycle (ORC) systems is acknowledged by both considerable research and development efforts and an increasing number of applications. Most research aims at improving ORC systems through technical performance optimization of various cycle architectures and working fluids. The assessment and optimization of technical feasibility is at the core of ORC development. Nonetheless, economic feasibility is often decisive when it comes down to considering practical instalments, and therefore an increasing number of publications include an estimate of the costs of the designed ORC system. Various methods are used to estimate ORC costs but the resulting values are rarely discussed with respect to accuracy and validity. The aim of this paper is to provide insight into the methods used to estimate these costs and open the discussion about the interpretation of these results. A review of cost engineering practices shows there has been a long tradition of industrial cost estimation. Several techniques have been developed, but the expected accuracy range of the best techniques used in research varies between 10% and 30%. The quality of the estimates could be improved by establishing up-to-date correlations for the ORC industry in particular. Secondly, the rapidly growing ORC cost literature is briefly reviewed. A graph summarizing the estimated ORC investment costs displays a pattern of decreasing costs for increasing power output. Knowledge on the actual costs of real ORC modules and projects remains scarce. Finally, the investment costs of a known heat recovery ORC system are discussed and the methodologies and accuracies of several approaches are demonstrated using this case as benchmark. The best results are obtained with factorial estimation techniques such as the module costing technique, but the accuracies may diverge by up to +30%. Development of correlations and multiplication factors for ORC technology in particular is likely to improve the quality of the estimates.
View Full-Text
►

▼

Figures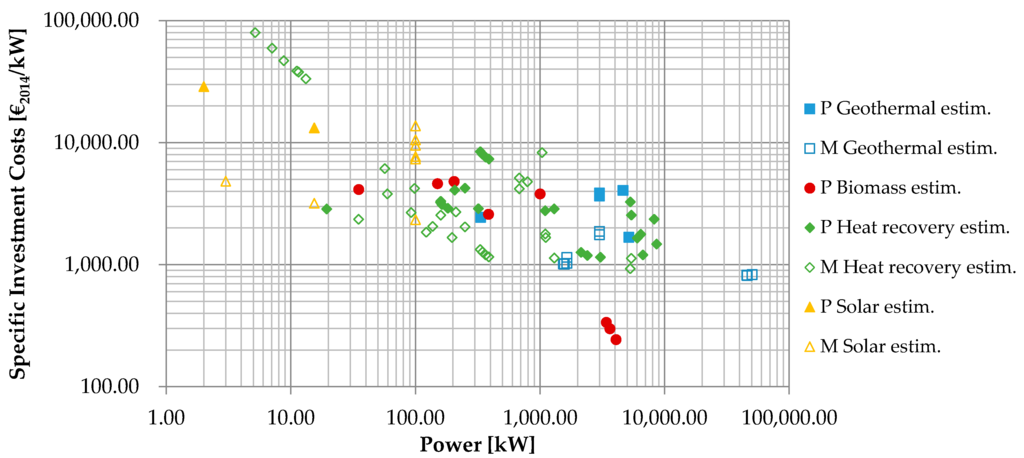 Figure 1
This is an open access article distributed under the
Creative Commons Attribution License
which permits unrestricted use, distribution, and reproduction in any medium, provided the original work is properly cited (CC BY 4.0).

Share & Cite This Article
MDPI and ACS Style
Lemmens, S. Cost Engineering Techniques and Their Applicability for Cost Estimation of Organic Rankine Cycle Systems. Energies 2016, 9, 485.
Note that from the first issue of 2016, MDPI journals use article numbers instead of page numbers. See further details here.
Related Articles
Comments
[Return to top]