Kinetics and Reactor Design Aspects of Selective Methanation of CO over a Ru/γ-Al2O3 Catalyst in CO2/H2 Rich Gases†
Chair of Chemical Engineering, Center of Energy Technology, University Bayreuth, 95440 Bayreuth, Germany
†
The original paper was presented in: Garbis, P., Kern, C., Jess, A. Selective CO methanation for PEMFC applications. Riehl, R., Preißinger, M., Eames, I., Tierney, M., Eds. In Proceedings of the Heat Powered Cycles Conference 2018, Bayreuth, Germany, 16–19 September 2018. ISBN: 978-0-9563329-6-7.
*
Author to whom correspondence should be addressed.
Received: 11 January 2019 / Revised: 29 January 2019 / Accepted: 30 January 2019 / Published: 1 February 2019
Abstract
Polymer electrolyte membrane fuel cells (PEMFCs) for household applications utilize H
2
produced from natural gas via steam reforming followed by a water gas shift (WGS) unit. The H
2
-rich gas contains CO
2
and small amounts of CO, which is a poison for PEMFCs. Today, CO is mostly converted by addition of O
2
and preferential oxidation, but H
2
is then also partly oxidized. An alternative is selective CO methanation, studied in this work. CO
2
methanation is then a highly unwanted reaction, consuming additional H
2
. The kinetics of CO methanation in CO
2
/H
2
rich gases were studied with a home-made Ru catalyst in a fixed bed reactor at 1 bar and 160–240 °C. Both CO and CO
2
methanation can be well described by a Langmuir Hinshelwood approach. The rate of CO
2
methanation is slow compared to CO. CO
2
is directly converted to methane, i.e., the indirect route via reverse water gas shift (WGS) and subsequent CO methanation could be excluded by the experimental data and in combination with kinetic considerations. Pore diffusion may affect the CO conversion (>200 °C). The kinetic equations were applied to model an adiabatic fixed bed methanation reactor of a fuel cell appliance.
View Full-Text
►

▼

Figures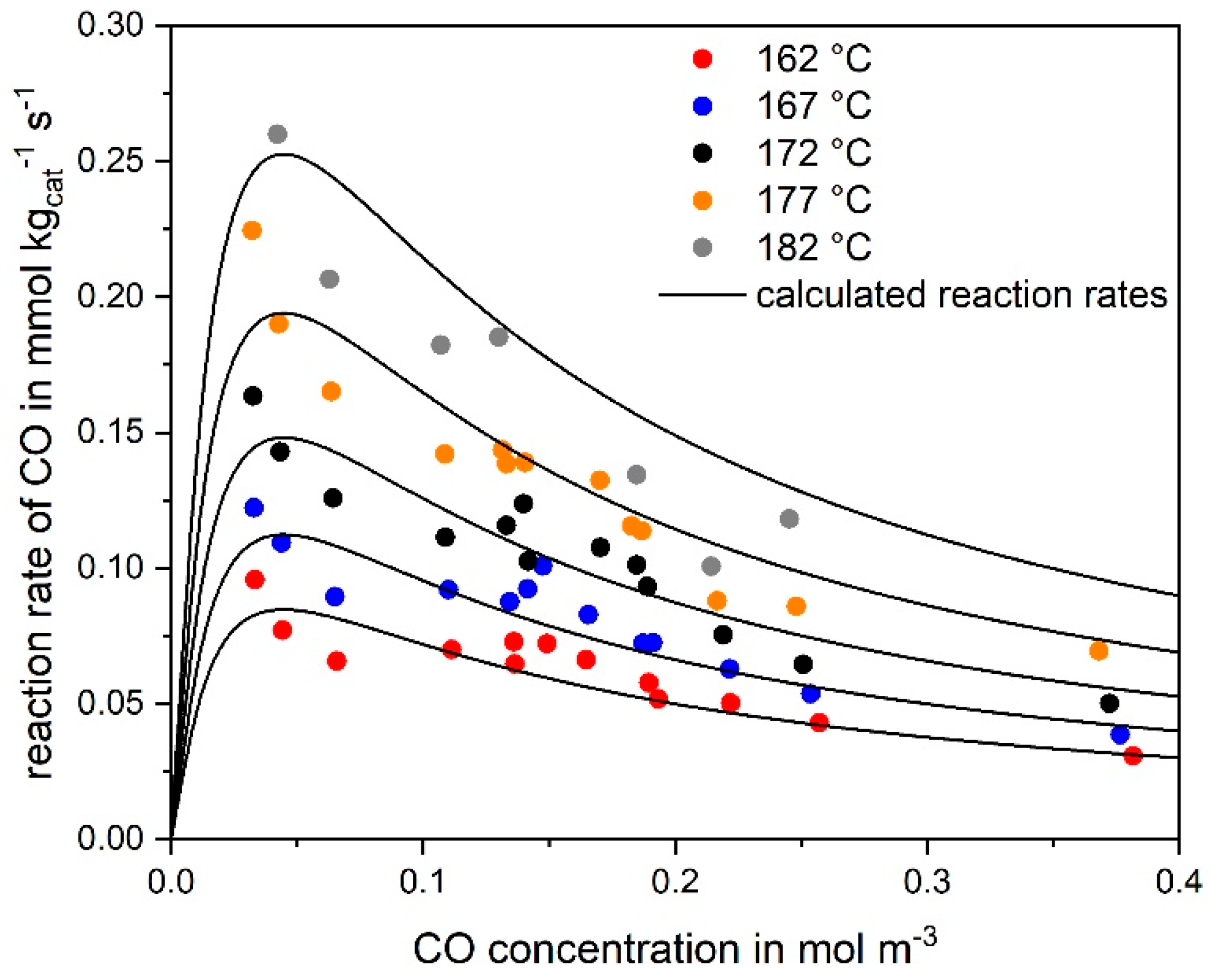 Figure 1
This is an open access article distributed under the
Creative Commons Attribution License
which permits unrestricted use, distribution, and reproduction in any medium, provided the original work is properly cited (CC BY 4.0).

Share & Cite This Article
MDPI and ACS Style
Garbis, P.; Kern, C.; Jess, A. Kinetics and Reactor Design Aspects of Selective Methanation of CO over a Ru/γ-Al2O3 Catalyst in CO2/H2 Rich Gases. Energies 2019, 12, 469.
Note that from the first issue of 2016, MDPI journals use article numbers instead of page numbers. See further details here.
Related Articles
Comments
[Return to top]