Smart Microgrids Operation Considering a Variable Neighborhood Search: The Differential Evolutionary Particle Swarm Optimization Algorithm
1
Electrical Engineering Department, Universidad Nacional de Colombia, Bogotá 110111, Colombia
2
GERS USA, Weston, FL 33326, USA
3
Electrical Engineering Department, University of Florida, Gainesville, FL 32601, USA
4
Quanta Technology, Houston, TX 77056, USA
5
Department of Electrical and Computer Engineering, University of Sao Paulo, São Paulo 12652, Brazil
*
Author to whom correspondence should be addressed.
Received: 24 June 2019 / Revised: 8 August 2019 / Accepted: 12 August 2019 / Published: 16 August 2019
Abstract
Increased use of renewable energies in smart microgrids (SMGs) present new technical challenges to system operation. SMGs must be self-sufficient and operate independently; however, when more elements are integrated into SMGs, as distributed energy resources (DER), traditional explicit mathematical formulations will demand too much data from the network and become intractable. In contrast, tools based on optimization with metaheuristics can provide near optimal solutions in acceptable times. Considering this, this paper presents the variable neighborhood search differential evolutionary particle swarm optimization (VNS-DEEPSO) algorithm to solve multi-objective stochastic control models, as SMGs system operation. The goal is to control DER while maximizing profit. In this work, DER considered the bidirectional communication between energy storage systems (ESS) and electric vehicles (EVs). They can charge/discharge power and buy/sell energy in the electricity markets. Also, they have elements such as traditional generators (e.g., reciprocating engines) and loads, with demand response/control capability. Sources of uncertainty are associated with weather conditions, planned EV trips, load forecasting and the market prices. The VNS-DEEPSO algorithm was the winner of the IEEE Congress on Evolutionary Computation/The Genetic and Evolutionary Computation Conference (IEEE-CEC/GECCO 2019) smart grid competition (with encrypted code) and also won the IEEE World Congress on Computational Intelligence (IEEE-WCCI) 2018 smart grid competition (these competitions were developed by the group GECAD, based at the Polytechnic Institute of Porto, in collaboration with Delft University and Adelaide University). In the IEEE-CEC/GECCO 2019, the relative error improved between 32% and 152% in comparison with other algorithms.
View Full-Text
►

▼

Figures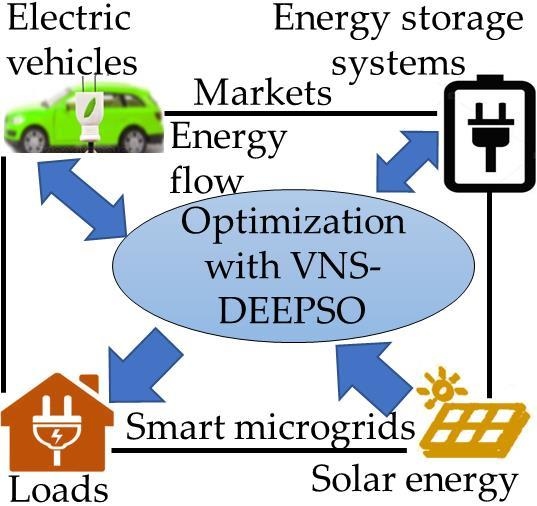 Graphical abstract
This is an open access article distributed under the
Creative Commons Attribution License
which permits unrestricted use, distribution, and reproduction in any medium, provided the original work is properly cited (CC BY 4.0).

Share & Cite This Article
MDPI and ACS Style
Garcia-Guarin, J.; Rodriguez, D.; Alvarez, D.; Rivera, S.; Cortes, C.; Guzman, A.; Bretas, A.; Aguero, J.R.; Bretas, N. Smart Microgrids Operation Considering a Variable Neighborhood Search: The Differential Evolutionary Particle Swarm Optimization Algorithm. Energies 2019, 12, 3149.
Note that from the first issue of 2016, MDPI journals use article numbers instead of page numbers. See further details here.
Related Articles
Comments
[Return to top]