Open Access This article is
freely available
re-usable
Article
Development of an Optimised Chinese Dome Digester Enables Smaller Reactor Volumes; Pilot Scale Performance
1
Centre for Energy Research and Development, Obafemi Awolowo University, Ile-ife, Nigeria
2
Sub-Department Environmental Technology, Wageningen University and Research, 6708 WG Wageningen, The Netherlands
*
Author to whom correspondence should be addressed.
Received: 7 April 2019 / Accepted: 3 June 2019 / Published: 11 June 2019
Abstract
:
Chinese dome digesters are usually operated at long hydraulic retention times (HRT) and low influent total solids (TS) concentration because of limited mixing. In this study, a newly optimised Chinese dome digester with a self-agitating mechanism was investigated at a pilot scale (digester volume = 500 L) and compared with a conventional Chinese dome digester (as blank) at 15% influent TS concentration at two retention times (30 and 40 days). The reactors were operated at ambient temperature: 27–33 °C. The average specific methane production, volatile fatty acids and percentage of volatile solids (VS) reduction are 0.16 ± 0.13 and 0.25 ± 0.05L CH4/g VS; 1 ± 0.5 and 0.7 ± 0.3 g/L; and 51 ± 14 and 57 ± 10% at 40 days HRT (day 52–136) for the blank and optimised digester, respectively. At 30 days HRT (day 137–309) the results are 0.19 ± 0.12 and 0.23 ± 0.04 L CH4/g VS; 1.2 ± 0.6 and 0.7 ± 0.3 g/L; and 51 ± 9 and 58 ± 11.6%. Overall, the optimised digester produced 40% more methane than the blank, despite the high loading rates applied. The optimised digester showed superior digestion treatment efficiency and was more stable in terms of VFA concentration than the blank digester, can be therefore operated at high influent TS (15%) concentration.
Keywords:
Mixing; optimised; household digester; Chinese dome digester (CDD); self-agitation; blank
1. Introduction
Energy is a vital component needed to improve quality of life, reduce poverty and for the promotion of socio-economic activities. However, there is still global uncertainty in the energy sector because of the declining quantity of fossil fuel reserves coupled with crude oil price instability. This global energy situation requires alternative or renewable sources of energy and a review of current technologies. It is vital to focus not only on the sustained economic usage of current finite resources, but also to identify and develop renewable technologies and resources that possess the potential to provide for the increasing energy demand. These resources and technologies should also be sustainable, clean, globally available and easy to exploit and operate, while contributing towards the materialisation of the United Nations millennium development goals (MDGs) [
1
].
The growing demand of energy due to population growth, the lack of clean energy, and the inadequate availability of natural resources have led to growing demand for anaerobic digestion technologies in rural areas of developing countries. Anaerobic digestion is a biochemical process that is applied for the efficient transformation of, for example, manure and other agricultural residues into biogas, a renewable energy source and biofertiliser. Biogas is rich in methane (50–70%), and CO
2
(30–50%) with traces of water vapour (1–6%) and H
2
S. Biogas is a renewable, clean and efficient source of alternative energy which can be used as a substitute for fuels such as firewood, charcoal and cattle dung, usually used by rural dwellers [
2
,
3
,
4
].
The household or domestic digester is an example of an anaerobic digester usually applied in a single decentralised system mostly in rural areas of developing countries. It serves as an energy producer and sometimes, when coupled to the toilets, as a sanitation system. Household digesters are non-mechanically mixed and non-heated reactors [
5
]. Domestic biogas plants can serve as an energy solution to meet the cooking needs of rural households. Various governments and international funders support this system, and if managed well [
6
], it is a cost-effective way of mitigating greenhouse gas emissions from animal dung [
7
]. This is accomplished by replacing fossil fuels with biogas and reducing methane emissions during manure management, starting from its production to the final application on agricultural lands [
8
].
Among all household digesters, the Chinese dome digester (CDD) is the most popular and most widely implemented reactor because of its reliability, low maintenance requirement, and long lifespan [
9
,
10
]. The CDD is a basis for the development of recent household digester designs; for example, the Puxin digester is an example of a prefabricated digester [
10
].
In CDDs, gas pressure is created at the top of the reactor as a result of the biogas produced. The stored biogas pushes part of the slurry into an extension chamber, since the chamber is usually opened. During gas use, pressure is released, and the slurry flows back into the main reactor, creating a mixing regime or cycle (
Figure 1
a,b). Therefore, CDD depends on the hydraulic variation, i.e., the change of slurry level in the digester and extension chamber during gas use and could be regarded as intermittent natural mixing [
6
]. Mixing is an important process in anaerobic digestion for establishing contact between micro-organisms and feed for homogenisation of temperature throughout the digester and prevention of settling and floating layers [
11
].
The effect of mixing on the anaerobic digestion process has been studied by various authors. The requirement for digesters to be adequately and sufficiently mixed has been supported by many authors [
12
,
13
,
14
,
15
], and challenged by many other authors [
16
,
17
,
18
,
19
]. Lindmark et al. [
20
] concluded in a review that an intermittent mixing mode is better than continuous mixing, and shorter mixing durations are preferable for higher biogas production and from an energy point of view. Intermittent mixing can result in a similar quantity of gas to that obtained with continuous mixing. In addition, Chinese dome digesters are generally operated at long hydraulic retention times (>70 days) and low influent total solid (TS) concentrations (≤7%) when compared to mixed reactors (intermittently or continuously). Mixing is limited, leading to a large reactor volume and higher cost [
6
].
Operating anaerobic digesters at high TS content (>10%) could present a better alternative to anaerobic digestion (AD) systems operating at lower TS content (< 7%) because of the reduced reactor volume when applying the same HRT [
21
,
22
]. A major advantage of this approach is the smaller digester and the eventual reduction in reactor cost. Applying this approach to CDD could help in the reduction of both the water required for dilution and the reactor size; however, the mixing in CDDs that can be achieved during feeding, biogas production and use would be limited. In addition, Jegede [
6
] investigated the impact of different influent TS (3–15%) concentrations and the related volumetric biogas production on mixing in lab-scale CDDs. The results revealed that mixing in CDDs, due to biogas production and reactor feeding, is not sufficient at high (>10%) TS concentrations. Indeed, the rheological properties of manure are affected by water content or percentage of TS [
23
,
24
]. The lower the water content, the higher the yield stress, because manure becomes viscoelastic material at high TS. The yield stress is directly proportional to the required force to make manure flow. Because of this property, the increased volumetric biogas production at high (>10%) influent TS is not sufficient for mixing CDDs.
Therefore, to reduce the digester volume viz. reduction of HRT and operation at higher influent concentration rate (ca. 15% TS), the Chinese dome digester has been optimised to improve mixing via a self-agitating mechanism, using the produced gas, while still being simple, cheap, easy to build and maintainable at low cost. The objective of this research was to evaluate the performance of this optimised self-agitating CDD at a pilot scale in continuous operation in comparison to a regular Chinese dome digester at higher organic loading rates (15% TS, corresponding to 2.6–4 g VS/m3/d) at HRTs of 40 and 30 days. To visualise the mechanism of the self-agitating process, a demo was done using a 19 L transparent plastic bottle containing water, and biogas production was simulated with the injection of air.
2. Material and Methods
2.1. Reactor Design and Setup
In this study, two pilot-scale Chinese dome digesters, optimised and blank, were operated at a relatively high loading rate. The reactor volume, which is also the active volume, was 500 L, with expansion chambers of 250 L each for effluent variation and outlet. The expansion chamber was open, and was not closed throughout the study. A scheme of the two pilot-scale reactors is shown in
Figure 1
and
Figure 2
. The difference between the blank and the optimised digester was the inclusion of two baffles at the top and bottom of the optimised digester, as shown in
Figure 2
. The upper baffle, the main baffle, divides the headspace of the reactor into two compartments, A and B (
Figure 2
). The length of the baffle, which should not reach the same level as the effluent outlet pipe of the digester, was calculated based on the previous work of Jegede et al. [
25
]. The gas outlet is located in compartment B, while compartment A has no gas outlet. The biogas produced is stored in both compartments before gas collection, while the slurry level in the extension increases due to the pressure build up caused by the produced biogas. After gas collection or gas use, the pressure in compartment B will decrease to atmospheric pressure, while the slurry flow back into the reactor and the level of slurry increases in compartment B; however, the pressure in compartment A remains stable, with some slight variations when the level reaches the tip of the baffle. The lower baffle helps to prevent short circuiting of influent by creating mild hold-up and help to improve mixing of the influent with the reactor contents.
Further production and release of biogas into compartment A will increase the pressure in the compartment and pushes the slurry below the baffle. This will cause some biogas to be transported below the baffle into compartment B; immediately afterwards, the slurry level in compartment A will return to the initial level. This process creates a self-agitation cycle. Septums were incorporated on top of the reactors to allow pressure measurements.
2.2. Manure Collection and Preparation
The inoculum used for digester seeding was collected from a 10 m
3
Chinese dome digester treating cow manure with a TS concentration of 8% operated at an average ambient temperature of 30 °C at 40 days HRT. The inoculum was collected on the same day the reactors were started, and 300 L was added into each reactor as seed. The cow manure used as feed in this study was collected freshly at the agricultural farm, Obafemi Awolowo University, Ile ife, Osun, Nigeria. Each batch collected was refrigerated at 3 °C prior to use and later diluted up to 15% TS prior to feeding at ambient temperature. The mean characteristics of the feed are given in
Table 1
.
2.3. Operation
The reactors were operated throughout the study period at the same conditions. After seeding with 300 L, the reactors were fed at a TS of ca. 15% corresponding to approximately an OLR of 2.6–3 g VS/L/d, without effluent withdrawal, until the digesters were filled up. Effluent withdrawal from the expansion chamber started on day 32, and HRT was 40 days from day 32 until 136 and 30 days (HRT) from day 137 until 319. The digesters were operated at ambient temperature 26–33° C.
2.4. Monitoring and Analytical Methods
The ambient temperature of the shed where the reactors were located was monitored using an EL-USB digital temperature logger. pH of effluents was measured using a table top pH meter with a probe, Ohaus Starter 2100. The total solids (TS) and volatile solids (VS), ammonium nitrogen (NH
4
+
-N) of influents and effluents were determined according to standard methods as described by APHA [
26
]. Biogas volume was collected in a gas bag three times a day and methane percentage was measured using an Ultrasonic biogas meter BF-2000, PUXIN, Longgang, Shenzhen, China. The gas concentrations of volatile fatty acids (VFAs), mainly acetate, propionate, iso-butyrate, butyrate, iso-valerate valerate in effluent samples, were determined in triplicate using a 7890 B gas chromatograph (Agilent Technologies) equipped with an HP-5 column (30 m × 0.32 mm × 0.25 μm, Agilent Technologies) and a flame ionisation detector (FID). The carrier gas was nitrogen with a flow rate of 6.5 mL/min. The operating conditions were as follows: injector temperature, 120 °C (splitless); detector temperature, 250 °C; an oven temperature program initiating at 40 °C, followed by three sequenced temperature increases (i) at a rate of 60 K/min up to 100 °C, (ii) at a rate of 50 K/min up to 150 °C and, finally, (iii) at a rate of 90 K/min until 240 °C was reached. Calibration stock solution and sample preparation where done according to standard methods for the examination of Water and Wastewater [
27
]. The pressure measurement was done with a Greisinger GMH 3151 digital pressure meter with logger and was done after feeding representing steady state period for both reactors. The specific biogas and methane yields, were calculated as daily biogas methane produced, divided by the amount of VS fed to the reactors, were used to monitor the digestion efficiency of the digesters.
Biogas production rates were calculated as volume of gas produced per litre of digester volume (500 L) per day. Methane yields were calculated as the volume of methane produced per unit mass of VS added. All measured gas volumes were converted to standard conditions (273 K, 1 bar). A steady state condition is assumed when methane production is within 15% variation [
28
].
3. Results and Discussion
4. Conclusions
The improved Chinese dome digester with two baffles was evaluated in a pilot study and compared with the conventional (blank) digester in continuous operation at higher organic loading rates (ca. 15% TS, corresponding to 2.6–4 kg VS/m3/d) at HRTs of 40 and 30 days. The optimised Chinese dome digester has a two-minute self-mixing or agitation cycle of the top layer of the digester content, using the produced gas without a moving device. Since the optimised digester is self-mixed with the aid of baffles, the overall performance of the digester did improve and produced 40% more methane than the blank, despite the applied high loading rates. The optimised digester showed superior digestion treatment efficiency and was more stable in terms of VFA concentration than the blank digester, and therefore could be operated at high influent TS (15%) concentration.
The results revealed that mixing becomes important at high influent TS (15% TS influent), because influent rheological property requires more mixing to achieve similar results. The experimental results showed that the self-agitation cycle contributes to the improved performance of the optimised digester. The specific biogas production from the optimised reactor is comparable to results from continuously stirred reactor tanks (CSTR). As a consequence, a smaller reactor volume could be achieved at high loading rate at reduced HRT (≤ 40 days) and eventually reduction in reactor cost as compared with the two digesters (Kenya and Cameroon). High-input TS concentrations mean lower water dilution; therefore, the lower water requirement will positively impact the application of the improved digester because of limited water availability in arid regions where Chinese dome digesters are used for cooking.
Author Contributions
Methodology: All authors.; data curation: A.J.; writing—Original draft preparation: A.J.; writing editing: G.Z. & H.B.; funding acquisition: A.J. & G.Z.
Funding
This work was funded by the Netherlands Fellowship Programme (NFP), the Netherlands. Grant number: NFP-PhD 12/426.
Appreciation
Special thanks to the analytic/lab support team at Environmental Technology department, Wageningen University, The Netherlands. Special appreciations to the management and support staff of Biochemical Engineering laboratory, Centre for Energy Research and Development, Obafemi Awolowo University, Ile-ife Nigeria for their support.
Conflicts of Interest
The authors declare no conflict of interest.
Figure 1.
Schematics of the blank digester (
a
) before and (
b
) after gas production (Adapted from ref [
25
]).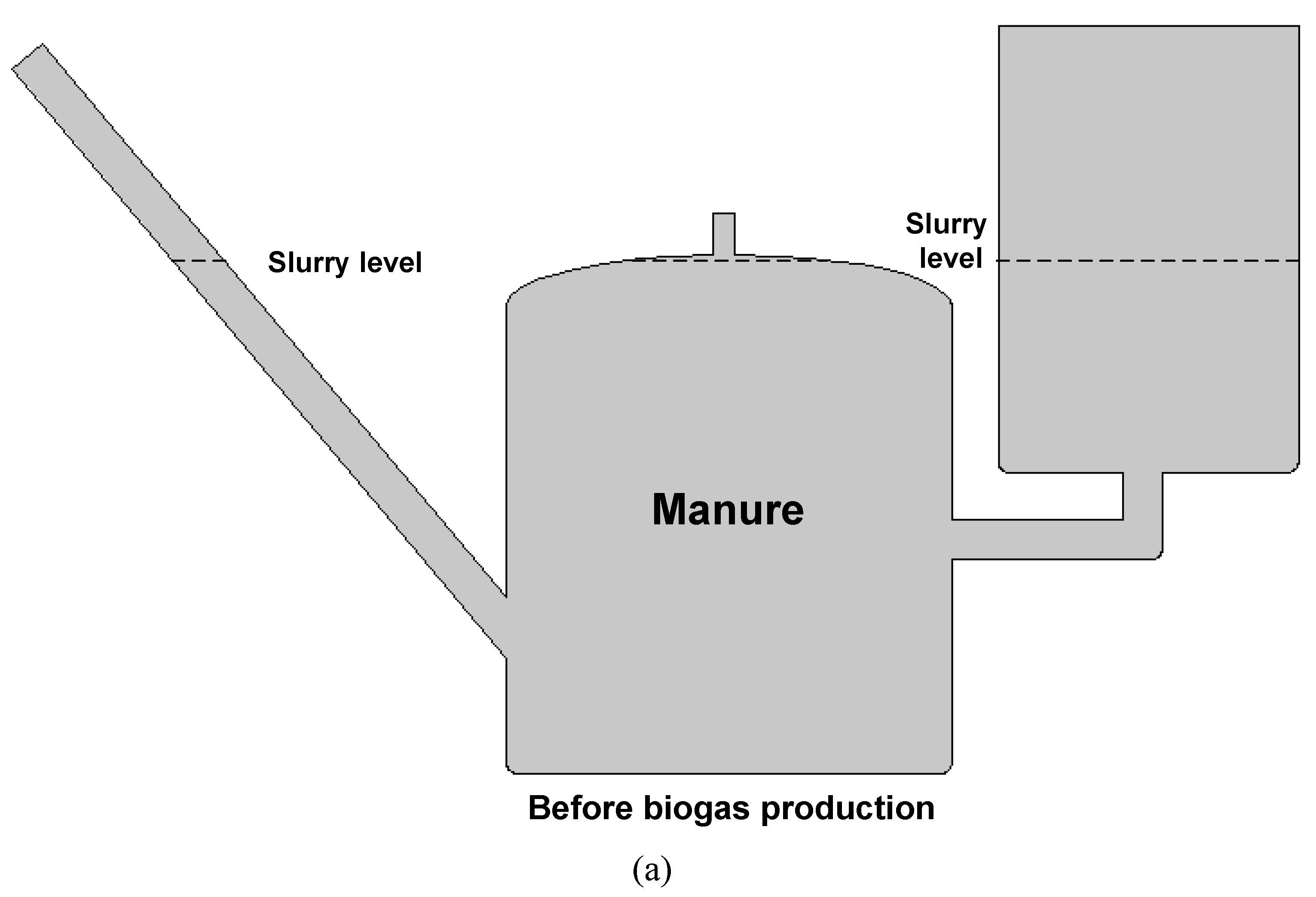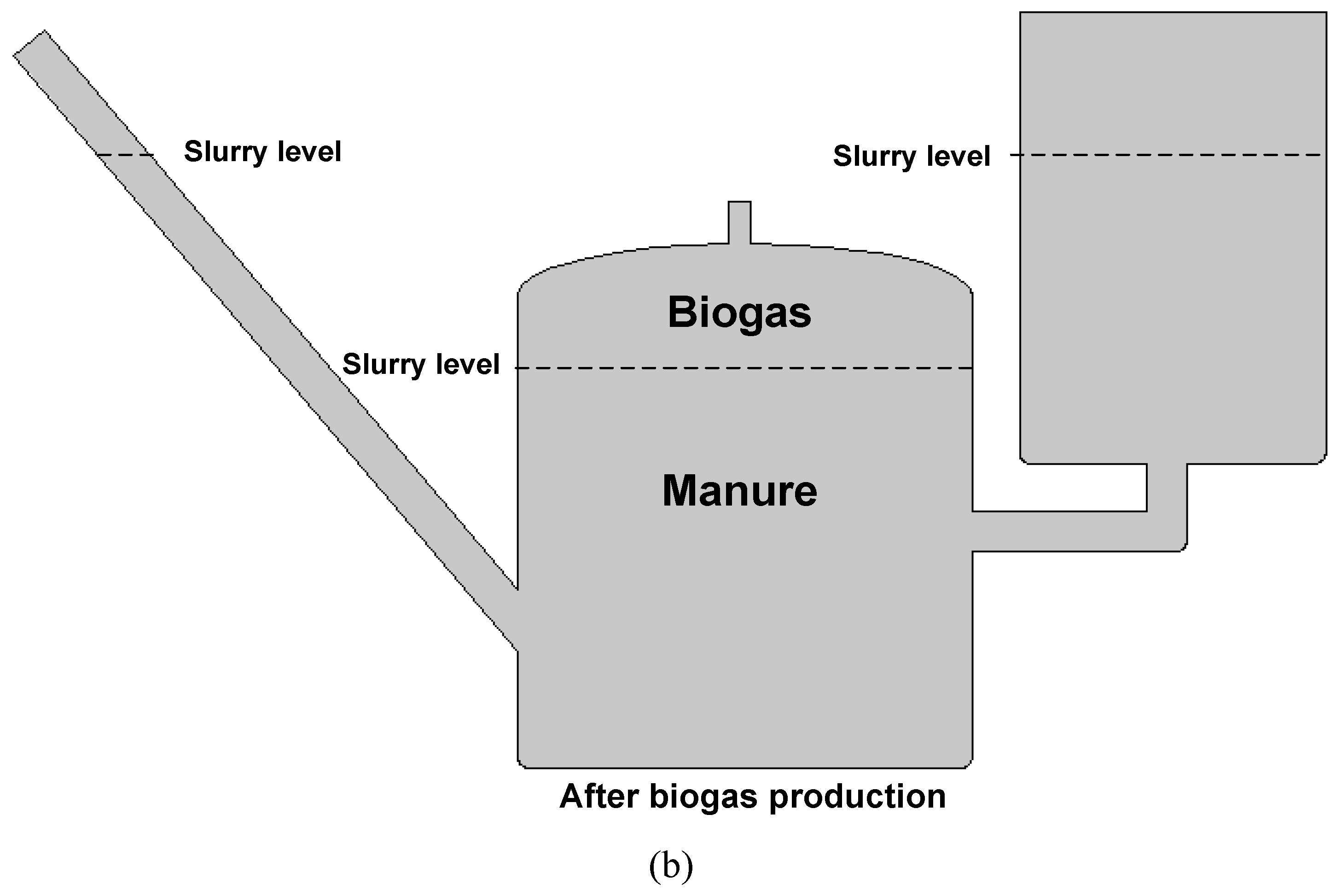 Figure 2. Scheme of the biogas production in the optimised digester (a) before biogas production. (b) Biogas production and flow of gas into compartment B. (c) Biogas production continues, gas flows to compartment B after gas is used.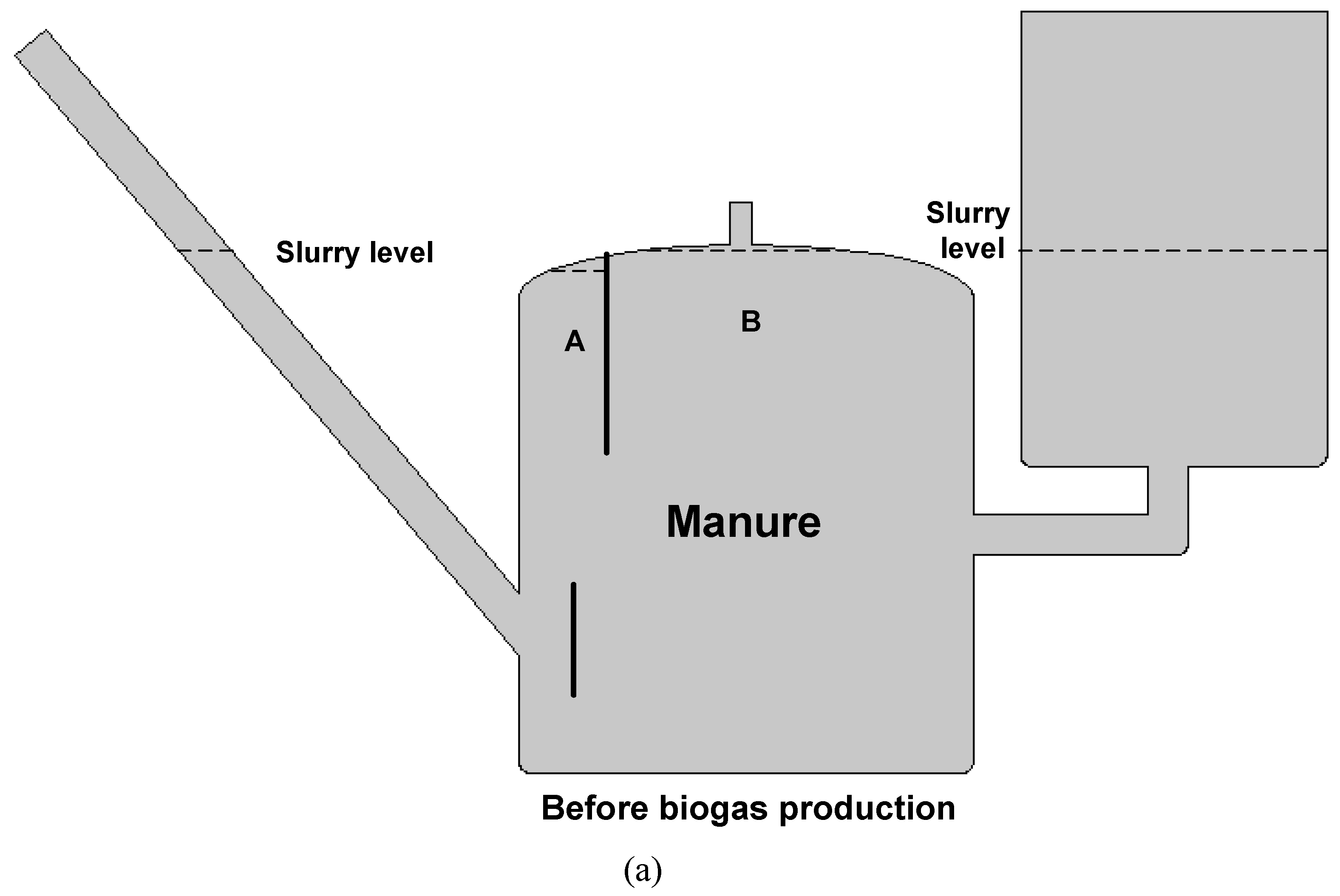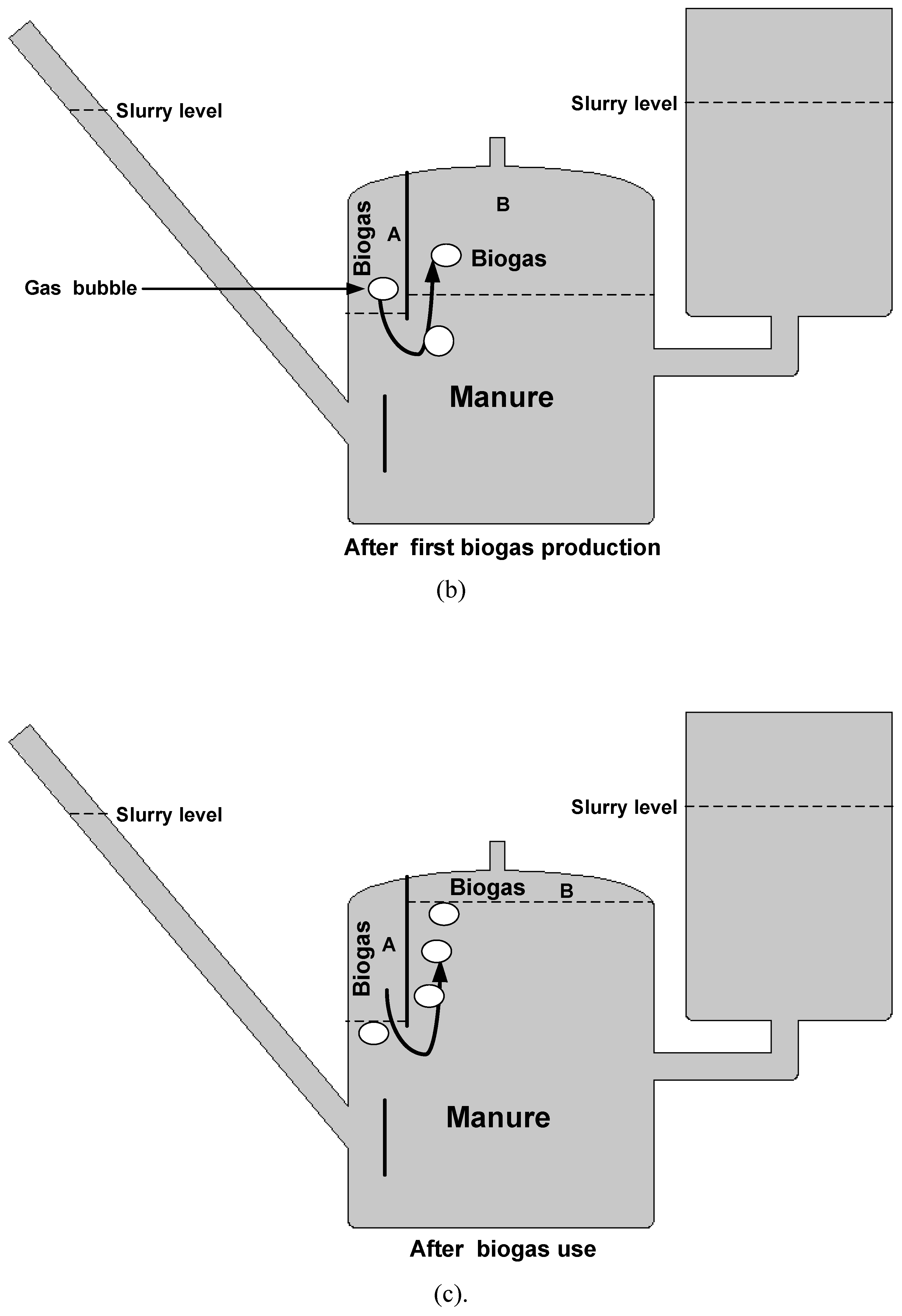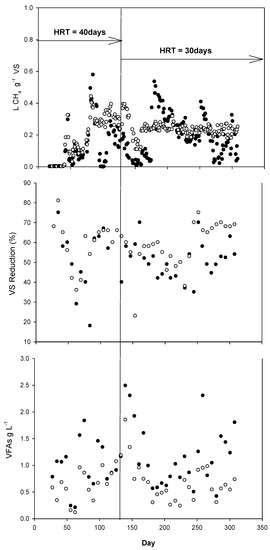 Figure 3. Methane production, volatile solid reduction, and total volatile fatty acids. Blank digester (●), optimised digester (○).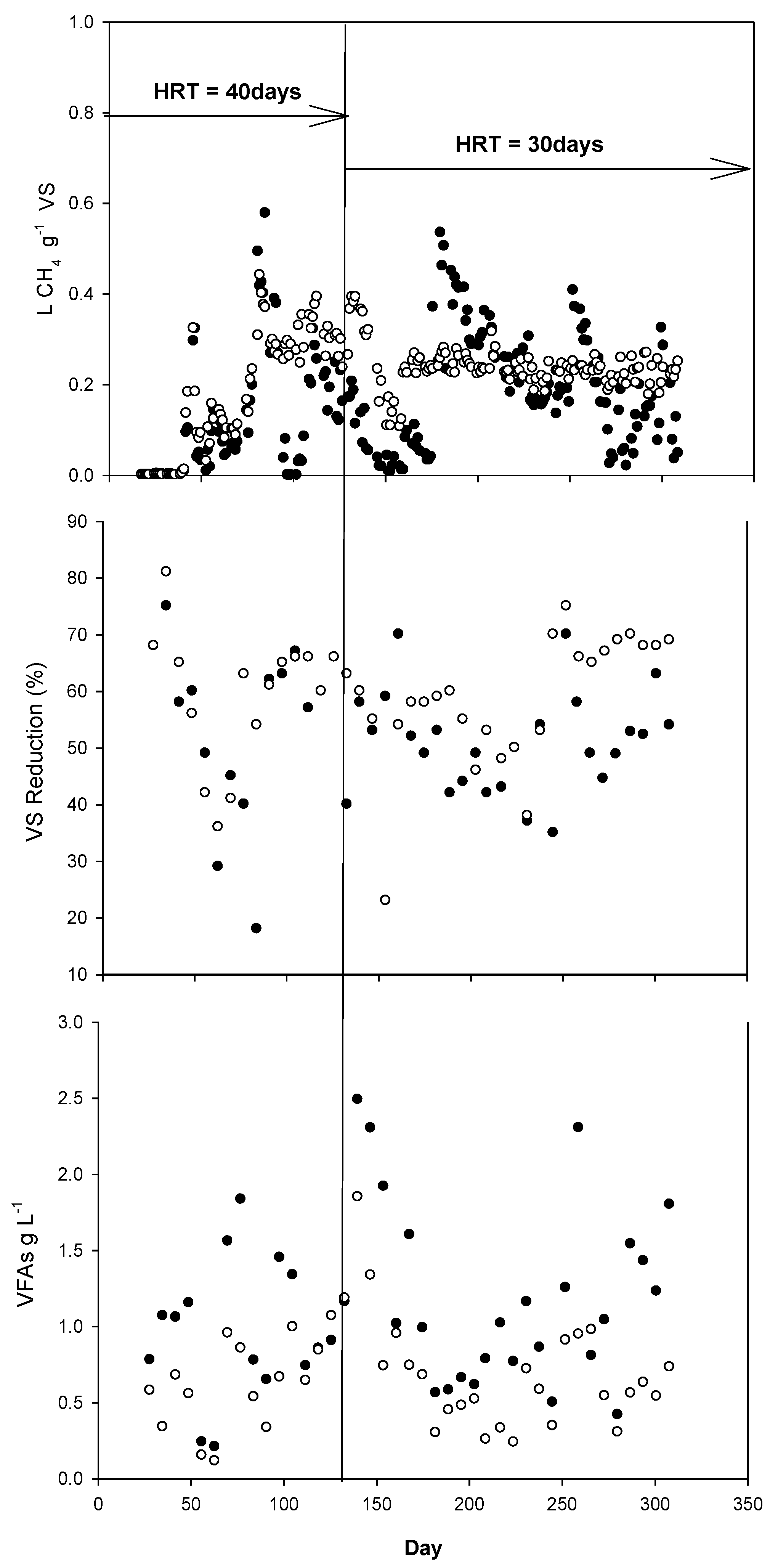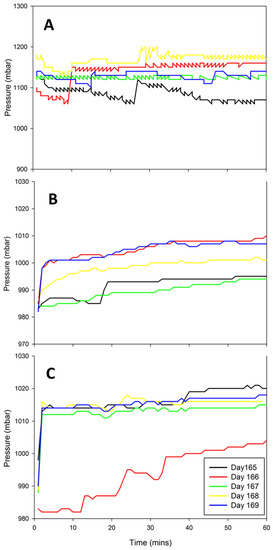 Figure 4. Pressure reading on different days, black—day 165, red—day 166, green—day 167, yellow—day 168, blue—day 169. (a) Measurements taken at the top of baffled side—compartment A of the optimised digester; (b) measurement taken at the top of the unbaffled side—compartment B of the optimised digester; (c) measurement taken at the top of the blank digester. The blank digester has only one compartment.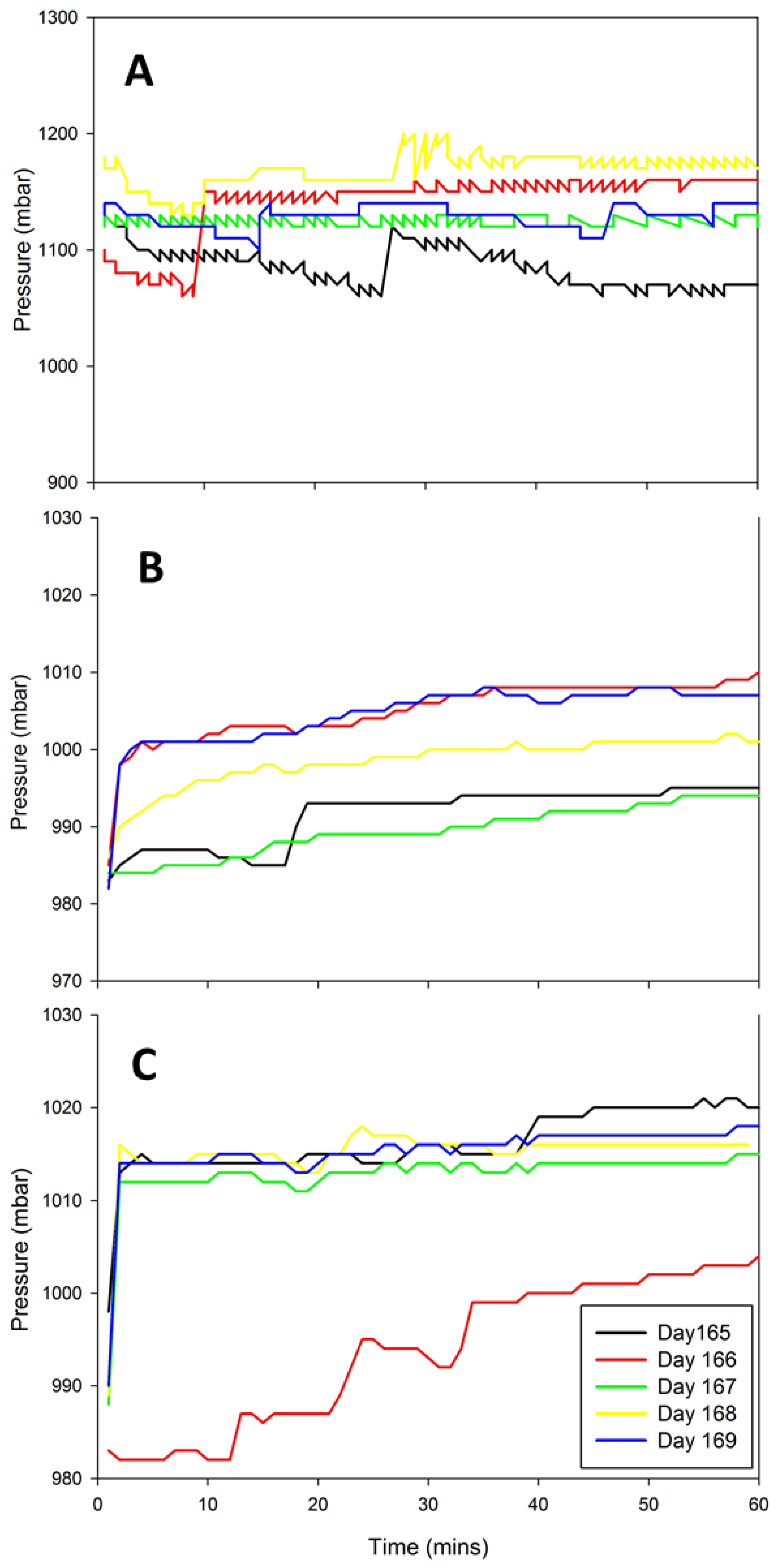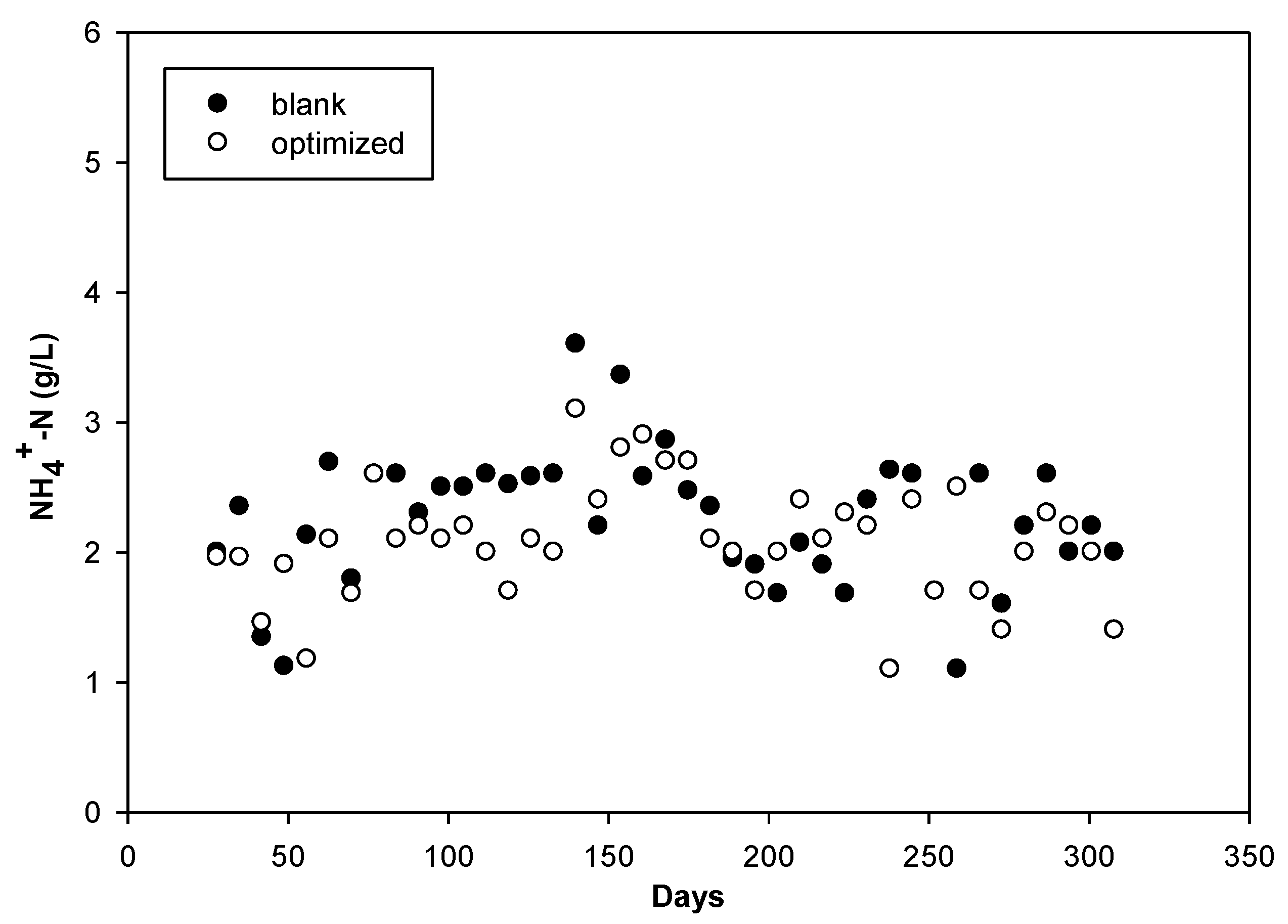 Parameter
Both Reactors
Total solids influent (TS) (% after dilution)
Volatile solids influent (VS) (% of TS after dilution)
15
73 ± 0.04
Organic loading rates (OLRs), g VS/m3/d (40 days)
Organic loading rates (OLRs), g VS/m3/d (30 days)
2.6–3
3.5–4
NH4+-N (g/L)
2.1 ± 0.6
Hydraulic retention time (HRT)
40, 30

Table 2. Average operating conditions, gas production and effluent values of the optimised and blank CDD reactor under 'steady state' conditions in the optimised reactor.
| Reactor | HRT | Period | OLR | Biogas Prod. Rate | Sp. Methane Prod. | VFAs | VS Red. | Effluent NH4 +N | Effluent pH |
| --- | --- | --- | --- | --- | --- | --- | --- | --- | --- |
| | day | Day | g VS/L d | L/L/d | L CH4/g VS | (g/L) | (%) | g/L | |
| Blank | 40 | 82–137 | 2.6–3 | 0.91 (0.6) | 0.19(0.14) | 1(0.3) | 54(17) | 2.5(0.10) | 7.5(0.2) |
| Blank | 30 | 160–309 | 3.5–4 | 1.16(0.6) | 0.22(0.12) | 1(0.47) | 50(9) | 2.1(0.4) | 7.8(0.1) |
| Optimised | 40 | 82–137 | 2.6–3 | 1.40 (0.2) | 0.32(0.05) | 0.7 (0.2) | 63(4) | 2.05(0.16) | 7.6(0.12) |
| Optimised | 30 | 160–309 | 3.5–4 | 1.30(0.12) | 0.23(0.02) | 0.58(0.23) | 60(10) | 2.1(0.5) | 7.8(0.07) |
NB: Standard deviation values are in parenthesis.

Table 3. Optimal digester design for rural Kenyan and Cameroonian households, and optimised digester in this thesis.
| Digester Design Details | Kenya [35] | Cameroon [35] | Improved Design (This Study) |
| --- | --- | --- | --- |
| Digester size (m3) | 6 | 6 | 3 |
| Material | Stabilised soil block digester | Stabilised soil block digester | Stabilised soil block digester |
| Hydraulic retention time (d) | 62 | 49 | 30 |
| Organic loading rate (OLR) (g VS/L/d) | 0.81 | 1.8 | 3.6 |
| Estimated daily biogas production (m³) | 1.48 | 1.43 | 3.9 a |
| Estimated capital cost (USD) | 684 | 628 | 484 b |
| Estimated annual running cost (USD) | 2.85 | 2.75 | 2.85 c |
| Supplier contact details | Uganda Domestic Biogas Programme/ SNV (The Netherlands Development Organisation | Uganda Domestic Biogas Programme/ SNV (The Netherlands Development Organisation | |
a Based on volumetric biogas gas production. b Based on exchange rate of 1 USD = 361 Naira (May 2018); capital cost estimated 450

$

+ 7.5% for baffles (pers. communication W. van Nes). c Assumed same as Kenya.

© 2019 by the authors. Licensee MDPI, Basel, Switzerland. This article is an open access article distributed under the terms and conditions of the Creative Commons Attribution (CC BY) license (http://creativecommons.org/licenses/by/4.0/).