Open Access This article is
freely available
re-usable
Article
Visualization of Operational Performance of Grid-Connected PV Systems in Selected European Countries
Copernicus Institute, Utrecht University, Heidelberglaan 2, 3584 CS Utrecht, The Netherlands
*
Author to whom correspondence should be addressed.
Received: 20 April 2018 / Accepted: 21 May 2018 / Published: 23 May 2018
Abstract
:
This paper presents the results of the analyses of operational performance of small-sized residential PV systems, connected to the grid, in the Netherlands and some other European countries over three consecutive years. Web scraping techniques were employed to collect detailed yield data at high time resolution (5–15 min) from a large number (31,844) of systems with 741 MWp of total capacity, delivering data continuously for at least one year. Annual system yield data was compared from small and medium-sized installations. Cartography and spatial analysis techniques in a geographic information system (GIS) were used to visualize yield and performance ratio, which greatly facilitates the assessment of performance for geographically scattered systems. Variations in yield and performance ratios over the years were observed with higher values in 2015 due to higher irradiation values. The potential of specific yield and performance maps lies in the updating of monitoring databases, quality control of data, and availability of irradiation data. The automatic generation of performance maps could be a trend in future mapping.
Keywords:
performance ratio; annual yield; GIS; PV system; spatial analyses
Author Contributions
Conceptualization and Methodology: B.B.K.; Acquisition of data and initial analysis: P.M.; Analysis and data interpretation: B.B.K.; Writing original draft: P.M. and B.B.K.; Writing Review and Editing: B.B.K. and W.G.J.H.M.v.S.; Funding acquisition: W.G.J.H.M.v.S.
Acknowledgments
This work is part of the International Energy Agency-Photovoltaic Power Systems (IEA-PVPS) Task 13 "Performance and Reliability of Photovoltaic Systems" [
24
]; we would like to thank all members of this task for their support. This project is partly financially supported by the Netherlands Enterprise Agency (RVO).
Conflicts of Interest
The authors declare no conflict of interest.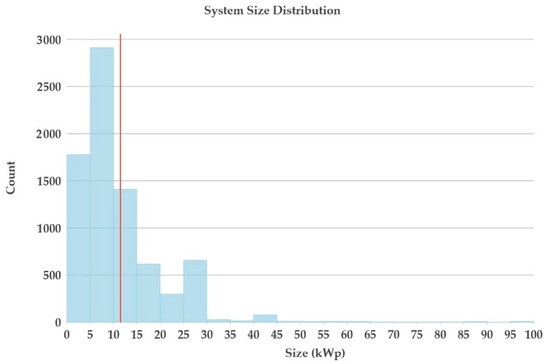 Figure 1. System size distribution of systems with capacity of less than 100 kWp for five countries. The red line illustrates the mean value of 12 kWp.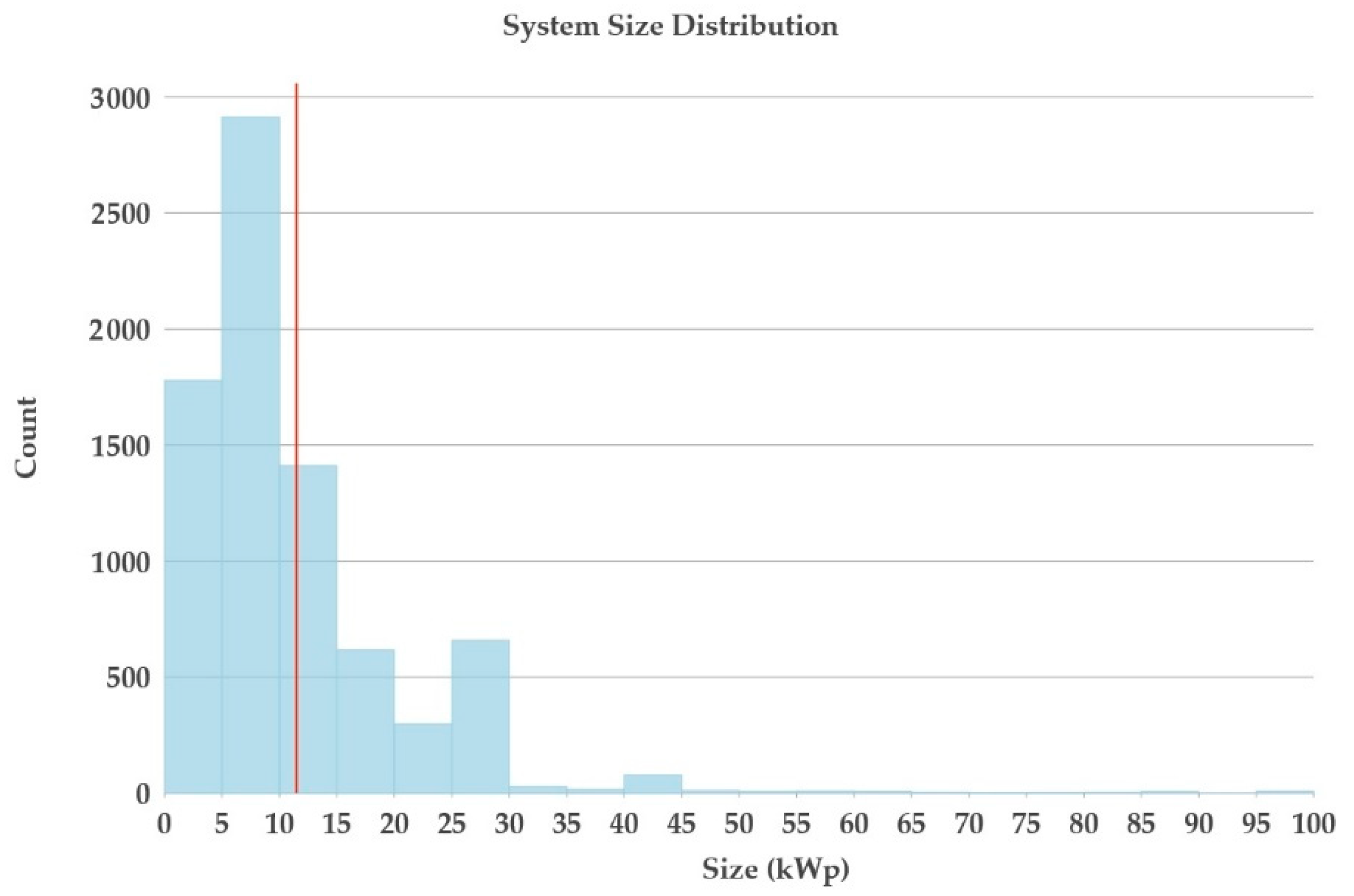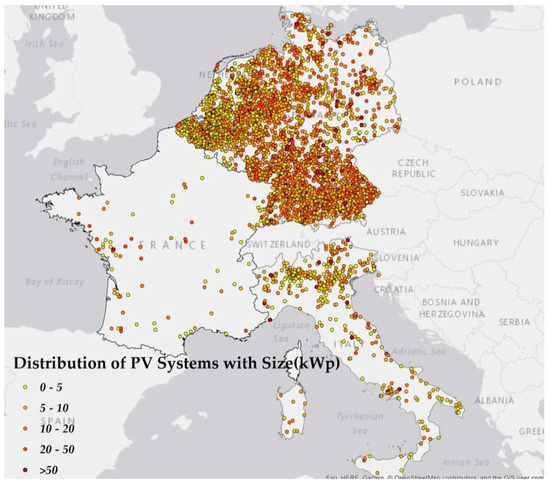 Figure 2. Spatial distribution of the data sample for the Netherlands, Belgium, France, Germany, and Italy.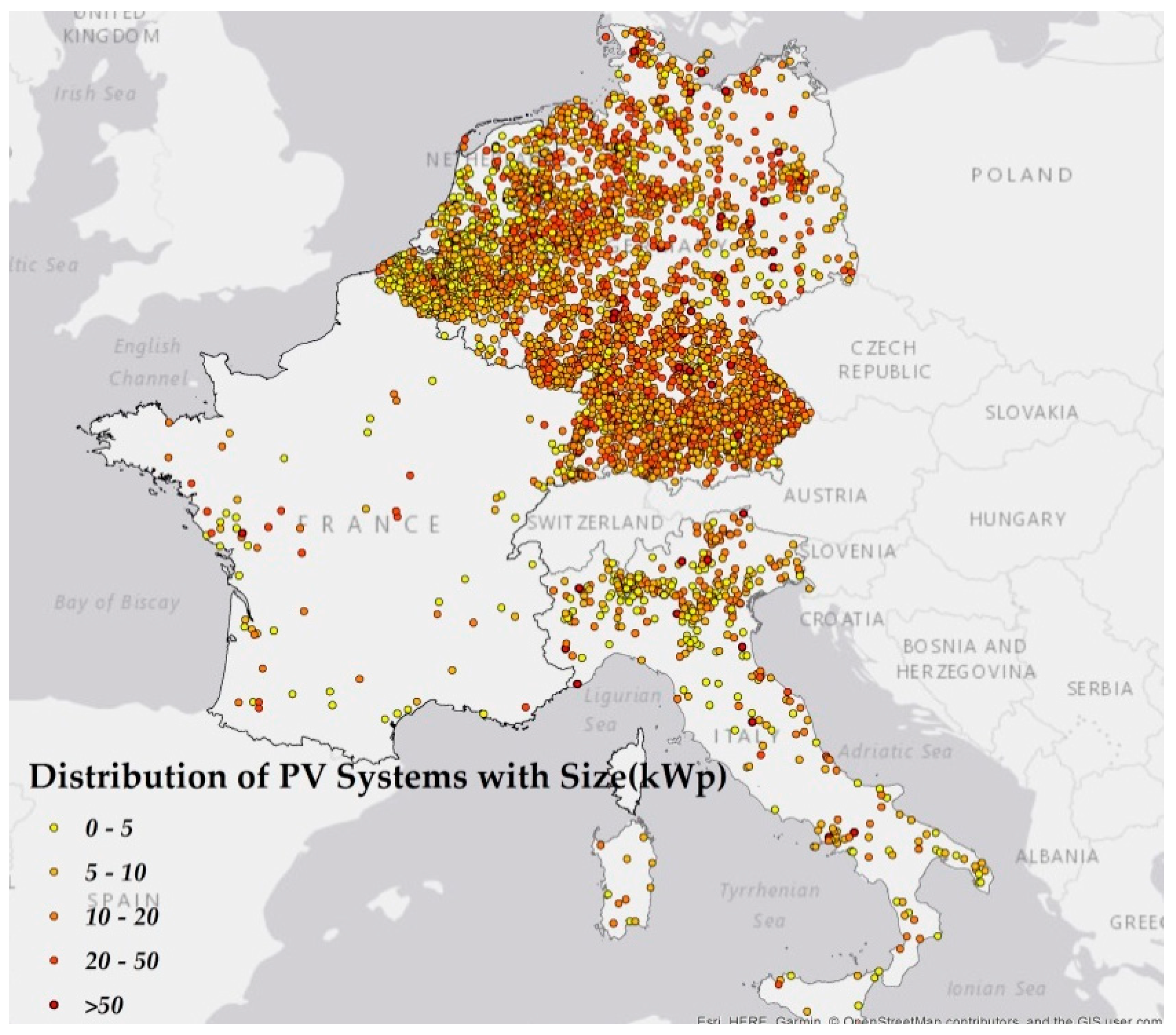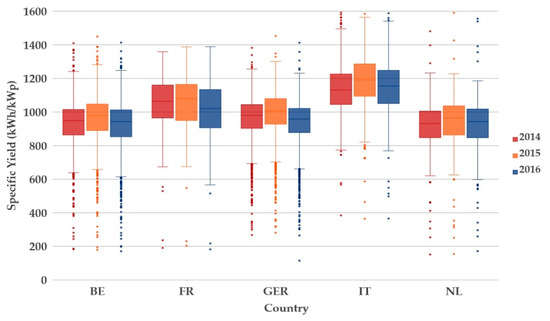 Figure 3. Distribution of specific yield by country from 2014 to 2016 for systems less than 20 kWp. Highest yields were recorded in 2015, with Italy (IT) having the highest mean, followed by France (FR), Germany (GER), Belgium (BE), and the Netherlands (NL), respectively.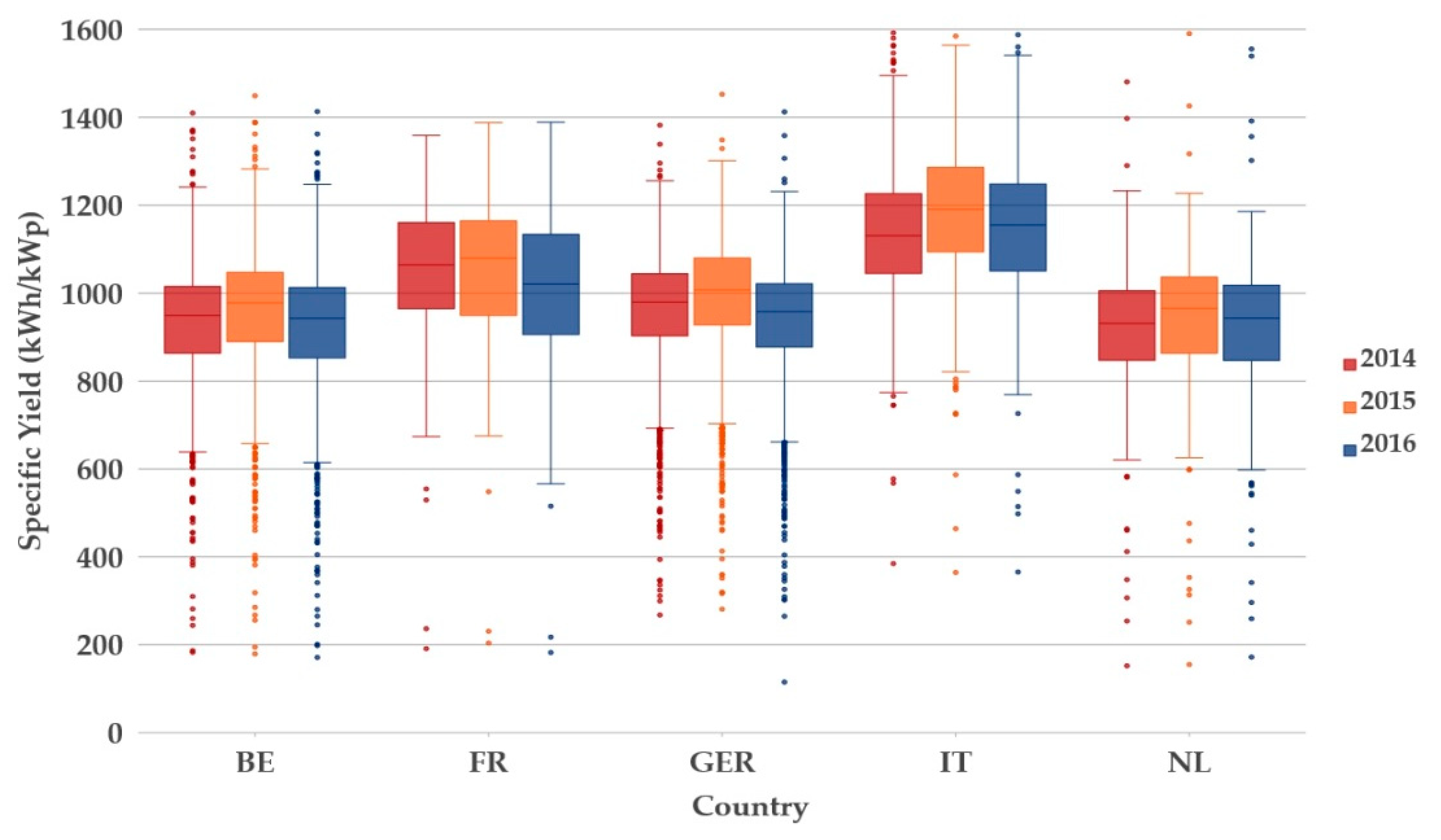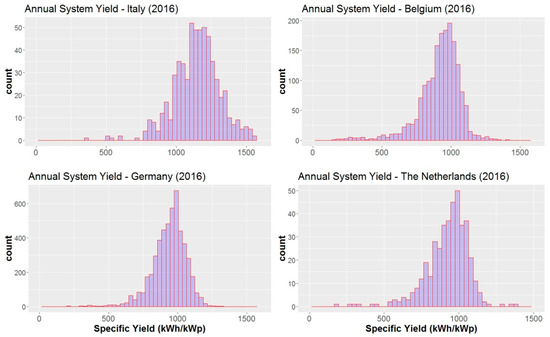 Figure 4. Distribution of specific yield for the year 2016 for Italy, Germany, Belgium, and the Netherlands.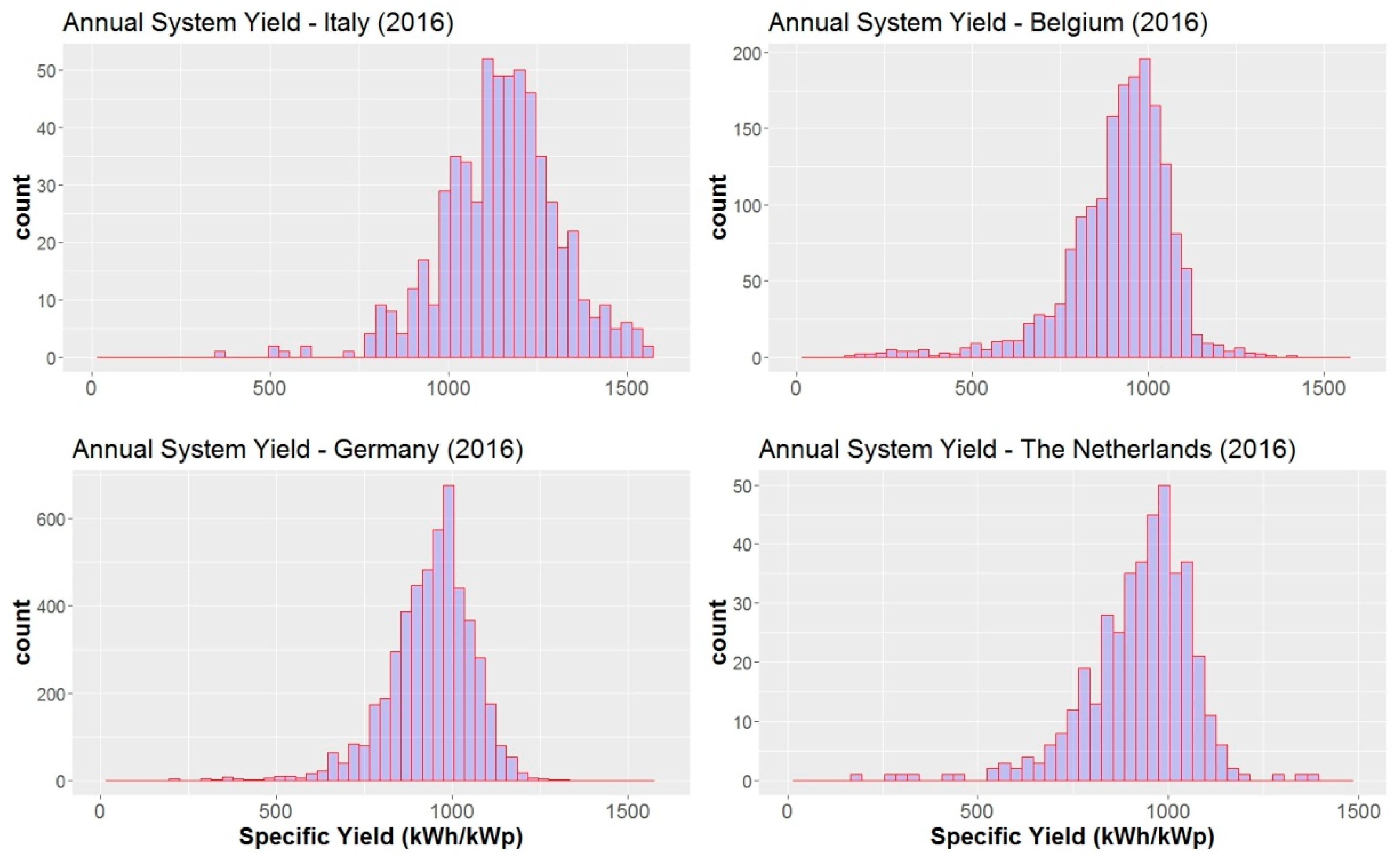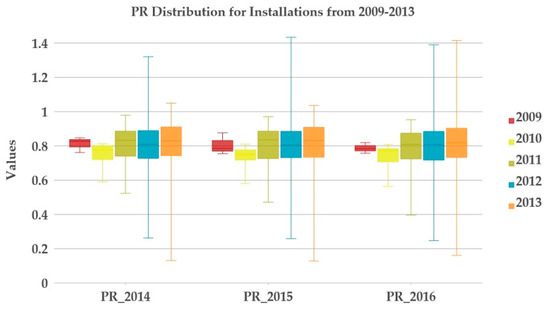 Figure 5. Distribution of performance ratio of the Netherlands between 2014 and 2016 for systems that have been installed from 2009 to 2013.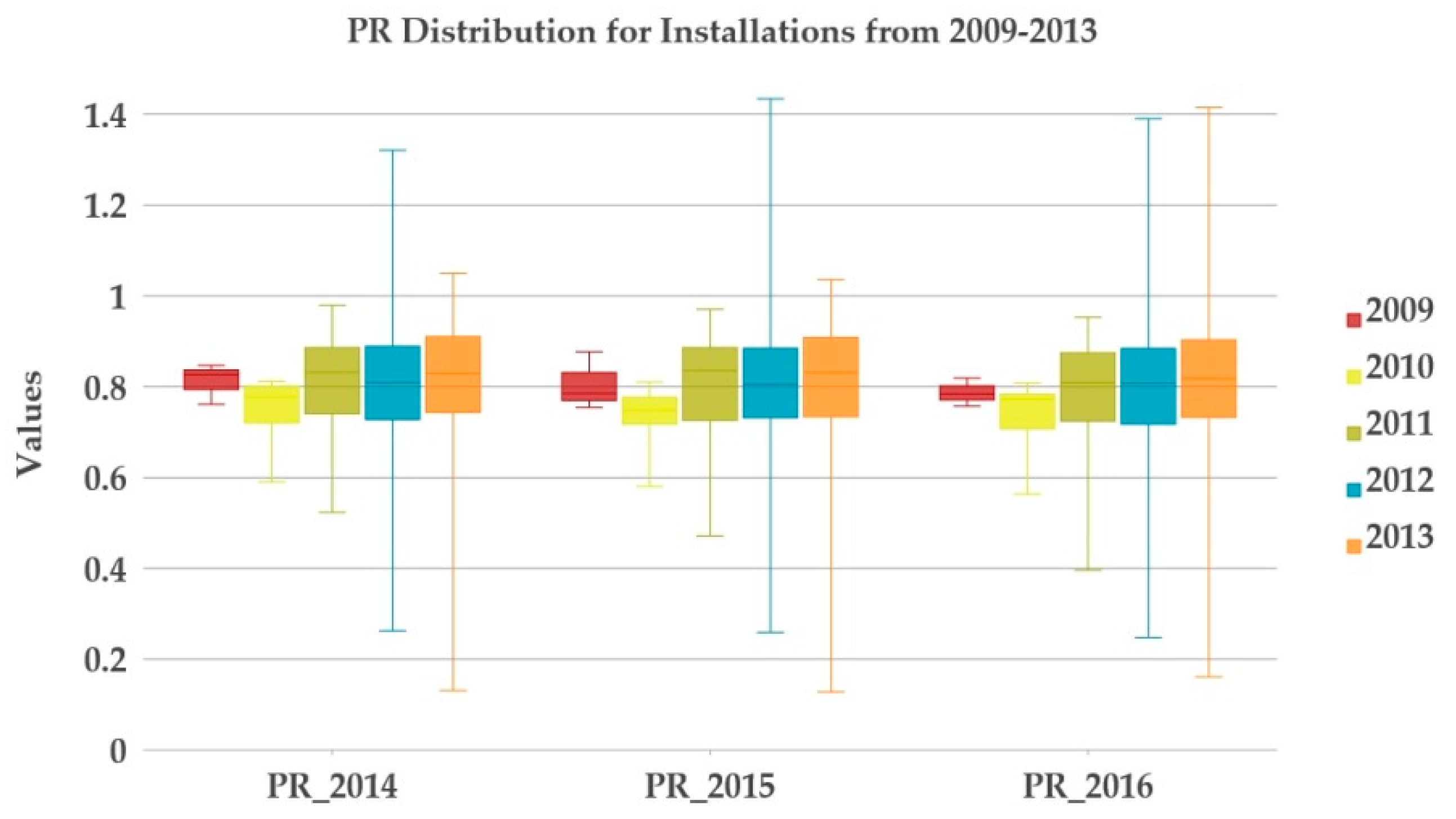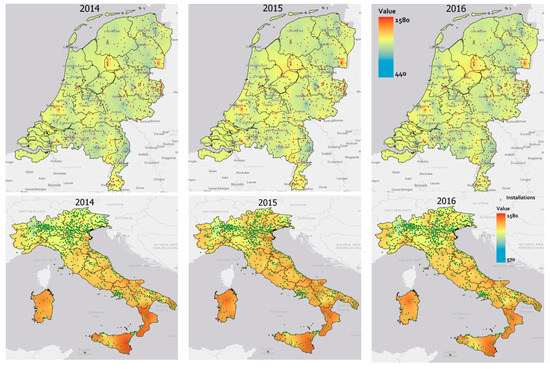 Figure 6. Annual specific yield variation from the installations (up to 20 kWp) in the Netherlands (above) and Italy (below) for the years 2014–2016, visualized using interpolation techniques.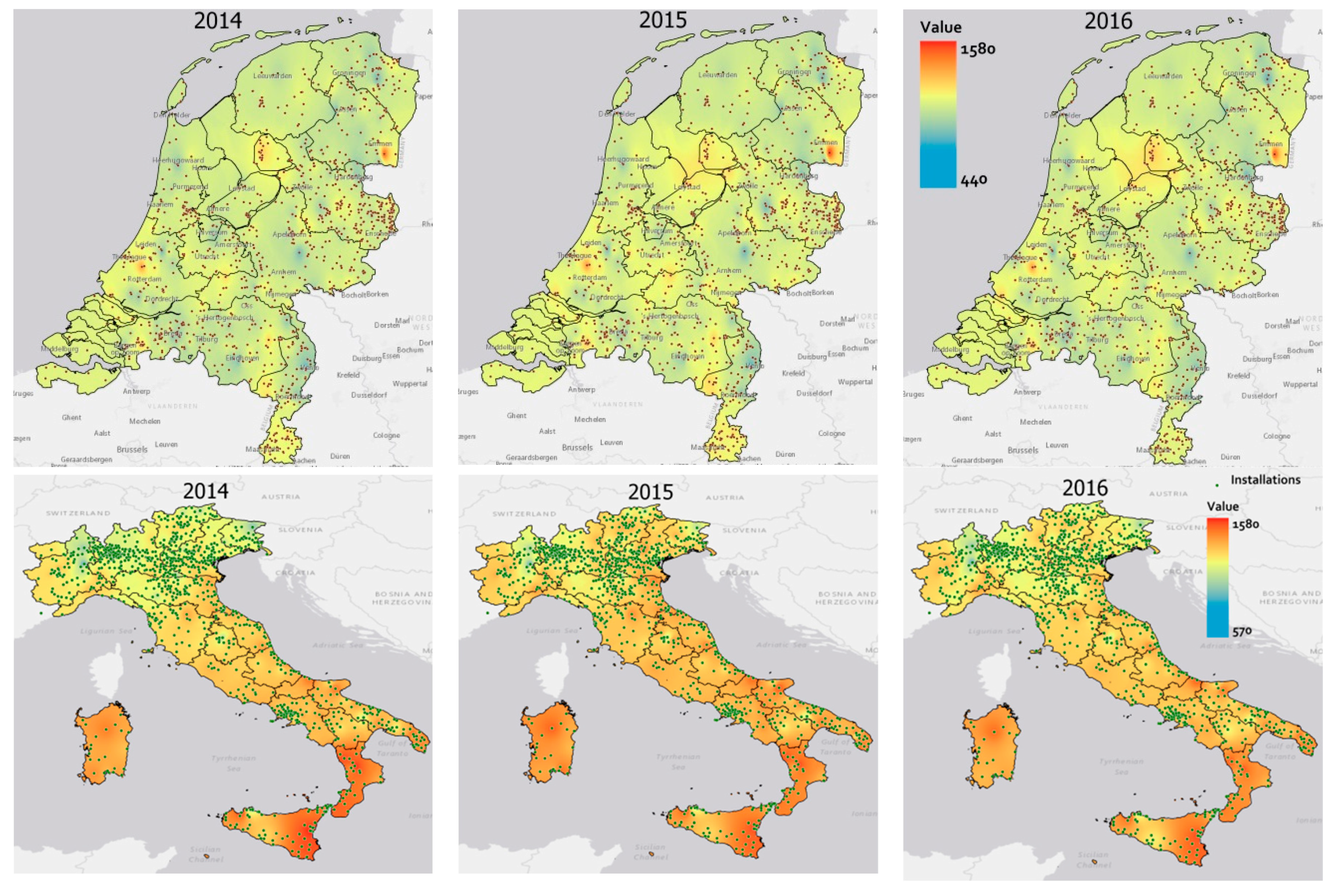 Figure 7. Annual specific yield variation from the installations (up to 20 kWp) for Belgium visualized using two different types of data stretching for 2016. Data stretching techniques (a) percent clip and (b) min-max used for data visualization.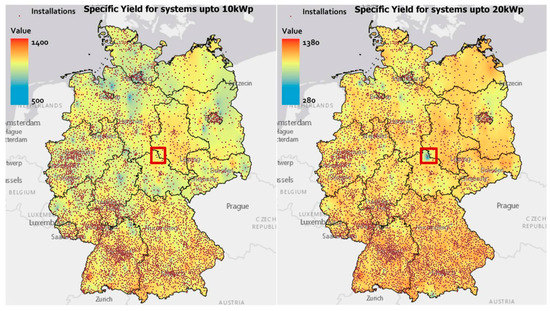 Figure 8. Specific yield variation from the installations in the Germany, for different system sizes.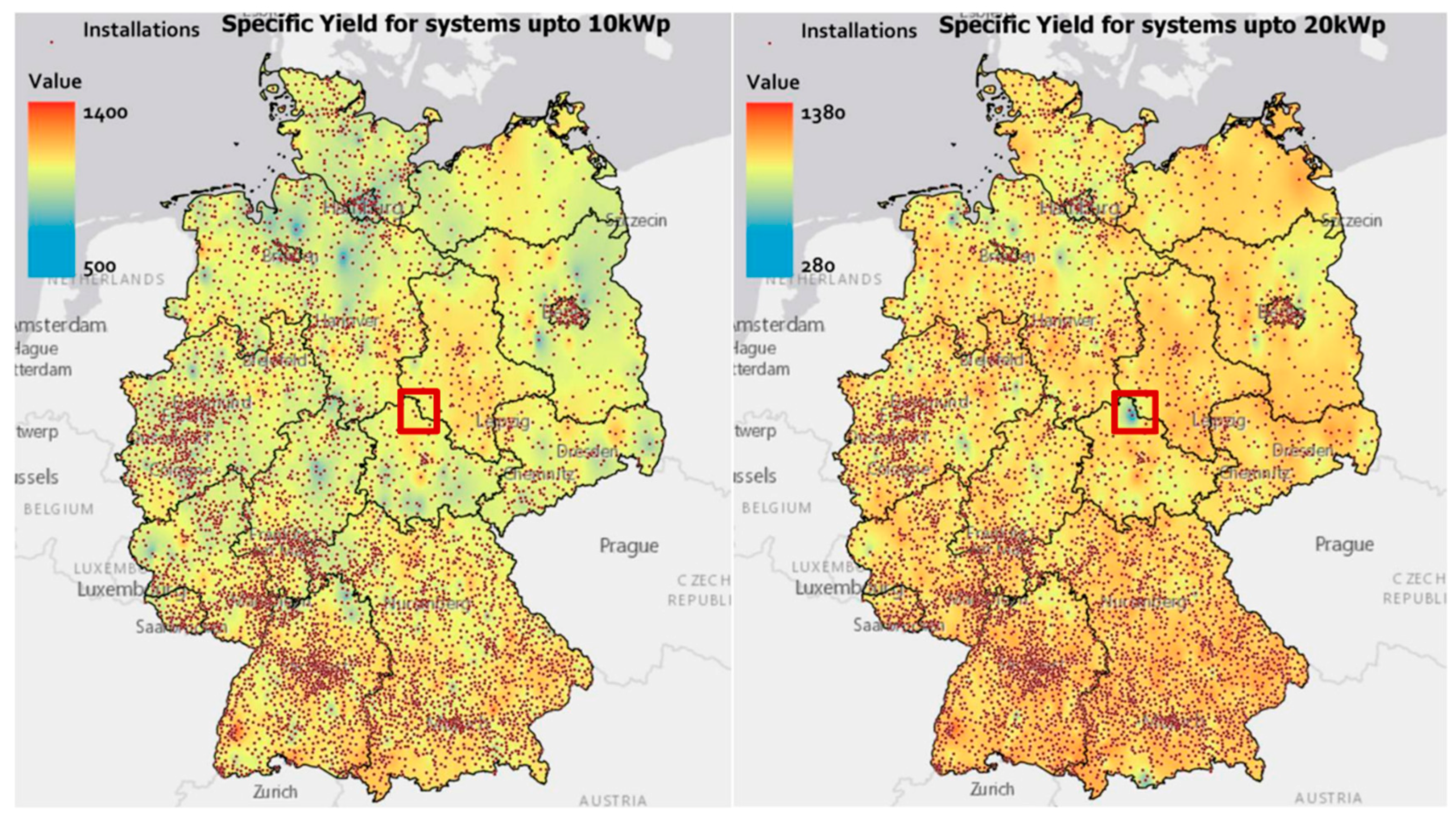 © 2018 by the authors. Licensee MDPI, Basel, Switzerland. This article is an open access article distributed under the terms and conditions of the Creative Commons Attribution (CC BY) license (http://creativecommons.org/licenses/by/4.0/).