Open Access This article is
freely available
re-usable
Article
News-Driven Expectations and Volatility Clustering
Economic Science Institute, Chapman University, 1 University Drive, Orange, CA 92866, USA
Received: 27 December 2019 / Accepted: 16 January 2020 / Published: 20 January 2020
Abstract
:
Financial volatility obeys two fascinating empirical regularities that apply to various assets, on various markets, and on various time scales: it is fat-tailed (more precisely power-law distributed) and it tends to be clustered in time. Many interesting models have been proposed to account for these regularities, notably agent-based models, which mimic the two empirical laws through a complex mix of nonlinear mechanisms such as traders switching between trading strategies in highly nonlinear way. This paper explains the two regularities simply in terms of traders' attitudes towards news, an explanation that follows from the very traditional dichotomy of financial market participants, investors versus speculators, whose behaviors are reduced to their simplest forms. Long-run investors' valuations of an asset are assumed to follow a news-driven random walk, thus capturing the investors' persistent, long memory of fundamental news. Short-term speculators' anticipated returns, on the other hand, are assumed to follow a news-driven autoregressive process, capturing their shorter memory of fundamental news, and, by the same token, the feedback intrinsic to the short-sighted, trend-following (or herding) mindset of speculators. These simple, linear models of traders' expectations explain the two financial regularities in a generic and robust way. Rational expectations, the dominant model of traders' expectations, is not assumed here, owing to the famous no-speculation, no-trade results.
Keywords:
volatility clustering; power law; trend following; efficient market hypothesis; liquidity
Funding
This research received no external funding.
Acknowledgments
For helpful comments and suggestions, the author thanks V. L. Smith, C. Wihlborg, D.P. Porter, J.-P. Bouchaud, and two anonymous reviewers. The usual disclaimer applies.
Conflicts of Interest
The author declares no conflict of interest.
1

2

The nuance in this diverse literature on endogenous financial instability, already clearly articulated by the classical economists (

Inoua and Smith 2020

), lies perhaps in the nature of the ultimate destabilizing force that is specifically emphasized in each tradition, notably human psychology (Keynes and behavioral finance) or the easy bank-issued liquidity that backs or fuels the speculative euphoria, without which this latter would be of no significant, macroeconomic, harm (Fisher, Minsky, Kindleberger, etc., and the classical economists who preceded them).

3

Other types of models are also suggested for the power law more specifically; one of them, for example, relates the power law of return to the trades of very large institutional investors (

Plerou et al. 2006

).

4

Random-coefficient autoregressive (RCAR) processes are also known as Kesten processes, named after H. Kesten whose seminal theorem proves their power-law tail behavior. Kesten's theorem was perhaps first used in finance to study GARCH processes, which are in fact also Kesten processes. 'Rational bubbles' can also be interpreted as first-order RCAR processes assuming a random discount factor (

Lux and Sornette 2002

); but this model generates a tail exponent smaller than 1. First-order RCAR processes have also been suggested as approximations to complex agent-based mechanisms (

Sato and Takayasu 1998

;

Aoki 2002

;

Carvalho 2004

). In this paper, however, a general RCAR return process holds directly in a competitive market of trend-following speculators.

5

A more detailed study of the power-law tail of volatility as it emerges from the RCAR model is the subject of a planned follow-up paper.

6

It may seem paradoxical that GARCH models, being also RCAR processes, could nonetheless generate clustered volatility; but this latter is in reality an 'IGARCH effect' (

Mikosch and Starica 2000

,

2003

). It is more the persistence implied by the near-integration in fitted GARCH models that mimics the volatility clusters in these models. This near integration of fitted GARCH models resembles the near integration of speculators' anticipated return in this paper's model.

7

8

Because nonlinearity adds no further insight to this theory, we assume these standard linear supply and demand functions, which can be viewed as first-order linear approximations of more general functions; also, since financial supply and demand can be treated symmetrically (by treating supply formally as a negative demand), one can think directly in terms of a trader's excess demand, which is a demand or a supply, depending on the sign.

9

The seminal work is

Kyle

(

1985

). A distinction may be in order here: a 'price adjustment function' models the overall price impact of the competition of buyers and sellers in a market; empirical evidence suggests it is linear in financial markets (

Cont et al. 2014

); a related but different concept is the 'price impact' of a trade or series of trades, which is typically a concave function of trade volume (

Bouchaud 2010

). The first concept is relevant for a theorist studying a market as a whole; the second, perhaps for a trader wishing to minimize the execution cost of a given trade volume.

10

We are grateful to a reviewer whose comment makes us aware of the need to emphasize explicitly the difference between a news and a noise. It is common in agent-based models to assume a Gaussian white noise in the fundamental-value dynamics, starting from

Lux and Marchesi

(

1999

), who, however, note that this (noise-driven) random walk in their model has nothing to do with the stylized facts. In fact, they assume the Gaussian white noise precisely so that none of the emergent financial regularities in their models can be attributed to this white noise: "In order to ensure that none of the typical characteristics of financial prices can be traced back to exogenous factors, we assume that the relative changes of [fundamental value] are Gaussian random variables." (

Lux and Marchesi 1999, p. 499

). In fact,

Lux and Marchesi

(

2000

) show that the fat tail and volatility clustering in their model hold even when the fundamental value is constant. This is the case in this paper's model as well, as emphasized below (

Figure 7

). The reviewer nonetheless suggests that the white-noise assumption, along with traders' heterogeneity, may be responsible for clustered volatility in the agent-based model by

He and Li

(

2012

).

11

An arbitrarily general AR model is recently suggested by

Shi et al.

(

2019

), which replicates and studies in detail the robustness of an earlier working version of this paper's model (titled 'The Random Walk Behind Volatility Clustering, 2016'). However, the choice is crucial for volatility clustering.

12

For greater visibility, only the first 1000 periods out of 10,000 are shown in the subplots (a), (a′), (b), and (b′).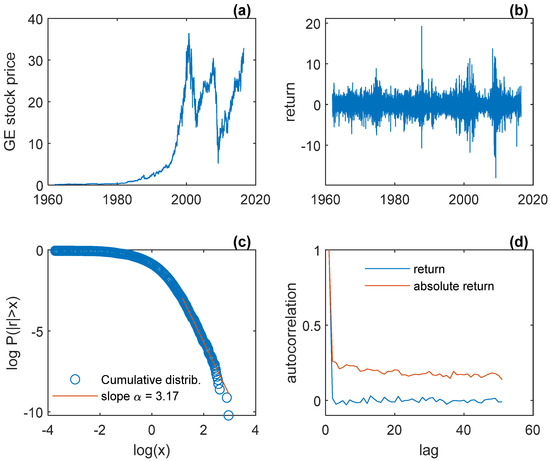 Figure 1. General Electric stock: (a) price; (b) return (in percent); (c) cumulative distribution of volatility in log-log scale, and a linear fit of the tail, with a slope close to 3; (d) autocorrelation function of return, which is almost zero at all lags, while that of volatility is nonzero over a long range of lags (a phenomenon known as volatility clustering).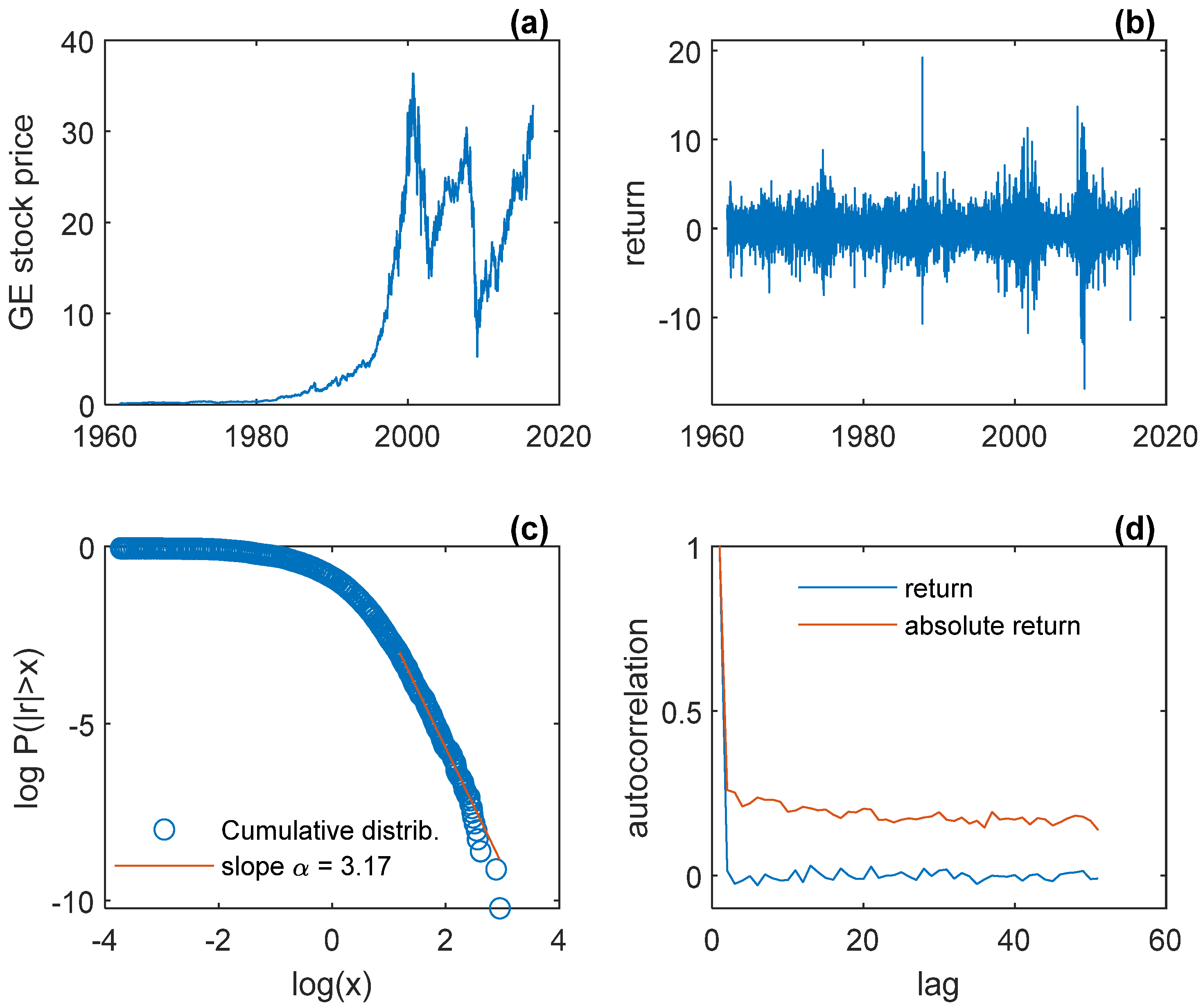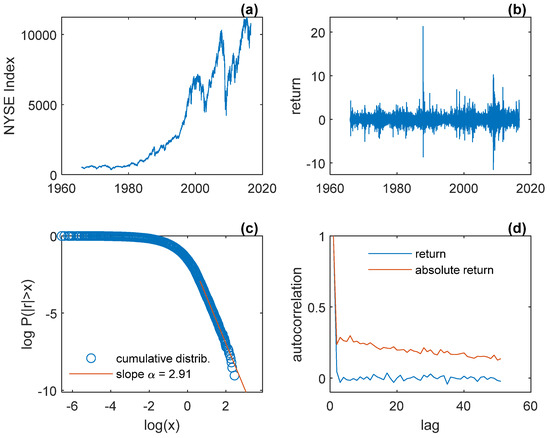 Figure 2. New York Stock Exchange (NYSE) composite daily index. (a) index; (b) return; (c) tail; (d) autocorrelation function of return and absolute return.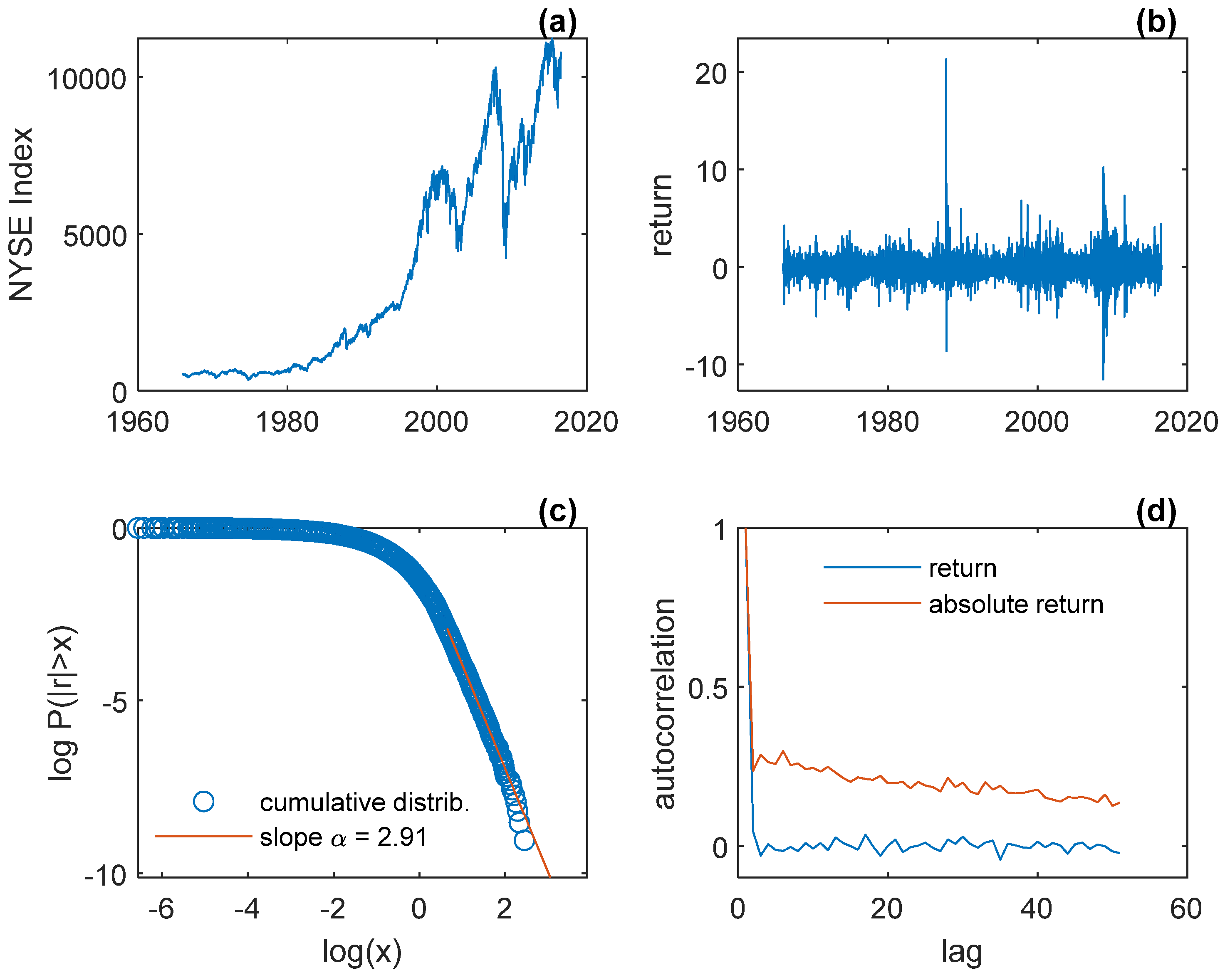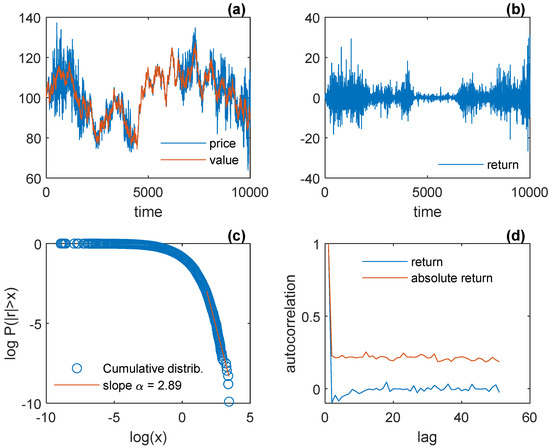 Figure 3. A purely news-driven market model: (a) price and value; (b) return; (c) tail; (d) autocorrelation function of return and absolute return.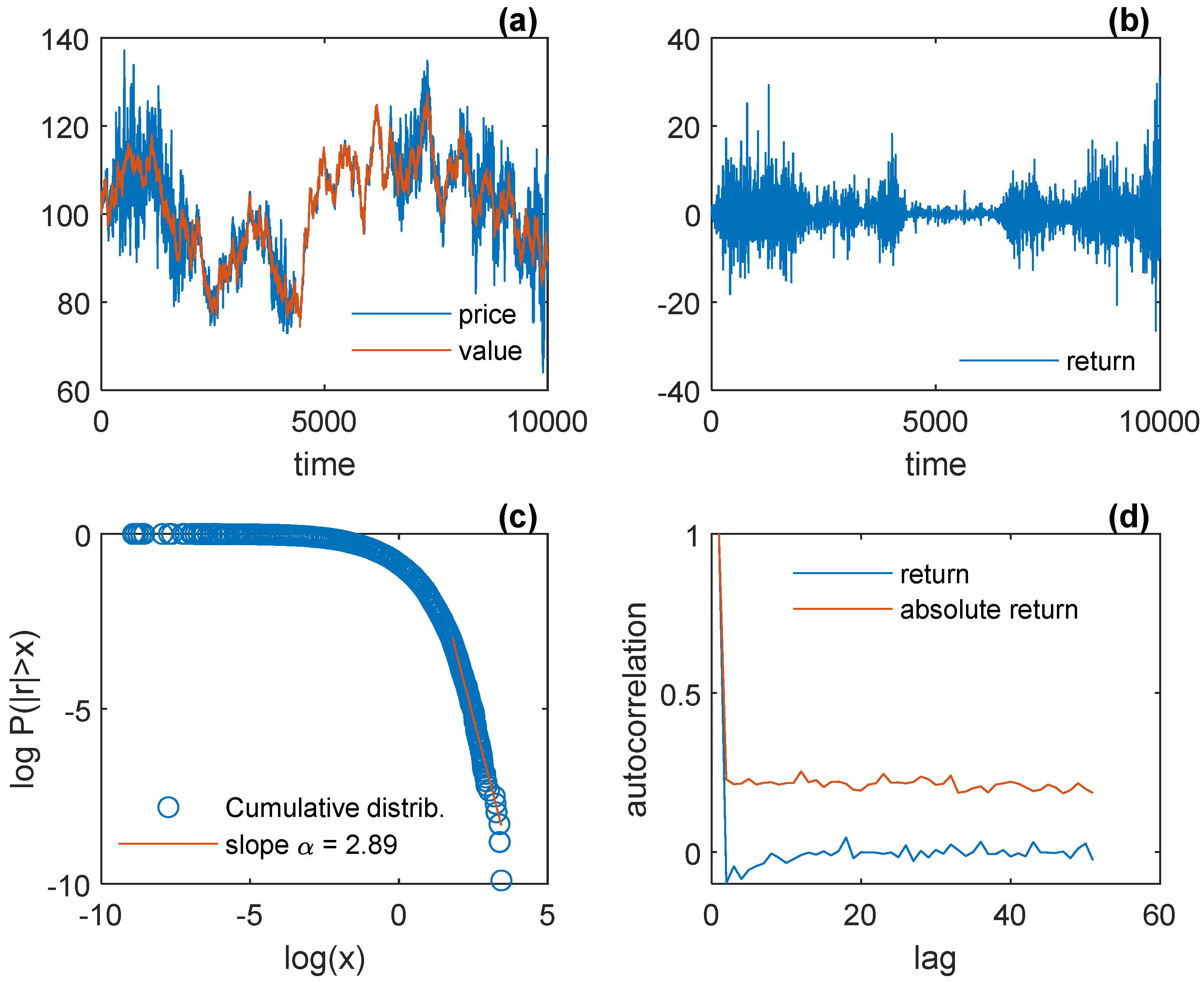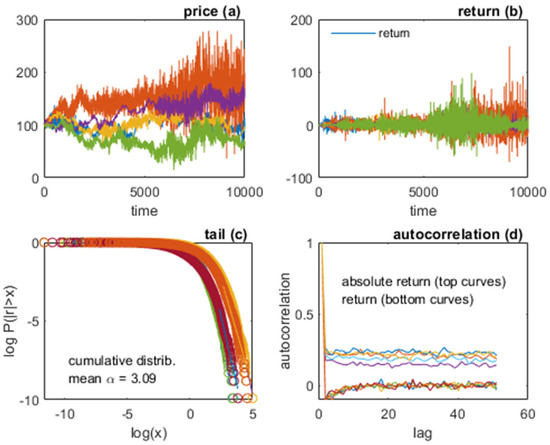 Figure 4. The purely news-driven market model: five simulations superposed: (a) price; (b) return; (c) tail; (d) autocorrelation function of return and absolute return.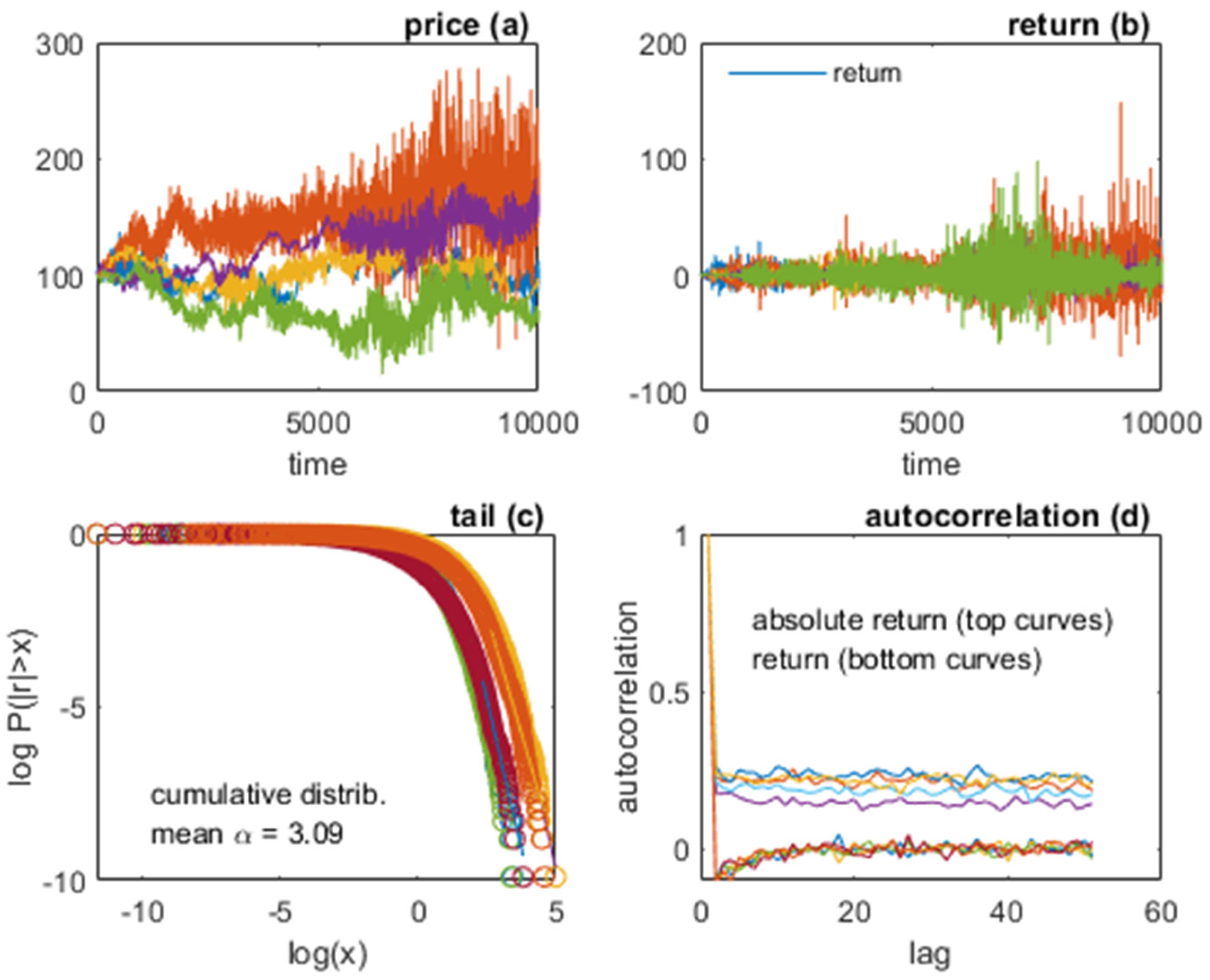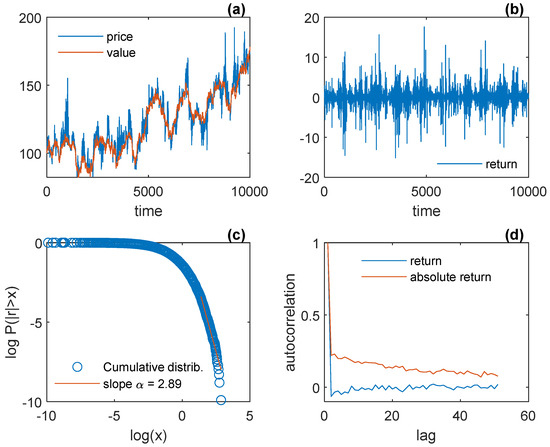 Figure 5. The general model illustrated: (a) price and value; (b) return; (c) tail; (d) autocorrelation function of return and absolute return.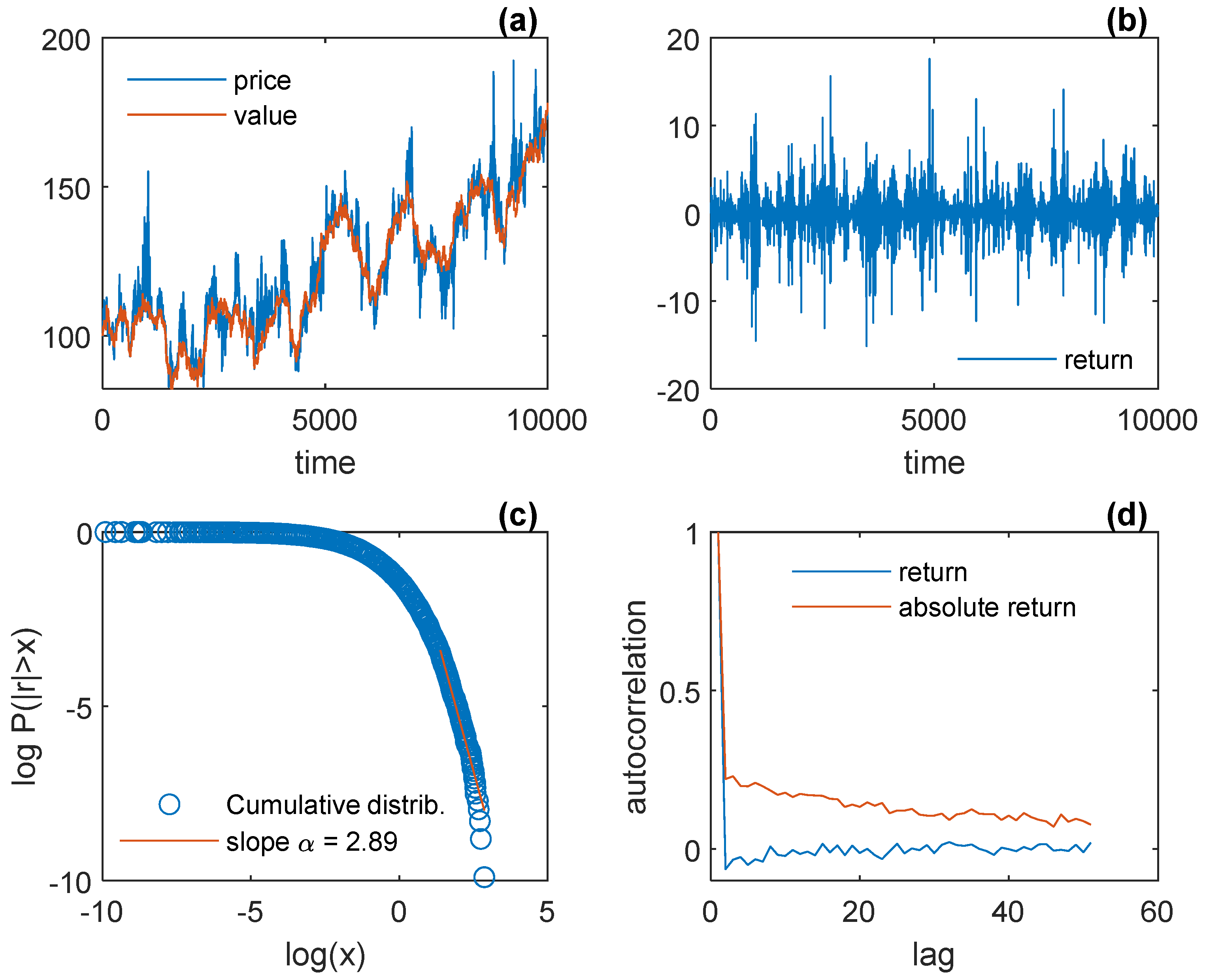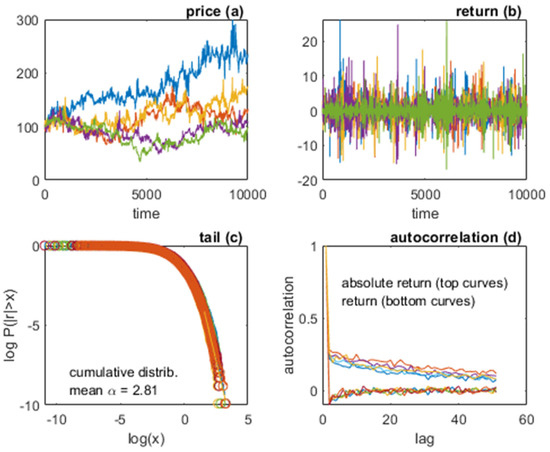 Figure 6. The general model: five simulations superposed. (a) price; (b) return; (c) tail; (d) autocorrelation function of return and absolute return.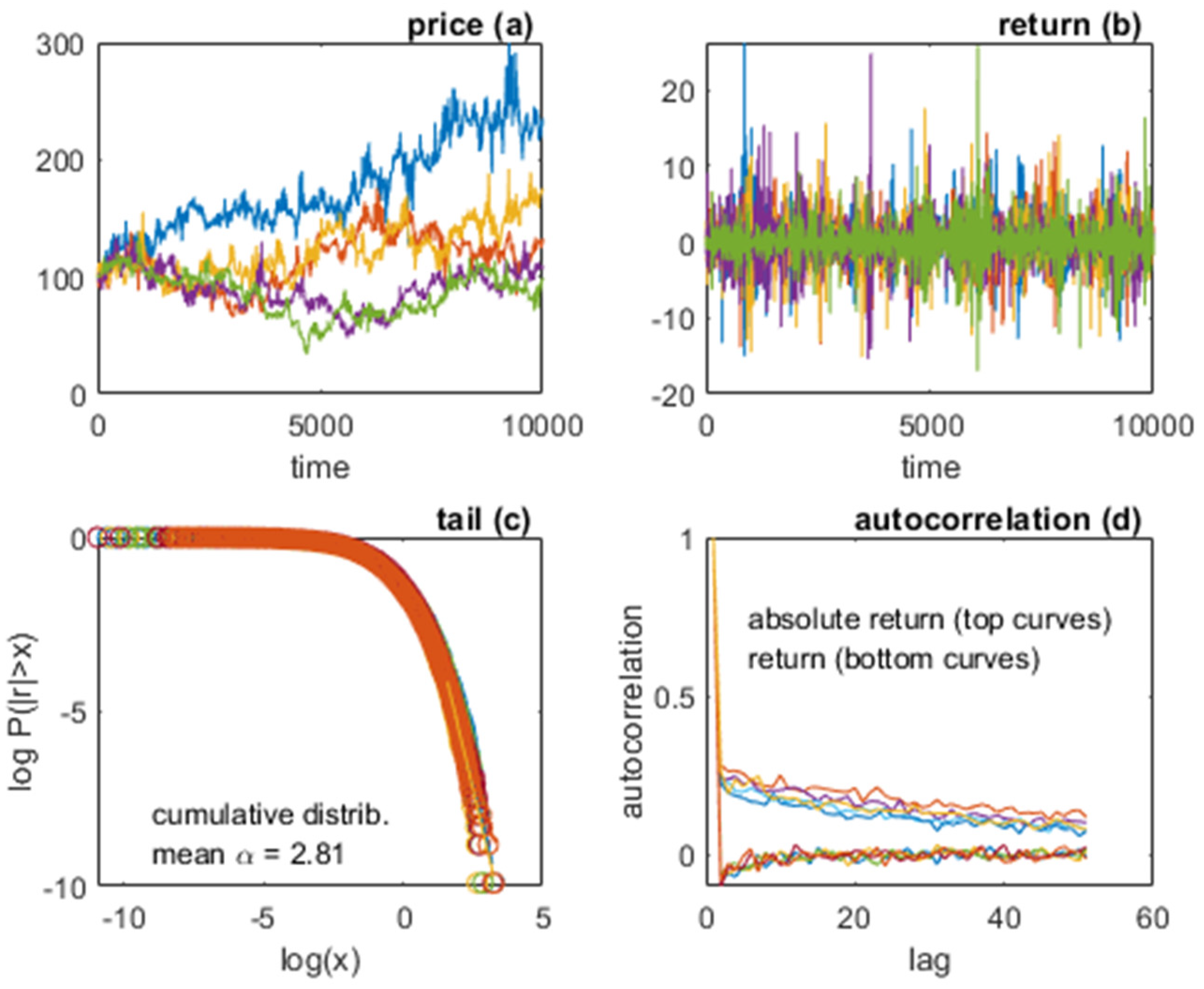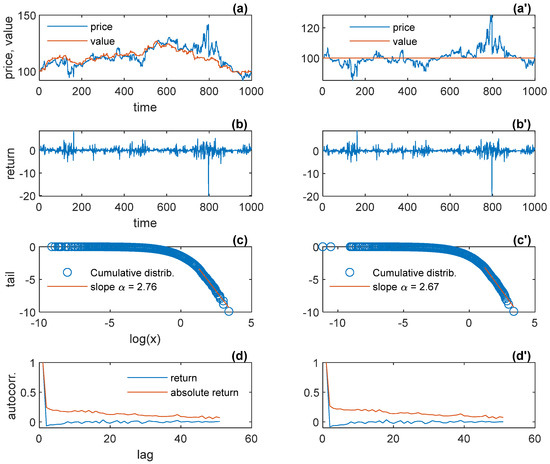 Figure 7.
The general model: variable versus constant fundamental value. (
a
,
a′
) price and value; (
b
,
b
′) return; (
c
,
c′
) tail; (
d
,
d′
) autocorrelation function of return and absolute return.
12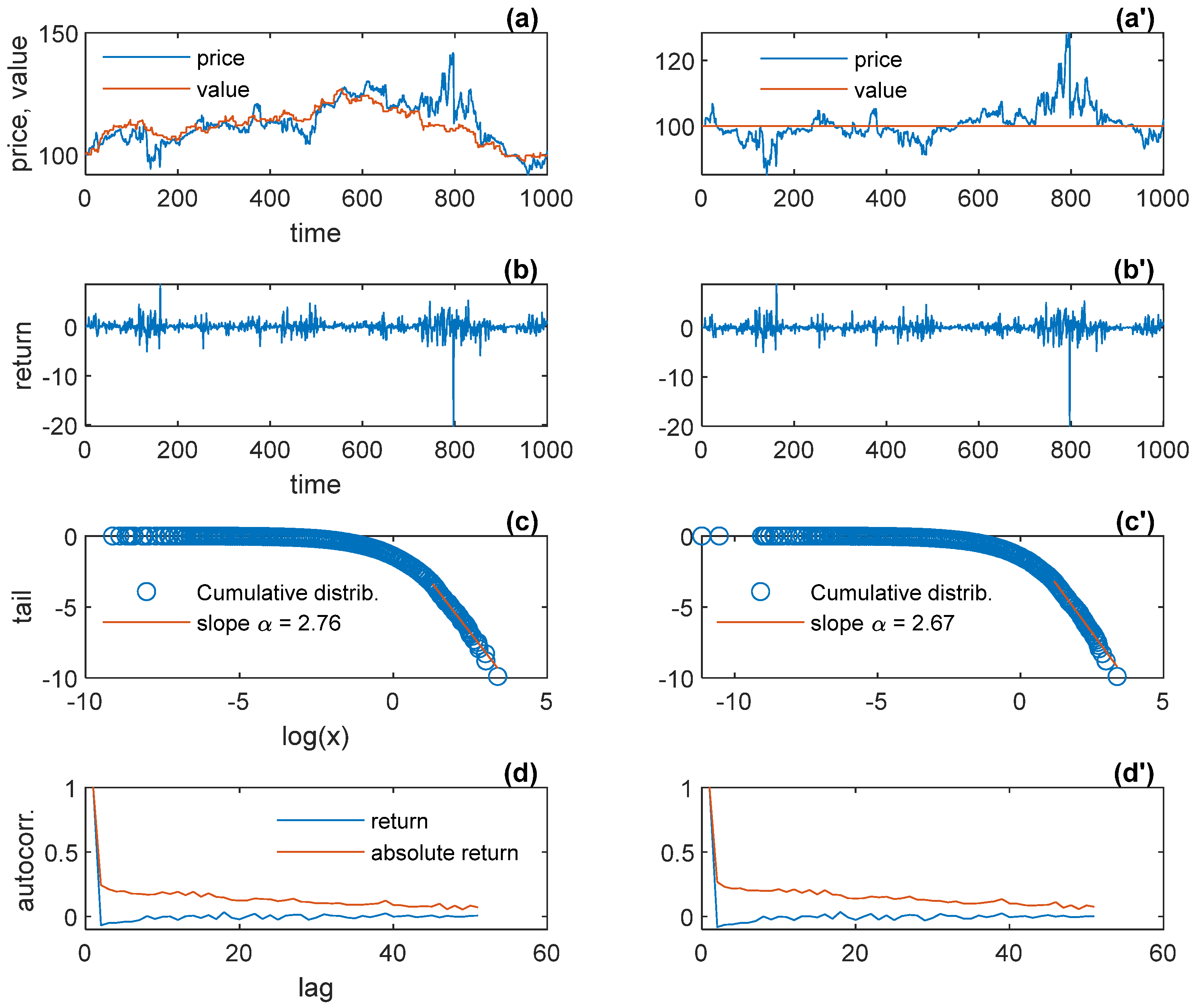 Figure 1
Figure 2
Figure 3
Figure 41
Figure 5
Figure 61
Figure 7
GE
NYSE
Model 1
Model 1
Model 2
Model 2
Model 2

Parameters

mean (

m

)
0.1
0.1
0.2
0.2
0.2
mean (

n

)
0.1
0.1
0.1
0.1
0.1
std ()
1
1
1
1
1
std ()
1
1
0.04
0.04
0.04
prob (News I)
0.5
0.5
0.3
0.3
0.3 3; 0 4
prob (News J)
0.5
0.5
0.1
0.1
0.1

a

(

feedback

)
0.99
0.99
0.99
mean (

r

)
−0.04
−0.02
0.04
0.16 2
0.01
0.01 2
0.01 3; 0.01 3
std (

r

)
1.62
1.01
2.68
4.99 2
1.43
1.46 2
1.48 3; 1.44 3
1 Five sample paths superposed. 2 Average over five sample paths. 3 Left subplots (a)–(d). 4 Right subplots (a′)–(d′).

© 2020 by the author. Licensee MDPI, Basel, Switzerland. This article is an open access article distributed under the terms and conditions of the Creative Commons Attribution (CC BY) license (http://creativecommons.org/licenses/by/4.0/).