Newly Diagnosed Multifocal GBM: A Monocentric Experience and Literature Review
1
Academic Neurosurgery, Department of Neurosciences, University of Padova, 35128 Padova, Italy
2
Department of Oncology, Oncology 1, Veneto Institute of Oncology IOV-IRCCS, 35128 Padua, Italy
3
Neurosurgery Unit, Azienda Ospedaliera Universitaria Careggi, 50134 Firenze, Italy
4
Neurosurgery Unit, Azienda Ospedale-Università di Padova, 35128 Padova, Italy
5
Neuroradiology Unit, Azienda Ospedale-Università di Padova, 35128 Padova, Italy
6
Radiotherapy Unit, Veneto Institute of Oncology IOV-IRCCS, 35128 Padua, Italy
7
Clinical Research Unit, Veneto Institute of Oncology IOV-IRCCS, 35128 Padua, Italy
*
Author to whom correspondence should be addressed.
†
These authors contributed equally to this work.
‡
These authors contributed equally to this work.
Received: 28 March 2022
/
Revised: 3 May 2022
/
Accepted: 6 May 2022
/
Published: 11 May 2022
Simple Summary
Glioblastoma is an aggressive brain tumor with a dismal prognosis. In a minority of cases, it presents with multiple lesions already at the time of diagnosis, affecting patients' survival and treatment. Our retrospective study aims to increase the current understanding and define a treatment for this sub-entity, to improve patient survival. Chemoradiotherapy is a also safe and efficacy treatment in patients with multiple lesions. Survival advantages from extensive resection remain unclear.
Glioblastomas with multiple foci at presentation (mGBMs) account for 2–35% of all GBMs. mGBMs have limited existing data and no standardized treatment. This study aims to determine their incidence, demographic and clinical features, outcome, and prognostic factors in terms of overall survival. We performed a monocentric retrospective study, reviewing patients treated at the Istituto Oncologico Veneto. Inclusion criteria were: new diagnosis of GBM and presence of multiple lesions on pre-treatment MRI. ECOG PS was used to evaluate clinical condition, RANO criteria for radiological assessment, and CTCAE v5.0 for treatment-related adverse events. The incidence of newly diagnosed mGBM was 7.2% and the study population consisted of 98 patients. Median age was 63 years, M:F ratio of 1.8:1, and a surgical approach was undertaken in 73 patients (mostly partial resection). MGMT was methylated in 47.5%, and 82 patients received active oncological treatment (65.9% radiotherapy plus temozolomide (RT + TMZ)). The disease control rate with RT + TMZ was 63%. Median OS of the entire study population was 10.2 months (95% CI 6.6–13.8), and median PFS was 4.2 months (95% CI 3.2–5.2). The ECOG PS, the extent of resection, and the RT + TMZ were significant prognostic factors in the univariate analysis for OS, but only the RT + TMZ was a significant independent OS predictor in the multivariate analysis (HR = 3.1, 95% IC 1.3–7.7,
p
= 0.014). The incidence of mGBM is not rare. RT + TMZ is confirmed to be an independent prognostic factor for survival and a safe and effective treatment. When feasible, RT + TMZ should be considered as a possible first-line treatment. The role of the extent of resection is still unclear.
View Full-Text
►

▼

Show Figures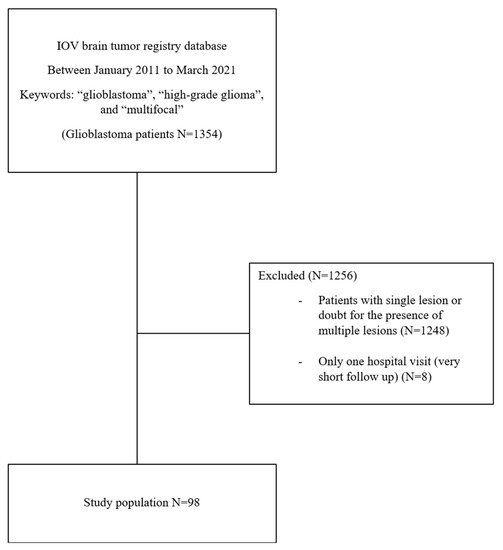 Figure 1
This is an open access article distributed under the
Creative Commons Attribution License
which permits unrestricted use, distribution, and reproduction in any medium, provided the original work is properly cited

MDPI and ACS Style
Baro, V.; Cerretti, G.; Todoverto, M.; Della Puppa, A.; Chioffi, F.; Volpin, F.; Causin, F.; Busato, F.; Fiduccia, P.; Landi, A.; d'Avella, D.; Zagonel, V.; Denaro, L.; Lombardi, G. Newly Diagnosed Multifocal GBM: A Monocentric Experience and Literature Review. Curr. Oncol. 2022, 29, 3472-3488. https://doi.org/10.3390/curroncol29050280
AMA Style
Baro V, Cerretti G, Todoverto M, Della Puppa A, Chioffi F, Volpin F, Causin F, Busato F, Fiduccia P, Landi A, d'Avella D, Zagonel V, Denaro L, Lombardi G. Newly Diagnosed Multifocal GBM: A Monocentric Experience and Literature Review. Current Oncology. 2022; 29(5):3472-3488. https://doi.org/10.3390/curroncol29050280
Chicago/Turabian Style
Baro, Valentina, Giulia Cerretti, Michela Todoverto, Alessandro Della Puppa, Franco Chioffi, Francesco Volpin, Francesco Causin, Fabio Busato, Pasquale Fiduccia, Andrea Landi, Domenico d'Avella, Vittorina Zagonel, Luca Denaro, and Giuseppe Lombardi. 2022. "Newly Diagnosed Multifocal GBM: A Monocentric Experience and Literature Review" Current Oncology 29, no. 5: 3472-3488. https://doi.org/10.3390/curroncol29050280