SHMP-Amended Ca-Bentonite/Sand Backfill Barrier for Containment of Lead Contamination in Groundwater
1
Jiangsu Key Laboratory of Urban Underground Engineering & Environmental Safety; Institute of Geotechnical Engineering, Southeast University, Nanjing 210096, China
2
Department of Civil & Materials Engineering, University of Illinois at Chicago, Chicago, IL 60607, USA
3
Department of Civil Engineering, Shanghai University, Shanghai 200072, China
4
School of Materials Science and Engineering, Southeast University, Nanjing 210096, China
*
Author to whom correspondence should be addressed.
Received: 15 November 2019 / Revised: 29 December 2019 / Accepted: 4 January 2020 / Published: 6 January 2020
This study investigated the feasibility of using sodium hexametaphosphate (SHMP)- amended calcium (Ca) bentonite in backfills for slurry trench cutoff walls for the containment of lead (Pb) contamination in groundwater. Backfills composed of 80 wt% sand and 20 wt% either Ca-bentonite or SHMP-amended Ca-bentonite were tested for hydraulic conductivity and sorption properties by conducting laboratory flexible-wall hydraulic conductivity tests and batch isothermal sorption experiments, respectively. The results showed that the SHMP amendment causes a one order of magnitude decrease in hydraulic conductivity of the backfill using tap water (1.9 to 3.0 × 10−10 m/s). Testing using 1000 mg/L Pb solution resulted insignificant variation in hydraulic conductivity of the amended backfill. Moreover, SHMP-amendment induced favorable conditions for increased sorption capacity of the backfill, with 1.5 times higher retardation factor relative to the unamended backfill. The Pb transport modeling through an hypothetical 1-m-thick slurry wall composed of amended backfill revealed 12 to 24 times of longer breakthrough time for Pb migration as compared to results obtained for the same thickness slurry wall with unamended backfill, which is attributed to decrease in seepage velocity combined with increase in retardation factor of the backfill with SHMP amendment. Overall, SHMP is shown to be a promising Ca-bentontie modifier for use in backfill for slurry trench cutoff wall for effective containment of Pb-contaminated groundwater.
3. Results and Discussion
3.1. Hydraulic Conductivity Results
3.2. Sorption Isotherm Results
Figure 3
presents the pH and
EC
results of the Pb solution as a function of initial concentration
C
0
.
The pH values exhibit a decrease trend with Pb concentration increased, whilst the
EC
values show an increase trend with Pb concentration increased. This is attributed to acid property of the lead nitrate, and increased ionic concentration when more lead nitrate was dissolved into the deionized water.
Figure 4
shows the variation of the amount of sorption (
q
e
) with equilibrium Pb concentration (
C
e
) for unamended backfill (20CaB) as well as amended backfill (SHMP-20CaB). The Langmuir model and the Freundlich model are employed to describe the
q
e
-
C
e
relationship of the testing backfills, and the fitting results are also included in
Figure 4
. It can be seen from
Figure 4
that
q
e
-
C
e
shows remarkable nonlinearity regardless of the types of backfill. There is a first sharp and then gradual increasing trend in the
q
e
as
C
e
value increases. The
q
e
-
C
e
curve of the SHMP-20CaB is found above that of its unamended counterpart, i.e., 20CaB. It is worth noting that although only 4 visible data points are presented in gradual increasing portion of the
q
e
-
C
e
curve for each backfill, there are additional 8 data points contained in the range of
C
e
values lower than 30 mg/L. The measured data are well fitted by the Langmuir model and Freundlich model with high coefficient of determination (
r
2
) values. The values of fitted sorption model parameters and the calculated partition coefficient
K
p
values are summarized in
Table 2
.
Based on the Langmuir model, sorption capacities of the unamended and amended backfills are 26,044 mg/kg and 44,824 mg/kg, respectively. This indicates an increase in sorption capacity of the backfill by factor of 1.72 times with the SHMP amendment. The increase in Pb sorption capacity of the amended backfill is attributed to: (1) increased surface area of the CaB by the SHMP. The grain size of the CaB decreases and the surface area increases after amended by the SHMP [
38
], thus providing more sites for Pb sorption. As the CaB possesses lower surface area, the unamended backfill possesses lower sorption capacity; (2) increased surface charge density of the CaB by SHMP. The SHMP-CaB exhibits more negative zeta potential as compared to the CaB under the same testing solution [
38
], resulting in increased negative surface charge density on the amended bentonite particles and thus is conducive to the sorption of Pb; and (3) complexation between the SHMP and Pb may also be responsible for increased sorption capacity of the SHMP-CaB. The sorption intensity (
n
F
) values of all the tested backfills (ranged from 3.94 to 5.31) is higher than 1.0, implying a favorable sorption.
3.3. Solute Transport Modeling
4. Study Limitations
Only one type of heavy metal Pb was used in this study for investigating hydraulic conductivity, sorption, and containment performance of the SB backfill, but multiple heavy metals may co-exist in groundwater and the effects of these multiple contaminants should be evaluated in future studies. An effective stress of 34.5 kPa is employed in laboratory hydraulic conductivity tests conducted in this study, which may be higher than that expected under field conditions [
48
], hence the effect of confining pressure needs further evaluation. The hydraulic conductivities testing with Pb solution were obtained without achieving chemical equilibrium, therefore, the result only represents the short-term hydraulic conductivity, and longer testing time is needed to access the long-term hydraulic conductivity of the sand/SHMP-amended bentonite backfill. In addition, the amended backfill and the unamended backfill are assumed to possess the same tortuosity and dispersivity, which may also need further examination.
5. Conclusions
This study investigated the effects of amending calcium-bentonite (CaB) with 2 wt% (dry weight) of sodium hexametaphosphate (SHMP) on hydraulic conductivity and Pb sorption/retardation in soil/CaB slurry trench cutoff wall. Hydraulic conductivity was determined with flexible-wall permeability tests, sorption capacity was characterized via batch sorption experiences, and containment performance was assessed by the transport modeling through a 1-m-thick slurry wall. Based on this study, the following conclusions are drawn:
The SHMP amendment decreased hydraulic conductivity of the soil/CaB backfill containing 20 wt% CaB by an order of magnitude when permeated with tap water. The amended backfill exhibited excellent compatibility to 1000 mg/L Pb solution during the tested period (short-term), with insignificant variation observed in the hydraulic conductivity with time as permeated liquid changed from tap water (i.e., 1.9 to 3.0 × 10−10 m/s) to Pb solution (1.6 to 1.7 × 10−10 m/s).
Both unamended and amended backfills displayed nonlinear Pb sorption behavior that could be described well by the Langmuir or Freundlich model. The SHMP amendment increased Pb sorption capacity of the soil/CaB backfill by a factor of 1.72, yielding 1.5 times increase in retardation factor of the amended backfill relative to the unamended one.
The SHMP had potential to retard Pb breakthrough time through a 1-m-thick slurry wall by two orders of magnitude as compared to its non-sorptive backfill counterpart. Breakthrough time at relative concentration of 0.00001 (Category III groundwater standard) to 0.5 for the amended backfill was 12 to 24 times of that for the unamended backfill, which was attributed to increased retardation factor combining with decreased seepage velocity of the backfill after SHMP amendment.
Ratio of breakthrough time at various relative concentrations to that at Category III groundwater standard
t
B,

i
/
t
B,III
increased with increasing relative concentration selected for defining the breakthrough time. The source concentration level and groundwater safety/quality standard should be seriously considered when evaluating service life and containment performance of the SB slurry walls. Overall, the findings of this study demonstrate that SHMP may be considered as an effective amendment for improving Pb containment performance of a soil/CaB slurry wall.
Author Contributions
Conceptualization, Y.-L.Y., K.R.R. and Y.-J.D.; Funding acquisition, Y.-J.D.; Investigation, Y.-L.Y. and R.-D.F.; Methodology, Y.-L.Y. and K.R.R.; Writing—original draft, Y.-L.Y.; Writing—review & editing, K.R.R., W.-J.Z. and Y.-J.D. All authors have read and agreed to the published version of the manuscript.
Funding
Financial support for this project was provided by National Primary Research & Development Plan of China (2018YFC1803100 and 2018YFC1802300), National Natural Science Foundation of China (Grant Nos. 41877248 and 41907248), Primary Research & Development Plan of Jiangsu Province (Grant No. BE2017715), and Fundamental Research Funds for the Central Universities, Southeast University (2242019K40212).
Acknowledgments
The authors thank the Colloid Environmental Technologies Co. (CETCO) for providing the bentonite used in this study, and the China Scholarship Council for making it possible to undertake this research at the University of Illinois at Chicago.
Conflicts of Interest
The authors declare no conflict of interest.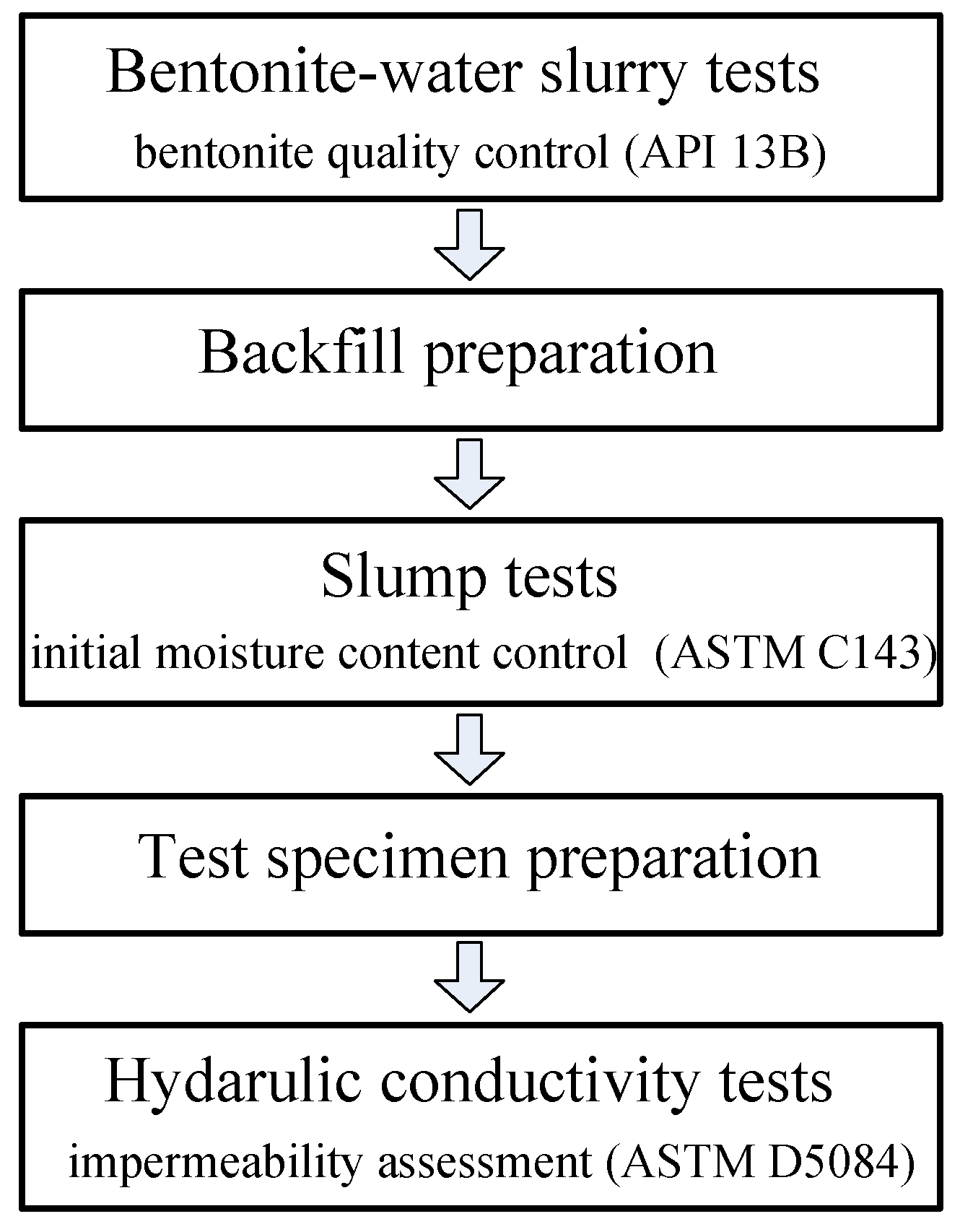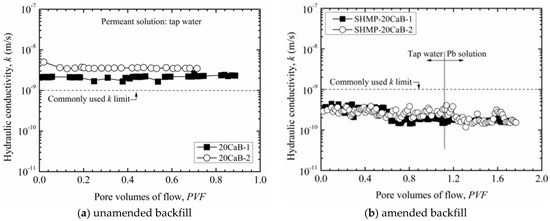 Figure 2. Hydraulic conductivities of the (a) unamended backfill (20CaB), and (b) amended backfill (SHMP-20CaB).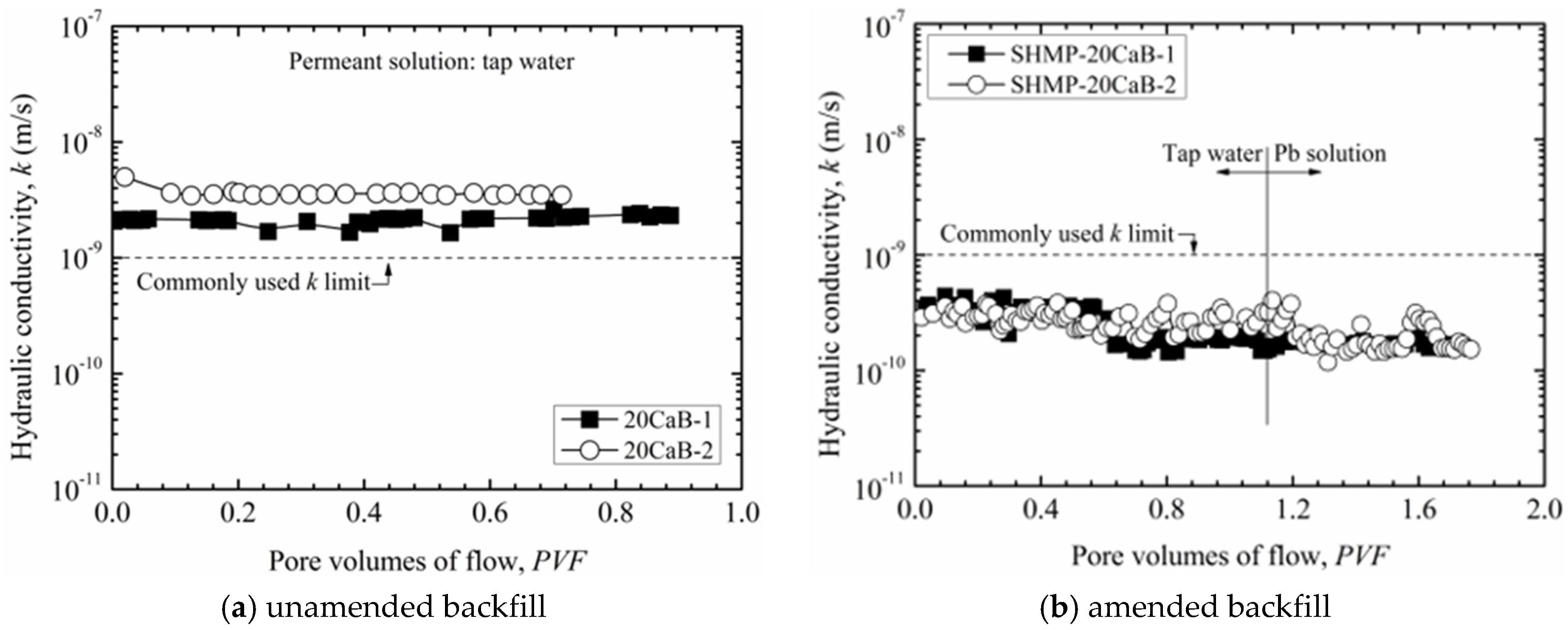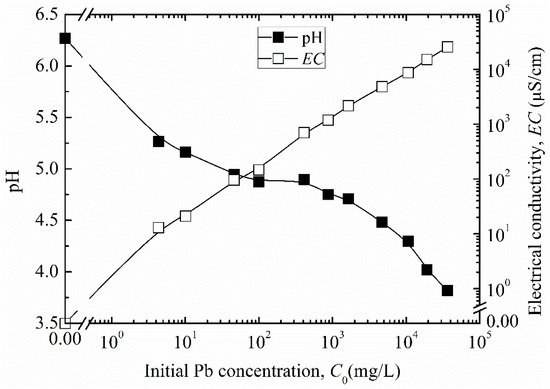 Figure 3.
pH and electrical conductivity (
EC
) of the Pb solutions at different initial concentration.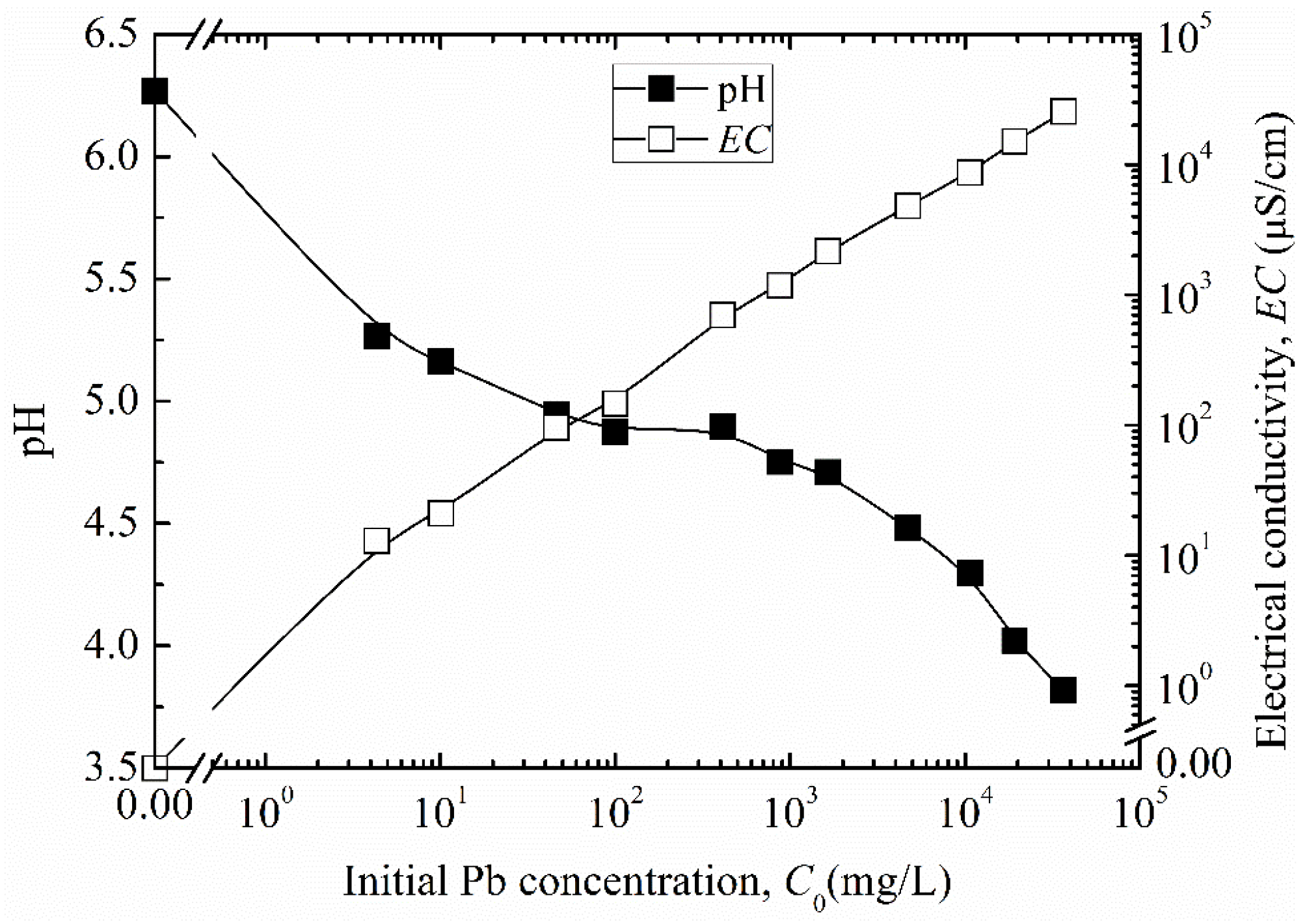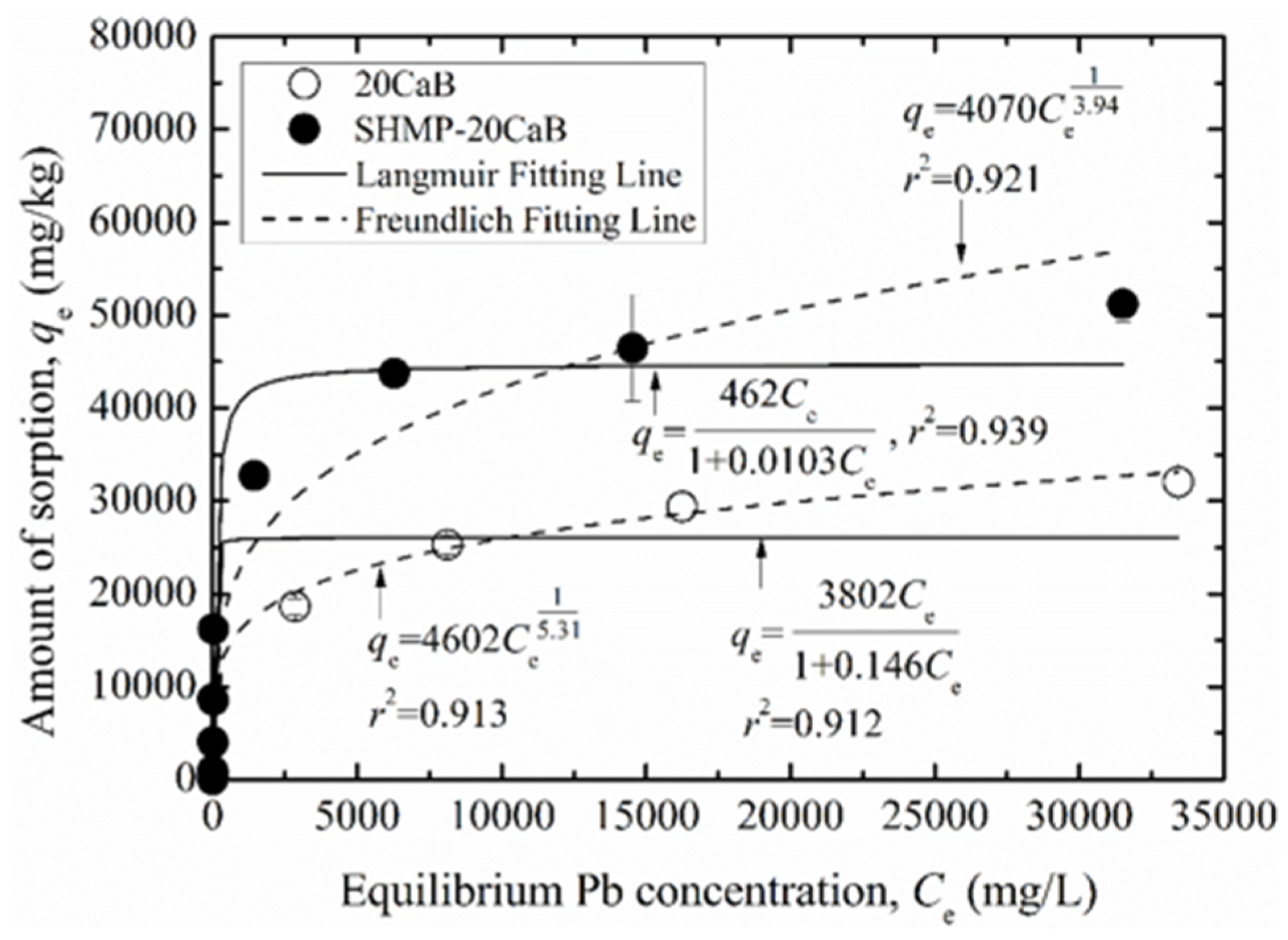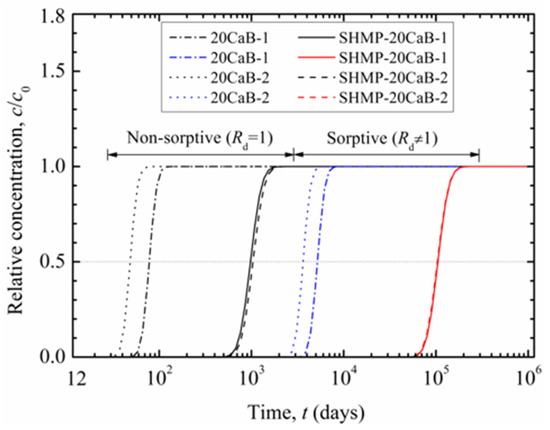 Figure 5. Predicted breakthrough curves for unamended and amended backfills with source Pb concentration = 1000 mg/L and wall thickness = 1 m.
Figure 6. Relationship between breakthrough time ratio and relative concentration for unamended and amended backfills with source Pb concentration = 1000 mg/L and wall thickness = 1 m.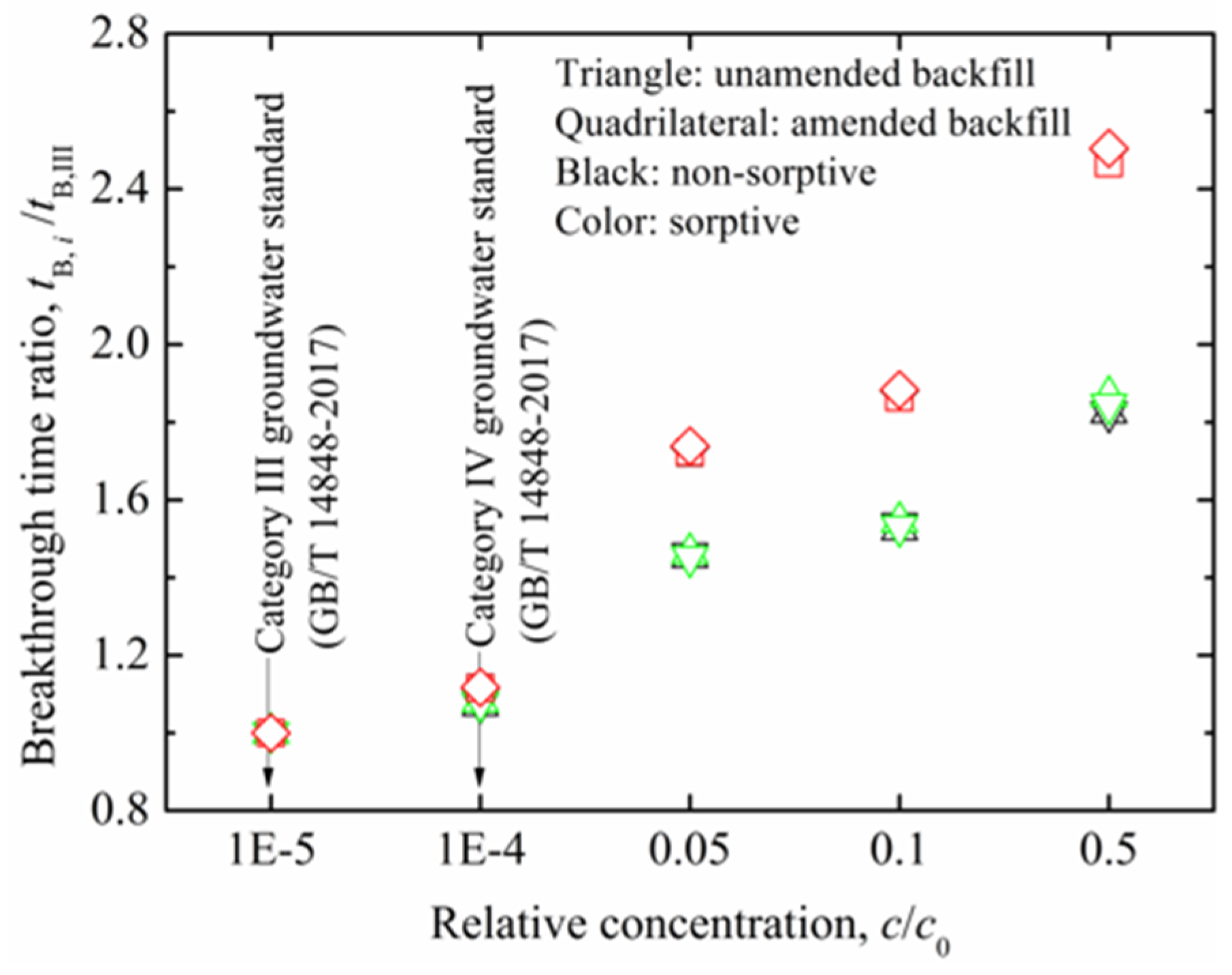 Sample ID
Hydraulic Conductivity,

k

(m/s)
Hydraulic Gradient,

i

Porosity,

n

Seepage Velocity,

v

(m/s)
Specimen Height,

L

(m)
Dry Density,

ρ

d (g/cm3)
20CaB-1
2.3 × 10−9
26
0.413
1.47 × 10−7
0.0785
1.60
20CaB-2
3.5 × 10−9
26
0.384
2.37 × 10−7
0.0693
1.68
SHMP-20CaB-1
1.7 × 10−10
26
0.371
1.16 × 10−8
0.0733
1.68
SHMP-20CaB-2
1.6 × 10−10
26
0.390
1.09 × 10−8
0.0753
1.64

Table 2. Summary of best-fit Langmuir and Freundlich parameters for Pb sorption in backfill mixtures.
Type of Backfill
Langmuir Parameters

q

m,L (mg/kg)

K

L (L/mg)

r

2
20CaB
26,044
0.146
0.912
SHMP-20CaB
44,824
0.0103
0.939
Freundlich Parameters

K

p at


C

e = 1000 mg/L
KF (L/kg)

n

F

r

2
20CaB
4602
5.31
0.913
16.9
SHMP-20CaB
4070
3.94
0.921
23.5
Type of Backfill

R

d

τ

D

0 (m2∙s)

α

L (m)

D

(m2∙s)
20CaB-1
66.47
0.18
9.25 × 10−10
0.01
1.64 × 10−9
20CaB-2
74.94
0.18
9.25 × 10−10
0.01
2.54 × 10−9
SHMP-20CaB-1
107.42
0.18
9.25 × 10−10
0.01
2.83 × 10−10
SHMP-20CaB-2
99.82
0.18
9.25 × 10−10
0.01
2.76 × 10−10

Table 4. Summary of predicted breakthrough times for 1000 mg/L Pb transport through a 1-m-thick SB slurry wall.
Breakthrough Time,


t

B,

i

(yrs)
Unamended Backfill
Amended Backfill

t

B Ratio a,


t

B,amended/unamended
20CaB-1
20CaB-2
Average
SHMP-20CaB-1
SHMP-20CaB-2
Average
Non-sorptive

t

B,III
0.12
0.07
0.09
1.08
1.13
1.11
12

t

B,IV
0.12
0.08
0.10
1.21
1.27
1.24
12

t

B,0.05
0.17
0.10
0.14
1.86
1.97
1.92
14

t

B,0.1
0.18
0.11
0.14
2.02
2.13
2.08
15

t

B,0.5
0.21
0.13
0.17
2.67
2.84
2.76
16
Sorptive

t

B,III
7.59
5.38
6.48
116.24
113.08
114.66
18

t

B,IV
8.21
5.80
7.01
129.66
126.35
128.00
18

t

B,0.05
11.11
7.81
9.46
200.26
196.58
198.42
21

t

B,0.1
11.72
8.23
9.98
216.63
212.94
214.79
22

t

B,0.5
14.18
9.92
12.05
286.68
283.25
284.97
24
a The

t

B ratio is calculated based on the "average" values of corresponding unamended and amended backfills.

© 2020 by the authors. Licensee MDPI, Basel, Switzerland. This article is an open access article distributed under the terms and conditions of the Creative Commons Attribution (CC BY) license (http://creativecommons.org/licenses/by/4.0/).