Open Access This article is
freely available
re-usable
Article
Prospective Evaluation of Fidelity, Impact and Sustainability of Participatory Workplace Health Teams in Skilled Nursing Facilities
1
Center for the Promotion of Health in the New England Workplace (CPHNEW), University of Massachusetts Lowell, Lowell, MA 01854, USA
2
Center for Human Sexuality Studies, Widener University, Chester, PA 19013, USA
*
Author to whom correspondence should be addressed.
Received: 5 March 2019 / Accepted: 25 April 2019 / Published: 27 April 2019
Abstract
:
Organizational features of work often pose obstacles to workforce health, and a participatory change process may address those obstacles. In this research, an intervention program sought to integrate occupational safety and health (OSH) with health promotion (HP) in three skilled nursing facilities. Three facilities with pre-existing HP programs served as control sites. The intervention was evaluated after 3–4 years through focus groups, interviews, surveys, and researcher observations. We assessed process fidelity in the intervention sites and compared the two groups on the scope of topics covered (integration), program impact, and medium-term sustainability. The intervention met with initial success as workers readily accepted and operationalized the concept of OSH/HP integration in all three intervention facilities. Process fidelity was high at first but diminished over time. At follow-up, team members in two intervention sites reported higher employee engagement and more attention to organizational issues. Two of the three control facilities remained status quo, with little OSH/HP integration. The intervention had limited but positive impact on the work environment and health climate: staff awareness and participation in activities, and organizational factors such as decision-making, respect, communication, and sharing of opinions improved slightly in all intervention sites. Resources available to the teams, management support, and changing corporate priorities affected potential program sustainability.
Keywords:
occupational safety and health; workplace health promotion; integration; participatory workplace program; process fidelity; program impact; sustainability
Author Contributions
Conceptualization, L.P., R.K.; methodology, R.K., L.P., M.F., Y.Z.; formal analysis, R.K., J.F.; investigation, L.P., M.F., R.K., Y.Z., J.F.; writing—original draft preparation, R.K., L.P., Y.Z., M.F.; writing—review and editing, R.K., L.P., Y.Z.; supervision, L.P.; funding acquisition, L.P.
Funding
The Center for the Promotion of Health in the New England Workplace is supported by Grant Number 1 U19 OH008857 from the National Institute for Occupational Safety and Health (CDC). This work is solely the responsibility of the authors and does not necessarily represent the official views of NIOSH.
Acknowledgments
Sandy Sun, project administration; Michelle Holmberg, Lara Blais, Jennifer Russell, and Shpend Qamili, workplace program implementation and facilitation; ProCare research team and numerous students who assisted with survey data collection, and Wing Hung Yuen for manuscript formatting.
Conflicts of Interest
The authors declare no conflict of interest. The funders had no role in the design of the study; in the collection, analyses, or interpretation of data; in the writing of the manuscript, or in the decision to publish the results.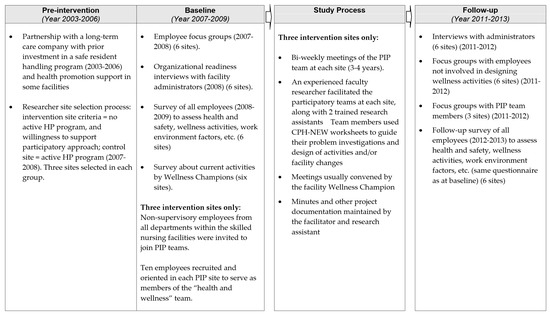 Figure 1. Timeline of the participatory intervention process and impact evaluation. HP, health promotion; PIP, participatory intervention program; CPH-NEW, Center for the Promotion of Health in the New England Workplace.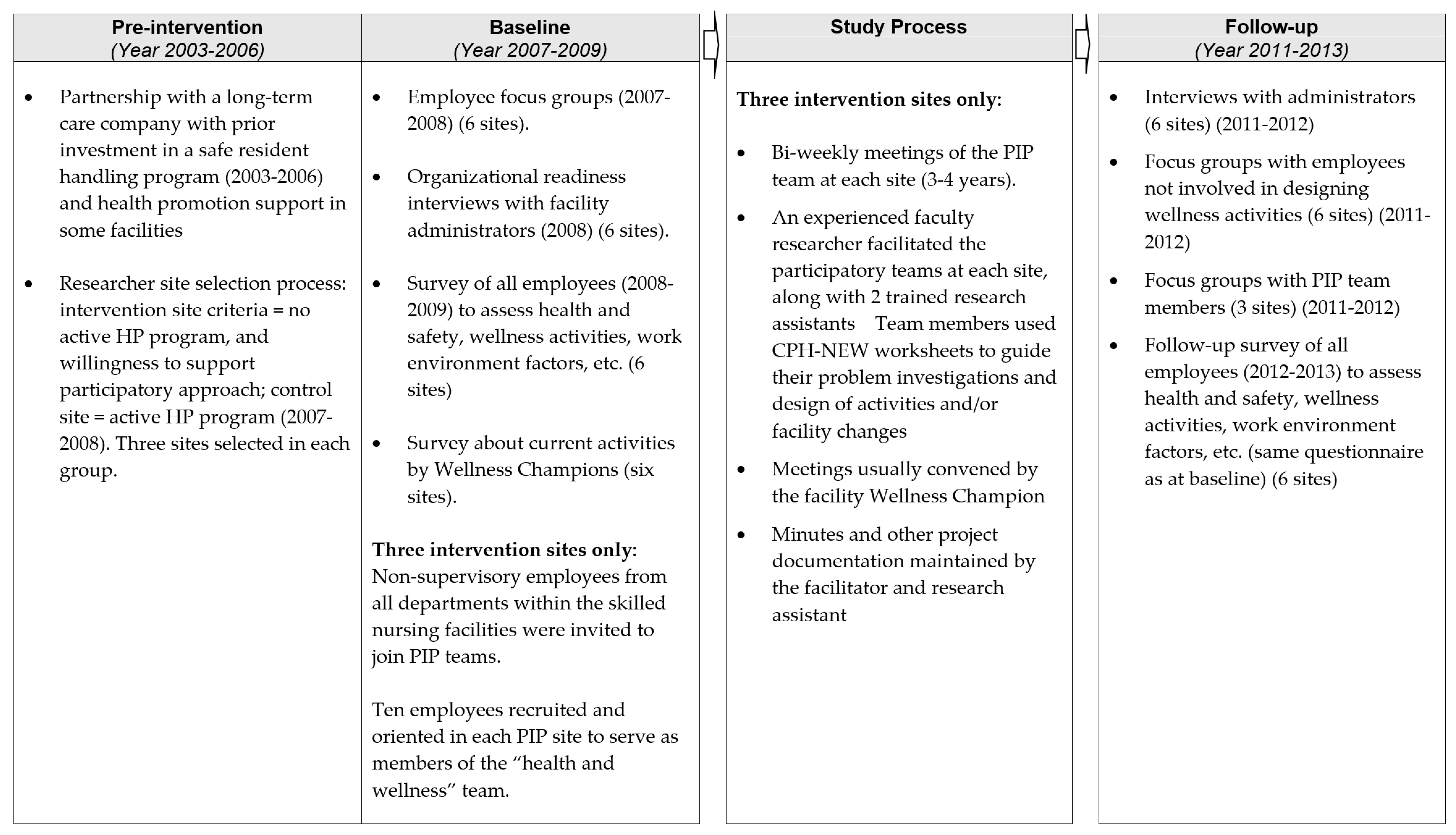 Table 1. Baseline characteristics of skilled nursing facility employees (all jobs): 3 participatory intervention program (PIP) and 3 non-participatory health promotion (NPHP) centers.
Baseline Demographics
PIP (

n

= 360)
NPHP (

n

= 285)
Gender
Female
78.3% (282)
85.3% (243)
Male
16.9% (61)
11.2% (32)
Average Age
39.8 ± 12.4
41.8 ± 12.2
Nursing Aides *
35.8% (124)
54.3% (120)
Licensed practice nurse/Registered nurses
22.2% (77)
21.3% (47)
Other jobs (non-clinical)
41.0% (142)
24.4% (54)
Baseline Health Status
Cumulative incidence (%)
Cumulative incidence (%)

p

-value
Difference in rates (NPHP vs. PIP)
Diabetes at baseline
8%
6%
0.77
2%
Hypertension at baseline
18%
20%
0.85
2%
Cholesterol at baseline
13%
25%
0.59
12%
* Jobtitles had missing values of 12.1%.

Table 2. Worker health and working conditions in pre- and post-intervention matched pair surveys: Comparison of PIP and NPHP centers.
Health Status
3 PIP centers (

n

= 102)
3 NPHP centers (

n

= 110)
Statistical Significance
New cases at follow-up:
Cumulative incidence (%)
Cumulative incidence (%)
Difference in rates: NPHP–PIP

p

-value a
Diabetes
6%
6%
0%
1.00
Hypertension
11%
14%
3%
0.82
High cholesterol
15%
11%
−4%
0.49
Low back problem
8%
8%
0%
1.00
Work Environment
Pre-intervention: mean (SD)
Change in mean value (post-pre)
Pre-intervention: mean (SD)
Change in mean value (post-pre)
Mean group difference,
NPHP – PIP, in post-pre change
(95% CI) b
Health self-efficacy
26.5
−0.87
26.1
−0.30
0.58 (−0.83–1.99)
Supervisor support
5.69
−0.07
5.87
−0.35
−0.28 (−0.76–0.20)
Coworker support
5.88
−0.08
5.99
−0.06
0.02 (−0.34–0.37)
Safety climate score
2.90
−0.30
2.93
−0.32
−0.03 (−0.16–0.11)
Decision latitude
5.48 *
−0.22
5.18
0.56
0.77 (0.42–1.13) *
Psychological demands
5.73
−0.11
5.54
0.00
0.11 (−0.22–0.45)
Physical exertion
11.21
4.90
11.44
5.69
0.79 (−0.22–1.80)
a from exact test statistic; b from t-test of independent samples; *

p

< 0.01.

Table 3. Activities carried out by staff PIP teams (Intervention centers) and wellness champions (Control centers) during the study period, 2008–2012.
Center
Work
Organization
Psychosocial Stressors
Musculoskeletal and Ergonomics
Food
Environment
Health Improvement
I-1
Communications log
Redesigned employee break room, picnic table
Ergonomics training
Healthy food in vending machine
Yoga, massage
I-2
Employee suggestion box, method to resolve communications problems on units
Picnic tables and lawn furniture
Ergonomics training
Healthy food in vending machine
Nutrition education, walking program
I-3
Staff garden, meetings with certified nursing assistants to discuss health and safety concerns
Staff garden maintenance (for 3 years)
Ergonomics training
Healthy snacks, fruit baskets at each unit, low-cost healthy food options in dining hall
Yoga, weight loss program, nutrition education
C-1
--
--
--
Healthy snacks
--
C-2
--
Softball team
--
Healthy snacks
Annual health fair
C-3
--
--
--
Healthy snacks
--

Table 4. Comparison of post-intervention survey responses between PIP and NPHP centers regarding changes in the work environment since the program began.
Work Environment Changes
3 PIP centers: Prevalence (%)
(

n

= 331)
3 NPHP centers: Prevalence (%)
(

n

= 318)

p

-Value a
Improved communication between staff and supervisors/management
17% (57)
13% (41)
0.124
Improved communication between co-workers
17% (58)
15% (48)
0.403
More opportunities to participate in decision making
13% (42)
7% (22)
0.014 *
More opportunities to share my opinion (e.g., suggestion box)
13% (43)
9% (28)
0.088
Increased respect
10% (32)
7% (24)
0.336
a from chi-square statistic; *

p

< 0.05.

© 2019 by the authors. Licensee MDPI, Basel, Switzerland. This article is an open access article distributed under the terms and conditions of the Creative Commons Attribution (CC BY) license (http://creativecommons.org/licenses/by/4.0/).