Open Access This article is
freely available
re-usable
Perspective
Modeling R0 for Pathogens with Environmental Transmission: Animal Movements, Pathogen Populations, and Local Infectious Zones
1
Spatial Epidemiology and Ecology Research Laboratory, Department of Geography, University of Florida, 3141 Turlington Hall, Gainesville, FL 32611, USA
2
Emerging Pathogens Institute, University of Florida, 2055 Mowry Road, Gainesville, FL 32611, USA
3
Davis Genome Center, University of California, 451 Health Sciences Dr., Davis, CA 95616, USA
4
Department of Biology, University of Florida, Gainesville, FL 32611, USA
5
Department of Biological Sciences, State University of New York, 1400 Washington Avenue, Albany, NY 12222, USA
6
Quantitative Disease Ecology & Conservation Lab, Department of Geography, University of Florida, 3141 Turlington Hall, Gainesville, FL 32611, USA
7
School of Life Sciences, University of KwaZulu-Natal, Durban 4041, South Africa
8
School of Food and Agriculture, University of Maine, 5763 Rogers Hall, Room 210, Orono, ME 04469, USA
9
Department of Environmental Science, Policy, and Management, University of California, Berkeley, 130 Mulford Hall, Berkeley, CA 94720, USA
10
Centre for Ecological and Evolutionary Synthesis (CEES), Department of Biosciences, University of Oslo, P.O. Box 1066 Blindern, 0361 Oslo, Norway
11
School of Mathematical Sciences, University of KwaZulu-Natal, Durban 4041, South Africa
†
These authors contributed equally to this work.

‡
Current address: Norwegian Veterinary Institute, 0454 Oslo, Norway.

Received: 22 December 2018 / Accepted: 7 March 2019 / Published: 17 March 2019
Abstract
:
How a disease is transmitted affects our ability to determine R0, the average number of new cases caused by an infectious host at the onset of an epidemic. R0 becomes progressively more difficult to compute as transmission varies from directly transmitted diseases to diseases that are vector-borne to environmentally transmitted diseases. Pathogens responsible for diseases with environmental transmission are typically maintained in environmental reservoirs that exhibit a complex spatial distribution of local infectious zones (LIZs). Understanding host encounters with LIZs and pathogen persistence within LIZs is required for an accurate R0 and modeling these contacts requires an integrated geospatial and dynamical systems approach. Here we review how interactions between host and pathogen populations and environmental reservoirs are driven by landscape-level variables, and synthesize the quantitative framework needed to formulate outbreak response and disease control.
Keywords:
basic reproductive number (R
0
); indirect disease transmission; disease emergence; disease control; pathogen spillover; animal movement
Author Contributions
Conceptualization, J.K.B., H.H.G., J.M.P., W.M.G.; methodology, J.K.B., H.H.G., J.M.P., S.J.R., W.C.T.; resources, J.K.B., W.M.G., N.C.S.; writing—original draft preparation, J.K.B., H.H.G., J.M.P., S.J.R., W.M.G.; writing—review and editing, all authors; visualization, J.K.B., H.H.G., S.J.R., W.M.G.; supervision, J.K.B., W.M.G.; project administration, J.K.B., W.M.G., N.C.S.; funding acquisition, J.K.B., J.M.P., S.J.R., W.M.G., H.H.G., R.D.H., N.C.S.
Funding
Funding for this study was provided by the National Institutes of Health Grant 1R01GM117617-01 to J.K.B., J.M.P., S.J.R., R.D.H., W.M.G. the College of Liberals Arts and Sciences and the Emerging Pathogens Institute at the University of Florida. Additional funding was provided by the Centre for Ecological and Evolutionary Synthesis, University of Oslo and the Sather Foundation. H.H.G. was supported by a grant to JAE from the Alfred P. Sloan Foundation as part of their "Microbiology of the Built Environment" program.
Acknowledgments
Figure 1
was drawn and colored by Kelsey Wood.
Conflicts of Interest
The authors declare no conflict of interest.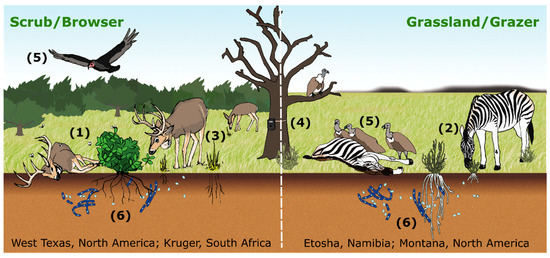 Figure 1.
Conceptual diagram of anthrax transmission from hosts interacting with local infectious zones (LIZs) on two different landscapes. Transmission to browsers, here white-tailed deer in the scrub habitat of west Texas (left panel), can occur through ingestion of contaminated vegetation, which can be amplified by blow flies and biting flies (
1
). Grazers, here zebras in Etosha National Park, Namibia (right panel), are exposed through ingesting contaminated grasses and soils (
2
). On both landscapes, host movements are recorded with GPS collars (
3
), foraging at LIZs is captured with camera traps (
4
) and mortality is found by following vultures to carcasses (
5
).
B. anthracis
persists in soil and may have a soil-borne life cycle in both systems (
6
). Flies do not play a major role in open grassland grazing systems, particularly when vertebrate scavengers are abundant, but may in the browser systems.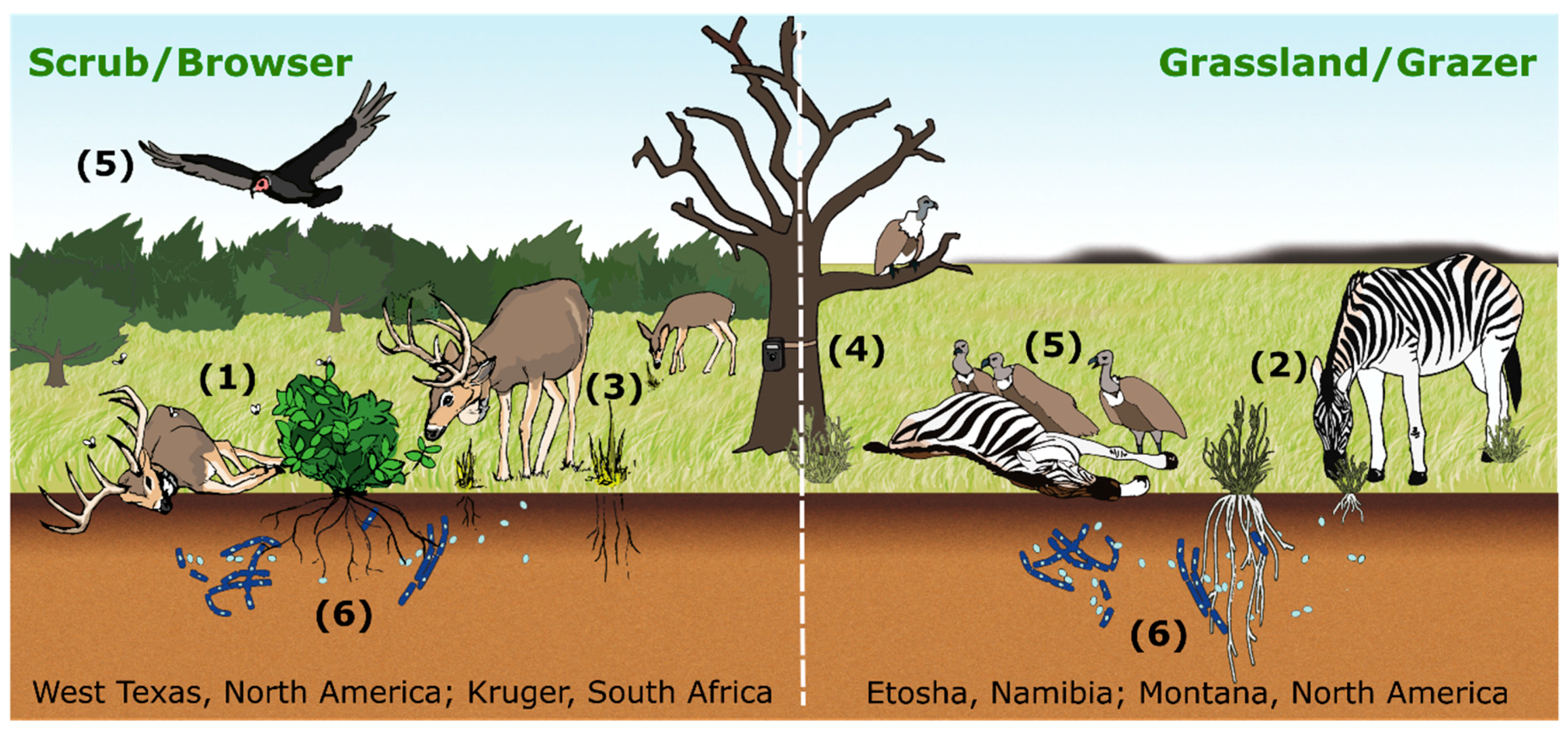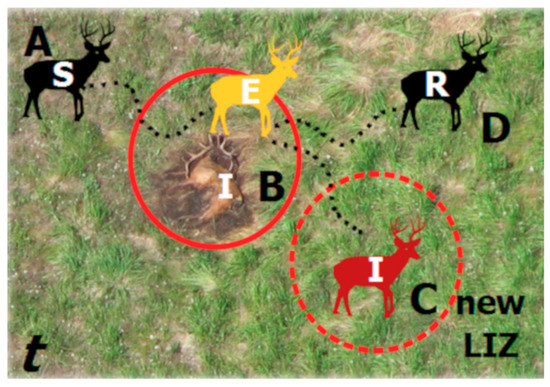 Figure 2.
Components of an SEIR model as applied to environmental transmission during a single outbreak season (
t
). Susceptible hosts (
S
) move across the landscape (
A
) and contact infectious LIZs (
I
) and become exposed (
E
;
B
). As they leave the LIZ, they may succumb to infection and die, becoming a new LIZ, establishing in time
t
and persisting across future time periods (
t
+ 1,…,
n
) (
C
) or recover (
R
) and survive to a future time period (
D
).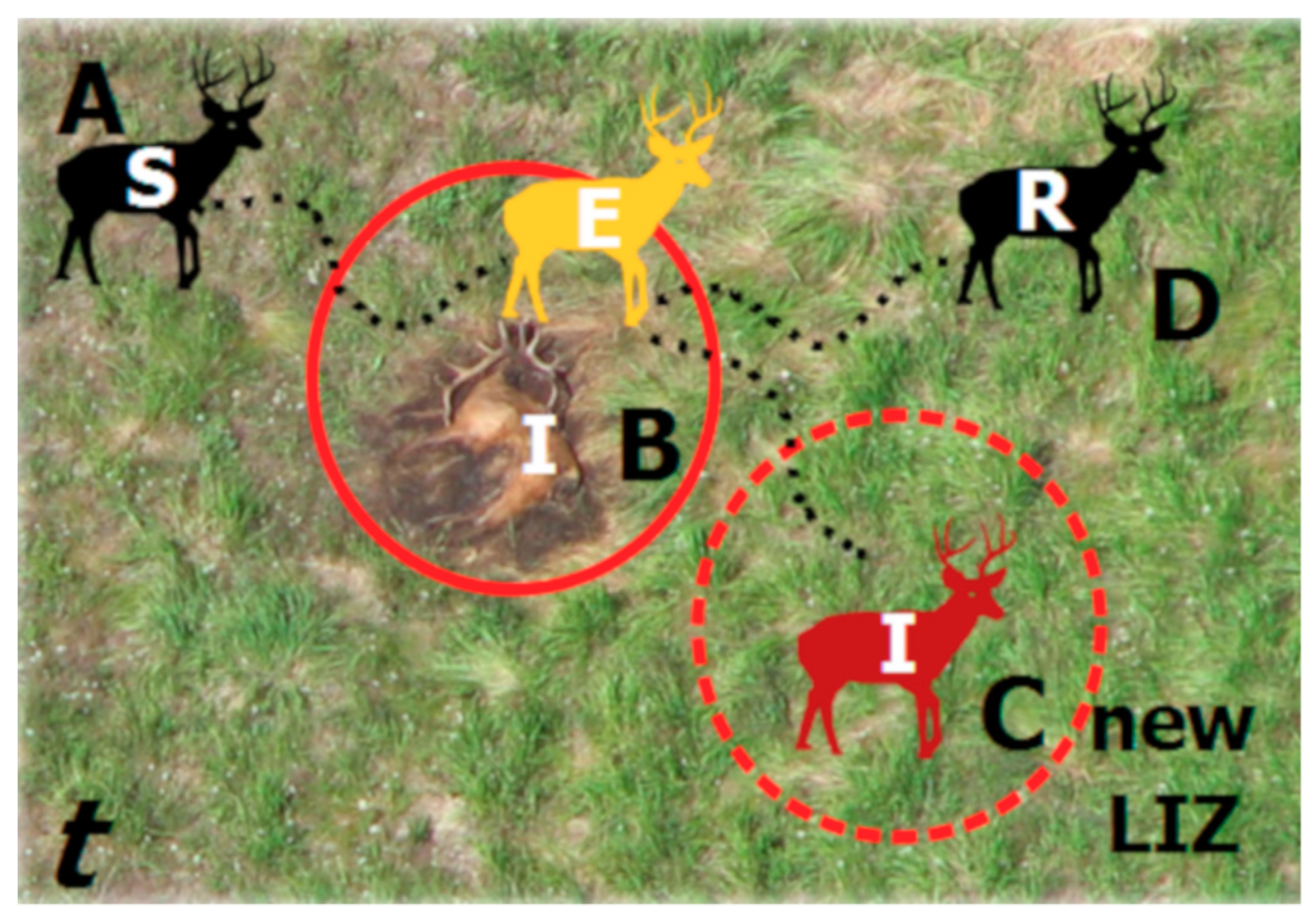 Table 1. Several important diseases caused by pathogens (including bacteria, fungi, prions, and parasites) with environmentally maintained reservoirs.
Disease
Pathogen
Host
Environmental Reservoir
Local Infectious Zone (LIZ)
Landscape Characteristics
Survival Time in Environment
References
Anthrax

Bacillus anthracis

Wildlife and livestock
Host, bones, soil, water, vegetation
Carcass site, water's edge
Grasslands, scrub/pothole regions
>1 year
[9]
Botulism

Clostridium botulinum

Birds & mammals
Host, honey, soil
Carcass site, honeybee colony
Cosmopolitan
>1 year
[21]
Bovine mastitis

Mycoplasma bovis

Bovids
Host, soil and/or animal bedding
Bedding within feedlot
Broad conditions
~1 year (needs futher study)
[22]
Brucellosis

Brucella

spp.
Wildlife and livestock
Host, soil and/or birthing tissues, aborted fetuses
birthing tissues and aborted fetuses
~20–80 days (needs further study)
[16]
Cholera

Vibrio cholerae

Humans
Host, feces, zooplankton, saltwater
Estuaries
Periurban, coastal regions
[23,24]
Leptospirosis

Leptospira

spp.
Animals, humans
Host, grass, moist soil, water
Grasslands, streams, rivers, ponds, lakes
Periurban, contaminated lakes
[25]
Chronic wasting disease
Prions
Cervids
Host, some soils
Salt/mineral sites, wallows
Host range & soils overlap
[26,27,28]
White-nosed syndrome

Psuedogymnoascus destructans

Hibernating bats
Host, some soils
Bat hibernacula
Cave system or mountain range
[29,30]
Toxoplasmosis

Toxoplasma gondii

Mammals
Host, feces, soil, invertebrates
Soils, streams, bays, estuaries
Periurban areas, coastal regions
[31,32]

© 2019 by the authors. Licensee MDPI, Basel, Switzerland. This article is an open access article distributed under the terms and conditions of the Creative Commons Attribution (CC BY) license (http://creativecommons.org/licenses/by/4.0/).