Modeling R0 for Pathogens with Environmental Transmission: Animal Movements, Pathogen Populations, and Local Infectious Zones
1
Spatial Epidemiology and Ecology Research Laboratory, Department of Geography, University of Florida, 3141 Turlington Hall, Gainesville, FL 32611, USA
2
Emerging Pathogens Institute, University of Florida, 2055 Mowry Road, Gainesville, FL 32611, USA
3
Davis Genome Center, University of California, 451 Health Sciences Dr., Davis, CA 95616, USA
4
Department of Biology, University of Florida, Gainesville, FL 32611, USA
5
Department of Biological Sciences, State University of New York, 1400 Washington Avenue, Albany, NY 12222, USA
6
Quantitative Disease Ecology & Conservation Lab, Department of Geography, University of Florida, 3141 Turlington Hall, Gainesville, FL 32611, USA
7
School of Life Sciences, University of KwaZulu-Natal, Durban 4041, South Africa
8
School of Food and Agriculture, University of Maine, 5763 Rogers Hall, Room 210, Orono, ME 04469, USA
9
Department of Environmental Science, Policy, and Management, University of California, Berkeley, 130 Mulford Hall, Berkeley, CA 94720, USA
10
Centre for Ecological and Evolutionary Synthesis (CEES), Department of Biosciences, University of Oslo, P.O. Box 1066 Blindern, 0361 Oslo, Norway
11
School of Mathematical Sciences, University of KwaZulu-Natal, Durban 4041, South Africa
*
Author to whom correspondence should be addressed.
†
These authors contributed equally to this work.
‡
Current address: Norwegian Veterinary Institute, 0454 Oslo, Norway.
Received: 22 December 2018 / Revised: 4 March 2019 / Accepted: 7 March 2019 / Published: 17 March 2019
Abstract
How a disease is transmitted affects our ability to determine R
0
, the average number of new cases caused by an infectious host at the onset of an epidemic. R
0
becomes progressively more difficult to compute as transmission varies from directly transmitted diseases to diseases that are vector-borne to environmentally transmitted diseases. Pathogens responsible for diseases with environmental transmission are typically maintained in environmental reservoirs that exhibit a complex spatial distribution of local infectious zones (LIZs). Understanding host encounters with LIZs and pathogen persistence within LIZs is required for an accurate R
0
and modeling these contacts requires an integrated geospatial and dynamical systems approach. Here we review how interactions between host and pathogen populations and environmental reservoirs are driven by landscape-level variables, and synthesize the quantitative framework needed to formulate outbreak response and disease control.
View Full-Text
►

▼

Figures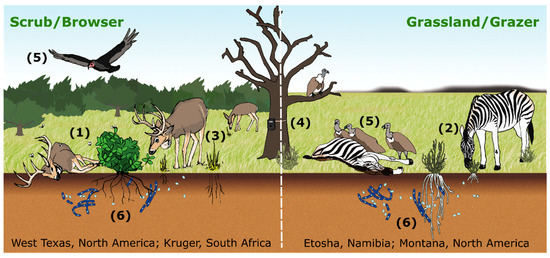 Figure 1
This is an open access article distributed under the
Creative Commons Attribution License
which permits unrestricted use, distribution, and reproduction in any medium, provided the original work is properly cited (CC BY 4.0).

Share & Cite This Article
MDPI and ACS Style
Blackburn, J.K.; Ganz, H.H.; Ponciano, J.M.; Turner, W.C.; Ryan, S.J.; Kamath, P.; Cizauskas, C.; Kausrud, K.; Holt, R.D.; Stenseth, N.C.; Getz, W.M. Modeling R0 for Pathogens with Environmental Transmission: Animal Movements, Pathogen Populations, and Local Infectious Zones. Int. J. Environ. Res. Public Health 2019, 16, 954.
Note that from the first issue of 2016, MDPI journals use article numbers instead of page numbers. See further details here.
Related Articles
Comments
[Return to top]