3D Printed Temporary Veneer Restoring Autotransplanted Teeth in Children: Design and Concept Validation Ex Vivo
1
OMFS IMPATH Research Group, Faculty of Medicine, Department of Imaging and Pathology, KU Leuven and Oral and Maxillofacial Surgery, University Hospitals Leuven, 3000 Leuven, Belgium
2
Department of Dentistry, Royal Medical Services, Jordanian Armed Forces, 00962 Amman, Jordan
3
Department of Oral Health Sciences, KU Leuven and Paediatric Dentistry and Special Dental Care, University Hospitals Leuven,3000 Leuven, Belgium
4
Department of Dental Medicine, Karolinska Institute, SE-171 77 Stockholm, Sweden
†
These authors contributed equally to this work.
*
Author to whom correspondence should be addressed.
Received: 27 January 2019 / Revised: 4 February 2019 / Accepted: 5 February 2019 / Published: 11 February 2019
Abstract
(1) Background: Three-dimensional printing is progressing rapidly and is applied in many fields of dentistry. Tooth autotransplantation offers a viable biological approach to tooth replacement in children and adolescents. Restoring or reshaping the transplanted tooth to the anterior maxilla should be done as soon as possible for psychological and aesthetic reasons. However, to avoid interfering with the natural healing process, reshaping of transplanted teeth is usually delayed three to four months after transplantation. This delay creates a need for simple indirect temporary aesthetic restoration for autotransplanted teeth. The aim of this study was to develop and validate a digital solution for temporary restoration of autotransplanted teeth using 3D printing. (2) Methods: Four dry human skulls and four dry human mandibles were scanned using cone beam computed tomography to create 3D models for 15 premolars. Digital impression of the maxillary arch of one of the skulls was captured by intra oral scanner. The digital work flow for the design and fabrication of temporary veneers is presented. The seating and adaptation of the 3D printed veneers were evaluated using stereomicroscopy and micro-computed tomography. (3) Results: Evaluation of the veneer seating using stereomicroscopy showed that the mean marginal gap at all of the sides was below the cut-off value of 200 µm. The overall mean marginal gap was 99.9 ± 50.7 µm (median: 87.8 (IQR 64.2–133 µm)). The internal adaptation evaluation using micro-computed tomography showed an average median gap thickness of 152.5 ± 47.7 (IQR 129–149.3 µm). (4) Conclusions: The present concept of using temporary veneers that are designed and fabricated with CAD/CAM (computer-aided design/computer-aided manufacturing) technology using a DLP (digital light processing) printer may present a viable treatment option for restoration of autotransplanted teeth.
View Full-Text
►

▼

Figures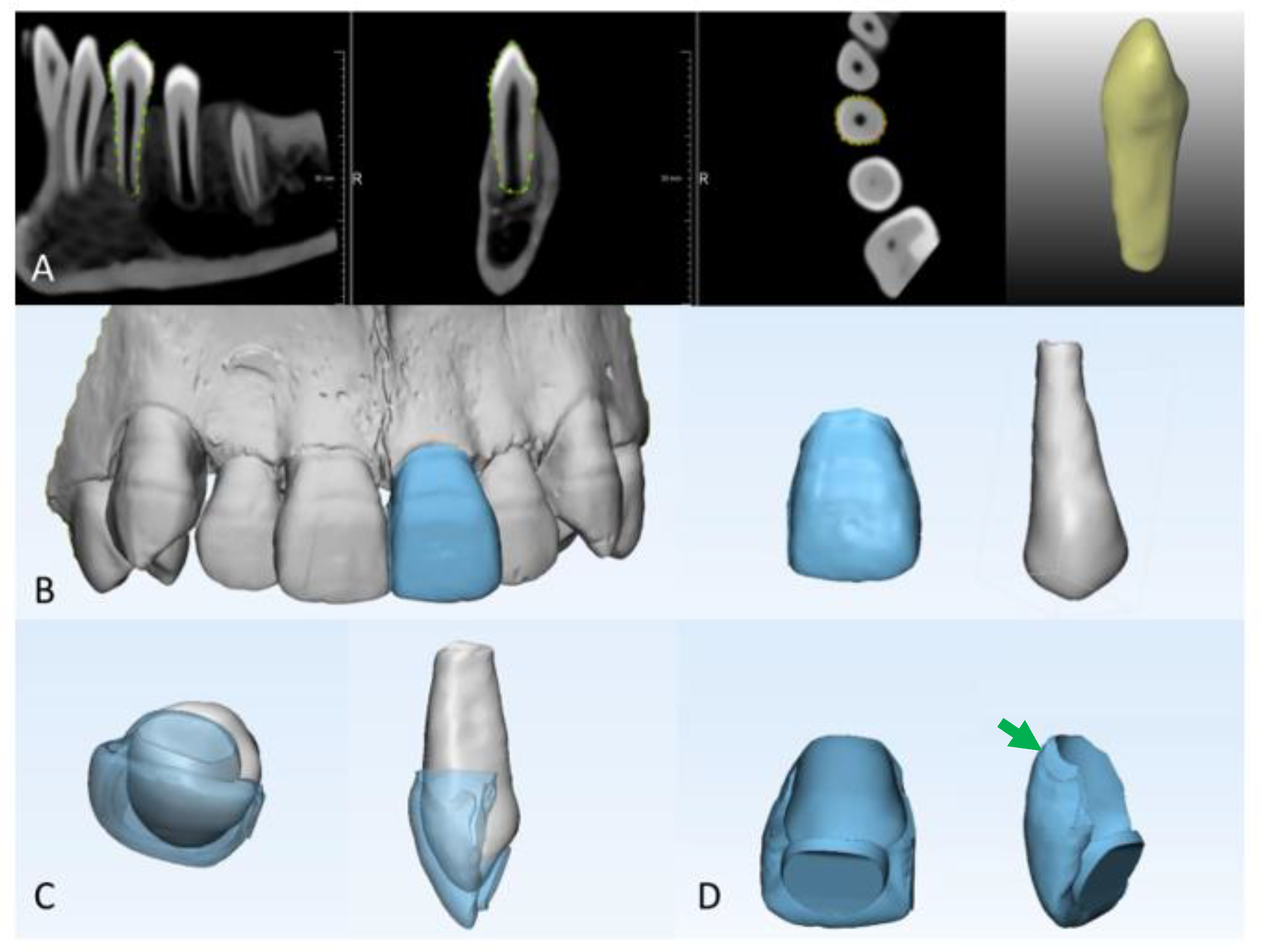 Figure 1
This is an open access article distributed under the
Creative Commons Attribution License
which permits unrestricted use, distribution, and reproduction in any medium, provided the original work is properly cited (CC BY 4.0).

Share & Cite This Article
MDPI and ACS Style
Al-Rimawi, A.; EzEldeen, M.; Schneider, D.; Politis, C.; Jacobs, R. 3D Printed Temporary Veneer Restoring Autotransplanted Teeth in Children: Design and Concept Validation Ex Vivo. Int. J. Environ. Res. Public Health 2019, 16, 496.
Note that from the first issue of 2016, MDPI journals use article numbers instead of page numbers. See further details here.
Related Articles
Comments
[Return to top]