Study on the Remediation of Cd Pollution by the Biomineralization of Urease-Producing Bacteria
School of Environmental and Safety Engineering, Changzhou University, Changzhou 213164, China
*
Author to whom correspondence should be addressed.
Received: 27 December 2018 / Revised: 14 January 2019 / Accepted: 15 January 2019 / Published: 18 January 2019
Abstract
Cadmium (Cd) is a highly toxic metal that can affect human health and environmental safety. The purpose of this study was to research the removal of Cd from an environmental perspective. In this article, four highly urease-active strains (CZW-2, CZW-5, CZW-9 and CZW-12) were isolated from an abandoned mine and their phylogenetic trees were analyzed. The maximum enzyme activities, the mineralized precipitate and the removal rates of these strains were compared. The results showed that CZW-2 had the highest urease activity at 51.6 U/mL, and the removal rates of CZW-2, CZW-5, CZW-9 and CZW-12 after 120 h were 80.10%, 72.64%, 76.70% and 73.40%, with an initial concentration of Cd of 2 mM in the Cd precipitation experiments. XRD (X-ray diffractometer), EDS (Energy dispersive spectrometer) and FTIR (Fourier transform infrared spectroscopy) analysis indicated that the mineralized precipitate was CdCO
3
. SEM (Scanning electron microscopy) analysis revealed that the diameter of the oval-shaped mineralized product ranked from 0.5 to 2 μm. These strains were used to remedy Cd-contaminated soil, and five different fractions of Cd were measured. Compared with the control, the results of spraying pre-cultured strains containing 2% urea to remove Cd from contaminated soils showed that the exchangeable fraction of Cd decreased by 53.30%, 27.78%, 42.54% and 53.80%, respectively, whereas the carbonate-bound fraction increased by 55.42%, 20.27%, 39.67% and 34.36%, respectively, after one month. These data show that these strains can effectively reduce the bioavailability and mobility of Cd in contaminated soils. The results indicate that biomineralization based on the decomposition of substrate urea can be applied to remedy heavy contaminated soil and water.
View Full-Text
►

▼

Figures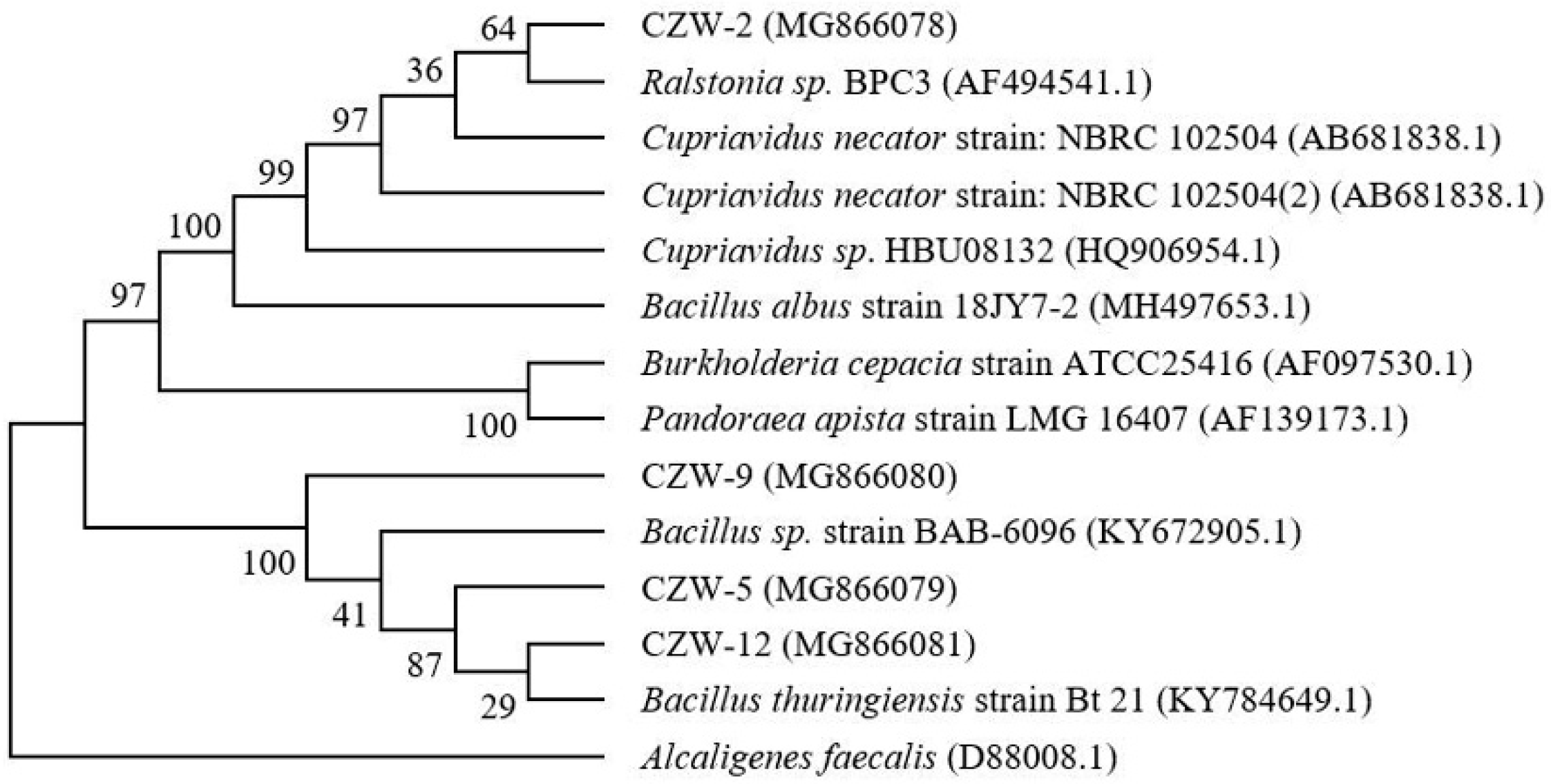 Figure 1
This is an open access article distributed under the
Creative Commons Attribution License
which permits unrestricted use, distribution, and reproduction in any medium, provided the original work is properly cited (CC BY 4.0).

Share & Cite This Article
MDPI and ACS Style
Zhao, X.; Wang, M.; Wang, H.; Tang, D.; Huang, J.; Sun, Y. Study on the Remediation of Cd Pollution by the Biomineralization of Urease-Producing Bacteria. Int. J. Environ. Res. Public Health 2019, 16, 268.
Note that from the first issue of 2016, MDPI journals use article numbers instead of page numbers. See further details here.
Related Articles
Comments
[Return to top]