Greening of Daycare Yards with Biodiverse Materials Affords Well-Being, Play and Environmental Relationships
1
Ecosystems and Environment Research Programme, Faculty of Biological and Environmental Sciences, University of Helsinki, Niemenkatu 73, FIN-15140 Lahti, Finland
2
Multidimensional Tourism Institute, University of Lapland, Viirinkankaantie 1, FIN-96300 Rovaniemi, Finland
3
Faculty of Built Environment, Tampere University, Korkeakoulunkatu 5, FIN-33014 Tampere, Finland
4
Faculty of Medicine and Health Technology, Tampere University, Arvo Ylpön katu 34, FIN-33520 Tampere, Finland
*
Author to whom correspondence should be addressed.
†
The ADELE research group: Mira Grönroos, Nan Hui, Olli H. Laitinen, Raul Kalvo, Noora Nurminen, Sami Oikarinen, Anirudra Parajuli, Riikka Puhakka, Marja I. Roslund, Laura Soininen, Heli K. Vari, Guoyong Yan, Juho Rajaniemi, Heikki Hyöty, Aki Sinkkonen.
Received: 27 June 2019 / Revised: 13 August 2019 / Accepted: 13 August 2019 / Published: 16 August 2019
Nature contacts are recognized as positively contributing to humans' health and well-being. Although there have been projects to green daycare or schoolyards, yard greening and microbial biodiversity have never been studied simultaneously. We asked whether simultaneously increasing biodiversity exposure and greening urban daycare yards affects 3–5 years-old children's physical activity and play, their environmental relationships, and their perceived well-being. For transforming six daycare yards in Finland, we used a forest floor with high biodiversity, sod, peat blocks, and planters for vegetable and flower growing. We used qualitative interview and survey-based data collected from the daycare personnel and parents to analyze how green yards encourage children's engagement with their everyday life-worlds. We identified the functional possibilities provided by the yards and the dynamic aspects related to the greening. Green, biodiverse yards were considered safe, and inspired children's play, diversified their activities, and increased physical activity. The greenery offered embodied experiences of nature and provided the children with multi-sensory exploration and diverse learning situations. The dynamic and emotional ways of engaging with the natural environment increased their well-being. The activities related to caring for the yards and exploring them promoted the development of environmental relationships. The results can be used for designing health-enhancing yards
Author Contributions
Conceptualization, R.P. and A.S.; methodology, R.P., O.R. and A.S.; software, M.I.R.; validation, R.P. and O.R.; formal analysis, R.P., O.R. and M.I.R.; investigation, R.P. and M.I.R.; data curation, R.P. and M.I.R.; writing—original draft preparation, R.P. and O.R.; writing—review and editing, R.P., O.R., M.I.R., J.R., O.H.L. and A.S.; visualization, R.P. and M.I.R.; supervision, A.S.; project administration, A.S.; funding acquisition, A.S., R.P., O.H.L. and J.R.
Funding
This research was funded by TEKES (currently Business Finland), grant number 40333/14 and Helsinki Metropolitan Region Urban Research Program.
Acknowledgments
We would like to thank Emma Marjamäki for collecting the interviews. We also gratefully acknowledge all families and daycare centers that took part in the study and the cities of Espoo, Lahti and Tampere.
Conflicts of Interest
The authors declare no conflict of interest. The funders had no role in the design of the study; in the collection, analyses, or interpretation of data; in the writing of the manuscript, or in the decision to publish the results.

Figure 1. (a) Before the intervention, the daycare yards were mostly covered by mineral soil materials; (b) After the intervention, the daycare yards were covered by forest floor mat and sod. Photos: Aki Sinkkonen (a) and Mira Grönroos (b).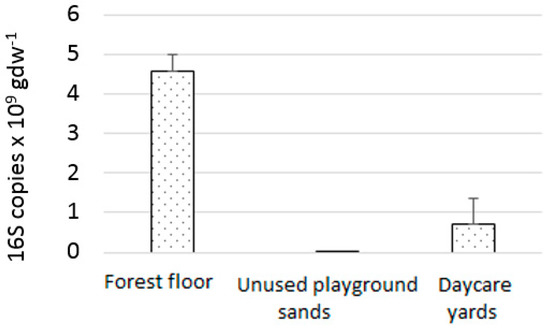 Figure 2. Bacterial numbers in the forest floor, unused playground sands, and samples from daycare yards taken before transforming the yards. 16S copies = copies of bacterial 16 S rRNA sequences per 0.250 g sample; gdw = gram dry weight.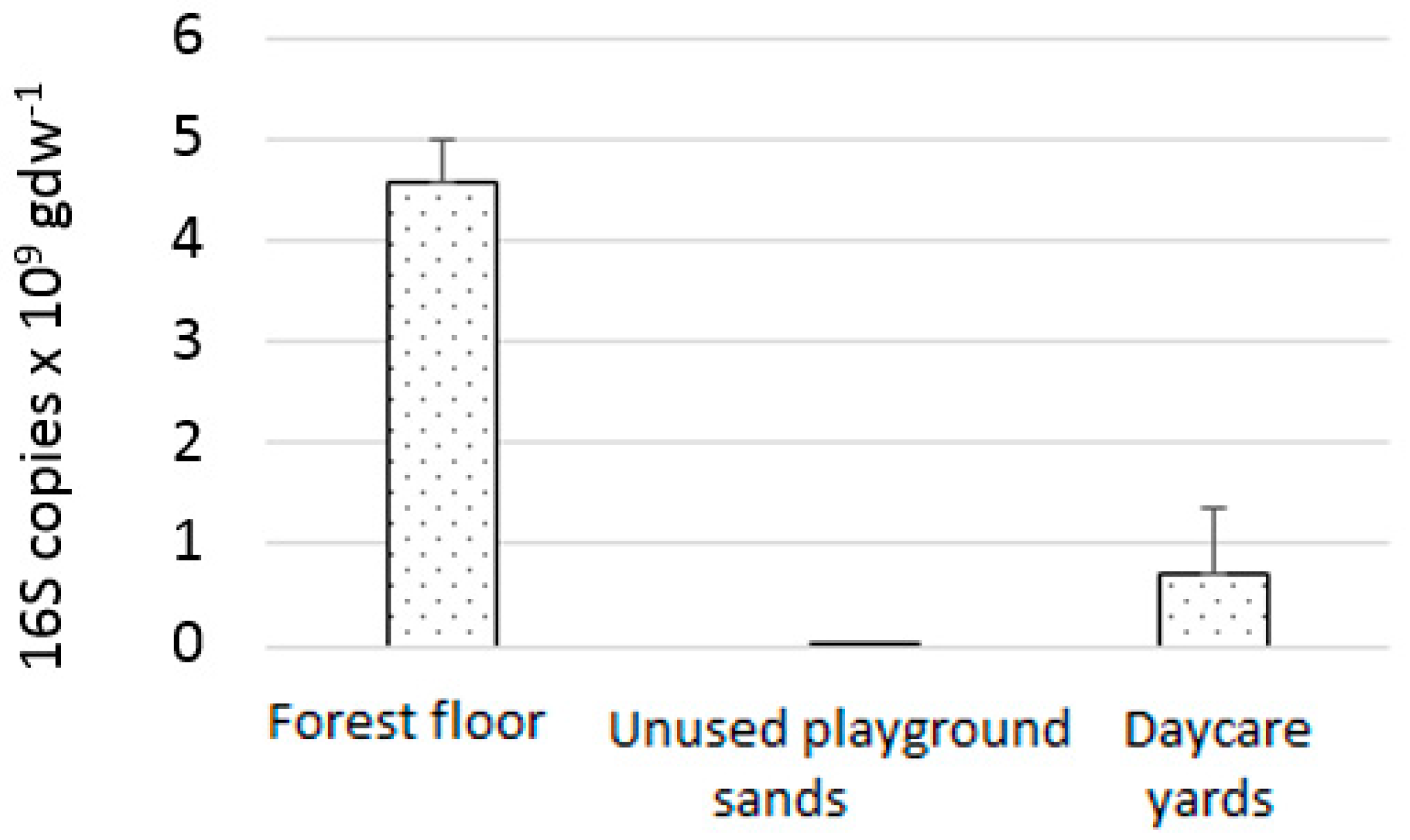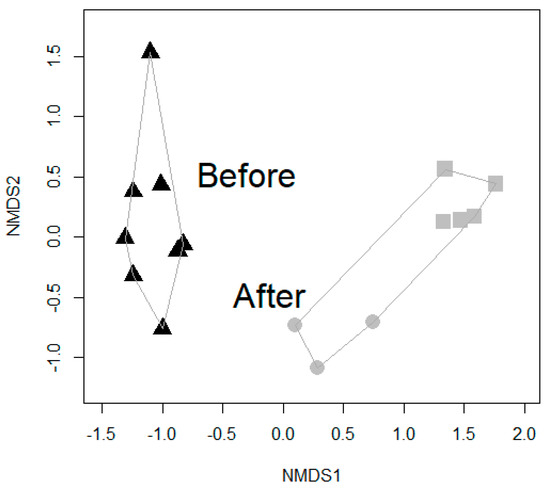 Figure 3. Non-metric multidimensional scaling (NMDS) at the OTU level showed that bacterial communities differed after the daycare yards were transformed with green materials. Triangle = mineral soil, Circle = sod, and Square = forest floor. OTU = operational taxonomic unit with a 97% identity, an operational definition used to classify groups of closely related individuals. OTU is often used as a synonym of bacterial species.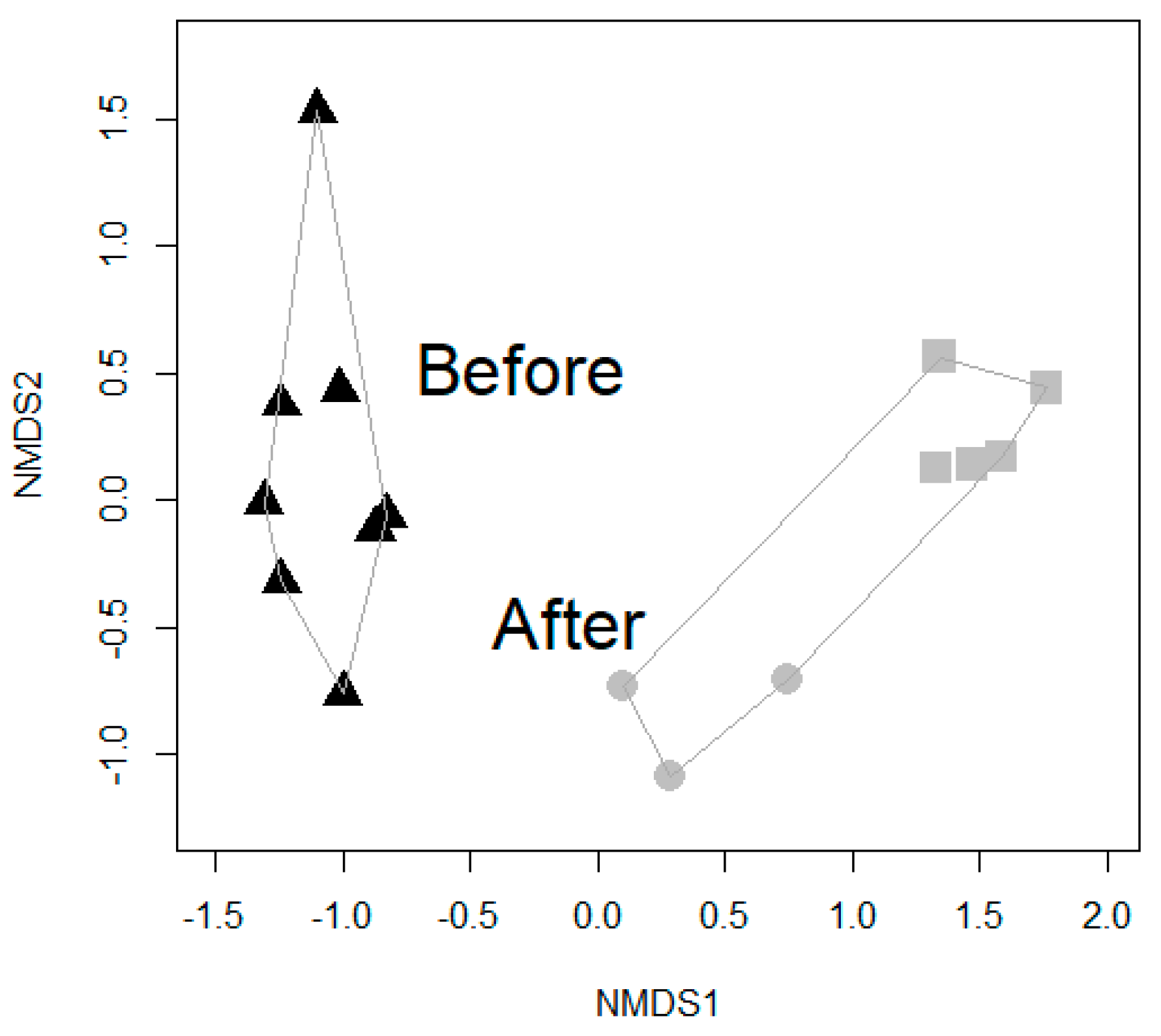 Table 1. Permutational Multivariate Analysis of Variance showed that the intervention changed the community composition of bacteria in the daycare yard at the OTU level and that the bacterial communities in the material types differed (mineral soil, sod, forest floor).
Df
Sums of Sqs
Mean Sqs
F. Model
R2

p

Value
intervention
1
1.73470000
1.73468
7.74250000
0.30811
0.001
material type
1
0.9829
0.98286
4.3868000
0.17457
0.001
residuals
13
2.912600000000
0.22405
0.51732
total
15
5.6302000
1.00000
OTU: operational taxonomic unit with a 97% identity; Df: degrees of freedom; Sqs: sum of squares.
| | Survey | Interview |
| --- | --- | --- |
| Daycare personnel | 13 | 12 |
| Parents | 49 | 0 |
| Environmental Qualities that Support Affordance | Affordance |
| --- | --- |
| | Physical activity |
| Sod, forest floor mat afforded | rolling |
| | creeping, crawling |
| | doing somersaults, cartwheels, other physical movements |
| | running, jumping |
| | playing ball games/other active games |
| | climbing, swinging 1 |
| Peat blocks afforded | jumping down/over |
| | walking on |
| | carrying, throwing |
| | Multi-sensory experiences |
| Sod, forest floor mat, peat blocks, planters afforded | touching, plucking |
| | smelling |
| | sensory exercises |
| Sod, forest floor mat, peat blocks afforded | lying, sitting |
| Planters, forest floor mat afforded | tasting |
| Forest floor mat afforded | making sounds (sticks, cones), listening |
| | Diverse play |
| Sod, forest floor mat afforded | playing with toys (e.g., animals, cars) |
| | pretend play (e.g., playing house, playing animals) |
| | playing Kim's game (memory game) |
| Peat blocks afforded | building (e.g., walls, forts, huts) |
| | Art and crafts |
| Forest floor mat, sod, planters afforded | doing art and crafts |
| | Nature exploration |
| Forest floor mat, sod, planters afforded | searching for bugs, worms, snails, etc. |
| | examining (using a magnifying glass) |
| | observing, wondering |
| | identifying species |
| | learning concepts related to nature |
| Planters afforded | planting, taking care of plants |
| | Pre-academic skills |
| Forest floor mat, peat blocks afforded | learning pre-math skills |
| | learning pre-reading skills |

© 2019 by the authors. Licensee MDPI, Basel, Switzerland. This article is an open access article distributed under the terms and conditions of the Creative Commons Attribution (CC BY) license (http://creativecommons.org/licenses/by/4.0/).