The Neuroprotective Role of Coenzyme Q10 Against Lead Acetate-Induced Neurotoxicity Is Mediated by Antioxidant, Anti-Inflammatory and Anti-Apoptotic Activities
1
Zoology Department, Faculty of Science, King Saud University, Riyadh 11451, Saudi Arabia
2
Zoology and Entomology Department, Faculty of Science, Helwan University, Cairo 11795, Egypt
3
Parasitology Department, Faculty of Veterinary Medicine, Zagazig University, Zagazig 12878, Egypt
*
Author to whom correspondence should be addressed.
Received: 21 May 2019 / Revised: 16 July 2019 / Accepted: 18 July 2019 / Published: 13 August 2019
Abstract
Heavy metal exposure, in lead (Pb) particularly, is associated with severe neuronal impairment though oxidative stress mediated by reactive oxygen species, and antioxidants may be used to abolish these adverse effects. This study investigated the potential neuroprotective role of coenzyme Q10 (CoQ
10
) against lead acetate (PbAc)-induced neurotoxicity. Twenty-eight male Wistar albino rats were divided into four equal groups (
n
= 7) and treated as follows: the control group was injected with physiological saline (0.9% NaCl); the CoQ
10
group was injected with CoQ
10
(10 mg/kg); PbAc group was injected with PbAc (20 mg/kg); PbAc + CoQ
10
group was injected first with PbAc, and after 1 h with CoQ
10
. All groups were injected intraperitoneally for seven days. PbAc significantly increased cortical lipid peroxidation, nitrate/nitrite levels, and inducible nitric oxide synthase expression, and decreased glutathione content, superoxide dismutase, catalase, glutathione peroxidase, glutathione reductase activity and mRNA expression, as well as nuclear factor erythroid 2–related factor 2 (Nrf2) and homoxygenase-1 (HO-1) expression. PbAc also promoted the secretion of interleukin-1ß and tumor necrosis factor-α, inhibited interleukin-10 production, triggered the activation of pro-apoptotic proteins, and suppressed anti-apoptotic proteins. Additionally, PbAc increased the cortical levels of serotonin, dopamine, norepinephrine, GABA, and glutamate, and decreased the level of ATP. However, treatment with CoQ
10
rescued cortical neurons from PbAc-induced neurotoxicity by restoring the balance between oxidants and antioxidants, activating the Nrf2/HO-1 pathway, suppressing inflammation, inhibiting the apoptotic cascade, and modulating cortical neurotransmission and energy metabolism. Altogether, our findings indicate that CoQ
10
has beneficial effects against PbAc-induced neuronal damage through its antioxidant, anti-inflammatory, anti-apoptotic, and neuromodulatory activities.
View Full-Text
►

▼

Figures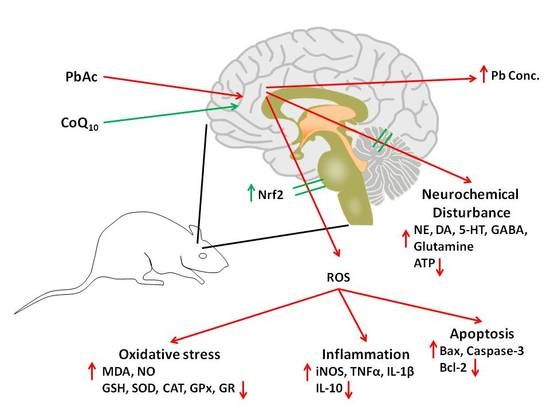 Graphical abstract
This is an open access article distributed under the
Creative Commons Attribution License
which permits unrestricted use, distribution, and reproduction in any medium, provided the original work is properly cited (CC BY 4.0).

Share & Cite This Article
MDPI and ACS Style
S. Yousef, A.O.; A. Fahad, A.; Abdel Moneim, A.E.; Metwally, D.M.; El-khadragy, M.F.; Kassab, R.B. The Neuroprotective Role of Coenzyme Q10 Against Lead Acetate-Induced Neurotoxicity Is Mediated by Antioxidant, Anti-Inflammatory and Anti-Apoptotic Activities. Int. J. Environ. Res. Public Health 2019, 16, 2895.
Note that from the first issue of 2016, MDPI journals use article numbers instead of page numbers. See further details here.
Related Articles
Comments
[Return to top]