Neurotoxicity, Behavior, and Lethal Effects of Cadmium, Microplastics, and Their Mixtures on
Pomatoschistus microps

Juveniles from Two Wild Populations Exposed under Laboratory Conditions―Implications to Environmental and Human Risk Assessment

1

ICBAS—Institute of Biomedical Sciences of the University of Porto, Department of Populations Study, Laboratory of Ecotoxicology (ECOTOX), 4050-313 Porto, Portugal

2

CIIMAR—Interdisciplinary Centre of Marine and Environmental Research of the University of Porto, Research Team of Ecotoxicology, Stress Ecology and Environmental Health (ECOTOX), 4450-208 Matosinhos, Portugal

*

Author to whom correspondence should be addressed.

Received: 8 May 2019 / Revised: 2 August 2019 / Accepted: 8 August 2019 / Published: 10 August 2019
Abstract
Microplastics (MPs) were found to modulate the toxicity of other pollutants but the knowledge on the topic is still limited. The goals of this study were to investigate the short-term toxicity of cadmium (Cd) to wild
Pomatochistus microps
juveniles, the potential modulation of acute Cd toxicity by 1–5 µm polyethylene MPs in this species, and possible differences of sensitivity to Cd and MPs-Cd mixtures between juveniles from two distinct wild populations. Juveniles were collected in the estuaries of Minho (M-est) and Lima (L-est) Rivers (NW Portugal). One 96 h bioassay with M-est juveniles and another one with L-est juveniles were carried out in laboratory conditions. Each bioassay had 12 treatments: control, 5 Cd concentrations, 1 MPs concentration, and 5 MPs-Cd mixtures. No significant differences in Cd-induced mortality between juveniles from distinct estuaries or between juveniles exposed to Cd alone and those exposed to MPs-Cd mixtures were found. The total 96h LC
10
and LC
50
of Cd alone were 2 mg/L (95% CI: 0–4 mg/L) and 8 mg/L (95% CI: 2–17 mg/L), respectively. Cd alone significantly decreased the post-exposure predatory performance (PEPP) of M-est (≥6 mg/L) and L-est juveniles (≥3 mg/L), and acetylcholinesterase (AChE) activity of M-est juveniles (13 mg/L). MPs alone (0.14 mg/L) significantly reduced the PEPP and AChE activity of L-est juveniles but not of M-est juveniles. MPs-Cd mixtures (3–13 mg/L of Cd + 0.14 mg/L of MPs) significantly inhibited the PEPP of juveniles from both estuaries and AChE of L-est estuary juveniles but not of M-est juveniles. Evidences of toxicological interactions, namely antagonism, between MPs and Cd were found. Overall, the results indicate that MPs modulated the sub-lethal toxic effects of Cd in wild
P. microps
juveniles, especially neurotoxicity. Moreover, the environmental conditions of the natural habitats to which juveniles were exposed during pre-developmental phases influence the sub-lethal toxicity of Cd, MPs, and their mixtures. The implications to environmental and human risk assessment are discussed and further research is needed.
View Full-Text
►

▼

Figures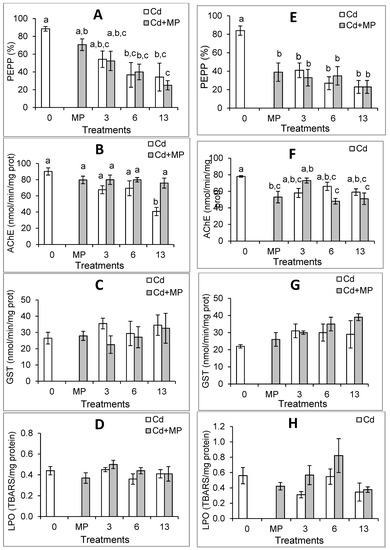 Figure 1
This is an open access article distributed under the
Creative Commons Attribution License
which permits unrestricted use, distribution, and reproduction in any medium, provided the original work is properly cited (CC BY 4.0).

Share & Cite This Article
MDPI and ACS Style
Miranda, T.; Vieira, L.R.; Guilhermino, L. Neurotoxicity, Behavior, and Lethal Effects of Cadmium, Microplastics, and Their Mixtures on Pomatoschistus microps Juveniles from Two Wild Populations Exposed under Laboratory Conditions―Implications to Environmental and Human Risk Assessment. Int. J. Environ. Res. Public Health 2019, 16, 2857.
Note that from the first issue of 2016, MDPI journals use article numbers instead of page numbers. See further details here.
Related Articles
Comments
[Return to top]