Open Access This article is
freely available
re-usable
Article
The Human Right to Water and Unconventional Energy
1
Faculty of Business and Law, Open University, Milton Keynes MK7 6AA, UK
2
Human Rights Consortium, School of Advanced Study, University of London, London WC1E 7HU, UK
3
FracTracker Alliance, Cleveland, OH 44120, USA
*
Author to whom correspondence should be addressed.
Received: 24 July 2018 / Accepted: 11 August 2018 / Published: 28 August 2018
Abstract
:
Access to water, in sufficient quantities and of sufficient quality is vital for human health. The United Nations Committee on Economic, Social and Cultural Rights (in General Comment 15, drafted 2002) argued that access to water was a condition for the enjoyment of the right to an adequate standard of living, inextricably related to the right to the highest attainable standard of health, and thus a human right. On 28 July 2010 the United Nations General Assembly declared safe and clean drinking water and sanitation a human right essential to the full enjoyment of life and all other human rights. This paper charts the international legal development of the right to water and its relevance to discussions surrounding the growth of unconventional energy and its heavy reliance on water. We consider key data from the country with arguably the most mature and extensive industry, the USA, and highlight the implications for water usage and water rights. We conclude that, given the weight of testimony of local people from our research, along with data from scientific literature, non-governmental organization (NGO) and other policy reports, that the right to water for residents living near fracking sites is likely to be severely curtailed. Even so, from the data presented here, we argue that the major issue regarding water use is the shifting of the resource from society to industry and the demonstrable lack of supply-side price signal that would demand that the industry reduce or stabilize its water demand per unit of energy produced. Thus, in the US context alone, there is considerable evidence that the human right to water will be seriously undermined by the growth of the unconventional oil and gas industry, and given its spread around the globe this could soon become a global human rights issue.
Keywords:
"fracking"; hydraulic fracturing; extreme energy; unconventional energy; right to water; human rights impacts
1. Introduction: 'Unconventional' Extreme Energy and Water
This paper examines the development of the right to water in international law and discusses its relevance to a key contemporary social, political and environmental challenge—the growth of unconventional energy. Indeed, in examining the development of the right to water, and its contemporary legal status, we seek to explore the potential impact on the human right to water of a water-intensive unconventional resource extraction industry that could seriously jeopardise people's ability to realise the right in any meaningful way.
At the outset it is important that we define our terms. How do we define 'unconventional' energy? To answer that question, it is perhaps pertinent to explain first 'conventional' mineral extraction. In simple terms, it is the extraction of readily available and relatively easy to develop oil and gas from reservoirs trapped in natural geological structures, generally sandstone and carbonate rocks. In the not too distant past, natural geological processes that took place over hundreds of thousands of years provided plentiful hydrocarbon resources. Conventional gas uses traditional methods to extract primary deposits held in underground reservoirs created by the geological processes. Unconventional natural gas resources, such as coal bed methane, tight gas and shale gas are termed 'unconventional' because the porosity, permeability, fluid-trapping mechanism, or other characteristics of the strata from which the gas is extracted differ greatly from conventional sandstone, siltstone and carbonate (limestone) sources and are generally much more energy intensive and time consuming to extract. Conventional mineral resources 'pool' into convenient reservoirs ready to be exploited, whereas unconventional minerals are present in the entire rock strata. The problem lies therein. In order to extract enough of that unconventional gas, tightly trapped in vast shale plays and coal seams, an amount of extraordinary scientific and engineering developments are going to be required: certainly, it is not a straightforward undertaking. The technique, widely coined as fracking, has been the subject of controversy because of the potential effects that hydraulic fracturing and related oil and gas production activities may have on human health and the environment. The advent of unconventional oil and gas development (UOGD) poses threats to the natural support systems that are necessary for life, all life, specifically air and water. Here we are concerned with perceived threats to the planet's water resources.
A distinction between conventional and unconventional oil and gas extraction needs to be made. Essentially, the equivalent amount of valuable hydrocarbons acquired from conventional wells dwarfs unconventional wells when compared on a well-to-inventory ratio. A simple comparison can be made: a handful of conventional wells are needed to produce the same quantity of hydrocarbons as hundreds of fracking wells situated on scores of well pads.
2. Status of the Right to Water in International Law
The contemporary legal basis for a right to water at an international level is imprecise and uncertain. This paper, in part, examines the development of the right to water in terms of international law. In examining the development of the right to water, and its contemporary legal status quo, we seek to explore the potential impact of the human right to water through the 'fracking' dialogue and the impact of UOGD on people's ability to realise the right. The connection between UOGD and the right to water requires consideration because the contrast offers a dramatic example of public decision-making diminishing perceived and guaranteed human rights. Here we are concerned with effects of the UOGD industry on water quality and the inequitable situation (for those who live in close proximity of well pads) that arises with regards to not just accessing the vital resource but also having a sustainable and potable supply.
According to its charter, the United Nations has succinct purposes including; maintaining international peace and security; developing amiable relations among nations; and cooperating in solving international economic, social, cultural and humanitarian problems. In addition, it seeks to promote respect for human rights and fundamental freedoms and to be central to coordinating the actions of members in reaching such ends. These aims were reaffirmed and clarified in the 2000 United Nations Millennium Development Goals (MDGs) which were expected to be achieved by the year 2015; one of those goals was to eradicate extreme poverty and hunger. Although the issue of whether the MDGs were achieved by 2015 is outside of the scope of this paper, realising a human right to water is fundamental to the eradication of poverty and hunger. Accordingly, it is questionable whether the introduction of UOGD and the control paradigm safeguard the raison d'être of the UN and strive to attain MDGs in the future.
3. The Development of the Right to Water
In 1994, within the Programme of Action of the International Conference on Population and Development, states affirmed the right to an adequate standard of living for citizens and their families, including adequate food, clothing, housing, water and sanitation. In 1995, the General Assembly adopted the United Nations Principles for Older Persons. In paragraph 5 the Committee referred to the 'basic rights' of 'access to adequate food, water, shelter, clothing and health care'. In Paragraph 32 the Committee affords those basic rights whilst attaching 'great importance' to the principle of 'Independence', which 'demands for older persons the rights contained in Article 11 of (ICESCR 1966)'. In 1996, the United Nations Conference on Human Settlements (Habitat II) adopted the Habitat Agenda; again, water and sanitation were recognised as part of the right to an adequate standard of living. Paragraph 11 of the Agenda is noteworthy because it comprises Article 11(1) verbatim, except for adding the words 'water and sanitation'.
The impending—potentially catastrophic—threats with regards to water scarcity, particularly from heavy industry, require international action. UOGD is a matter in question here; certainly, the industry is an environmental threat on numerous levels and (despite industry misdirection and media misinformation regarding its actual age) the way the various methods and scale combine effectively make it 'a new technology'. In consideration that this type of oil and gas production only became operational in the 21st century, it is accurate to assert that it is still being developed and the 'manual' is still being written. UOGD has not, and never will be, a steady-state operating procedure; it will never be perfected. This is largely why the regulatory framework cannot respond to the new science: comprehensive, bespoke guidelines are required to regulate the technology.
Undeniably, one is immediately struck by the fact that both Articles 11 and 12 (and the covenant) are devoid of a separate right to water or the term 'water'; this omission has in turn created legal and political uncertainty, thus limiting the development and legal status of the right to water. When read in context, however, such uncertainty can be viewed as being overly doctrinaire because good sense and sound judgment would advocate that including the term 'water' would be superfluous to the requirements in the covenant at that time.
Certainly, the content of ICESCR Article 11 demands a right to water in order for the right to 'adequate living standards' to be achievable. Furthermore, in recognising a 'fundamental right of everyone to be free from hunger', water would be essential for that right because crops need water, water is needed for cooking, and livestock need to drink. States would be useless in their obligations to disseminate knowledge 'of the principles of nutrition' or 'developing or reforming agrarian systems in such a way as to achieve the most efficient development and utilisation of natural resources' without safeguarding water resources.
4. The Right to Water and 'Fracking'
Referring states to WHO guidelines, GC15 states that standards should ensure 'the safety of drinking water supplies through the elimination of, or reduction to a minimum concentration, of constituents of water that are known to be hazardous to health'. The General Comment also requires water to be of an acceptable colour, odour and taste for each personal or domestic use'. Taking Pennsylvania as an example, owing to the incidents and complaints that have been reported to the Pennsylvania Department of Environmental Protection (DEP), it is clear that actual incidents have occurred where quality issues undermined GC15 and, ultimately, the ICESCR in this context. In a major study of corporate violations, Inglis and Rumpler [
70
] conclude:
'Drilling poses major risks to our water supplies, including potential underground leaks of toxic chemicals and contamination of groundwater. There are at least 243 documented cases of contaminated drinking water supplies across Pennsylvania between December 2007 and August 2014 due to fracking activities, according to the Pennsylvania Department of Environmental Protection (DEP)' [
70
].
In fact, it is commonplace for oil and gas companies to be required bring in 'replacement water supplies for residents, construct new drinking water wells, or otherwise modify their existing water wells' in order to make the water potable following 'fracking' operations [
70
]. Some companies have been 'cited'. For instance, in November 2012, Carrizo (Marcellus) LLC was cited (violation 653937) for failing to properly restore a contaminated drinking water supply following drilling operations in Forest Lake Township, Susquehanna County [
70
,
71
].
In cases like Forest Lake (and there are many), it is difficult to dispute that UOGD affects both the quantity and quality of water resources. Whereas legislation setting technical standards for drinking water quality is commonplace in countries around the world, we are reminded of the Halliburton Loophole that exempts fracking operations from the SDWA in the USA. The human rights aspect to fracking operations has arisen in response to what can be described as a belief that governments have failed to adequately protect citizens and their environment. Cooperation between the industry and its regulatory agencies—in ways that fail to respect human rights standards—has been perceived. The Halliburton Loophole is an illustration of a government and regulations failing to protect its citizens following corporate lobbying.
The nexus between human health, human rights and the environment and environmental rights has been succinctly forged over the last decade or so; in Europe (thus the UK) the establishment of the right to live in a healthy environment, born out of the Article 8 ECHR's right to respect for one's 'private and family life and home', is the embodiment of that profound connection between humans and their environment. Consequently, it should come as no surprise that human rights norms articulated in international declarations, conventions and treaties have come into question in the UOGD debate [
4
]. Traditionally human rights advocacy is sought when government agencies, legislatures and courts regularly fail to adequately protect the process, health, safety and other rights of their citizens. Therefore, the status of the right to water has come to the fore since the advent of the technology. The recognition of the right has become instrumental to protecting other inalienable rights.
Arguably, when human rights standards are applied, a ban (rather than regulation) is supported; especially as the emerging science suggests that the risks to public health are widespread and costly. Concerned citizens often see very good science—that suggests the risks are too high—brought into the public domain and ignored by decision-makers and a regulatory framework that is not geared to respond to new science, or in other words, in this case, an advanced industry in its infancy. In essence, it is evident that our laws are not prepared for either the new science that facilitates unconventional gas extraction or the scientific evidence that questions the safety and economic viability of UOGD. The negative impact data from all domestic contexts where there is an active unconventional industry strongly suggests that existing regulations are not fit for purpose, nor are the agencies or monitoring bodies, and nor the penalties imposed—the myriad of problems persist. Moreover, environment impact assessments do not routinely include a category that specifically covers fracking, and in some countries (e.g., in the UK) there is no fracking-specific regulation when the associated risks are quite simply not the same as conventional extraction, and existing technology is often found wanting when it comes to mitigating harm—nonetheless, many governments are aggressively promoting the technology. Accordingly, the right to water (within the human rights discourse), in conjunction with environmental law and water law, is poised to take centre stage in the 'fracking debate'.
At the outset of the U.S. shale revolution there was quite a bit of discussion about "energy independence", jobs, tax revenue, and short shrift was paid to concerns about issues such as air quality, community cohesion, ecological effects, and water quality and/or quantity. However, 5–15 years out from the beginning of the UOGD revolution we are seeing that realized tax revenue is often an order-of-magnitude less than projections, job creation has been replaced by job migration from shale play to shale play, and directional wells are proving short-lived (i.e., 85% declines in productivity from year 1 to year 2). The latter, along with expansion into less productive plays like the Antrim in Michigan, has resulted in the UOGD industry requiring more and more resources in the form of chemicals, sand [
72
], and water to stimulate production in the name of shareholder return—represented diagrammatically below (
Figure 2
):
Furthermore, the exponential increase in water demand, as well as ever longer laterals, has resulted in parallel rises in liquid and solid waste production. This waste increase has created tremendous stressors in states like Oklahoma and Ohio where "induced seismicity" or anthropogenic earthquake activity has increased from an average of 21 M3+ quakes between 1973 and 2008 to 659 of M3+ in 2014 alone according to the United States Geological Survey (USGS). These seismic events are not limited to smaller events; magnitudes exceeding 5.8 have been witnessed in Pawnee and Cushing, Oklahoma; and Cushing happens to be the site of the U.S.'s largest strategic commercial crude oil storage terminal prompting questions about whether the UGD's excessive production of waste and demand for water may be compromising their own infrastructure and undercutting the notion that UGD will lead to "energy independence".
Examples of increasing resource demand include Chesapeake Energy's 'Propageddon' lateral in Louisiana, which required more than 25 tons of frac sand (5–6 times the average amount of sand needed in a typical fracked lateral). From a water demand perspective, names like "Purple Hayes", "Outlaw", and "Walleye" have been given to "Super-Laterals" in Ohio and West Virginia where they exceed 17–20,000 feet in length, or 2.3–2.6 times average lateral length in these two states (
Figure 3
and
Figure 4
). These laterals require more than 85 million gallons each, which translates into 4471 gallons per lateral foot (GPLF). To put this demand into some perspective, and assuming the average American uses 33,000 [
73
] gallons of water per year, this is roughly equivalent to the annual water demand of 2587 Americans.
Traditionally, Appalachian West Virginia and Ohio laterals require 970–1080 GPLF with demand growing at a rate of 11–22% per year (
Figure 5
). As an example of how much liquid—and potentially radioactive—waste is produced, we estimate that 11–12% of the freshwater used in the fracking process comes back to the surface as "brine" and must be disposed of in Class II Salt Water Disposal Injection Wells. Put another way an 85-million-gallon lateral would likely produce 9.8 million gallons of liquid waste, which is equivalent to the total amount of water in 15 Olympic sized swimming pools.
These recent developments call into question our existing resource-demand models, which estimate resource demand is increasing by 7–30% per year, while oil and gas production is declining by 85% per year per well. More importantly, these trends raise concerns about watershed ecological security and/or resilience, public water supply robustness, and the increasing importance of the UOGD's water demand in modelling any given watershed's redundancies in the face of less frequent and more intense precipitation events resulting from climate change (
Figure 6
).
At the present time UOGD's water demand amounts to roughly 14% of residential water demand (
Figure 7
) but exceeds 65% in counties as geographically disparate as Carroll County, Ohio, Richland County, Montana, and Wetzel County, West Virginia. The most extreme example of how residential water demand is in conflict with UOGD's demand is Doddridge County, West Virginia where UGD demand is nearly double that of residential demand. In Sposito's [
74
] terms, these demands greatly exceed the "precautionary principle setting 20% of the natural runoff in a region as the upper limit of … consumptive use" by any one industry. The crux of the matter is that the industry is only charged
$
4.25–6.25 per thousand gallons, which only amounts to 0.25–0.28% of well-pad costs and is less than half of what residential users pay in the United States [
75
]. Furthermore, when the resulting liquid wastes are produced, the UOGD industry is charged
$
0.05–0.20 (This range is from Ohio alone and does not speak to a nationwide fee structure for UGD liquid waste disposal) per gallon disposed (e.g., 0.0044% of well-pad costs) across the country's thousands of Class II injection wells with examples of such wells from eastern Ohio below (
Figure 8
).
Data from Colorado on how they price water for the fracking industry is even more concerning. Our research has found that Windsor Town Council sold Great Western Oil & Gas (GWOG) up to 65 acre ft (1 acre foot of water = 325,851 gallons) per year for the next 10 years. That contract can be renegotiated at that time. The town council reports that the cost that GWOG paid is
$
400/acre ft. That brings into the town of Windsor a meagre
$
26,000 annually should the entire 65 acre ft be taken, and it seems likely that GWOG will use the water rather quickly, based on past consumption and the requirements of the industry. Therefore, that brings the cost per gallon to
$
0.00122 or one tenth of one penny per gallon, not
$
0.01 but
$
0.00122.
Such data highlights a crucial problem, there is no supply-side price signal demanding the UOGD industry reduce or stabilize their water demand per unit of energy produced. An additional issue concerns anecdotal evidence pointing towards the UOGD industry relying on highly fragile and ecologically critical 1st- and 2nd-order streams and reservoirs throughout Appalachia, when their demand cannot be met by documented water withdrawals agreements with conservancy districts (
Figure 9
). At the present time, research points to a 22–25% gap in our understanding of where this industry's water demand is coming from; thus, leaving frontline communities and policy makers in the dark regarding how this known 'unknown' environmental externality will manifest in the coming years and decades.
Resource demand in the UOGD industry is directly related to the global price of oil and gas, with water demand increasing exponentially as the price of oil and gas declines. This forces the industry to rely on resources known to generate a disproportionate return-on-investment (ROI) relative to the price paid for the resources. As an example, the water demand inflection points we have documented in the Marcellus and Utica plays of southern Appalachia happened to coincide with a 50% decline in the global price of Brent crude and West Texas intermediate oil between Q1-2014 and the end of 2016.
5. Conclusions
Despite its widespread use in the United States for over a decade, hydraulic fracturing has only recently been scrutinized to determine the industry's effects on human rights. Under the special procedures of the HRC, the Special Rapporteur on the human right to safe drinking water and sanitation, Catarina de Albuquerque, concluded her 2011 mission to the United States by outlining serious concerns over the effect of a range of polluting activities associated with the hydraulic fracturing process. She observed a distinct:
"policy disconnect ... between polluting activities and their ultimate impact on the safety of drinking water sources. The absence of integrated thinking has generated enormous burdens, including increased costs to public water systems to monitor and treat water to remove regulated contaminants and detrimental health outcomes for individuals and communities".
There have been scores of scientific studies that have revealed water contamination due to fracking processes. Ingraffea's review of the compliance reports from conventional and unconventional oil and gas wells drilled in Pennsylvania between 2000 and 2012 [
9
] revealed that casing/cement impairment is six times more likely to occur in unconventional wells than in conventional wells. Such flaws may result in cases of subsurface gas migration into the water supply, as has already occurred in the state. Indeed, published data demonstrates evidence of:
"Contamination of shallow aquifers with hydrocarbon gases … contamination of surface water and shallow groundwater from spills, leaks, and/or the disposal of inadequately treated shale gas wastewater… [and] accumulation of toxic and radioactive elements in soil or stream sediments near disposal or spill site s…from hydraulic fracturing throughout the United States".
Qualitative data from Colorado has further revealed complaints of water contamination from residents living near fracking sites that are often intentionally misunderstood, assigned a different cause, or diluted by state regulatory bodies [
77
]. Recently, the Pennsylvania Department of Environmental Protection disclosed details of 243 cases in which fracking companies were found by state regulators to have contaminated private drinking water wells in the last four years [
78
]. In a much delayed survey of existing scientific literature on this topic (not a new data set), the U.S. Environmental Protection Agency found 'scientific evidence that hydraulic fracturing activities can impact drinking water resources under some circumstances. The report identifies certain conditions under which impacts from hydraulic fracturing activities can be more frequent or severe:
Water withdrawals for hydraulic fracturing in times or areas of low water availability, particularly in areas with limited or declining groundwater resources;

Spills during the handling of hydraulic fracturing fluids and chemicals or produced water that result in large volumes or high concentrations of chemicals reaching groundwater resources;

Injection of hydraulic fracturing fluids into wells with inadequate mechanical integrity, allowing gases or liquids to move to groundwater resources;

Injection of hydraulic fracturing fluids directly into groundwater resources;

Discharge of inadequately treated hydraulic fracturing wastewater to surface water; and

Disposal or storage of hydraulic fracturing wastewater in unlined pits resulting in contamination of groundwater resources' [

79

].
Cumulatively, the scientific literature, NGO and other policy reports and the vital testimony of local people indicate the likely impairment of the right to water for residents living near fracking sites. Even so, from the data presented here, we can see that perhaps the major issue regarding water use is the shifting of the resource from society to industry and the demonstrable lack of supply-side price signal that would demand the UOGD industry reduce or stabilize their water demand per unit of energy produced. Thus, in the U.S. context alone, there is considerable evidence that the human right to water is seriously undermined by the UOGD industry and, given its spread around the globe, this could soon become a global human rights issue.
Author Contributions
Conceptualization—D.S. and R.C.P. constructed and utilised both the legal analysis and political economy. The methodology was designed and the USA-based data gathering was conducted by W.E.T.A. Writing-Review and Editing, D.S. and R.C.P.
Funding
This research received no external funding.
Conflicts of Interest
The authors declare no conflict of interest.
Figure 1. (A) Average Hydraulically Fractured Oil & Gas Well Water Demand Per Well across ten companies and six water stress environments and (B) fourteen US States and the aforementioned ten companies.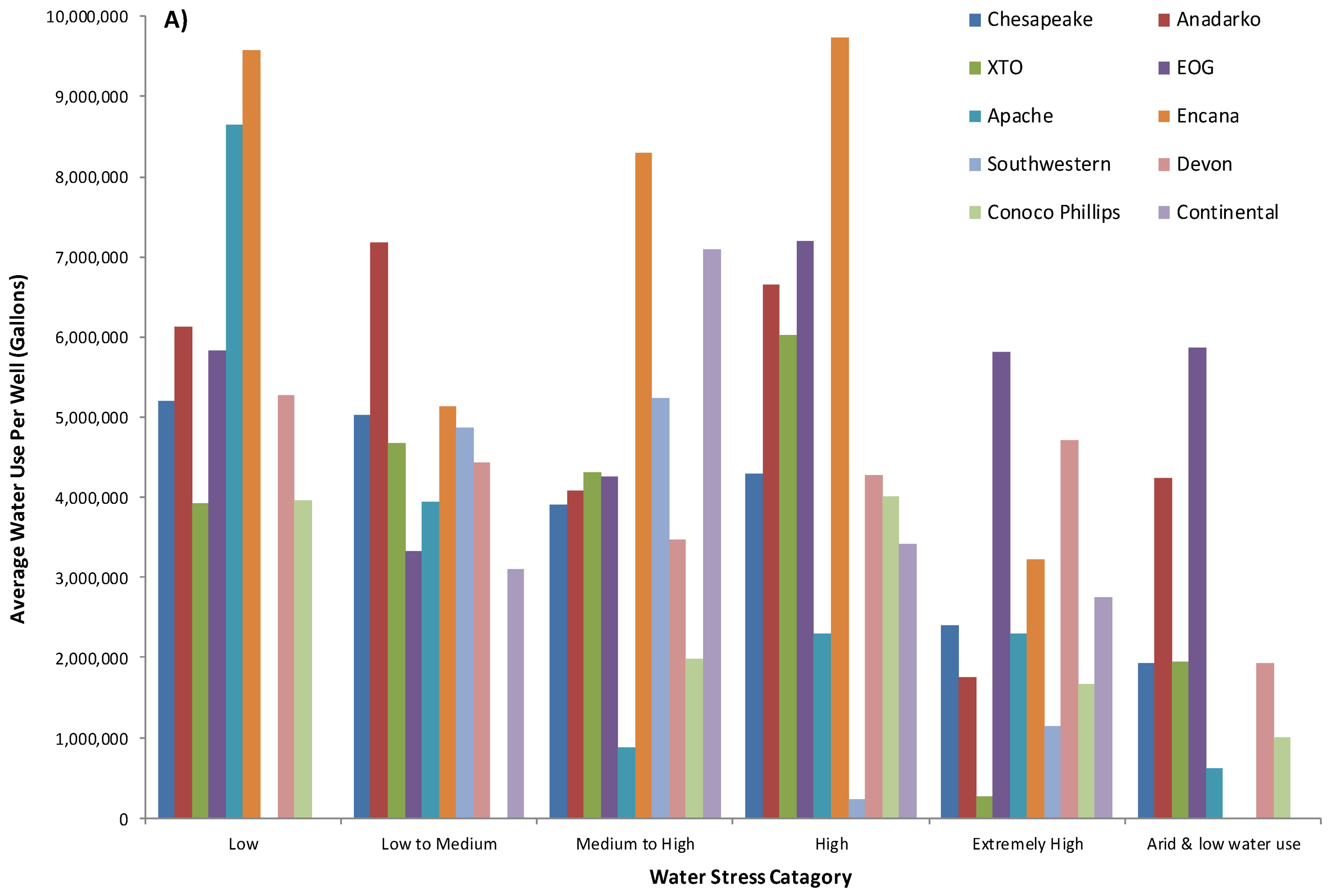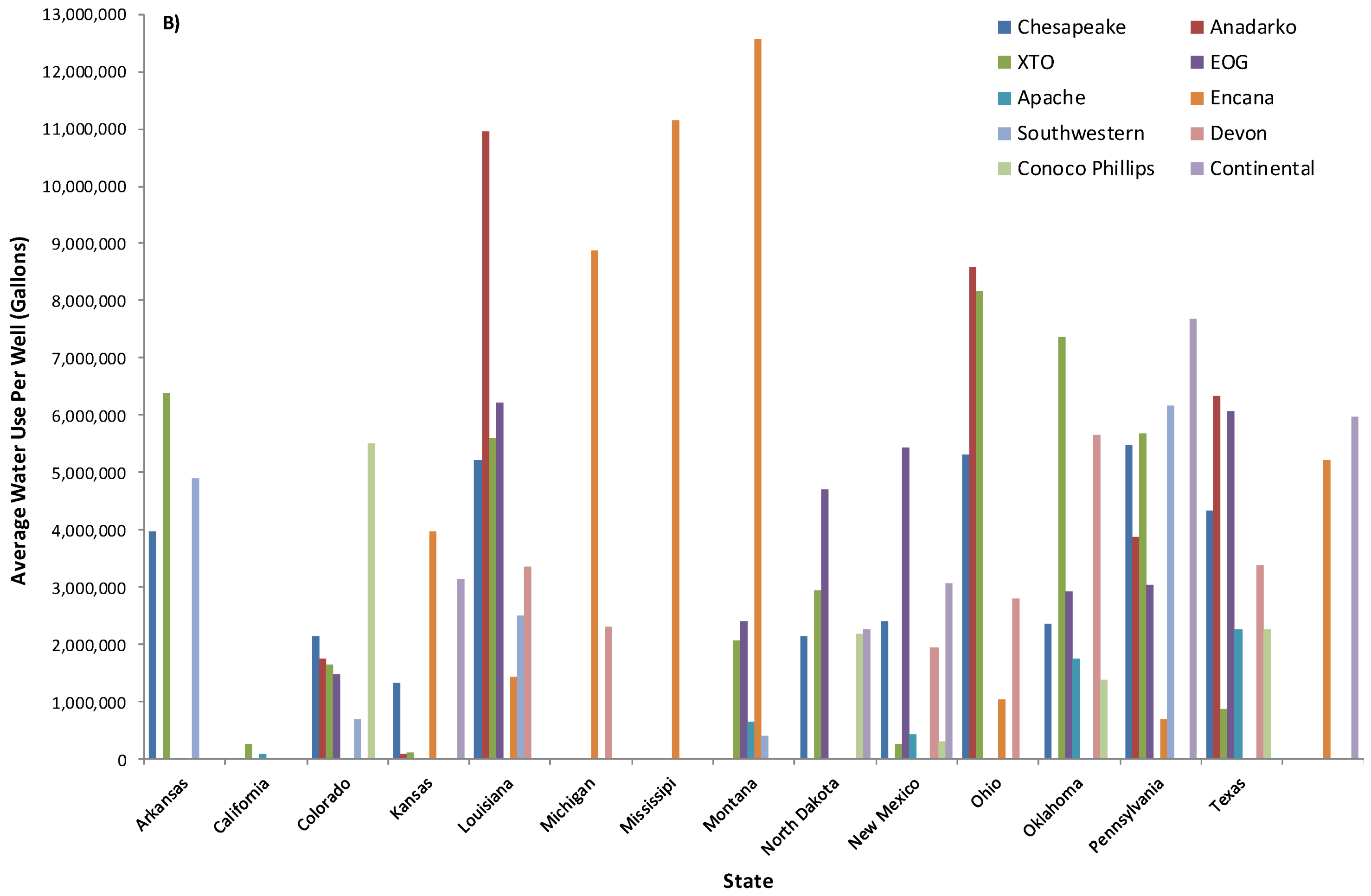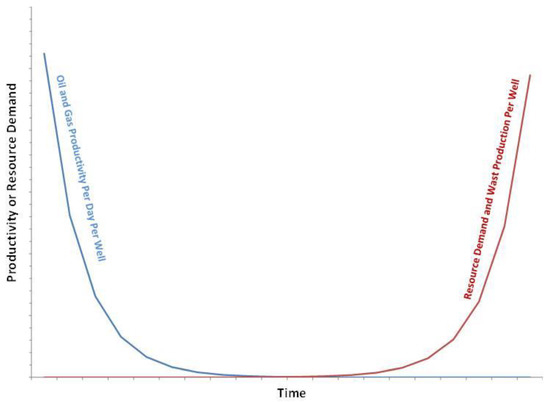 Figure 2. Theoretical relationship between resource demand and unconventional oil/gas production over time.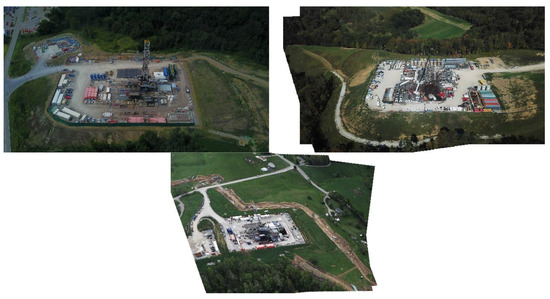 Figure 3. Examples of a typical hydraulic fracturing well pad in Eastern Ohio including a record breaking lateral pad at the Walleye Pad (Top-Left).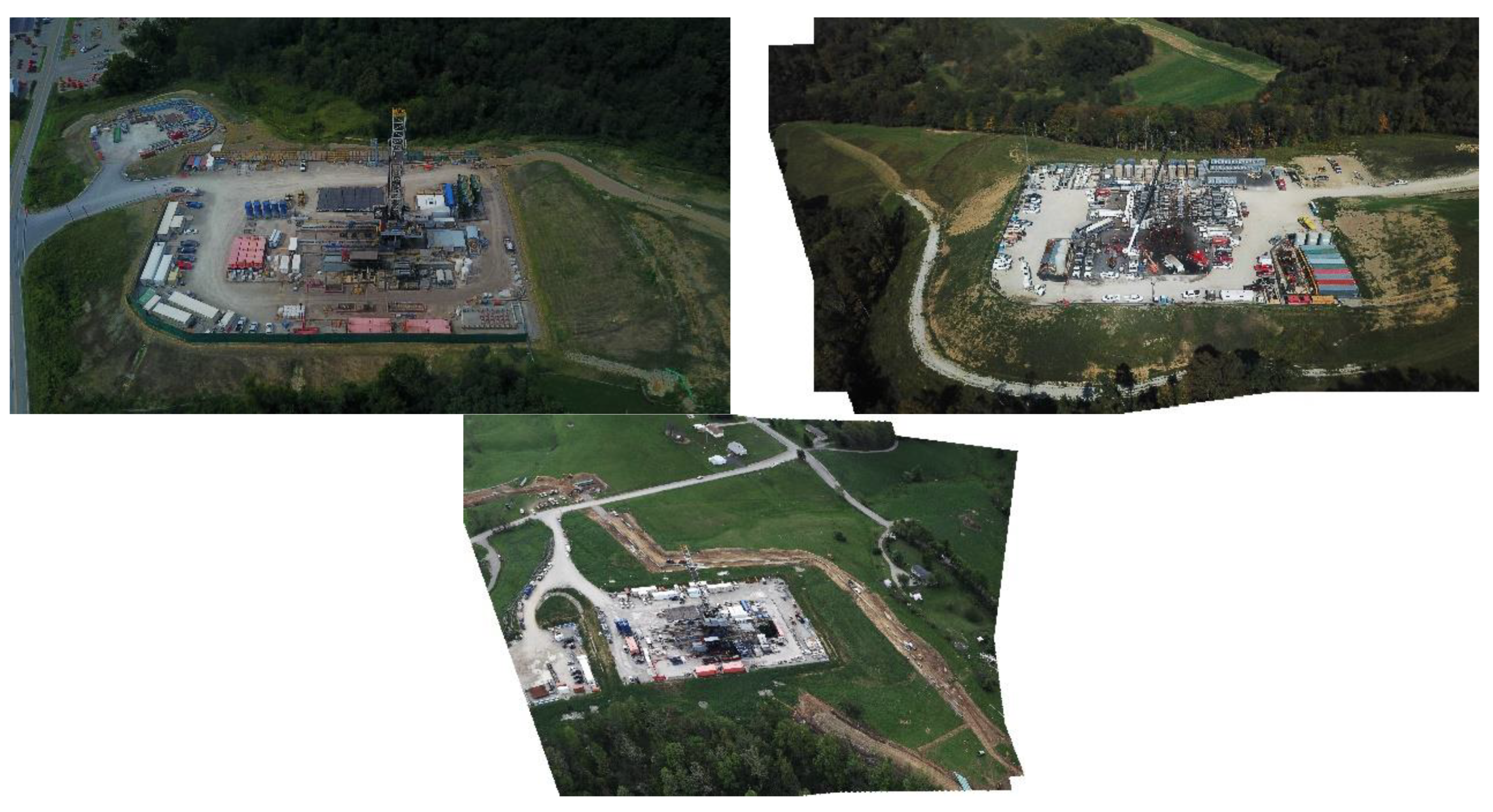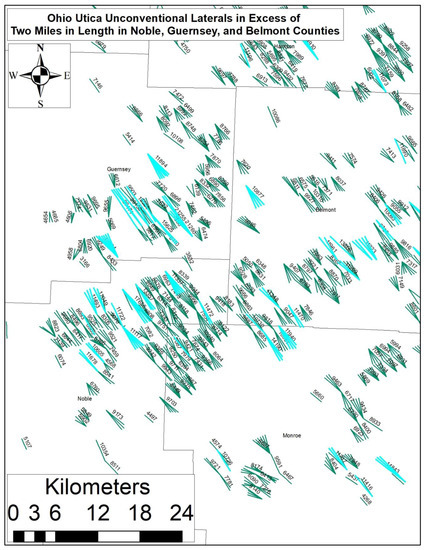 Figure 4. Examples of hydraulic fracturing lateral length in north-eastern Noble County, Ohio, including highlighted pads where laterals exceed 2 miles in length.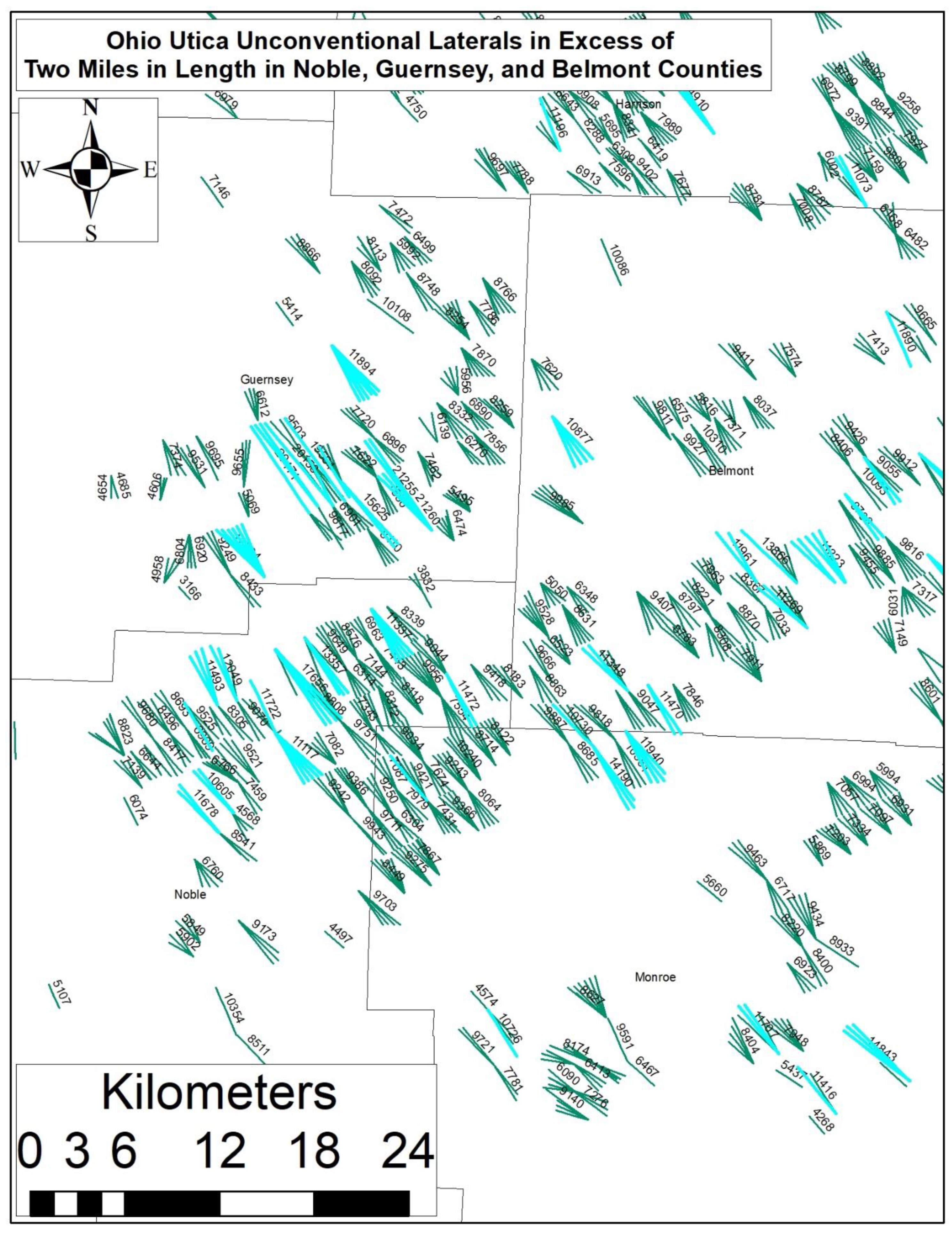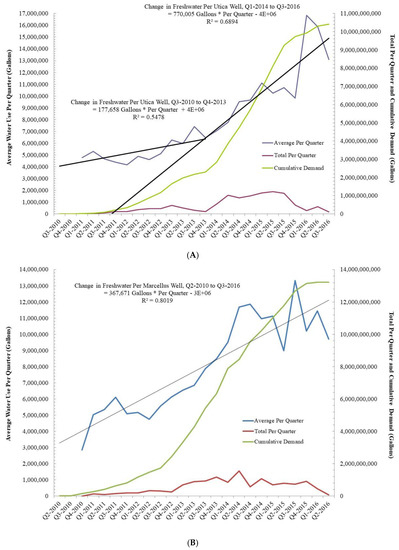 Figure 5. Ohio (A) and West Virginia (B) hydraulic fracturing freshwater demand in total and per well between Q3-2010 and Q3-2016.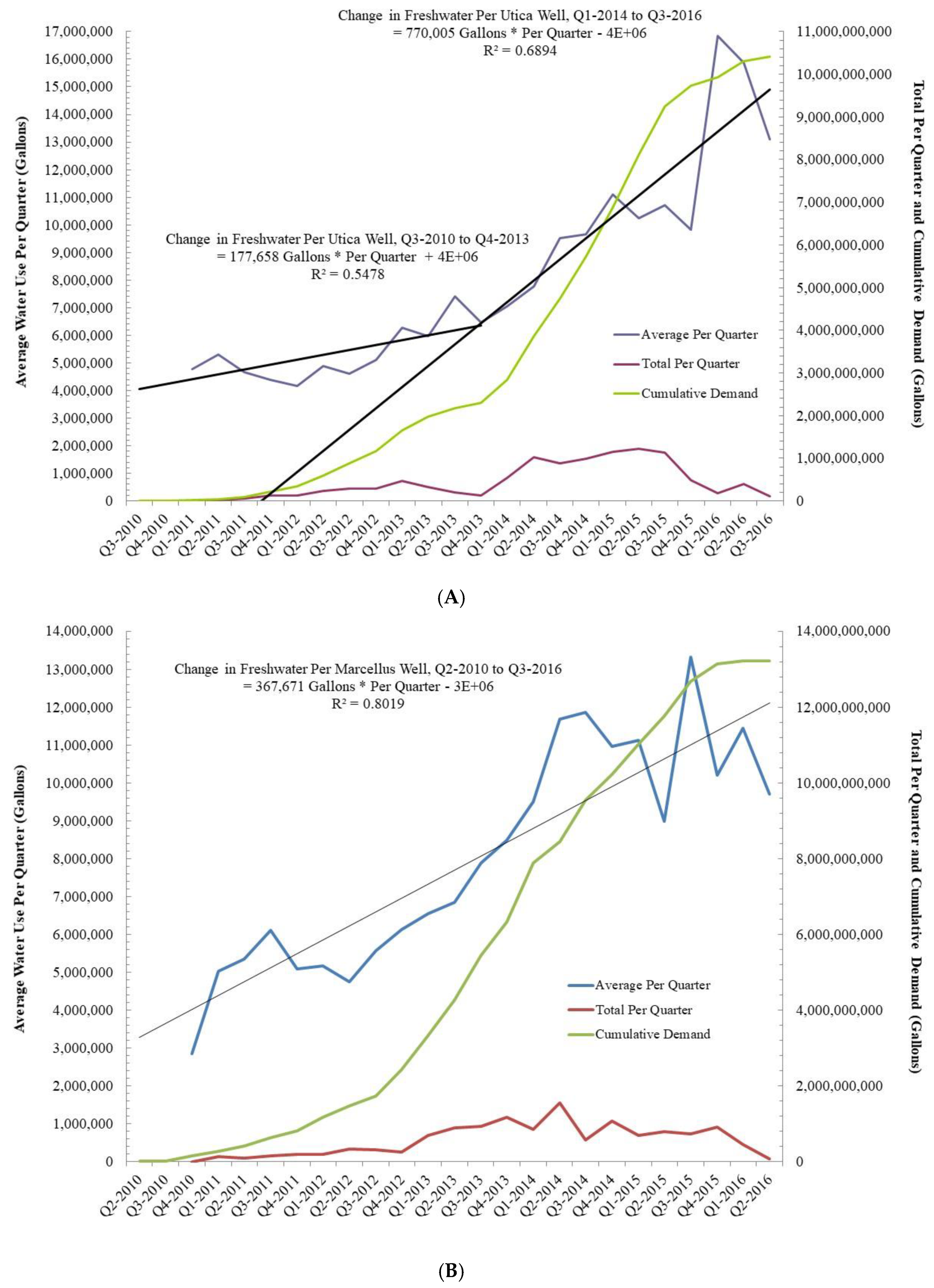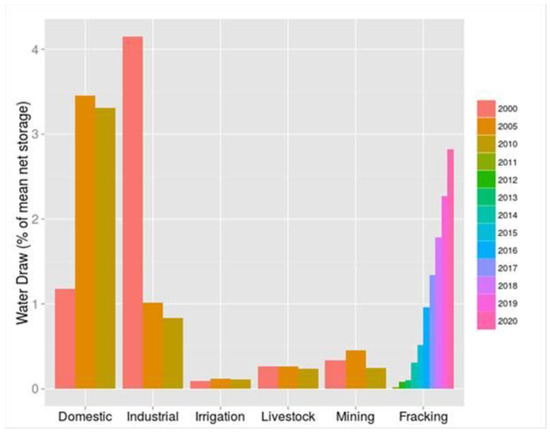 Figure 6. Freshwater demand across six sectors within the Muskingum River Watershed, south-east Ohio between 2000 and modelled out to 2020.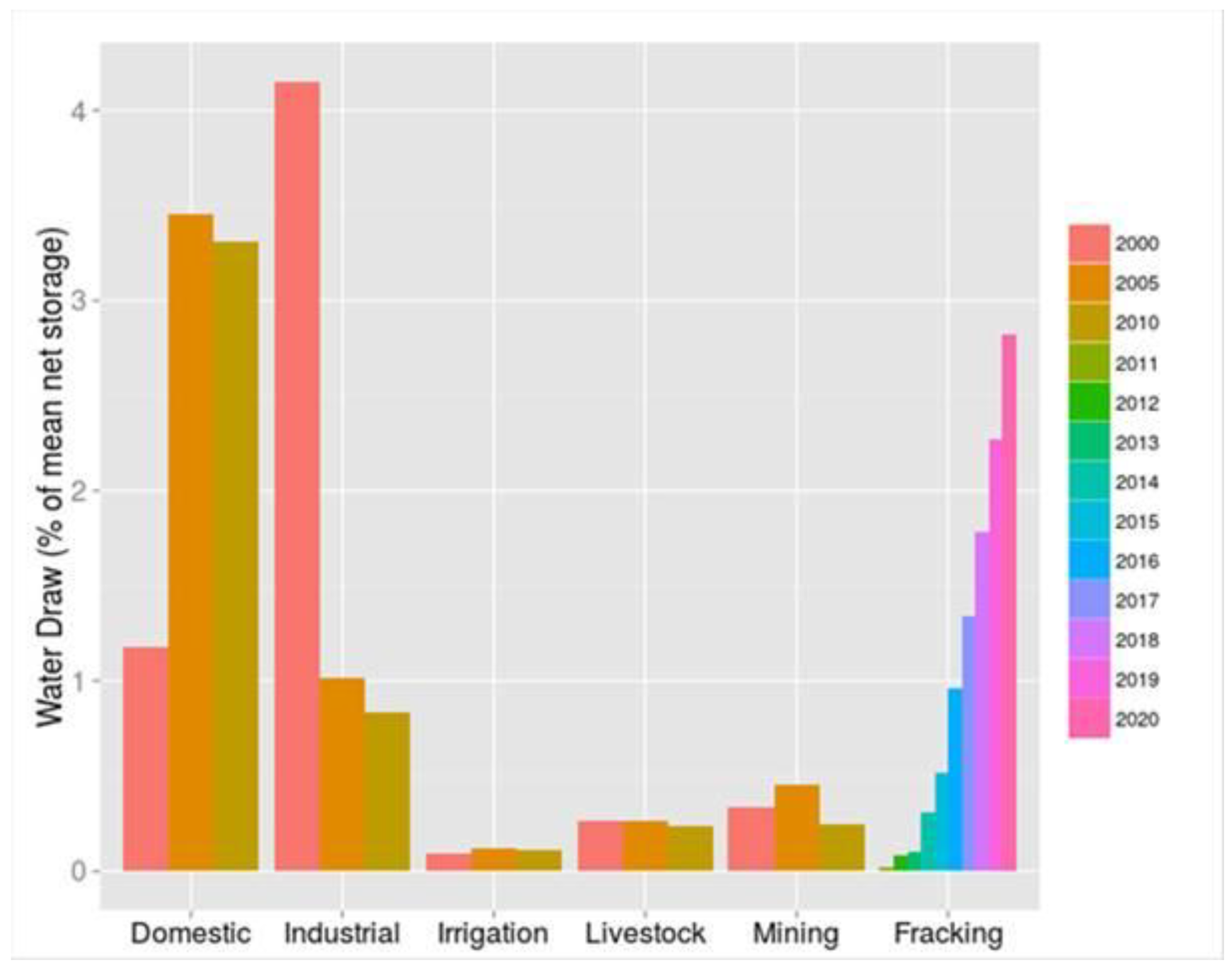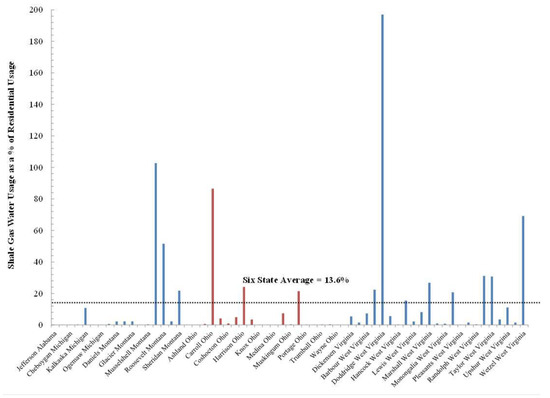 Figure 7. Hydraulic fracturing water demand across six states as a percent of annual residential water demand.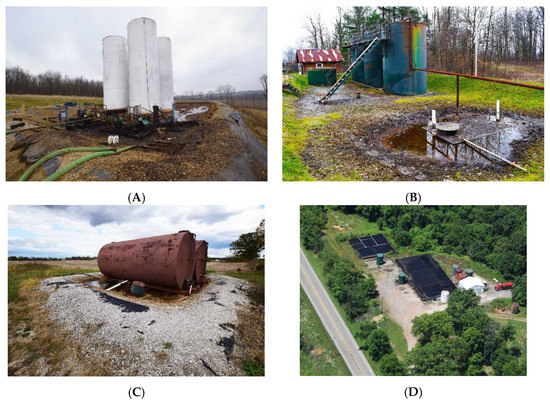 Figure 8. Class II injection wells—eastern Ohio. Danville (A), Knox (B), Morrow (C), and Stark (D) Counties.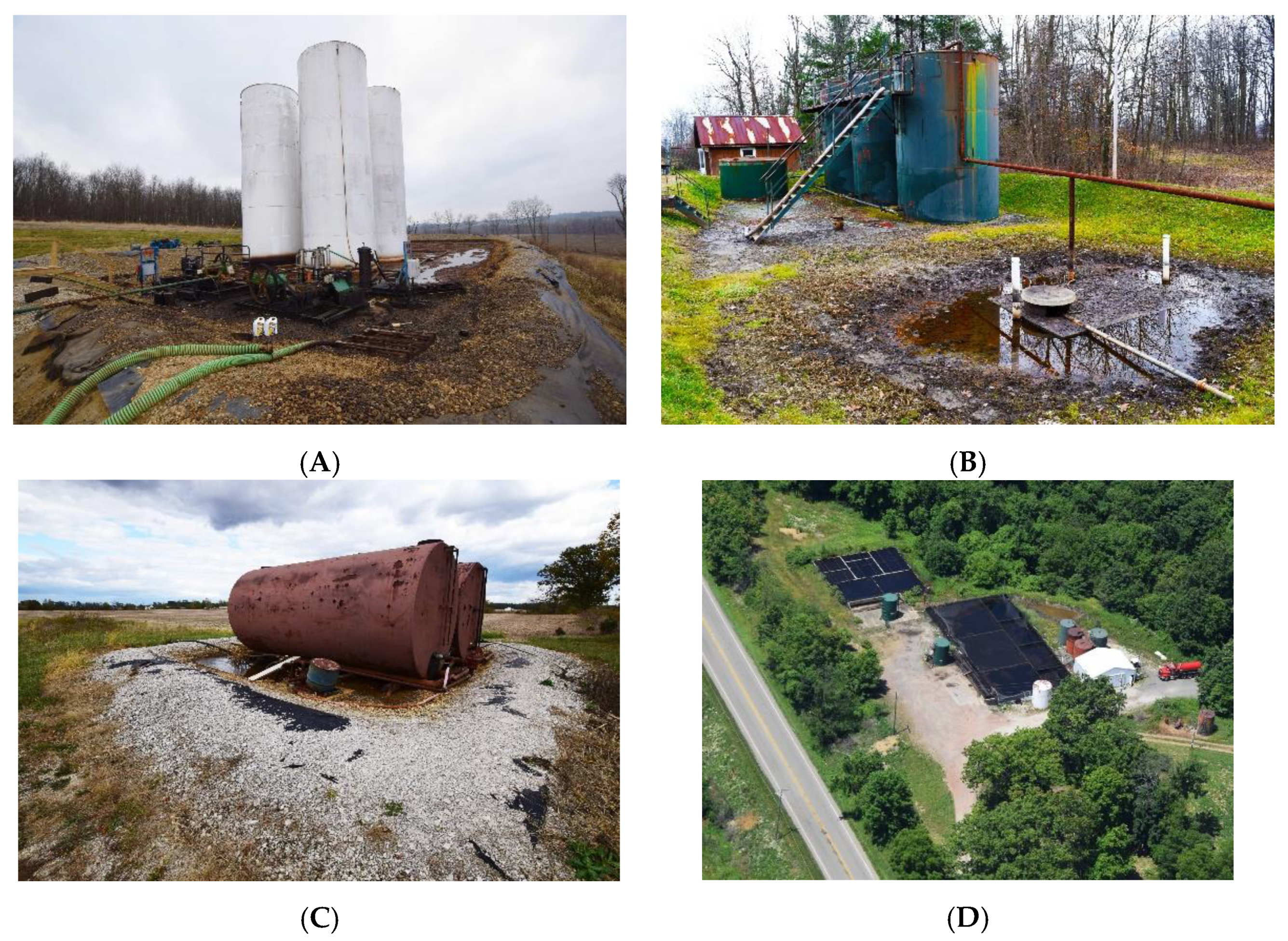 Figure 9. Typical unconventional oil and gas development (UOGD) freshwater infrastructure in south-east Ohio: Antero's Barnesville Reservoir Pump (A); typical hydraulic fracturing well-pad and freshwater impoundment (B).


© 2018 by the authors. Licensee MDPI, Basel, Switzerland. This article is an open access article distributed under the terms and conditions of the Creative Commons Attribution (CC BY) license (http://creativecommons.org/licenses/by/4.0/).