Effect of Potassium Chlorate on the Treatment of Domestic Sewage by Achieving Shortcut Nitrification in a Constructed Rapid Infiltration System
1
State Key Laboratory of Geohazard Prevention and Geoenvironment Protection, Chengdu University of Technology, Chengdu 610059, China
2
State Environmental Protection Key Laboratory of Synergetic Control and Joint Remediation for Soil and Water Pollution, Chengdu University of Technology, Chengdu 610059, China
*
Author to whom correspondence should be addressed.
Received: 6 February 2018 / Revised: 8 March 2018 / Accepted: 28 March 2018 / Published: 4 April 2018
Abstract
A constructed rapid infiltration (CRI) system is a new type of sewage biofilm treatment technology, but due to its anaerobic zone it lacks the carbon sources and the conditions for nitrate retention, and its nitrogen removal performance is very poor. However, a shortcut nitrification–denitrification process presents distinctive advantages, as it saves oxygen, requires less organic matter, and requires less time for denitrification compared to conventional nitrogen removal methods. Thus, if the shortcut nitrification–denitrification process could be applied to the CRI system properly, a simpler, more economic, and efficient nitrogen removal method will be obtained. However, as its reaction process shows that the first and the most important step of achieving shortcut nitrification–denitrification is to achieve shortcut nitrification, in this study we explored the feasibility to achieve shortcut nitrification, which produces nitrite as the dominant nitrogen species in effluent, by the addition of potassium chlorate (KClO
3
) to the influent. In an experimental CRI test system, the effects on nitrogen removal, nitrate inhibition, and nitrite accumulation were studied, and the advantages of achieving a shortcut nitrification–denitrification process were also analysed. The results showed that shortcut nitrification was successfully achieved and maintained in a CRI system by adding 5 mM KClO
3
to the influent at a constant pH of 8.4. Under these conditions, the nitrite accumulation percentage was increased, while a lower concentration of 3 mM KClO
3
had no obvious effect. The addition of 5mM KClO
3
in influent presumably inhibited the activity of ammonia-oxidizing bacteria (AOB) and nitrite-oxidizing bacteria (NOB), but inhibition of nitrite-oxidizing bacteria (NOB) was so strong that it resulted in a maximum nitrite accumulation percentage of up to over 80%. As a result, nitrite became the dominant nitrogen product in the effluent. Moreover, if the shortcut denitrification process will be achieved in the subsequent research, it could save 60.27 mg CH
3
OH per litre of sewage in the CRI system compared with the full denitrification process.
View Full-Text
►

▼

Figures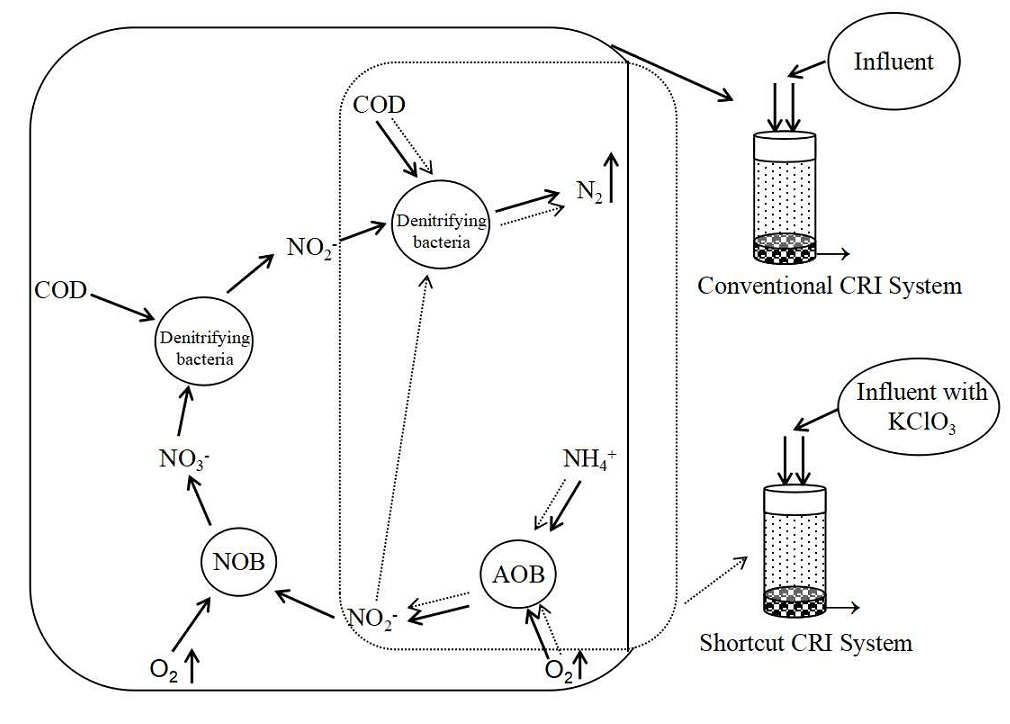 Graphical abstract
This is an open access article distributed under the
Creative Commons Attribution License
which permits unrestricted use, distribution, and reproduction in any medium, provided the original work is properly cited (CC BY 4.0).

Share & Cite This Article
MDPI and ACS Style
Fang, Q.; Xu, W.; Yan, Z.; Qian, L. Effect of Potassium Chlorate on the Treatment of Domestic Sewage by Achieving Shortcut Nitrification in a Constructed Rapid Infiltration System. Int. J. Environ. Res. Public Health 2018, 15, 670.
Note that from the first issue of 2016, MDPI journals use article numbers instead of page numbers. See further details here.
Related Articles
Comments
[Return to top]