Open Access This article is
freely available
re-usable
Article
Multi-Scale Clustering of Lyme Disease Risk at the Expanding Leading Edge of the Range of
Ixodes scapularis
in Canada
1
Department of Pathology and Microbiology, Faculty of Veterinary Medicine, University of Montréal, 3200 Rue Sicotte, Saint-Hyacinthe, QC J2S 2M2, Canada
2
Epidemiology of Zoonoses and Public Health Research Unit (GREZOSP), Faculty of Veterinary Medicine, University of Montréal, 3200 Rue Sicotte, Saint-Hyacinthe, QC J2S 2M2, Canada
3
Zoonoses and Special Pathogens Division, National Microbiology Laboratory, Public Health Agency of Canada, Winnipeg, MB R3T 2N2, Canada
4
Public Health Risk Sciences Division, National Microbiology Laboratory, Public Health Agency of Canada, 3200 Rue Sicotte, Saint-Hyacinthe, QC J2S 2M2, Canada
5
Quebec Public Health Laboratory, Quebec Public Health Institute (INSPQ), 20045 Chemin Sainte-Marie, Sainte-Anne-de-Bellevue, QC H9X 3R5, Canada
6
Institute of Parasitology, McGill University, 21111 Lakeshore Road, Sainte-Anne-de-Bellevue, QC H9X 3V9, Canada
*
Author to whom correspondence should be addressed.
Received: 27 February 2018 / Accepted: 21 March 2018 / Published: 27 March 2018
Abstract
:
Since its detection in Canada in the early 1990s,
Ixodes scapularis
, the primary tick vector of Lyme disease in eastern North America, has continued to expand northward. Estimates of the tick's broad-scale distribution are useful for tracking the extent of the Lyme disease risk zone; however, tick distribution may vary widely within this zone. Here, we investigated
I. scapularis
nymph distribution at three spatial scales across the Lyme disease emergence zone in southern Quebec, Canada. We collected ticks and compared the nymph densities among different woodlands and different plots and transects within the same woodland. Hot spot analysis highlighted significant nymph clustering at each spatial scale. In regression models, nymph abundance was associated with litter depth, humidity, and elevation, which contribute to a suitable habitat for ticks, but also with the distance from the trail and the type of trail, which could be linked to host distribution and human disturbance. Accounting for this heterogeneous nymph distribution at a fine spatial scale could help improve Lyme disease management strategies but also help people to understand the risk variation around them and to adopt appropriate behaviors, such as staying on the trail in infested parks to limit their exposure to the vector and associated pathogens.
Keywords:
emerging disease;
Ixodidae
; tick distribution; nymph density; local scale; park; trail; heterogeneity
3. Results
3.1. Tick Collection
In 2014,
I. scapularis
was found in 86% of sampled sites with 1494 larvae, 342 nymphs, and 49 adults collected across all sites. Of these, 13% of nymphs and adults were infected by
B. burgdorferi
: 33 nymphs (10%) and 17 adults (35%), collected in nine sites. We noted a heterogeneous distribution of tick density and high variability among sites, ranging from 0 to 44 nymphs/1000 m
2
(
Table 2
and
Figure 2
(1a)).
B. burgdorferi
-infected ticks were found in the southern portion of the study area in sites with a high nymph density.
In 2013,
I. scapularis
was found in 71% of sampled plots and 53% of sampled transects: 210 larvae, 314 nymphs, and 7 adults. Only eight nymphs (2% of all collected nymphs and adults) were infected with
B. burgdorferi
, all collected in the same park (Park 2). Infected ticks were collected in six plots distributed throughout the park and at varying distances from the trail. We sampled 63 plots (24 in Park 1, 21 in Park 2, and 18 in Park 3) with four transects per plot, except for one plot in Park 1 where we could not sample the transect at 60 m from the trail because it was too close to another trail. There was considerable variation in the number of nymphs collected per plot (nymphs per plot: range = 0–25; mean = 5; 1st Qu. = 0; 3rd Qu. = 8). Although the three parks are geographically close (around 10 km) and all had ticks detected in the park prior to the study, the average tick densities differed greatly among the parks with 3.39 nymphs per plot (range: 0–14) in Park 1, 11.00 in Park 2 (range: 2–25), and only 0.22 in Park 3 (range: 0–2) (
Table 2
and
Figure 2
(2a–4a)).
3.2. Spatial Distribution of Nymphs at Site Scale
The distance between two sites ranged from 2 km to 150 km. The global Moran's I values indicated significant clustering of nymph density for sites in the Montérégie region, with a significant peak at the smallest lag of 15.14 km (Moran's Index = 0.29,
p
< 0.001) but no significant autocorrelation beyond 20 km. The local Gi* statistic highlighted significant hot spots in south-central Montérégie close to the Richelieu River, and nonsignificant cold spots in the southwest (
Figure 2
(1b)) for the smallest distance that allowed neighbors between sites and with the best Moran's I (d = 15.14 km).
At the plot scale, the distance between two plots ranged from 40 m to 2000 m. There was a global clustering for plots in Park 2 with a significant global Moran's Index for distances from 400 to 800 m, with a peak at 512 m (Moran's I = 0.30,
p
= 0.004). The local Gi* statistics identified significant hot spots and cold spots in Park 2. The global Moran's Index was not significant for plots in Park 1 and Park 3. The local Gi* statistics identified significant hot spots in Park 3 but only nonsignificant cold spots in Park 1 (
Figure 2
(2b–4b)).
3.3. Relationship between Environmental Factors and Nymph Density
At the site scale, the final model explained 38% of the variation in deviance and included season, the square of elevation, litter depth, and a significant spatial autocovariate term (
Table 3
). Nymph density was higher in spring than in summer or autumn, increased by a factor of 1.58 [CI 95%: 1.01–2.55] for each centimeter of litter depth and decreased by 62% [CI 95%: 22%–83%] with the square of site elevation. The negative binomial distribution was better than the Poisson distribution due to overdispersion. The autocovariate term effectively removed spatial autocorrelation of the residuals (Moran's I = −0.01,
p
= 0.79 for minimal distance of 15.14 km). It improved model fit (AIC = 281 with autocovariate term vs. 282 without it) but this difference did not change the ability of the model to fit the variation in the response variable [
72
]. The internal validity of the model was acceptable and removing the three outliers identified by Cook's distance did not change the results of the model. The difference between observed and predicted nymph abundance (mean absolute error) was 11.26.
At the plot and transect scales, the final model was a mixed-effect Poisson regression including season, distance from the trail, type of trail, and the square of the relative humidity (
Table 4
). The model explained 19% of the variation in deviance. The park level explained 41% of the variation of the deviance and the plot level explained 10%. No autocorrelation was detected in the residuals of regression models for all distances tested (Moran's I = −0.01,
p
= 0.79 for minimal distance). There were more nymphs in spring than in summer and the nymph densities were 1.85 [CI 95%: 1.17–2.36], 1.53 [CI 95%: 1.11–2.23], and 1.66 [CI 95%: 1.30–2.64] times higher at 60 m, 40 m, and 20 m than directly along the trail. However, there was no significant difference in nymph density between transects at 20, 40, and 60 m. There was 42% [CI 95%: 4%–64%] fewer nymphs in plots near gravel than near soil trails. The nymph density decreased by 26% [CI 95%: 7%–37%] with the increasing square relative humidity of the plot. The mean absolute error of the model was 0.95.
4. Discussion
In this study, we carried out the first multi-scale investigation of
I. scapularis
distribution and abundance in the environment in a recently invaded area in southern Canada. Our results provide evidence that tick distribution is not uniform and tends to be clustered at the site scale, the spatial scale used by active surveillance, but also at finer scales within woodlands sampled during active surveillance. This study highlighted natural environmental factors associated with nymph abundance, such as elevation, litter depth, and relative humidity, but also human-related environmental factors, such as distance from the trail and trail type, which are less commonly investigated. This study provides a portrait of the local distribution of ticks at the beginning of the invasion process and the factors highlighted could help to formulate recommendations for public health authorities for the interpretation and use of active surveillance results. This also could be useful for park managers and citizens to understand Lyme disease risk variation and improve local prevention strategies, such as identifying local risk areas or strengthening recommendations to stay on the trail in infested areas.
4.1. Regional Scale
We found that tick density was highly variable among woodlands within the newly invaded Montérégie region with evidence of clustering of high-density sites. Host-seeking nymph distribution at the site scale was heterogeneous and aggregated with spatial autocorrelation up to a distance of 20 km. There were some hot spots—clusters of sites with a high nymph density—in south-central Montérégie along the Richelieu River. This area was previously identified as a high-risk area in 2007 [
38
,
73
] with a significant cluster of established tick populations and emerging
B. burgdorferi
prevalence [
42
,
74
]. Similar studies conducted in the United States also found spatial autocorrelations of tick density and identified high-density clusters at a county scale [
7
,
18
,
19
,
27
,
44
,
75
,
76
,
77
]. In an endemic area, high-density clusters and spatial autocorrelation at small distances was suggested as signaling the presence of foci of early establishment and subsequent expansion from these focal areas [
20
]. It seems that this pattern is already visible in an emerging area such as southern Quebec. Hot spot analysis and spatial autocorrelation metrics allowed us to highlight the heterogeneity of tick distribution at the site scale and within a site, but clustering may also exist at an intermediate scale and could have been detected had we sampled sites that were closer together. Beyond spatial clustering, variation in nymph activity during the day and throughout the summer may have contributed to the heterogeneity in the observed tick density [
2
]. However, sites and plots were randomly distributed in time and space and with tick collection mostly done in the morning, and season was included as a fixed effect to account for the variation of nymph density during the summer.
At the site scale, the heterogeneity of tick distribution is consistent with the process of invasion of
I. scapularis
in Quebec. The introduction of ticks to a new area may depend on both long-distance dispersal by migratory birds [
4
] and short-distance dispersal (<5 km) by resident hosts, especially deer transporting large numbers of adult ticks [
78
]. Tick distribution depends on the suitability of the environment, such as climate and habitat conditions, but also the presence and abundance of hosts. The variability of these factors results in heterogeneity in tick distribution and consequently in the spatial pattern of Lyme disease risk [
2
,
44
,
77
,
79
]. It was not the focus of our study to measure the impact of host movements and abundance, but some environmental factors were highlighted. The count regression model showed that nymph abundance increased with increasing litter depth. Litter depth is regularly cited as an important environmental factor for tick survival [
73
]. Ticks are more abundant where a thick leaf litter layer covers the ground, protecting ticks from desiccation [
80
,
81
,
82
] and from weather variation and winter cold [
41
,
43
]. Many previous studies have reported a negative effect of elevation on tick abundance [
15
,
35
,
81
,
83
,
84
,
85
,
86
,
87
]. We found that nymph abundance per site decreased with the square of elevation, which suggests a nonlinear relationship between nymph density and elevation. Diuk–Wasser et al. [
15
] also noted a nonlinear and negative association between altitude and the number of nymphs and found no nymphs above 510 m altitude in sampled sites in Eastern United States. Elevation may partly explain differences in tick density among the parks as the average elevation of plots in the low-density park (Park 3) was higher than in the others (average elevation: 214 m in Park 3 vs. 96 m in Park 2 and 35 m in Park 1). Litter depth and elevation have also been previously reported as predictors of the distribution of
I. ricinus
, a vector of Lyme disease and tick-borne encephalitis in Europe [
88
,
89
].
4.3. Implications for the Management of Emerging Lyme Disease Risk
The patchy distribution of
I. scapularis
raises a number of issues regarding the design, interpretation, and presentation of results of active tick surveillance. Indeed, the site scale with ticks collected in one site per municipality corresponds to the scale and the protocol used by the active surveillance program of the Public Health Institute of Quebec [
107
]. Drag sampling is the reference method used to collect ticks in the environment. Ogden et al. [
108
] estimated a sensitivity of 50% and a specificity of 86% to identify early-established
I. scapularis
populations using active surveillance, and suggested that one site visit of drag sampling consisting of three person-hours between May and October may be sufficient to identify a Lyme disease risk location; that is to say, the established
I. scapularis
population defined as the detection of the three stages and at least one infected nymph in the same year [
107
]. Another study estimated that only 10% of ticks present in the environment are collected during a site visit using this method [
109
]. Drag sampling remains the best method to approximate human exposure when walking in the woods. The standardization of this method makes it possible to compare the results between sampled locations. However, one visit of three person-hours only allows a limited portion of a woodland to be sampled. Our results and other studies show that caution must be used when extrapolating tick occurrence and abundance to another scale [
16
]. For instance, particularly in the situation of emerging tick populations where tick density is low, it may be difficult to attribute an accurate risk level to a municipality based on sampling a small part of one woodland within this municipality, especially if no ticks were collected. Because of the variability in tick density among similar habitats within the same park, we suggest sampling different parts of a park and different parks in the same municipality to limit the impact of fine-scale heterogeneity in tick distribution and activity on the interpretation of surveillance results.
The patchy distribution of ticks at regional and local scales also has implications for risk communication to the public. The goal of active surveillance is to provide a portrait of the epidemiological situation. Risk maps produced must be useful for public health authorities and easily updated. However, scale and resolution of a risk map must be adapted to the message and intended audience [
110
]. Public health authorities generally choose to develop risk maps based on administrative units such as regions or municipalities. However, our study confirmed that the level of risk may be highly variable within such units, raising the question of how best to represent limited surveillance data on risk maps without causing these to be misleading. Depending on the spatial resolution used, the characterization of
I. scapularis
distribution and resulting risk perception will be different [
2
,
5
,
16
]. Public health authorities should be aware of the risk variation within these administrative unit limits and this should be taken into account when publishing and interpreting risk maps. Furthermore, Lyme disease is emerging in Québec and the epidemiological situation will change in the future. It will be interesting to monitor and understand the evolution of
I. scapularis
and
B. burgdorferi
distribution at the different geographic scales and in the context of changing host distribution and environmental conditions.
Local heterogeneity in Lyme disease risk may also impact park managers and citizens. Fine-scale tick distribution maps could help park personnel manage Lyme disease risk at the park scale. Our study provides additional evidence to support the recommendation for visitors to remain on the park trails to limit their exposure to ticks [
111
]. In addition, using soil trails and less-frequented areas may increase the risk of contact with questing ticks. Park managers maintain trails (remove leaves, and vegetation on soil trails), develop recommendations, and give information to staff and visitors. They may identify the "at risk" areas in their park by sampling different parts of the park or by environmental assessment as in our study (type of trail, vegetation, human frequentation). Understanding the local distribution of ticks and the potential variation in Lyme disease risk would allow citizens to better understand the diversity of conditions encountered in each woodlot, to better interpret the risk information provided at broader scales (e.g., municipality, county, or region) by public health authorities, and to better understand the potential time lag or mismatch between the level of risk attributed to a municipality and finer scale risk (e.g., the presence of ticks in individual yards or woodlots).
5. Conclusions
Our study has provided evidence that tick distribution is not uniform at multiple scales within a newly invaded region and that the scale of measurement has important consequences for the accurate representation and communication of tick-borne disease risk. Taking into account the heterogeneous distribution of nymphs could help public health authorities improve surveillance and prevention strategies for Lyme disease, but could also help the public to better understand the local risk to which they are exposed and to adopt appropriate behavior to limit their exposure to the vector and its associated pathogens. This study was a unique opportunity to document the multi-scale geographic pattern of tick distribution and Lyme disease risk at the leading edge of
I. scapularis
' expanding range in North America. Many of the patterns and processes identified in this study are likely to be common to other areas of newly established tick populations. The results of this study may therefore provide insight for other regions and municipalities adapting to increasing vector-borne disease risk as
I. scapularis
continues to expand its range across southern Canada and in parts of the United States.
Acknowledgments
We thank all the people involved in tick collection in the field. This research was supported by the Institut national de santé publique du Québec (INSPQ), the Public Health Agency of Canada (PHAC), the Natural Sciences and Engineering Research Council of Canada (NSERC and the Groupe de recherche en épidémiologie des zoonoses et santé publique (GREZOSP), Université de Montréal.
Author Contributions
M.R., P.A.L. and N.H.O. conceived and designed the experiments; M.R. performed the experiments, analyzed the data, and wrote the paper; P.A.L., A.L. and N.H.O. contributed materials and analysis tools; K.T. and L.R.L. performed laboratory analyzes.
Conflicts of Interest
The authors declare no conflict of interest.

Figure 1. Sampling protocols at the site, plot, and transect scales. At the site scale (a), fifty sites (triangles) were sampled in 2014 by drag sampling an area of 2000 m2. At the plot scale (b), three public woodlands were intensively sampled in 2013 with several plots (diamonds) sampled along the trails (dark lines) during the summer. At the transect scale (c), four transects of 100 m (dotted lines) were sampled in each plot in 2013 at 0, 20, 40, and 60 m from the trail.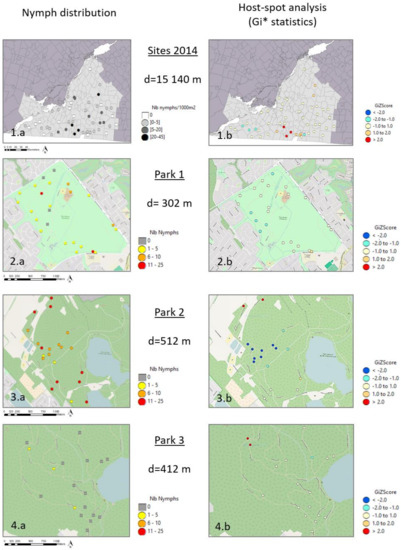 Figure 2.
Density of host-seeking
I. scapularis
nymphs (
1a
–
4a
) and hot spot analysis (
1b
–
4b
) to detect local clusters of nymph density at site and plot scales. Moran's I correlogram was used to determine the distance (d) used in the Gi* statistics. Significant hot spots (z-score > 2) are shown in red and significant cold spots (z-score < 2) in blue.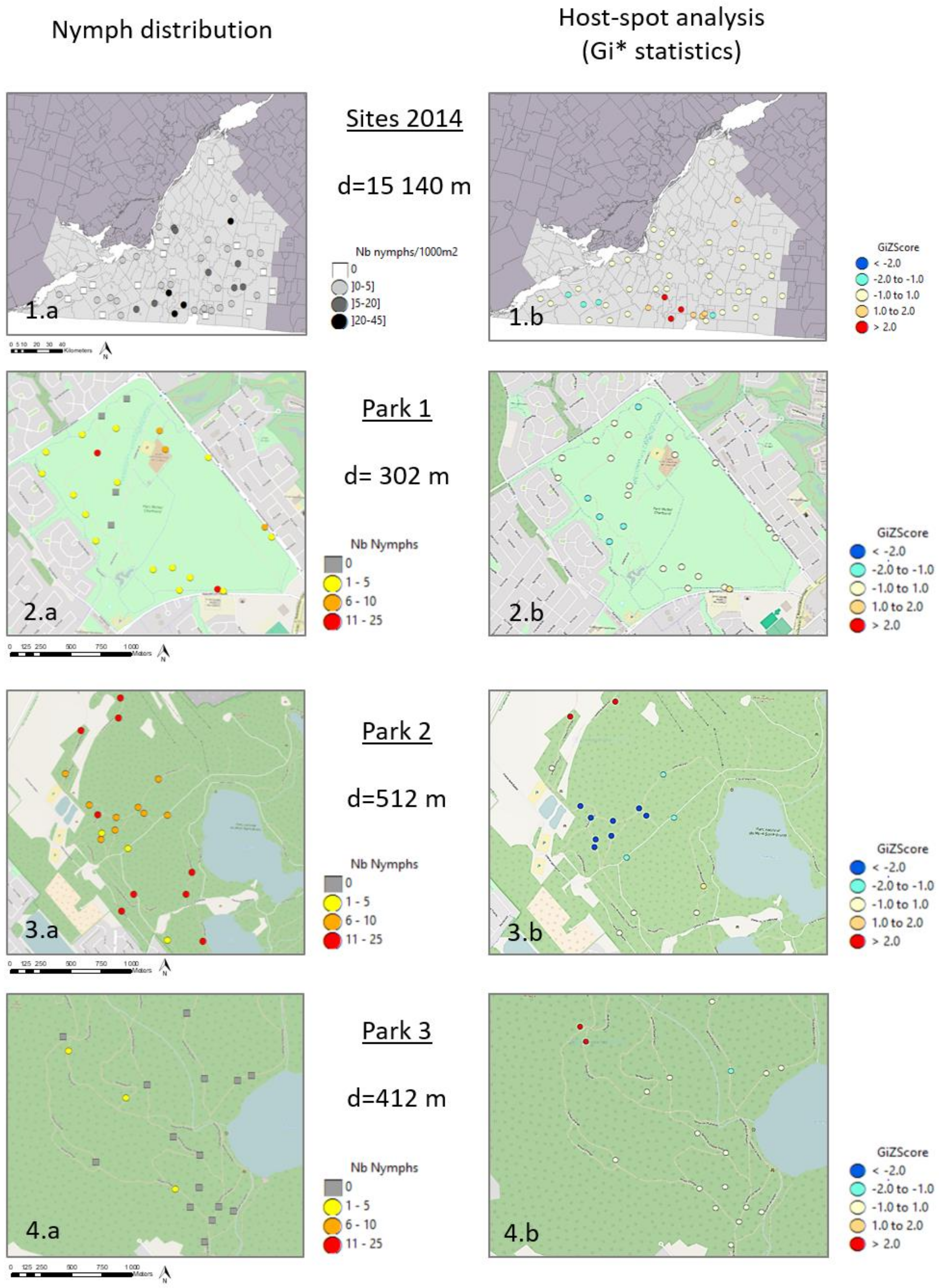 Scale
Explanatory Variable
Value
Min
1st Qu.
Median
Mean
3rd Qu.
Max
Source
Site
(

n

= 50)
Sampling distance
Continuous (m)
650
1612
1912
1794
2100
2600
Field
Elevation
Continuous (m)
13.58
49.21
61.69
94.39
116.29
384.00
GPS
Annual degree days > 0 °C
Continuous (°C)
2132
3268
3331
3265
3370
3489
[60]
Total annual precipitation
Continuous (mm)
506
848
933
940
1064
1258
[60]
Litter depth
Continuous (cm)
1.00
3.00
4.00
3.76
5.00
8.00
Field
Percentage of canopy cover
Category
0%: 0; 25%: 1; 75%: 24; 100%: 13
Field
Percentage covered by ground vegetation
Category
0%: 10; 25%: 15; 75%: 12; 100%: 9
Field
Percentage covered by shrubs
Category
0%: 18; 25%: 18; 75%: 9; 100%: 4
Field
Percentage covered by trees
Category
0%: 2; 25%: 18; 75%: 29; 100%: 1
Field
Wetlands
Yes/No
Yes: 16; No: 34
Field
Woody debris on forest floor
Yes/No
Yes: 20; No: 30
Field
Season
Category
Spring: 11; Summer: 32; Autumn: 7
Field
Plot
(

n

= 63)
Elevation
Continuous (m)
11.18
34.73
84.72
107.20
184.00
300.50
GPS
Local temperature
Continuous (°C)
15.17
19.32
22.79
22.79
25.91
32.49
Data logger
Local relative humidity
Continuous (%)
42.65
55.22
63.16
65.74
77.65
88.55
Data logger
Width of trail
Continuous (m)
1.40
2.30
3.10
3.02
3.60
6.30
Field
Type of trail
Category
Soil: 17; Wood chips: 2; Gravel/Asphalt: 44
Field
Season
Category
Spring: 24; Summer: 39
Field
Transect
(

n

= 251)
Litter depth
Continuous (cm)
0.00
1.00
2.00
2.81
4.00
12.00
Field
Litter of leaves
Yes/No
Yes: 11; No: 240
Field
Litter of conifer needles
Yes/No
Yes: 42; No: 209
Field
No litter (bare soil)
Yes/No
Yes: 15; No: 236
Field
Ground vegetation (e.g., grass)
Yes/No
Yes: 59; No: 192
Field
Medium vegetation (e.g., ferns)
Yes/No
Yes: 69; No: 182
Field
Tall vegetation (e.g., shrub)
Yes/No
Yes: 20; No: 231
Field
Very tall vegetation (e.g., mature trees)
Yes/No
Yes: 246; No: 5
Field
Unit
Year
Number of Units with Ticks/Total Number of Units
Sampling Area per Unit
Nymphs Collected /1000 m2
Mean
SD
Median
Min
Max
Site
2014
43/50 (86%)
650 to 2600 m2
4.83
11.72
1.50
0
43.81
Plot
2013
45/63 (71%)
400 m2
12.45
15.10
5.00
0
62.50
Transect
2013
133/251 (53%)
100 m2
12.50
18.90
0.00
0
110.0

Table 3. Regression model for nymph counts per site in 2014. We used a negative binomial regression model with the log-transformed sampling distance as an offset.
| Model 1 | Estimate | Std. Error | z Value | Pr (>|z|) |
| --- | --- | --- | --- | --- |
| Intercept | −5.449 | 0.663 | −8.209 | <0.001 |
| Season | | | | |
|  Summer vs. Spring | −1.054 | 0.488 | −2.157 | 0.031 |
|  Autumn vs. Spring | −1.589 | 0.678 | −2.343 | 0.019 |
|  Autumn vs. Summer | −0.535 | 0.615 | −0.870 | 0.384 |
| Elevation * | 0.711 | 0.397 | 1.789 | 0.073 |
| Elevation2 * | −0.966 | 0.332 | −2.907 | 0.003 |
| Litter depth * | 0.460 | 0.196 | 2.341 | 0.019 |
| Autocovariate term | 0.001 | 0.0004 | 2.968 | 0.002 |

Table 4. Regression model for nymph counts per transect in 2013. We used a mixed Poisson regression model using park and plot identity as random effects.
Model 2
Estimate
Std. Error
z Value
Pr (>|z|)
Intercept
0.806
0.554
1.455
0.145
Distance from trail *
 

20 m vs. 0 m

0.519
0.190
2.730
0.006
 

40 m vs. 0 m

0.435
0.193
2.249
0.024
 

60 m vs. 0 m

0.624
0.187
3.331
<0.001
Type of trail
 

wood chips vs. soil

−0.966
0.619
−1.562
0.118
 

gravel/asphalt vs. soil

−0.537
0.258
−2.078
0.037
 

gravel/asphalt vs. wood

0.429
0.573
0.749
0.454
Relative humidity **
0.212
0.110
1.925
0.054
Relative humidity2 **
−0.267
0.109
−2.441
0.014
Season
 

summer vs. spring

−0.413
0.189
−2.182
0.029
* No significant differences between transects at 20 m, 40 m, and 60 m; ** scaled variable.

© 2018 by the authors. Licensee MDPI, Basel, Switzerland. This article is an open access article distributed under the terms and conditions of the Creative Commons Attribution (CC BY) license (http://creativecommons.org/licenses/by/4.0/).