The Relationship between Alcohol Drinking Patterns and Sleep Duration among Black and White Men and Women in the United States
1
Epidemiology Branch, National Institute of Environmental Health Sciences, National Institutes of Health, Department of Health and Human Services, 111 TW Alexander Drive, Research Triangle Park, NC 27709, USA
2
Social & Scientific Systems, Inc., Research Triangle Park, NC 27703, USA
3
Department of Medicine, Beth Israel Deaconess Medical Center, Boston, MA 02215, USA
4
Nutrition Department, Harvard T.H. Chan School of Public Health, Boston, MA 02215, USA
5
Department of Epidemiology, Harvard T.H. Chan School of Public Health, Boston, MA 02215, USA
6
Channing Division of Network Medicine, Brigham and Women's Hospital and Harvard Medical School, Boston, MA 02215, USA
*
Author to whom correspondence should be addressed.
Received: 22 January 2018 / Revised: 21 February 2018 / Accepted: 2 March 2018 / Published: 20 March 2018
Abstract
In the United States, racial minorities generally experience poorer cardiovascular health compared to whites, and differences in alcohol consumption and sleep could contribute to these disparities. With a nationally representative sample of 187,950 adults in the National Health Interview Survey from 2004 to 2015, we examined the relationship between alcohol-drinking patterns and sleep duration/quality by race and sex. Using Poisson regression models with robust variance, we estimated sex-specific prevalence ratios for each sleep duration/quality category among blacks compared to whites within categories of alcohol-drinking pattern, adjusting for socioeconomic status and other potential confounders. Across alcohol drinking patterns, blacks were less likely than whites to report recommended sleep of 7–<9 h/day. Short (PR = 1.30 [95% CI: 1.22–1.39]) and long (PR = 1.30 [95% CI: 1.07–1.58]) sleep were 30% more prevalent among black-male infrequent heavy drinkers compared to white-male infrequent heavy drinkers. Short (PR = 1.27 [95% CI: 1.21–1.34]) sleep was more prevalent among black-female infrequent heavy drinkers compared to white-female infrequent heavy drinkers, but there was no difference for long sleep (PR = 1.09 [95% CI: 0.97–1.23]). Black female infrequent moderate drinkers, however, had a 16% higher (PR = 1.16 [95% CI: 1.01–1.33]) prevalence of long sleep compared to their white counterparts. Environmental, social, and biological factors contributing to these findings, along with their impact on disparate health outcomes, should be studied in greater detail.
View Full-Text
►

▼

Figures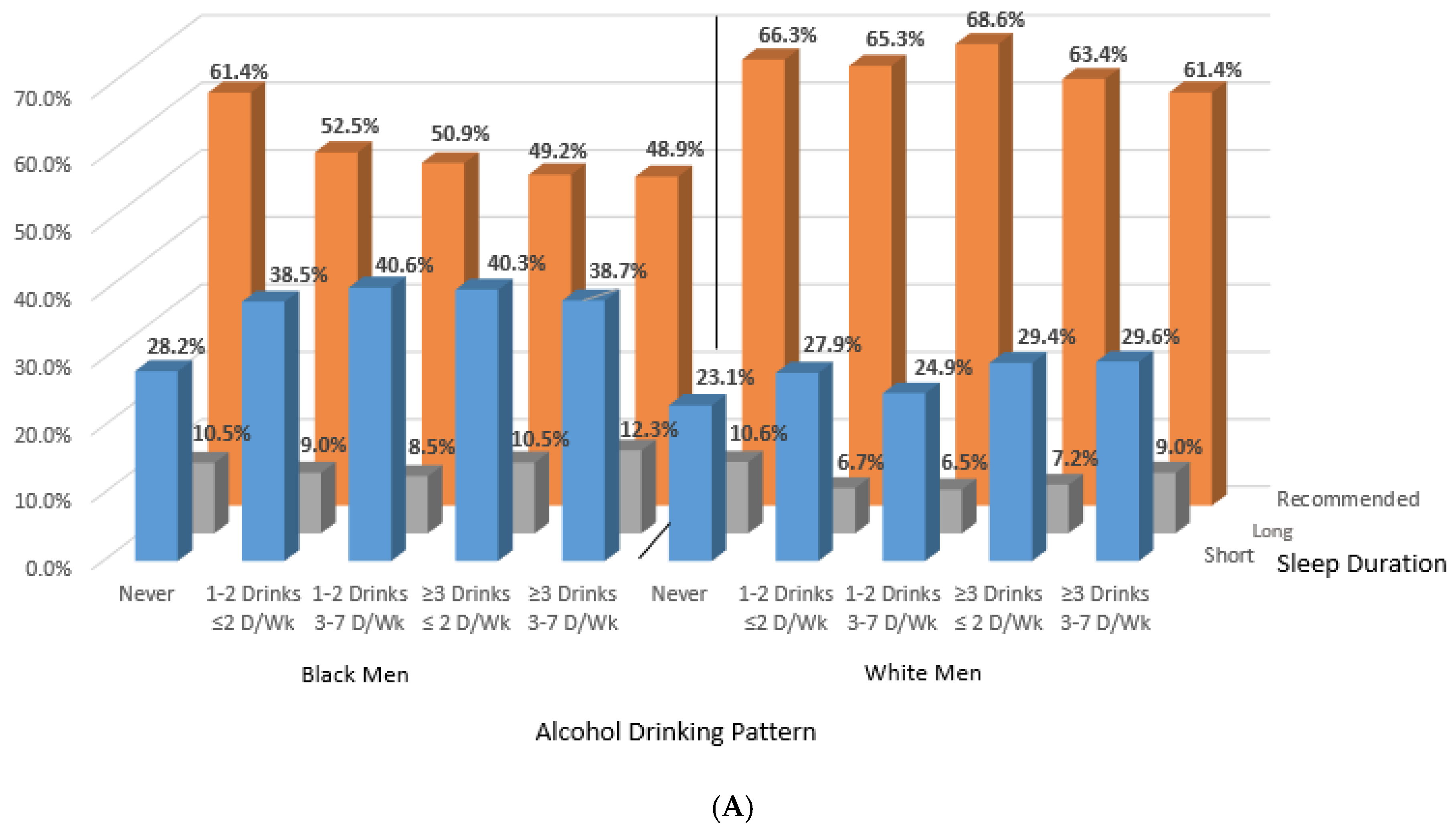 Figure 1
This is an open access article distributed under the
Creative Commons Attribution License
which permits unrestricted use, distribution, and reproduction in any medium, provided the original work is properly cited (CC BY 4.0).

Share & Cite This Article
MDPI and ACS Style
Jackson, C.L.; Gaston, S.A.; Liu, R.; Mukamal, K.; Rimm, E.B. The Relationship between Alcohol Drinking Patterns and Sleep Duration among Black and White Men and Women in the United States. Int. J. Environ. Res. Public Health 2018, 15, 557.
Note that from the first issue of 2016, MDPI journals use article numbers instead of page numbers. See further details here.
Related Articles
Comments
[Return to top]