Wetlands and Malaria in the Amazon: Guidelines for the Use of Synthetic Aperture Radar Remote-Sensing
1
ESPACE-DEV, UMR 228 IRD/UM/UR/UG/UA, Institut de Recherche pour le Développement (IRD), 34093 Montpellier, France
2
Ministry of Education Key Laboratory for Earth System Modeling, Department of Earth System Science, Tsinghua University, Beijing 100084, China
3
ESPACE-DEV, UMR 228 IRD/UM/UR/UG/UA, Institut de Recherche pour le Développement (IRD), SEAS-OI, 97410 La Réunion, France
4
Department of Geography (GEA), University of Brasília (UnB), Brasília 70910-900, Brazil
5
ESPACE-DEV, UMR 228 IRD/UM/UR/UG/UA, Institut de Recherche pour le Développement (IRD), 98848 Nouvelle-Calédonie, France
*
Author to whom correspondence should be addressed.
Received: 15 December 2017 / Revised: 27 February 2018 / Accepted: 1 March 2018 / Published: 7 March 2018
Abstract
The prevention and control of mosquito-borne diseases, such as malaria, are important health issues in tropical areas. Malaria transmission is a multi-scale process strongly controlled by environmental factors, and the use of remote-sensing data is suitable for the characterization of its spatial and temporal dynamics. Synthetic aperture radar (SAR) is well-adapted to tropical areas, since it is capable of imaging independent of light and weather conditions. In this study, we highlight the contribution of SAR sensors in the assessment of the relationship between vectors, malaria and the environment in the Amazon region. More specifically, we focus on the SAR-based characterization of potential breeding sites of mosquito larvae, such as man-made water collections and natural wetlands, providing guidelines for the use of SAR capabilities and techniques in order to optimize vector control and malaria surveillance. In light of these guidelines, we propose a framework for the production of spatialized indicators and malaria risk maps based on the combination of SAR, entomological and epidemiological data to support malaria risk prevention and control actions in the field.
View Full-Text
►

▼

Figures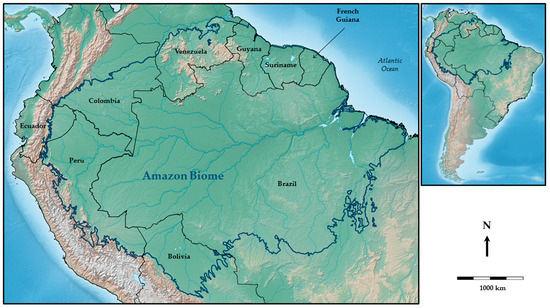 Figure 1
This is an open access article distributed under the
Creative Commons Attribution License
which permits unrestricted use, distribution, and reproduction in any medium, provided the original work is properly cited (CC BY 4.0).

Share & Cite This Article
MDPI and ACS Style
Catry, T.; Li, Z.; Roux, E.; Herbreteau, V.; Gurgel, H.; Mangeas, M.; Seyler, F.; Dessay, N. Wetlands and Malaria in the Amazon: Guidelines for the Use of Synthetic Aperture Radar Remote-Sensing. Int. J. Environ. Res. Public Health 2018, 15, 468.
Note that from the first issue of 2016, MDPI journals use article numbers instead of page numbers. See further details here.
Related Articles
Comments
[Return to top]