Residents' Self-Reported Health Effects and Annoyance in Relation to Air Pollution Exposure in an Industrial Area in Eastern-Estonia
1
Institute of Family Medicine and Public Health, Faculty of Medicine, University of Tartu, Ravila 19, 50411 Tartu, Estonia
2
Department of Public Health and Clinical Medicine, Umea University, SE-901 87 Umea, Sweden
3
National Institute for Health Development, Hiiu 14, 11619 Tallinn, Estonia
4
Institute of Social Sciences, University of Tartu, Lossi 36, 51003 Tartu, Estonia
5
Estonian Environmental Research Centre, Marja 4d, 10614 Tallinn, Estonia
6
Institute of Biomedicine and Translational Medicine, Faculty of Medicine, University of Tartu, Ravila 19, 50411 Tartu, Estonia
7
Estonian Health Board, Paldiski 81, 10617 Tallinn, Estonia
*
Author to whom correspondence should be addressed.
Received: 30 November 2017 / Revised: 22 January 2018 / Accepted: 31 January 2018 / Published: 2 February 2018
Abstract
Eastern Estonia has large oil shale mines and industrial facilities mainly focused on electricity generation from oil shale and shale oil extraction, which produce high air pollution emissions. The "Study of the health impact of the oil shale sector—SOHOS" was aimed at identifying the impacts on residents' health and annoyance due to the industrial processing. First, a population-wide survey about health effects and annoyance was carried out. Second, the total and oil shale sectors' emitted concentrations of benzene, phenol, and PM
2.5
were modelled. Third, the differences between groups were tested and relationships between health effects and environmental pollution studied using multiple regression analysis. Compared to the control groups from non-industrial areas in Tartu or Lääne-Viru, residents of Ida-Viru more frequently (
p
< 0.05) reported wheezing, chest tightness, shortness of breath, asthma attacks, a long-term cough, hypertension, heart diseases, myocardial infarction, stroke, and diabetes. All health effects except asthma were reported more frequently among non-Estonians. People living in regions with higher levels of PM
2.5
, had significantly higher odds (
p
< 0.05) of experiencing chest tightness (OR = 1.13, 95% CI 1.02–1.26), shortness of breath (1.16, 1.03–1.31) or an asthma attack (1.22, 1.04–1.42) during the previous year. People living in regions with higher levels of benzene had higher odds of experiencing myocardial infarction (1.98, 1.11–3.53) and with higher levels of phenol chest tightness (1.44, 1.03–2.00), long-term cough (1.48, 1.06–2.07) and myocardial infarction (2.17, 1.23–3.83). The prevalence of adverse health effects was also higher among those who had been working in the oil shale sector. Next to direct health effects, up to a quarter of the residents of Ida-Viru County were highly annoyed about air pollution. Perceived health risk from air pollution increased the odds of being annoyed. Annoyed people in Ida-Viru had significantly higher odds of experiencing respiratory symptoms during the last 12 months, e.g., wheezing (2.30, 1.31–4.04), chest tightness (2.88, 1.91–4.33 or attack of coughing (1.99, 1.34–2.95).
View Full-Text
►

▼

Figures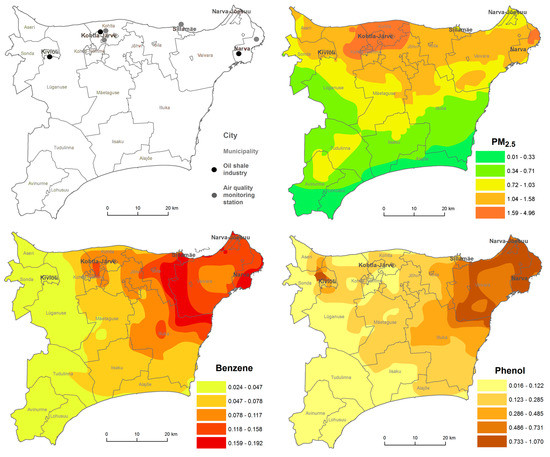 Figure 1
This is an open access article distributed under the
Creative Commons Attribution License
which permits unrestricted use, distribution, and reproduction in any medium, provided the original work is properly cited (CC BY 4.0).

Share & Cite This Article
MDPI and ACS Style
Orru, H.; Idavain, J.; Pindus, M.; Orru, K.; Kesanurm, K.; Lang, A.; Tomasova, J. Residents' Self-Reported Health Effects and Annoyance in Relation to Air Pollution Exposure in an Industrial Area in Eastern-Estonia. Int. J. Environ. Res. Public Health 2018, 15, 252.
Note that from the first issue of 2016, MDPI journals use article numbers instead of page numbers. See further details here.
Related Articles
Comments
[Return to top]