Open Access This article is
freely available
re-usable
Article
Process Mining and Conformance Checking of Long Running Processes in the Context of Melanoma Surveillance
†
1
Center for Medical Statistics, Informatics, and Intelligent Systems (CeMSIIS), Medical University of Vienna, Spitalgasse 23, Vienna 1010, Austria
2
Research Department of Advanced Information Systems and Technology, University of Applied Sciences Upper Austria, Softwarepark 13, Hagenberg 4232, Austria
3
Faculty of Computer Science, University of Vienna, Währinger Strasse 29, Vienna 1010, Austria
4
Department of Dermatology, Medical University of Vienna, Währinger Gürtel 18-20, Vienna 1010, Austria
†
This paper is an extended version of our paper published in International Workshop on Process-Oriented Data Science for Healthcare 2018 (PODS4H18), Sydney, Australia. September 10, 2018 called "An Application of Process Mining in the Context of Melanoma Surveillance using Time Boxing".

‡
Current address: Medical University Vienna, Spitalgasse 23, 1090 Vienna, Austria.

Received: 25 October 2018 / Accepted: 7 December 2018 / Published: 10 December 2018
Abstract
:
Background: Process mining is a relatively new discipline that helps to discover and analyze actual process executions based on log data. In this paper we apply conformance checking techniques to the process of surveillance of melanoma patients. This process consists of recurring events with time constraints between the events. Objectives: The goal of this work is to show how existing clinical data collected during melanoma surveillance can be prepared and pre-processed to be reused for process mining. Methods: We describe an approach based on time boxing to create process models from medical guidelines and the corresponding event logs from clinical data of patient visits. Results: Event logs were extracted for 1023 patients starting melanoma surveillance at the Department of Dermatology at the Medical University of Vienna between January 2010 and June 2017. Conformance checking techniques available in the ProM framework and explorative applied process mining techniques were applied. Conclusions: The presented time boxing enables the direct use of existing process mining frameworks like ProM to perform process-oriented analysis also with respect to time constraints between events.
Keywords:
health care processes; process mining; electronic health records; medical guidelines
Author Contributions
C.R., E.H. and S.R.-M. conceived and designed the experiments; C.R., R.D. and E.H. performed the experiments; H.K. and S.R.-M. analyzed the data; C.R. and E.H. wrote the paper.
Funding
The work presented in this paper was conducted in the context of the EBMC2 project that is co-funded by the University of Vienna and the Medical University of Vienna.
Acknowledgments
We thank all our collaborators in the EMBC2 project: Wolfgang Dorda, Georg Duftschmid, Walter Gall, Karl Anton Fröschl, Wilfried Grossmann and Simone Katja Sauter as well as Thomas Wrba from the RDA team for enabling direct access to the data.
Conflicts of Interest
The authors declare no conflict of interest.
Abbreviations
The following abbreviations are used in this manuscript:
| | |
| --- | --- |
| AJCC | American Joint Committee on Cancer |
| BPMN | Business Process Modeling and Notation |
| DDMUV | Department of Dermatology at the Medical University Vienna |
| EBMC2 | Evidence-Based Medical Compliance Cluster |
| HIS | Hospital Information System |
| IN_FUP | in follow-up |
| LTFU | lost to follow-up |
| MPE | Multi-perspective Process Explorer |
| RDA | Research, Documentation and Analysis Platform |

Figure 1. A Business Process Modeling and Notation (BPMN) representation of the process of melanoma surveillance. The start event of the surveillance is the excision of the melanoma followed by the American Joint Committee on Cancer (AJCC) stage classification and the follow-up visits. Depending on the AJCC stage, the number of follow-up visits can vary and the AJCC stage can be re-assessed after each follow-up visit. A patient can be lost to follow-up or complete the surveillance successfully.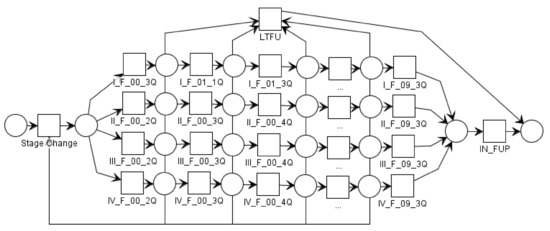 Figure 2.
A simplified petri net model with applied time boxing corresponding to the guideline used at the Dermatology at the Medical University Vienna (DDMUV). For each AJCC stage (i.e., I, II, III, and IV) the follow-up visits after three, six, or twelve month (i.e., 2Q is 2nd quarter, 3Q is 3rd quarter, and 4Q is 4th quarter) for ten years are shown. After each follow-up visit a patient can proceed to any later follow-up visit, have a state change, be lost to follow-up (LTFU), or complete the surveillance (i.e., IN_FUP meaning
still in follow-up
).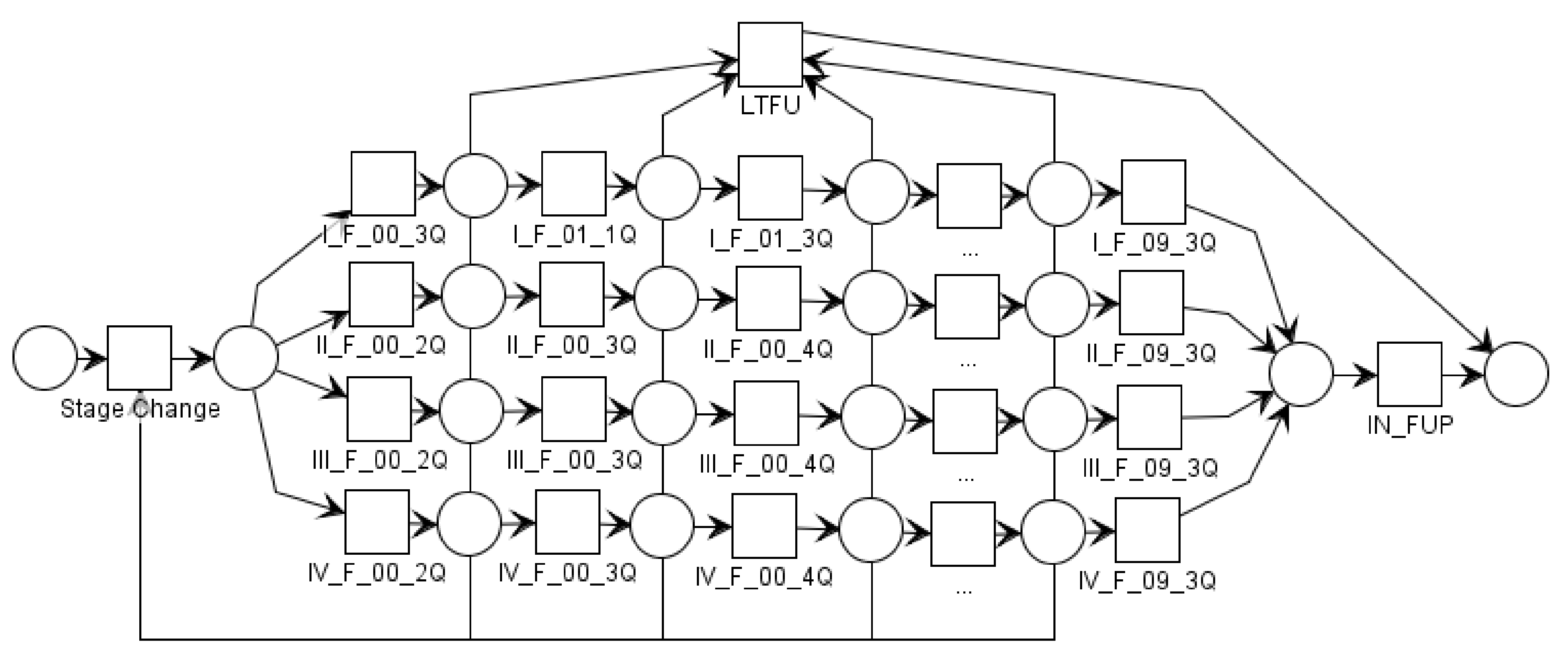 Figure 3. The most frequent trace in the complete log (I–IV) visualized via the Multi-perspective Process Explorer's (MPE) trace view (fitness 98.8%).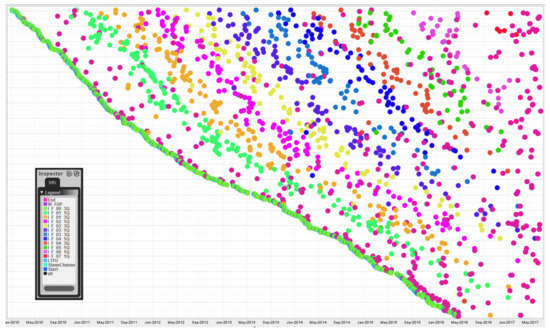 Figure 6. Dotted Chart Analysis of the stage I event log. The x-axis shows the timestamps of the events. The y-axis lists all cases sorted by the timestamps of their start event, descending. The dots represent the events, color-coded based on event label according to the legend on the left.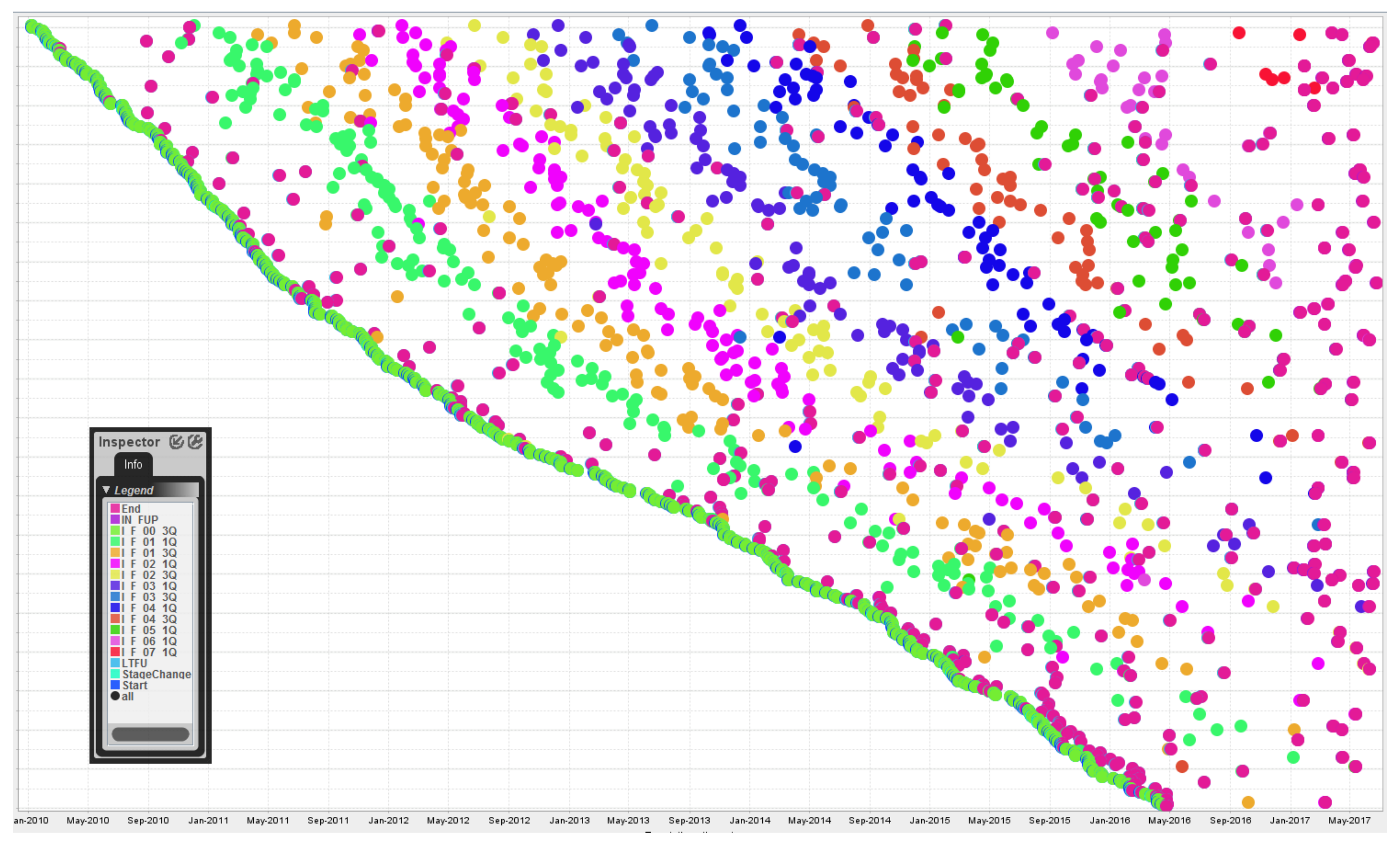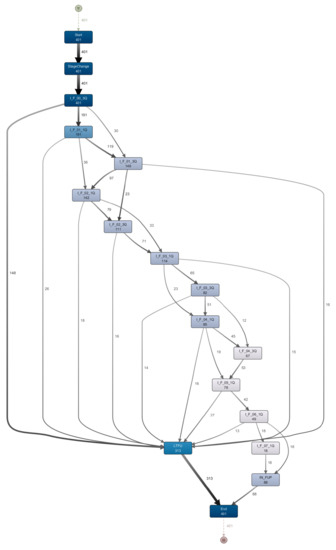 Figure 7. A section of a model created using the process mining tool Disco (Fluxicon BV, Bomanshof, Eindhoven, The Netherlands). The model is based on the stage I log. The tool was set to show all activities (100%) and the most frequent pathways (30%). The colour of the events (dark—more, light—fewer) and the thickness of the pathways (thicker—more) represent the frequency in the log.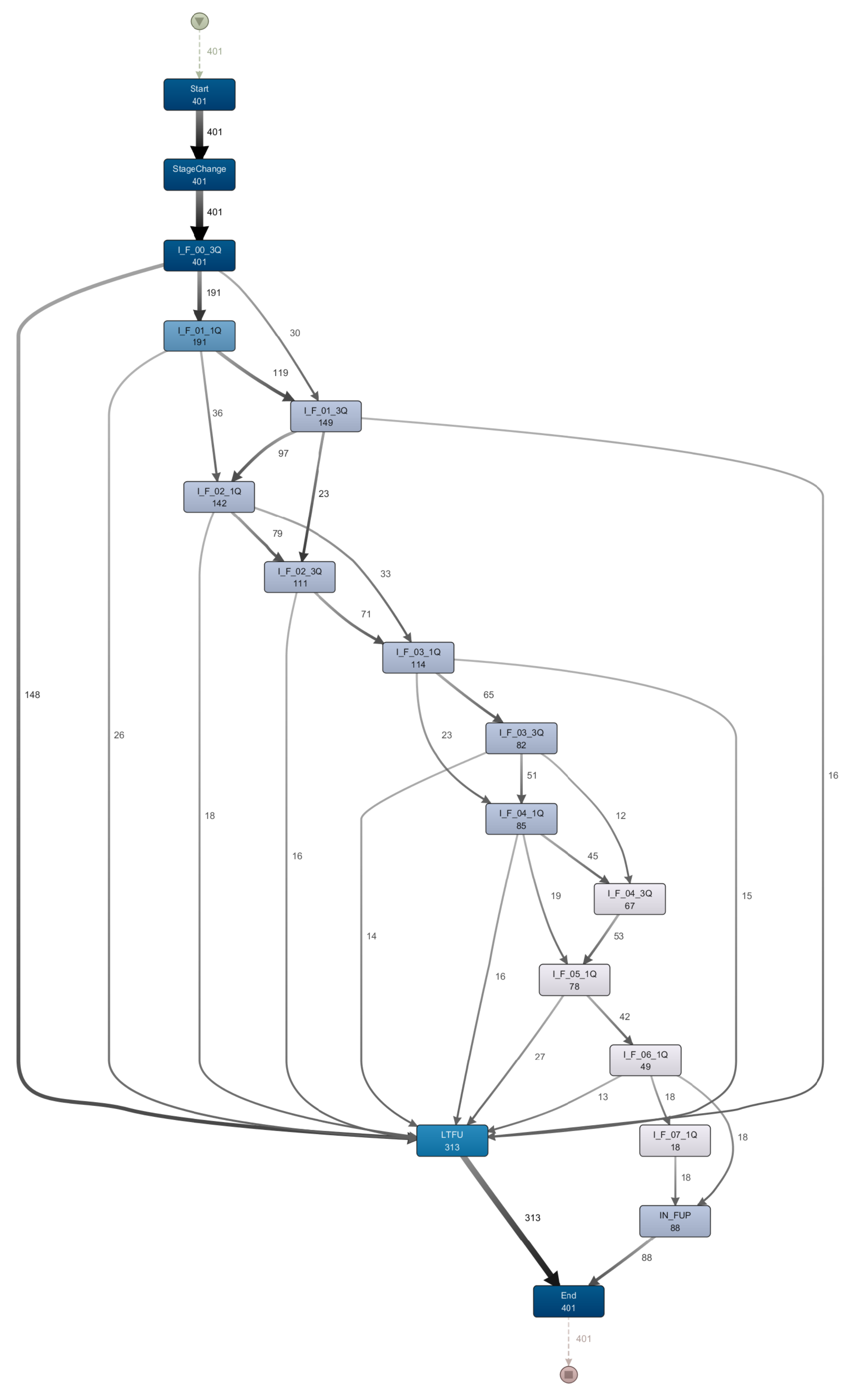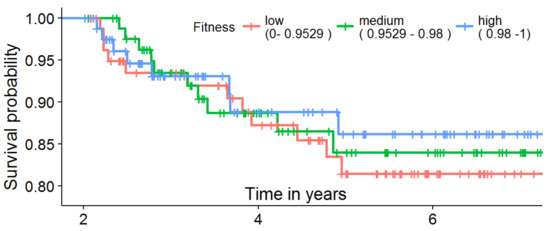 Figure 8. Survival analysis for all 246 patients that stayed in follow-up for more than two years, sampled into three equal-sized groups depending on their fitness.

Table 1. Number of patients and mean number of events per case in log files split by maximal American Joint Committee on Cancer (AJCC) stage and separated by LTFU (lost to follow-up) and IN_FUP (in follow-up). The distribution of the outcome indicators LTFU and IN_FUP show significant differences between the AJCC stages.
Number of Patients
Number of Mean Events per Case
I–IV
I
II
III
IV
I–IV
I
II
III
IV
LTFU
286
146
95
20
25
8.23
6.78
9.2
10.6
11.2
Female
IN_FUP
153
45
50
17
41
12.8
10.1
14.9
13.4
13
Total
439
191
145
37
66
9.82
7.57
11.2
11.9
12.3
LTFU
379
167
124
42
46
8.67
7.09
8.90
10.7
11.9
Male
IN_FUP
205
43
70
33
59
13.3
10.7
13.9
15.1
13.4
Total
584
210
194
75
105
10.3
7.84
10.7
12.6
12.7
LTFU
665
313
219
62
71
8.48
6.95
9.03
10.7
11.6
Total
IN_FUP
358
88
120
50
100
13.1
10.4
14.3
14.5
13.2
Total
1023
401
339
112
171
10.1
7.71
10.9
12.4
12.6

Table 2. Using the Multi-perspective Process Explorer (MPE), for each stage log and the combined log (I–IV) the average fitness and precision were calculated in regard to the respective guideline models.
| AJCC Stage | No of Patients | Avg. Fitness % (Min–Max) | Precision % (#Observed / #Possible Behaviour) |
| --- | --- | --- | --- |
| I | 401 | 98.6% (91–100%) | 75.1% |
| II | 339 | 98.0% (82–100%) | 71.4% |
| III | 112 | 98.2% (85–100%) | 65.0% |
| IV | 171 | 98.7% (88–100%) | 63.1% |
| I–IV | 1023 | 98.4% (53–100%) | 87.0% |

© 2018 by the authors. Licensee MDPI, Basel, Switzerland. This article is an open access article distributed under the terms and conditions of the Creative Commons Attribution (CC BY) license (http://creativecommons.org/licenses/by/4.0/).