Biofouling Mitigation by Chloramination during Forward Osmosis Filtration of Wastewater
1
Graduate School of Engineering, Nagasaki University, Nagasaki 852-8521, Japan
2
R&D Division, Kyowakiden Industry Co., Ltd., 10-2 Kawaguchi-Machi, Nagasaki 852-8108, Japan
3
Faculty of Environmental Engineering, The University of Kitakyushu, 1-1 Hibikino, Wakamatsu, Kitakyushu, Fukuoka 808-0135, Japan
4
Centre for Technology in Water and Wastewater, University of Technology Sydney, Ultimo NSW 2007, Australia
*
Author to whom correspondence should be addressed.
Received: 3 September 2018 / Revised: 15 September 2018 / Accepted: 24 September 2018 / Published: 27 September 2018
Abstract
Pre-concentration is essential for energy and resource recovery from municipal wastewater. The potential of forward osmosis (FO) membranes to pre-concentrate wastewater for subsequent biogas production has been demonstrated, although biofouling has also emerged as a prominent challenge. This study, using a cellulose triacetate FO membrane, shows that chloramination of wastewater in the feed solution at 3–8 mg/L residual monochloramine significantly reduces membrane biofouling. During a 96-h pre-concentration, flux in the chloraminated FO system decreased by only 6% and this flux decline is mostly attributed to the increase in salinity (or osmotic pressure) of the feed due to pre-concentration. In contrast, flux in the non-chloraminated FO system dropped by 35% under the same experimental conditions. When the feed was chloraminated, the number of bacterial particles deposited on the membrane surface was significantly lower compared to a non-chloraminated wastewater feed. This study demonstrated, for the first time, the potential of chloramination to inhibit bacteria growth and consequently biofouling during pre-concentration of wastewater using a FO membrane.
View Full-Text
►

▼

Figures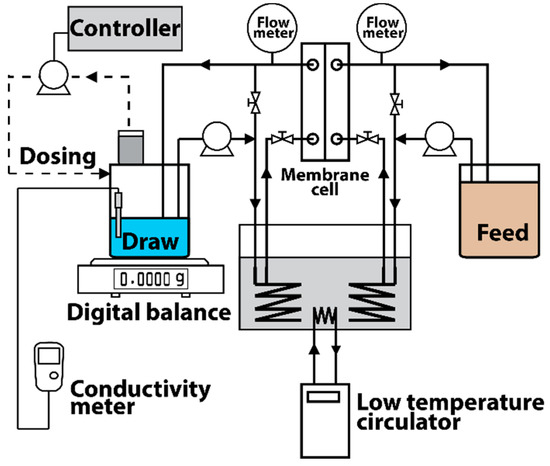 Figure 1
This is an open access article distributed under the
Creative Commons Attribution License
which permits unrestricted use, distribution, and reproduction in any medium, provided the original work is properly cited (CC BY 4.0).

Share & Cite This Article
MDPI and ACS Style
Fujioka, T.; Nguyen, K.H.; Hoang, A.T.; Ueyama, T.; Yasui, H.; Terashima, M.; Nghiem, L.D. Biofouling Mitigation by Chloramination during Forward Osmosis Filtration of Wastewater. Int. J. Environ. Res. Public Health 2018, 15, 2124.
Note that from the first issue of 2016, MDPI journals use article numbers instead of page numbers. See further details here.
Related Articles
Comments
[Return to top]