Spatiotemporal Risk of Bacillary Dysentery and Sensitivity to Meteorological Factors in Hunan Province, China
1
State Key Laboratory of Resources and Environmental Information System, Institute of Geographic Sciences and Natural Resources Research, Chinese Academy of Sciences, Beijing 100101, China
2
China National Center for Food Safety Risk Assessment, Beijing 100022, China
3
Jiangsu Center for Collaborative Innovation in Geographical Information Resource Development and Application, Nanjing 210023, China
4
The School of Earth Science and Resources, Chang'an University, Xi'an 710054, China
5
Hunan Provincial Center for Disease Control and Prevention, Changsha 410005, China
*
Authors to whom correspondence should be addressed.
Received: 7 September 2017 / Revised: 27 November 2017 / Accepted: 8 December 2017 / Published: 29 December 2017
Abstract
Bacillary dysentery remains a public health concern in the world. Hunan Province is one of the provinces having the highest risk of bacillary dysentery in China, however, the spatial-temporal distribution, variation of bacillary dysentery and sensitivity to meteorological factors in there are unclear. In this paper, a Bayesian space-time hierarchical model (BSTHM) was used to detect space-time variation, and effects of meteorological factors between 2010 and 2015. The risk of bacillary dysentery showed apparent spatial-temporal heterogeneity. The highest risk occurred in the summer season. Economically undeveloped mountainous areas in the west and south of the province had the highest incidence rates. Twenty three (18.9%) and 20 (16.4%) counties were identified as hot and cold spots, respectively. Among the hotspots, 11 counties (47.8%) exhibited a rapidly decreasing trend, suggesting they may become low-risk areas in the future. Of the cold spot counties, six (30%) showed a slowly decreasing trend, and may have a higher risk in the future. Among meteorological factors, air temperature, relative humidity, and wind speed all played a significant role in the spatial-temporal distribution of bacillary dysentery risk. These findings can contribute to the implementation of an early warning system for controlling and preventing bacillary dysentery.
View Full-Text
►

▼

Figures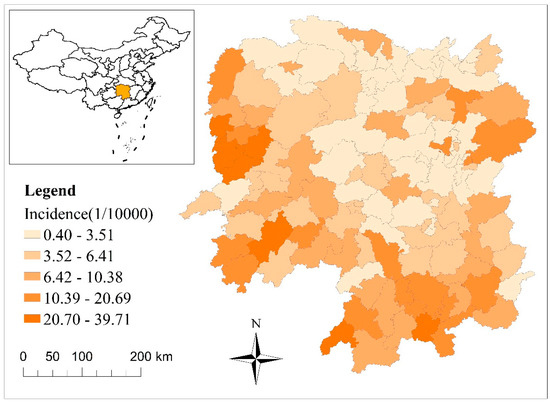 Figure 1
This is an open access article distributed under the
Creative Commons Attribution License
which permits unrestricted use, distribution, and reproduction in any medium, provided the original work is properly cited (CC BY 4.0).

Share & Cite This Article
MDPI and ACS Style
Xu, C.; Xiao, G.; Wang, J.; Zhang, X.; Liang, J. Spatiotemporal Risk of Bacillary Dysentery and Sensitivity to Meteorological Factors in Hunan Province, China. Int. J. Environ. Res. Public Health 2018, 15, 47.
Note that from the first issue of 2016, MDPI journals use article numbers instead of page numbers. See further details here.
Related Articles
Comments
[Return to top]