The MARINA Risk Assessment Strategy: A Flexible Strategy for Efficient Information Collection and Risk Assessment of Nanomaterials
1
National Institute for Public Health and the Environment (RIVM), PO Box 1, Bilthoven 3720 BA, The Netherlands
2
European Commission, Joint Research Centre, Via E. Fermi 2749, Ispra (VA) 21027, Italy
3
Department of Bioscience, Aarhus University, Vejlsøvej 25, PO Box 314, Silkeborg 8600, Denmark
4
Institute of Occupational Medicine, Centre for Human Exposure Science (CHES), Research Avenue North, Riccarton, Edinburgh EH14 4AP, UK
5
Department of Environmental Sciences, Informatics and Statistics, University Ca' Foscari of Venice, c/o VEGApark, Via delle Industrie 21/8, Marghera (VE) 30175, Italy
6
School of Life Sciences, Heriot-Watt University, Edinburgh EH14 4AS, UK
7
Fraunhofer Institute for Molecular Biology and Applied Ecology, Auf dem Aberg 1, Schmallenberg 57392, Germany
8
The REACH Centre, Gordon Manley Building, Lancaster Environment Centre, Lancaster University, Lancaster LA1 4YQ, UK
9
Experimental Toxicology and Ecology, BASF SE, GB/TB-Z470, Ludwigshafen 67056, Germany
10
Centre for Environmental Sciences, University Leiden, PO Box 9518, 2300 RA Leiden, The Netherlands
*
Author to whom correspondence should be addressed.
Academic Editor: Mónica Amorim
Received: 8 September 2015 / Revised: 10 November 2015 / Accepted: 12 November 2015 / Published: 27 November 2015
Abstract
An engineered nanomaterial (ENM) may actually consist of a population of primary particles, aggregates and agglomerates of various sizes. Furthermore, their physico-chemical characteristics may change during the various life-cycle stages. It will probably not be feasible to test all varieties of all ENMs for possible health and environmental risks. There is therefore a need to further develop the approaches for risk assessment of ENMs. Within the EU FP7 project Managing Risks of Nanoparticles (MARINA) a two-phase risk assessment strategy has been developed. In Phase 1 (Problem framing) a base set of information is considered, relevant exposure scenarios (RESs) are identified and the scope for Phase 2 (Risk assessment) is established. The relevance of an RES is indicated by information on exposure, fate/kinetics and/or hazard; these three domains are included as separate pillars that contain specific tools. Phase 2 consists of an iterative process of risk characterization, identification of data needs and integrated collection and evaluation of data on the three domains, until sufficient information is obtained to conclude on possible risks in a RES. Only data are generated that are considered to be needed for the purpose of risk assessment. A fourth pillar, risk characterization, is defined and it contains risk assessment tools. This strategy describes a flexible and efficient approach for data collection and risk assessment which is essential to ensure safety of ENMs. Further developments are needed to provide guidance and make the MARINA Risk Assessment Strategy operational. Case studies will be needed to refine the strategy.
View Full-Text
►

▼

Figures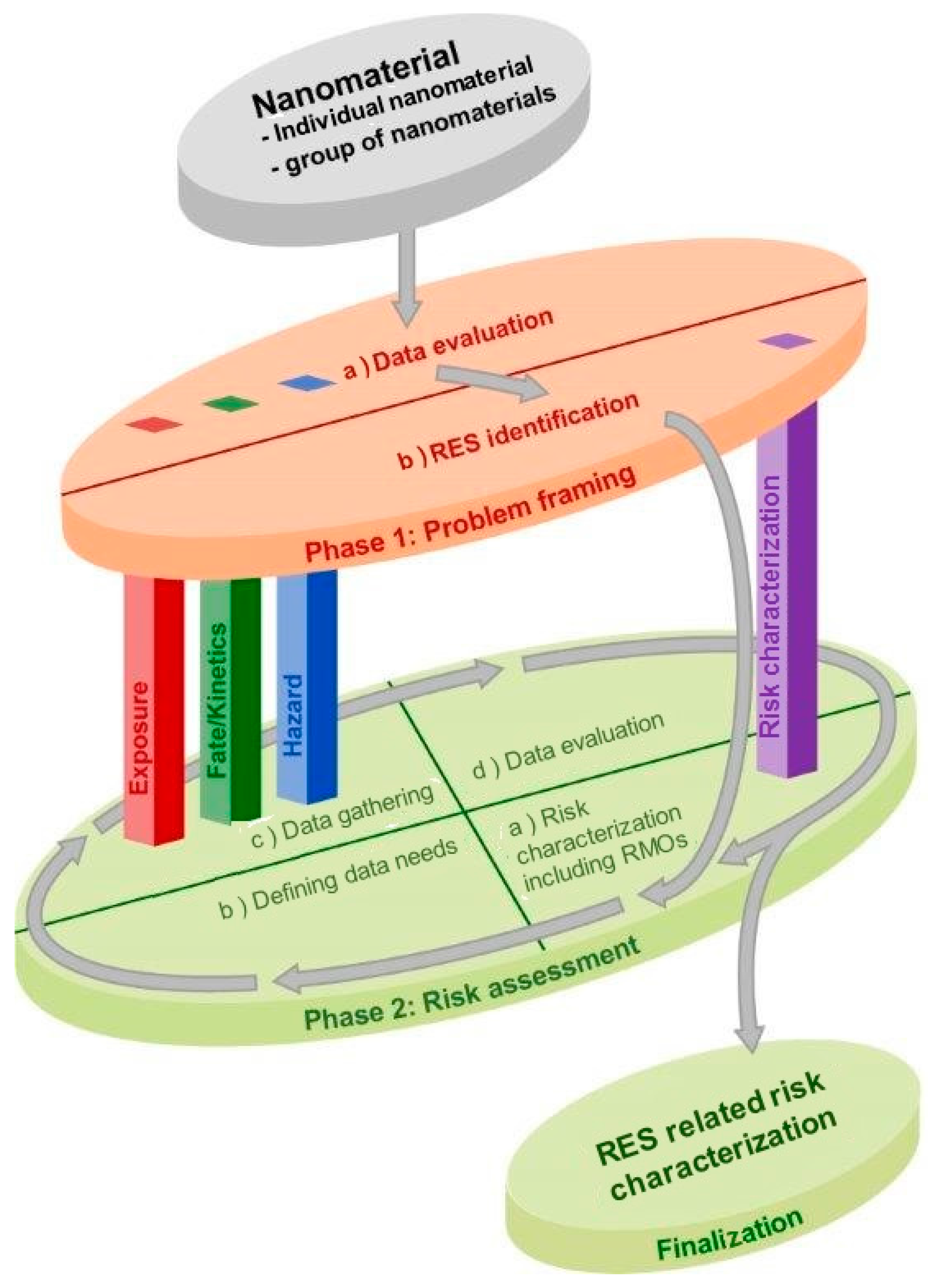 Figure 1
This is an open access article distributed under the
Creative Commons Attribution License
which permits unrestricted use, distribution, and reproduction in any medium, provided the original work is properly cited (CC BY 4.0).

Share & Cite This Article
MDPI and ACS Style
Bos, P.M.J.; Gottardo, S.; Scott-Fordsmand, J.J.; Van Tongeren, M.; Semenzin, E.; Fernandes, T.F.; Hristozov, D.; Hund-Rinke, K.; Hunt, N.; Irfan, M.-A.; Landsiedel, R.; Peijnenburg, W.J.G.M.; Sánchez Jiménez, A.; Van Kesteren, P.C.E.; Oomen, A.G. The MARINA Risk Assessment Strategy: A Flexible Strategy for Efficient Information Collection and Risk Assessment of Nanomaterials. Int. J. Environ. Res. Public Health 2015, 12, 15007-15021.
Related Articles
Comments
[Return to top]