The Sialic Acid-Dependent Nematocyst Discharge Process in Relation to Its Physical-Chemical Properties Is a Role Model for Nanomedical Diagnostic and Therapeutic Tools
1
Institute of BioPharmaceutical Research, Liaocheng University, Liaocheng 252059, China
2
RI-B-NT—Research Institute of Bioinformatics and Nanotechnology, Schauenburgerstr. 116, 24118 Kiel, Germany
3
Neurochirurgische Klinik, Universität Düsseldorf, Geb. 11.54, Moorenstraße 5, 40255 Düsseldorf, Germany
4
Institut für Veterinärphysiolgie und-Biochemie, Fachbereich Veterinärmedizin, Justus-Liebig-Universität Gießen, Frankfurter Str. 100, 35392 Gießen, Germany
5
Department of Chemistry and Biology, University of Applied Sciences Fresenius, Limburger Str. 2, 65510 Idstein, Germany
6
RISCC—Research Institute for Scientific Computing and Consulting, Ludwig-Schunk-Str. 15, 35452 Heuchelheim, Germany
7
Institut für Veterinäranatomie, Histologie und Embryologie, Fachbereich Veterinärmedizin, Justus-Liebig-Universität Gießen, Frankfurter Str. 98, 35392 Giessen, Germany
8
Zoologisches Institut-Strukturbiologie, Zentrum für Biochemie und Molekularbiologie, Christian-Albrechts-Universität, Am Botanischen Garten 19, 24118 Kiel, Germany
9
Biochemisches Institut, Christian-Albrechts Universität Kiel, Olshausenstrasse 40, 24098 Kiel, Germany
10
Department of Chemistry, University of Massachusetts Lowell, 1 University Avenue, Lowell, MA 01854, USA
11
Department of Chemical and Biological Engineering, Chalmers University of Technology, SE-41296 Gothenburg, Sweden
12
Department of Physics, Bose Institute, 93/1, A P C Road, Kolkata 700009, India
*
Authors to whom correspondence should be addressed.
Received: 1 June 2019 / Revised: 1 August 2019 / Accepted: 6 August 2019 / Published: 12 August 2019
Abstract
Formulas derived from theoretical physics provide important insights about the nematocyst discharge process of Cnidaria (Hydra, jellyfishes, box-jellyfishes and sea-anemones). Our model description of the fastest process in living nature raises and answers questions related to the material properties of the cell- and tubule-walls of nematocysts including their polysialic acid (polySia) dependent target function. Since a number of tumor-cells, especially brain-tumor cells such as neuroblastoma tissues carry the polysaccharide chain polySia in similar concentration as fish eggs or fish skin, it makes sense to use these findings for new diagnostic and therapeutic approaches in the field of nanomedicine. Therefore, the nematocyst discharge process can be considered as a bionic blue-print for future nanomedical devices in cancer diagnostics and therapies. This approach is promising because the physical background of this process can be described in a sufficient way with formulas presented here. Additionally, we discuss biophysical and biochemical experiments which will allow us to define proper boundary conditions in order to support our theoretical model approach. PolySia glycans occur in a similar density on malignant tumor cells than on the cell surfaces of Cnidarian predators and preys. The knowledge of the polySia-dependent initiation of the nematocyst discharge process in an intact nematocyte is an essential prerequisite regarding the further development of target-directed nanomedical devices for diagnostic and therapeutic purposes. The theoretical description as well as the computationally and experimentally derived results about the biophysical and biochemical parameters can contribute to a proper design of anti-tumor drug ejecting vessels which use a stylet-tubule system. Especially, the role of nematogalectins is of interest because these bridging proteins contribute as well as special collagen fibers to the elastic band properties. The basic concepts of the nematocyst discharge process inside the tubule cell walls of nematocysts were studied in jellyfishes and in Hydra which are ideal model organisms. Hydra has already been chosen by Alan Turing in order to figure out how the chemical basis of morphogenesis can be described in a fundamental way. This encouraged us to discuss the action of nematocysts in relation to morphological aspects and material requirements. Using these insights, it is now possible to discuss natural and artificial nematocyst-like vessels with optimized properties for a diagnostic and therapeutic use, e.g., in neurooncology. We show here that crucial physical parameters such as pressure thresholds and elasticity properties during the nematocyst discharge process can be described in a consistent and satisfactory way with an impact on the construction of new nanomedical devices.
View Full-Text
►

▼

Figures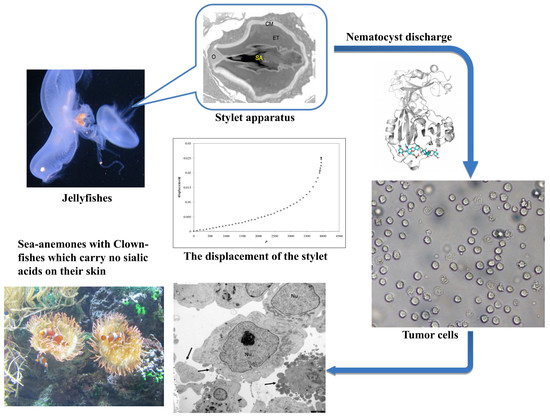 Graphical abstract
This is an open access article distributed under the
Creative Commons Attribution License
which permits unrestricted use, distribution, and reproduction in any medium, provided the original work is properly cited (CC BY 4.0).

Share & Cite This Article
MDPI and ACS Style
Zhang, R.; Jin, L.; Zhang, N.; Petridis, A.K.; Eckert, T.; Scheiner-Bobis, G.; Bergmann, M.; Scheidig, A.; Schauer, R.; Yan, M.; Wijesundera, S.A.; Nordén, B.; Chatterjee, B.K.; Siebert, H.-C. The Sialic Acid-Dependent Nematocyst Discharge Process in Relation to Its Physical-Chemical Properties Is a Role Model for Nanomedical Diagnostic and Therapeutic Tools. Mar. Drugs 2019, 17, 469.
Note that from the first issue of 2016, MDPI journals use article numbers instead of page numbers. See further details here.
Related Articles
Comments
[Return to top]