Effect of Conformational Diversity on the Bioactivity of µ-Conotoxin PIIIA Disulfide Isomers
1
Pharmaceutical Biochemistry and Bioanalytics, Pharmaceutical Institute, University of Bonn, An der Immenburg 4, D-53121 Bonn, Germany
2
Department of Anesthesiology and Intensive Care, University of Lübeck, Ratzeburger Allee 160, D-23562 Lübeck, Germany
3
Eduard Zintl Institute of Inorganic and Physical Chemistry, Darmstadt University of Technology, Alarich-Weiss-Str. 4, D-64287 Darmstadt, Germany
4
Center for Molecular Biomedicine, Department of Biophysics, Friedrich Schiller University Jena and Jena University Hospital, Hans-Knöll-Str. 2, D-07745 Jena, Germany
*
Author to whom correspondence should be addressed.
†
These authors contributed equally to this work.
Received: 5 June 2019 / Revised: 21 June 2019 / Accepted: 25 June 2019 / Published: 2 July 2019
Abstract
Cyclic µ-conotoxin PIIIA, a potent blocker of skeletal muscle voltage-gated sodium channel Na
V
1.4, is a 22mer peptide stabilized by three disulfide bonds. Combining electrophysiological measurements with molecular docking and dynamic simulations based on NMR solution structures, we investigated the 15 possible 3-disulfide-bonded isomers of µ-PIIIA to relate their blocking activity at Na
V
1.4 to their disulfide connectivity. In addition, three µ-PIIIA mutants derived from the native disulfide isomer, in which one of the disulfide bonds was omitted (C4-16, C5-C21, C11-C22), were generated using a targeted protecting group strategy and tested using the aforementioned methods. The 3-disulfide-bonded isomers had a range of different conformational stabilities, with highly unstructured, flexible conformations with low or no channel-blocking activity, while more constrained molecules preserved 30% to 50% of the native isomer's activity. This emphasizes the importance and direct link between correct fold and function. The elimination of one disulfide bond resulted in a significant loss of blocking activity at Na
V
1.4, highlighting the importance of the 3-disulfide-bonded architecture for µ-PIIIA. µ-PIIIA bioactivity is governed by a subtle interplay between an optimally folded structure resulting from a specific disulfide connectivity and the electrostatic potential of the conformational ensemble.
View Full-Text
►

▼

Figures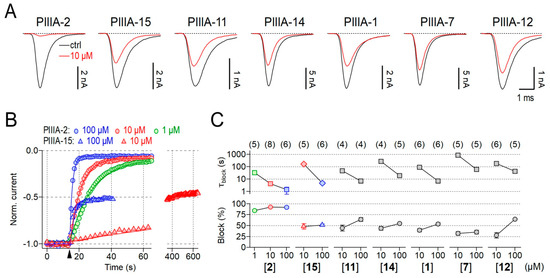 Figure 1
This is an open access article distributed under the
Creative Commons Attribution License
which permits unrestricted use, distribution, and reproduction in any medium, provided the original work is properly cited (CC BY 4.0).

Share & Cite This Article
MDPI and ACS Style
Paul George, A.A.; Heimer, P.; Leipold, E.; Schmitz, T.; Kaufmann, D.; Tietze, D.; Heinemann, S.H.; Imhof, D. Effect of Conformational Diversity on the Bioactivity of µ-Conotoxin PIIIA Disulfide Isomers. Mar. Drugs 2019, 17, 390.
Note that from the first issue of 2016, MDPI journals use article numbers instead of page numbers. See further details here.
Related Articles
Comments
[Return to top]