The α9α10 Nicotinic Acetylcholine Receptor Antagonist αO-Conotoxin GeXIVA[1,2] Alleviates and Reverses Chemotherapy-Induced Neuropathic Pain
1
Key Laboratory of Tropical Biological Resources, Ministry of Education, Key Laboratory for Marine Drugs of Haikou, Hainan University, Haikou, Hainan 570228, China
2
State Key Laboratory of Toxicology and Medical Countermeasures, Beijing Key Laboratory of Neuropsychopharmacology, Beijing Institute of Pharmacology and Toxicology, 27 Taiping Road, Beijing 100850, China
*
Authors to whom correspondence should be addressed.
Received: 12 April 2019 / Revised: 26 April 2019 / Accepted: 2 May 2019 / Published: 5 May 2019
Abstract
Oxaliplatin is a third-generation platinum drug and is widely used as a first-line therapy for the treatment of colorectal cancer (CRC). However, a large number of patients receiving oxaliplatin develop dose-limiting painful neuropathy. Here, we report that αO-conotoxin GeXIVA[1,2], a highly potent and selective antagonist of the α9α10 nicotinic acetylcholine receptor (nAChR) subtype, can relieve and reverse oxaliplatin-induced mechanical and cold allodynia after single and repeated intramuscular (IM) injections in rats. Treatments were started at 4 days post oxaliplatin injection when neuropathic pain emerged and continued for 8 and 16 days. Cold score and mechanical paw withdrawal threshold (PWT) were detected by the acetone test and von Frey test respectively. GeXIVA[1,2] significantly relieved mechanical and cold allodynia in oxaliplatin-treated rats after a single injection. After repeated treatments, GeXIVA[1,2] produced a cumulative analgesic effect without tolerance and promoted recovery from neuropathic pain. Moreover, the long lasting analgesic effect of GeXIVA[1,2] on mechanical allodynia continued until day 10 after the termination of the 16-day repeated treatment procedure. On the contrary, GeXIVA[1,2] did not affect acute mechanical and thermal pain behaviors in normal rats after repeated injections detected by the von Frey test and tail flick test. GeXIVA[1,2] had no influence on rat hind limb grip strength and body weight after repeated treatments. These results indicate that αO-conotoxin GeXIVA[1,2] could provide a novel strategy to treat chemotherapy-induced neuropathic pain.
View Full-Text
►

▼

Figures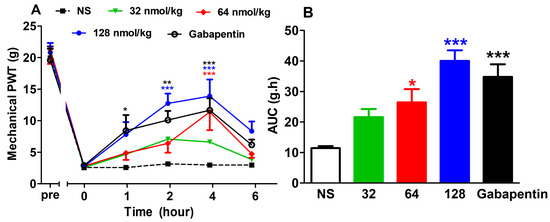 Figure 1
This is an open access article distributed under the
Creative Commons Attribution License
which permits unrestricted use, distribution, and reproduction in any medium, provided the original work is properly cited (CC BY 4.0).

Share & Cite This Article
MDPI and ACS Style
Wang, H.; Li, X.; Zhangsun, D.; Yu, G.; Su, R.; Luo, S. The α9α10 Nicotinic Acetylcholine Receptor Antagonist αO-Conotoxin GeXIVA[1,2] Alleviates and Reverses Chemotherapy-Induced Neuropathic Pain. Mar. Drugs 2019, 17, 265.
Note that from the first issue of 2016, MDPI journals use article numbers instead of page numbers. See further details here.
Related Articles
Comments
[Return to top]