Open Access This article is
freely available
re-usable
Article
'Messy' Processing of χ-conotoxin MrIA Generates Homologues with Reduced hNET Potency
Institute for Molecular Bioscience, The University of Queensland, St. Lucia, Queensland 4072, Australia
*
Author to whom correspondence should be addressed.
Received: 1 February 2019 / Accepted: 12 March 2019 / Published: 14 March 2019
Abstract
:
Integrated venomics techniques have shown that variable processing of conotoxins from
Conus marmoreus
resulted in a dramatic expansion in the number of expressed conotoxins. One conotoxin from
C. marmoreus
, the χ-conotoxin MrIA, is a selective inhibitor of human norepinephrine transporters (hNET) and therefore a drug candidate for attenuating chronic neuropathic pain. It has been found that "messy" processing of the MrIA transcripts results in the expression of MrIA analogs with different truncations of the pro-peptide that contains portions of the MrIA molecule. The aim of this study was to investigate if variable processing of the expressed peptides results in modulation of the existing hNET pharmacology or creates new pharmacologies. To this end, a number of MrIA analogs found in
C. marmoreus
venom were synthesized and evaluated for their activity at hNET receptors. While several of the analogs exhibited norepinephrine transporter inhibitory activity comparable to that of MrIA, none significantly improved on the potency of conotoxin MrIA, and those analogs with disrupted pharmacophores produced greatly reduced NET inhibition, confirming previous structure-activity relationships seen on χ-class conopeptides. Additionally, analogs were screened for new activities on ion channels using calcium influx assays, although no major new pharmacology was revealed.
Keywords:
conotoxin; MrIA; peptides; Norepinephrine Transporter Inhibitor (NET); bioactivity
Author Contributions
R.Z. performed peptide synthesis, calcium influx assays, data analyses, and wrote the manuscript. A.B. contributed to peptide synthesis and provided guidance and ideas. P.J. performed hNET assays and partook in their analysis. F.C.C. assisted with calcium influx assays, the analysis of their results, and reviewing the manuscript. R.J.L. contributed by reviewing the manuscript. P.F.A. and R.J.L. conceived the project and provided guidance and ideas.
Funding
This work was supported by International Scholarship from the University of Queensland and Australian National Health & Medical Research Council (Program Grants APP1072113, 351446 and Principal Research Fellowships to R.J.L. and P.F.A).
Conflicts of Interest
The authors declare no conflict of interest.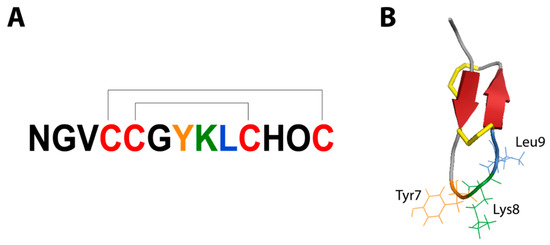 Figure 1. (A) Primary structure of MrIA showing Cys1-Cys3, Cys2-Cys4 disulfide connectivity, Cys residues are coloured red, (B) 3D structure of MrIA. Yellow portions represent disulfide bonds and red arrows represent β-sheets. Pharmacophore residues are coloured orange (Tyr), green (Lys), and blue (Leu).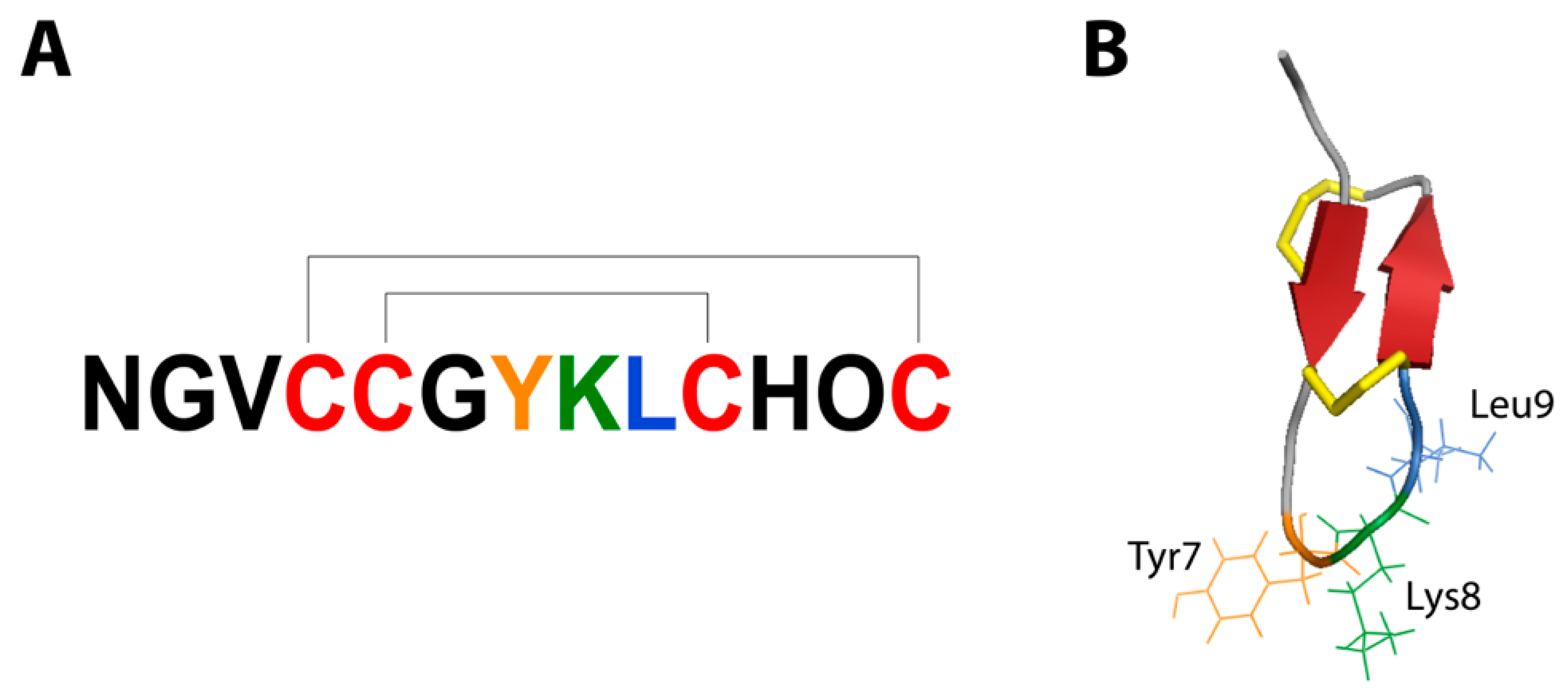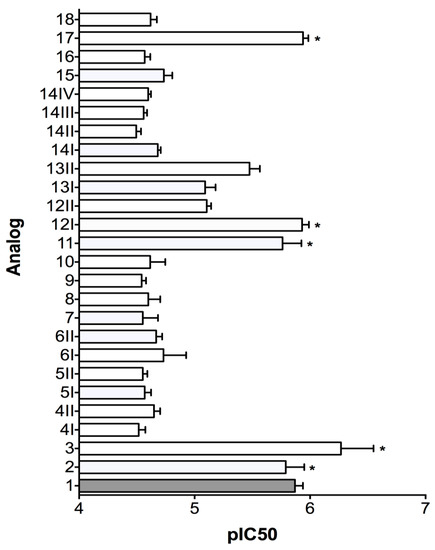 Figure 2. pIC50 values of MrIA analogs against human norepinephrine transporter (hNET) and their standard deviation bars. The MrIA standard (1) is coloured grey. Analogs whose hNET inhibitory activity do not significantly differ from the standard are marked by *.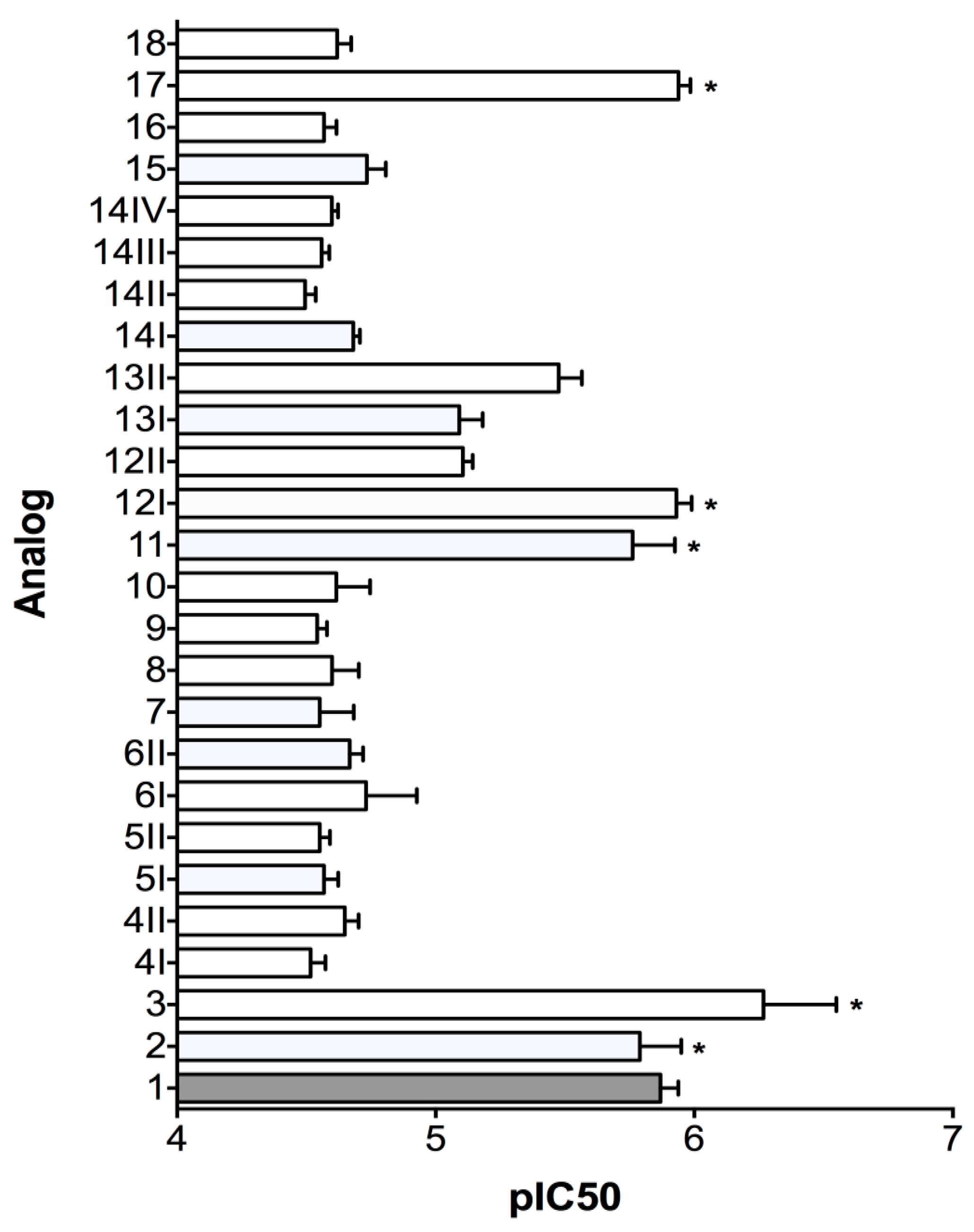 Figure 3. Average F/Fmax values for MrIA analogs tested at 10 μM and CVID tested at 1 μM against CaV2.2 with associated standard deviation bars. Analog 3 was found to have statistically significant antagonistic activity at a 99.9% confidence interval and is marked *.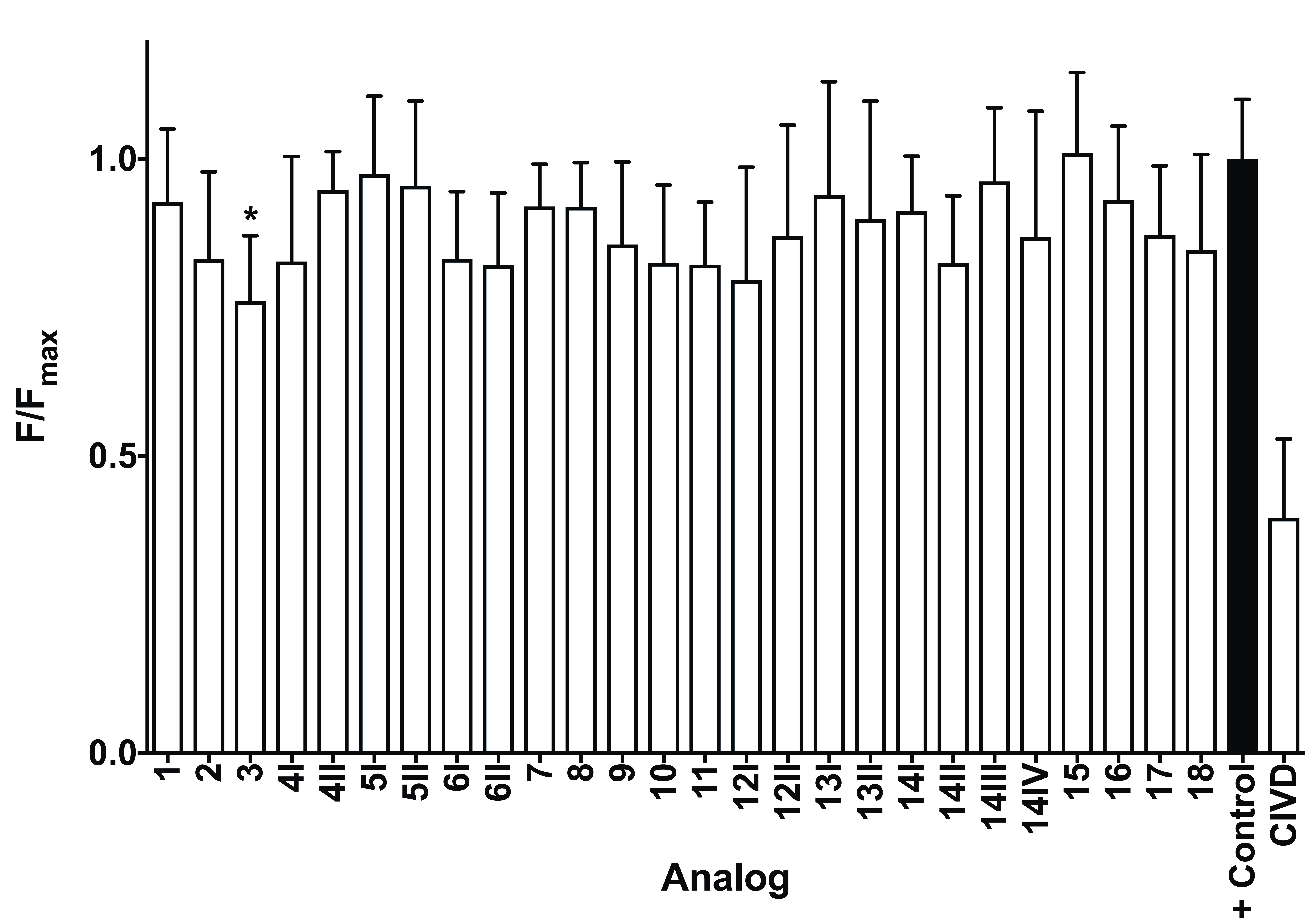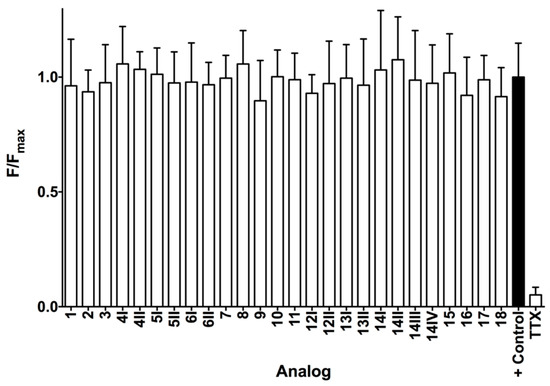 Figure 4. Average F/Fmax values for MrIA analogs tested at 10 μM and TTX tested at 1 μM against voltage-gated sodium channels (NaV) with associated standard deviation bars.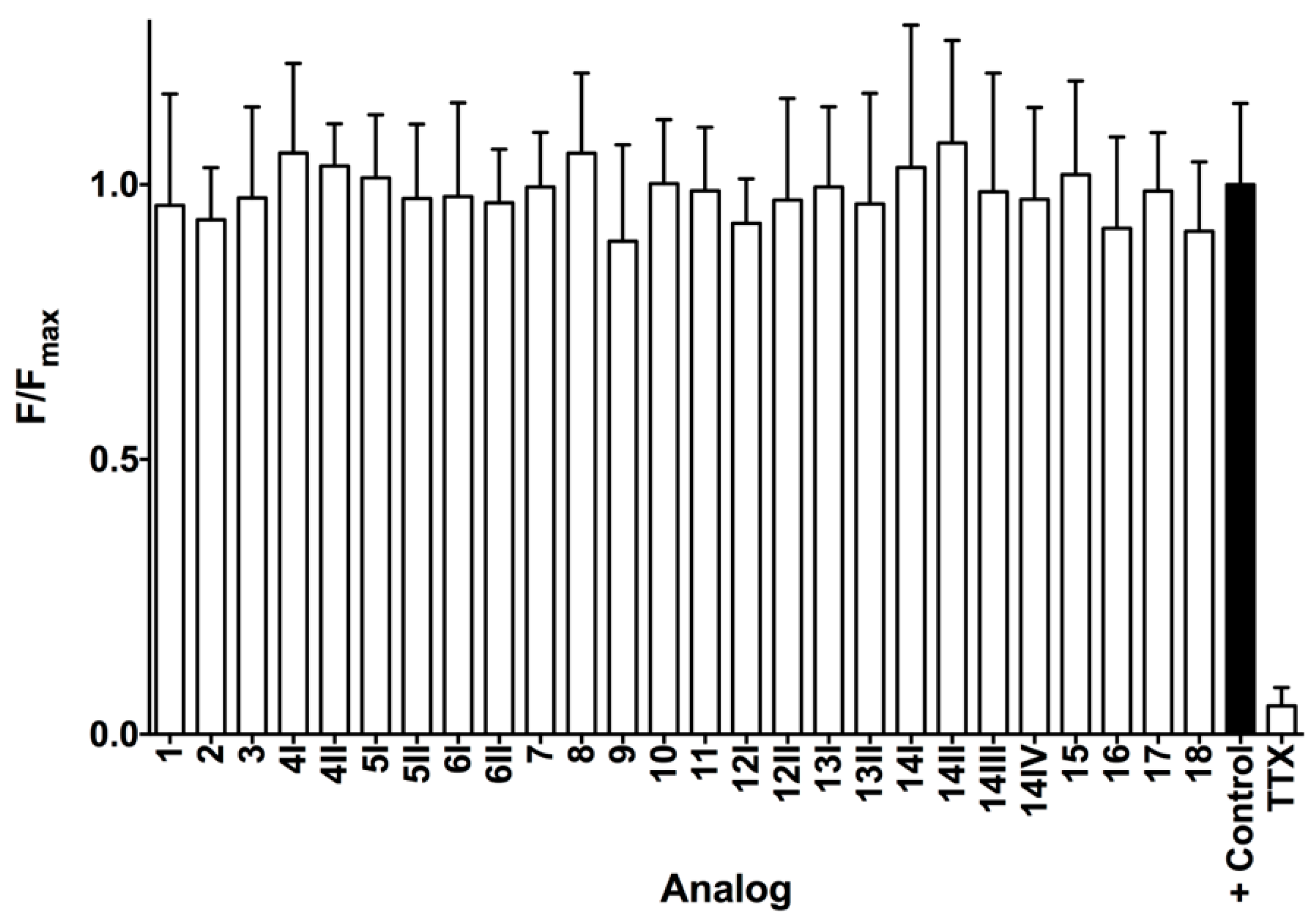 Table 1.
List of peptide analogs used in this study, including their peptide sequence, relative abundance in
Conus marmoreus
venom as compared to the amidated form of MrIA (from Duterte et al. [
4
]), and expected and observed masses. Cysteine residues are coloured red. "Z" denotes pyroglutamic acid, "O" denotes hydroxyproline, "*" denotes an amidated C-terminus, Y(SO
3
−
) denotes sulfotyrosine.
Analog
Sequence
Relative Abundance
Expected MW (Da)
Observed MW (Da)
1
NGV

CC

GYKL

C

HP

C

*
100.00
1391.7
1392.0
2
NGV

CC

GYKL

C

HP

C

49.77
1392.7
1392.8
3
ZGV

CC

GYKL

C

HP

C

0.73
1389.7
1389.8
4I
ZGV

CC

GYKL

C

HP
0.05
1288.5
2577.6
4II
2577.6
5I
ZGV

CC

GYKL

C

0.34
1054.3
2106.0
5II
2107.0
6I
NGV

CC

GYKL

C

0.12
1057.3
2115.8
6II
2113.8
7
ZGV

CC

GYKL
0.03
951.1
951.6
8
ZGV

CC

GYKL *
0.01
950.1
950.4
9
NGV

CC

GYK
0.02
841.0
841.6
10
ILRGILRNGV

CC

*
0.02
1313.7
1314.0
11
GILRNGV

CC

GYKL

C

HP

C

0.33
1831.2
1834.0
12-I
LRNGV

CC

GYKL

C

HO

C

0.14
1678.0
1678.0
12-II
1677.8
13I
V

CC

GYKL

C

HO

C

0.88
1237.5
1237.4
13II
1237.4
14I

C

GYKL

C

HO

C

0.21
1037.2
2073.6
14II
2072.8
14III
2073.0
14IV
2071.8
15
GYKL

C

HO

C

0.04
934.1
934.6
16
YKL

C

HO

C

0.02
877.1
877.6
17
GV

CC

GYKL

C

HP

C

0.01
1278.6
1278.6
18
GV

CC

GY(SO3−)KL

C

HO

C

0.11
1377.5
1376.6

© 2019 by the authors. Licensee MDPI, Basel, Switzerland. This article is an open access article distributed under the terms and conditions of the Creative Commons Attribution (CC BY) license (http://creativecommons.org/licenses/by/4.0/).