Molecular and Morphological Toxicity of Diatom-Derived Hydroxyacid Mixtures to Sea Urchin
Paracentrotus lividus

Embryos

1

Department of Marine Biotechnology, Stazione Zoologica Anton Dohrn, Villa Comunale, 80121 Napoli, Italy

2

Department of Biology, University of Naples Federico II, Complesso Universitario di Monte Sant'Angelo, Via Cinthia, 80126 Napoli, Italy

3

Institute for Environmental Protection and Research (ISPRA), 00144 Rome, Italy

4

Department of Biology and Evolution of Marine Organisms, Stazione Zoologica Anton Dohrn, Villa Comunale, 80121 Napoli, Italy

*

Author to whom correspondence should be addressed.

Received: 7 February 2019 / Revised: 21 February 2019 / Accepted: 24 February 2019 / Published: 1 March 2019
Abstract
Oxylipins such as polyunsaturated aldehydes (PUAs) and hydroxyacids (HEPEs) are signaling molecules derived from the oxidation of polyunsaturated fatty acids. They are common in diatoms that constitute a major group of microalgae in freshwater and oceanic ecosystems. Although HEPEs represent the most common oxylipins produced by diatoms, little information is available on their effects on marine invertebrates, and most of the information has been obtained by testing individual HEPEs. Our previous studies reported that four hydroxyacids, i.e., 5-, 9-, 11-, and 15-HEPE, were able to induce malformations and a marked developmental delay in sea urchin
Paracentrotus lividus
embryos, which had not been reported for other oxylipins. Here, we tested a mixture of 5-, 9-, 11-, and 15-HEPE at different concentrations for the first time. The results showed that mixtures of HEPEs have synergistic effects that are much more severe compared to those of individual HEPEs: The HEPE mixtures induced malformations in sea urchin embryos at lower concentrations. Increasing HEPE mixture concentrations induced a marked increase in the number of delayed embryos, until all embryos were delayed at the highest concentration tested. At the molecular level, the HEPE mixtures induced variations in the expression of 50 genes involved in different functional processes, mainly down-regulating these genes at the earliest stages of embryonic development. These findings are ecologically significant, considering that during diatom blooms, sea urchins could accumulate HEPEs in concentrations comparable to those tested in the present study.
View Full-Text
►

▼

Figures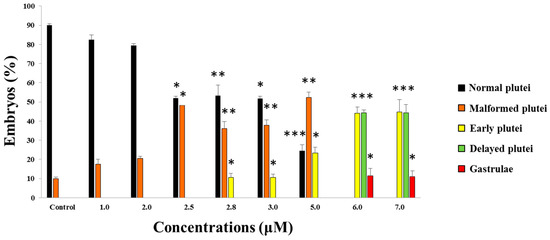 Figure 1
This is an open access article distributed under the
Creative Commons Attribution License
which permits unrestricted use, distribution, and reproduction in any medium, provided the original work is properly cited (CC BY 4.0).

Share & Cite This Article
MDPI and ACS Style
Albarano, L.; Ruocco, N.; Ianora, A.; Libralato, G.; Manfra, L.; Costantini, M. Molecular and Morphological Toxicity of Diatom-Derived Hydroxyacid Mixtures to Sea Urchin Paracentrotus lividus Embryos. Mar. Drugs 2019, 17, 144.
Note that from the first issue of 2016, MDPI journals use article numbers instead of page numbers. See further details here.
Related Articles
Comments
[Return to top]